A delicious and super simple Tex Mex Pasta Salad with corn, black beans, cherry tomatoes, cilantro, and avocados. An easy Catalina dressing tops this salad. (NO MAYO pasta salad.)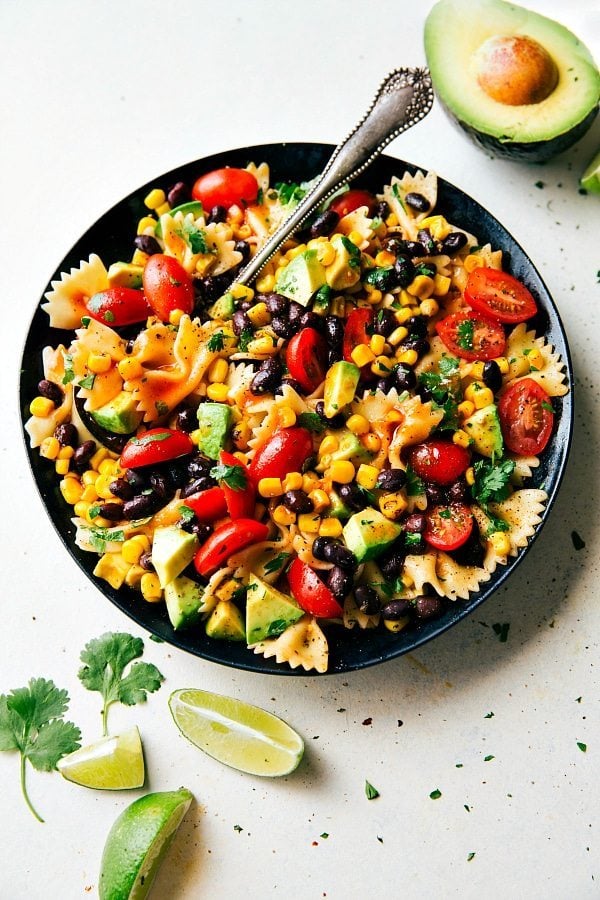 Little Bentley has become quite the talker these days. He is always babbling on about something and in quite a loud voice. The latest babble sounds exactly like "dadda" which of course has the husband excited.
But the toddler is even more excited about the baby talking. He thinks Bentley is some sort of baby genius for already calling his dad by his name.
Every time Bentley makes his babbling "dadda" noise, Grey yells to us super excited "Baby say Dadda!" He then proceeds to ask the baby to say other stuff. Like, "baby, say Grey." or "Baby, say hi!"
I think he's become less than impressed that he just keeps saying "dadda." Or blowing spit bubbles which is another one of his favorite activities as of late.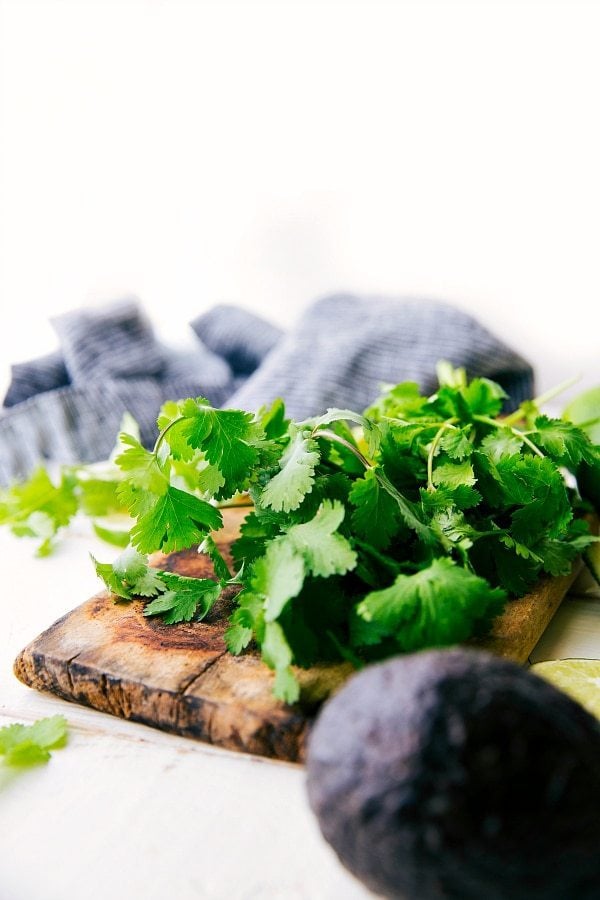 Seeing the two of them interact more and more has become my favorite thing. I could sit and watch them for hours.
Oh, wait, I already do. ?
And I have about 8317304 videos of them playing together which I am constantly sending to the husband or watching when they are napping. Because I am totally that mom that looks at videos and pictures of them after they are asleep. ?
In between my ridiculous amount of baby videos and photos I send the husband throughout the day, I also occasionally send him a sneak peak of whats for dinner.
This was one of the sneak peak pictures that got him super excited. He loves all things pasta and adores Catalina. Which happens to be one of my all-time favorite dressings as well.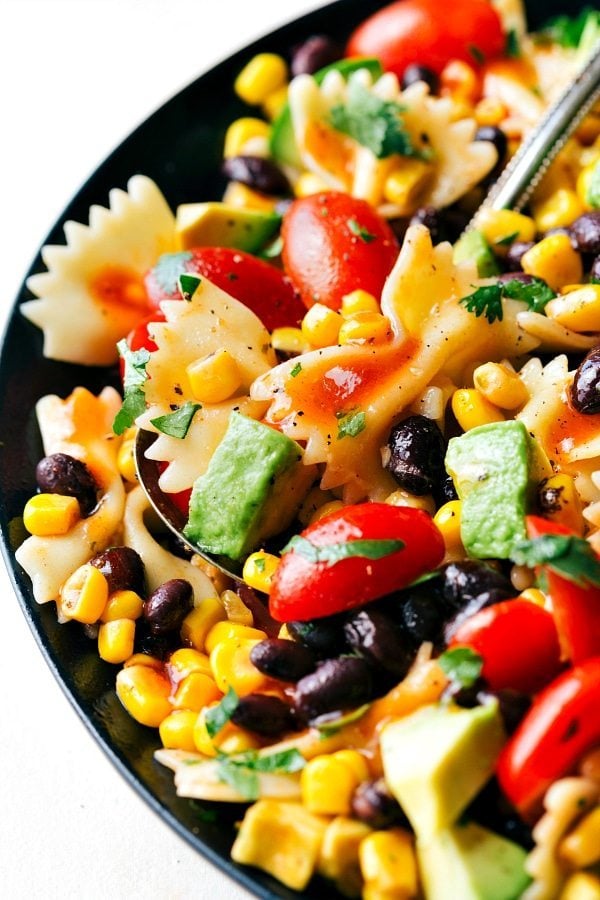 And this pasta salad happens to be CRAZY easy to throw together. There are only 2 veggies to chop — the avocado and cherry tomatoes (OR lazy way: you could just leave the tomatoes whole) and 1 herb (cilantro), and two of the other ingredients just require a can opener. ?? Then it's just boiling the pasta and prepping the dressing which comes together super quickly.
The one little technique that takes this salad from great to WOW is tossing some of the dressing with the pasta before it's totally cooled. I drain the pasta, rinse it in cold water for about 30 seconds and then toss it with a few tablespoons of the prepared dressing. This lets the dressing really soak into the noodles and absorb the flavor.
And while you can definitely make this ahead of time, leave out the avocado until you are right ready to serve it. And same with cheese if you choose to add some. We liked a little bit of queso fresco cheese on this salad. Enjoy this Tex Mex Pasta Salad!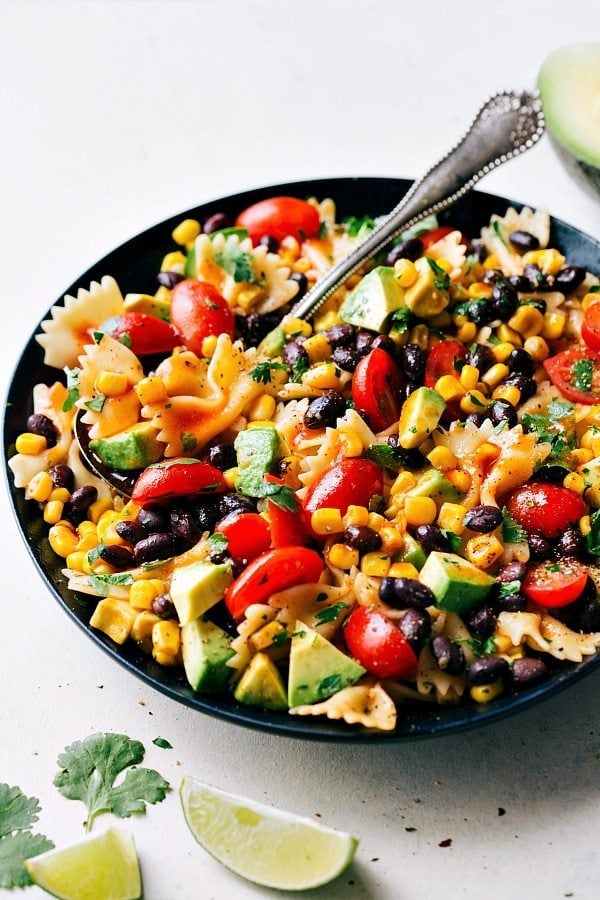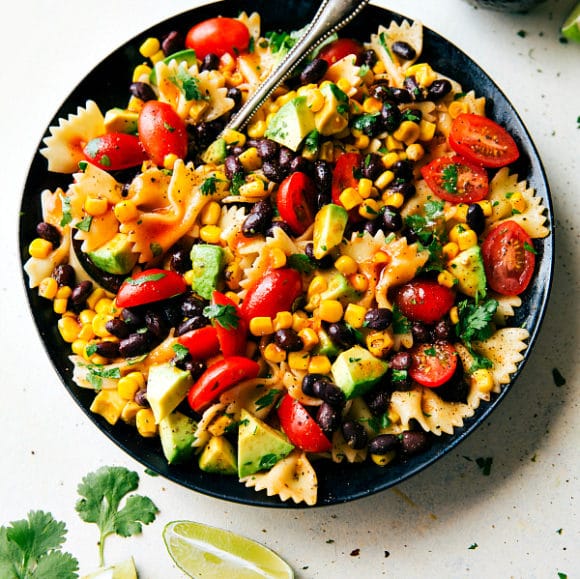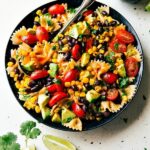 Easy Tex Mex Pasta Salad
Ingredients
1

package (12 ounces)

bowtie noodles

12

1

can

roasted corn

1

can

black beans

1

pint

cherry tomatoes

2

large

avocados

1/3

cup

chopped cilantro

Optional: queso fresco cheese, fresh lime
Dressing
1/4

cup

ketchup

1/2

cup

red wine vinegar

1/2

cup

vegetable oil

1/4

cup + 2 tablespoons

white sugar

1

teaspoon

paprika

1/2

teaspoon

onion powder

1/2

teaspoon

Italian seasoning blend

1/8

teaspoon

Worcestershire sauce

optional

Salt and pepper

to taste
Instructions
To prepare the dressing, add all of the ingredients to a blender or food processor and pulse until combined. Add salt and pepper to taste. If making this ahead of time (recommended, see note) store in the fridge.

Prepare the noodles according to package directions. Drain and rinse in cold water for about 30 seconds. Drain well.

Toss with a few tablespoons of the prepared dressing (make it while the pasta is cooking) and place in the fridge to chill.

Drain the roasted corn. Drain and rinse the black beans.

Halve the cherry tomatoes. Remove the skin and pit of the avocado and chop. Coarsely chop the cilantro.

Toss all the salad ingredients together.

Toss with the salad dressing and enjoy if desired with crumbled queso fresco and a squeeze of fresh lime.
Recipe Notes
This salad is best chilled. Best way to do that is to make the dressing ahead of time and chill it in the fridge for a few hours and then to also have the veggies in the fridge before chopping them up. If everything is chilled beforehand it can be enjoyed pretty soon after prepping it.
More delicious pasta salads: