A super simple and well-flavored crockpot chicken stroganoff. This stroganoff is made without any cream of "x" soups.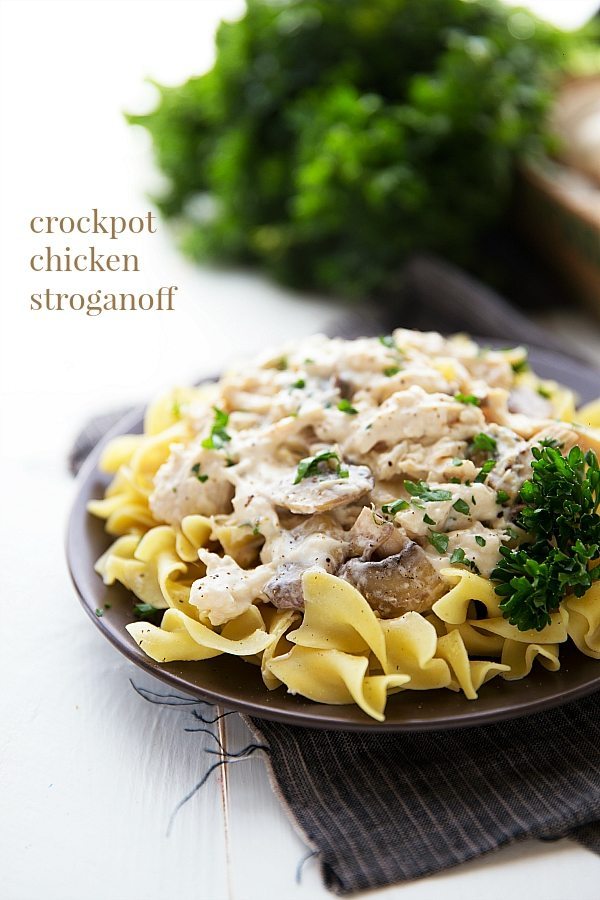 So guess what?! I'm having baby #2 today! (!!!!) I suppose that is a bit of an abrupt announcement, but I'll explain. Several weeks back I got transferred to a pregnancy specialist and categorized as a high risk pregnancy due to the baby having what they called growth restrictions.
Thanks to lots of awesome doctors and specialists we've kept him closely monitored with non-stress tests, lots of ultrasounds, doppler tests, etc. (I've been at the doctors almost every single weekday!) Everything has been doing really well with the baby and although he's been growing slowly, there has definitely been some growth. At my last ultrasound they estimated his weight to be around 4 pounds, 5 ounces. Small baby, but nothing too crazy compared to some of the sizes babies are born at.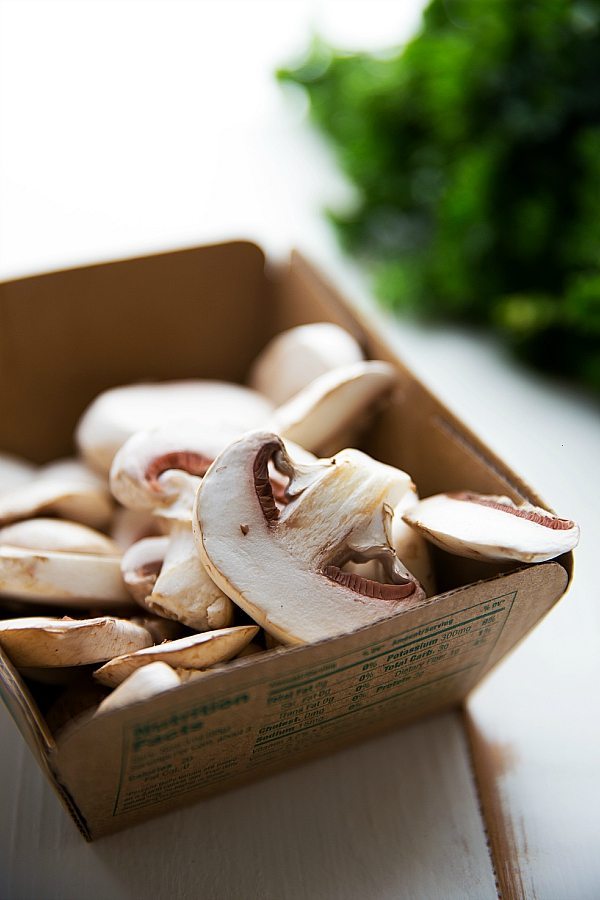 Anyways, the specialist made the decision that the baby would do better growing outside than in, so flash forward to my scheduled induction this morning! Of course, I'm writing this beforehand (in fact, I just got home from the appointment where we planned and scheduled everything), but this won't be published until I'm on my way into the hospital. Send all your positive vibes my way pretty please!! 🙂
I'm crazy nervous, super excited, and wondering how the heck I'm going to handle two wild boys. How do I know this guy is wild? He NEVER sleeps!! Either that or he is a restless sleeper because I swear he never stops moving! I couldn't feel more blessed that I get to have two little boys, but my nerves are definitely a bit on edge.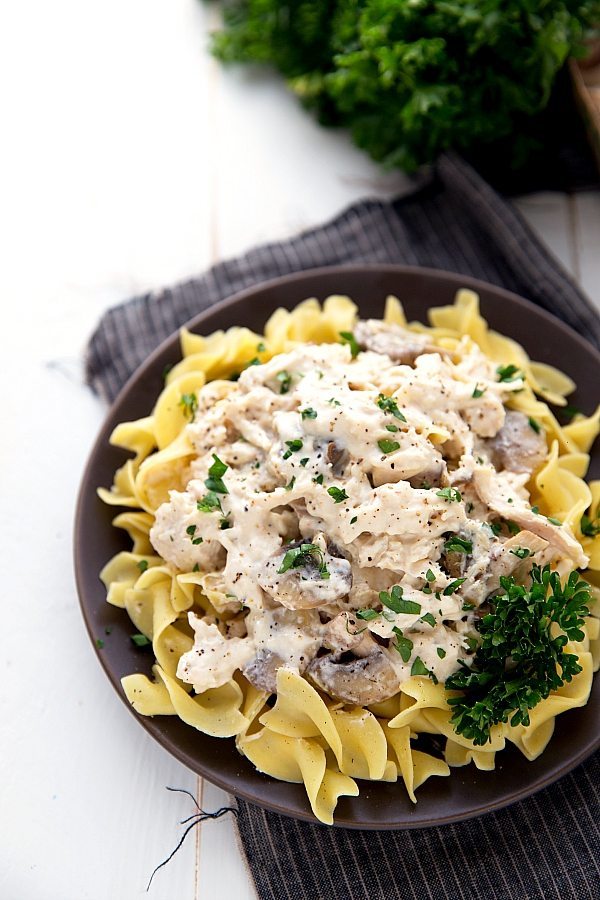 But enough baby talk (I'll share everything as soon as I can, most likely on Instagram), let's talk about dinner. Or what should definitely be your dinner!! This crockpot chicken stroganoff is crazy easy, ridiculously tasty, and doesn't require you to use any cream of "x" soups. I'm not a cream of soup hater (I definitely use them every once and a while), but when I have some extra time I prefer the homemade version for control over the ingredients, health factors, and overall taste.
And especially when a crockpot is going to do most of my work, I don't mind whipping together my own homemade cream of soup for it. It does require an extra pot, but it's pretty quick and simple to do! However, if you want to use the canned version — go right ahead!! I'd recommend using 1 can cream of chicken (or mushroom) soup in place of the homemade version.
To cut down on the amount of spices that you would need to track down and/or buy I used an Italian seasoning mix. I love the ease and flavor of the mix, but if you want to do your own mix I'm sure you could search for a recipe for a homemade Italian seasoning mix and then add a few tablespoons or to your taste preference. You may even want more seasoning mix than called for so make sure to taste it out and add if needed!
Also if you are a fan of onion in your stroganoff (I am, husband is NOT) be sure to add some in with the mushrooms (or leave both out!)
I hope you all enjoy and have a wonderful weekend! 🙂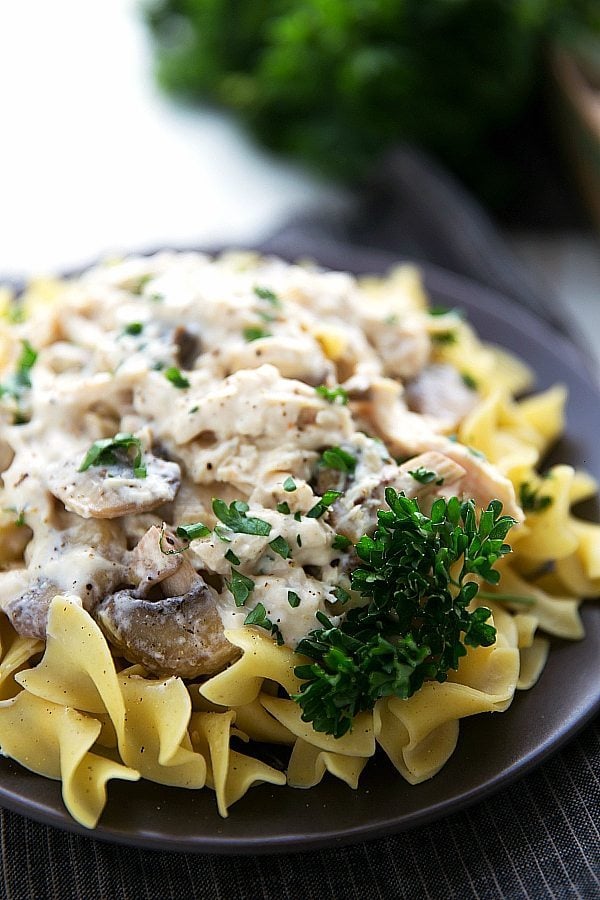 More delicious crockpot meals: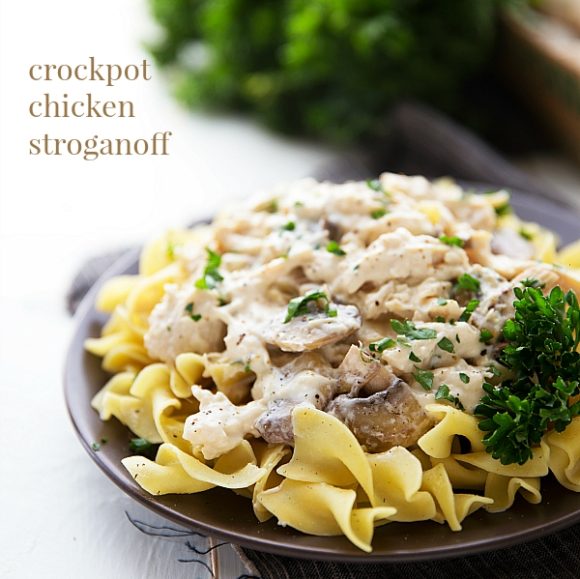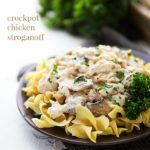 Crockpot Chicken Stroganoff (NO cream of soups)
Ingredients
1 & 1/2

pounds (1 pound, 8 ounces)

boneless skinless chicken breasts

2

tablespoons

butter

3

tablespoons

flour

1/2

cup

chicken broth

1/2

cup

milk

I used 1%

1/4

teaspoon

pepper

2

tablespoons

and 1/4 Italian dressing/seasoning mix

4

ounces

cream cheese

I used full-fat, at room temperature

1/2

cup

sour cream

I used reduced-fat

Salt + peper to taste

1

package

medium egg noodles

for serving

Optional: mushrooms, yellow onion, fresh parsley
Instructions
Spray a large slow cooker with nonstick spray. I used a 6 quart crockpot for this recipe.

Remove fat from the chicken breasts and cut into large chunks. Place in the crockpot.

In a small pot over medium heat, add in the butter. Melt the butter and then briskly whisk in the flour until a thick paste forms. Continue to stir for about a minute.

Slowly stir in the chicken broth whisking constantly until smooth. Then whisk in the milk stirring constantly. Reduce the heat and allow to simmer and thicken.

Stir in the pepper and Italian seasoning mix PLUS any other seasonings desired (some garlic or onion powder, dried parsley, dried thyme, etc. I personally just use the seasoning packet and love it, but add what you love!)

Pour the thickened mixture in with the chicken and stir everything together.

Cover and cook on low for 4-7 hours or until the chicken easily shreds. (mine takes about 5 and 1/2 hours)

Shred the chicken and stir everything together.

Cube the cream cheese and add to the slow cooker. Allow the cream cheese to melt over the chicken. Stir until completely combined.

Stir in the sour cream. Add salt and pepper to taste. Increase any spices to personal preference.

Garnish with chopped fresh parsley or a sprinkle of Italian seasoning.

Serve over cooked egg noodles.

If desired, saute some mushrooms (I didn't like them added in the slow cooker - they got mushy) in some olive oil in a small skillet and stir into the mixture. Onions could be added here too 🙂