Simple Chicken Stroganoff with onions and mushrooms — just like beef stroganoff, but with chicken instead! This stroganoff is creamy and flavorful without using any "cream of x" soups.

What is Chicken Stroganoff?
Chicken Stroganoff is prepared similarly to beef stroganoff, but chicken is used instead of beef. Robustly seasoned chicken is seared and then tossed in a creamy and slightly tangy sauce. It's usually served over noodles and makes for an easy dinner you can have on the table in 30-40 minutes.
Chicken Stroganoff is pure comfort food and it's one of my family's favorites. It's easy enough for a weeknight dinner, but fancy enough to serve to company. Also, this recipe doesn't use any canned cream of mushroom, chicken, etc. soups — the sauce is made from scratch, resulting in a truly restaurant-quality dinner. And don't worry — the creamy sauce is far from complicated, it's *almost* as easy as opening a can.

How to make Chicken Stroganoff
How do I thicken Chicken Stroganoff?
Chicken Stroganoff is thickened by creating a roux with butter and flour. This thickens the sauce very nicely and is simmered with heavy cream, which adds more thickening.
If the sauce seems too thin, it may simply need to simmer longer or over a slightly higher heat. Also, remember the sauce continues to thicken as it cools.
It's also possible that the flour was overcooked, which diminishes the flour's thickening capability. If the flour burned and formed clumps in the bottom of the pan, it likely did not thicken the sauce. A possible fix: add a cornstarch slurry to the simmering sauce.
Recipe tips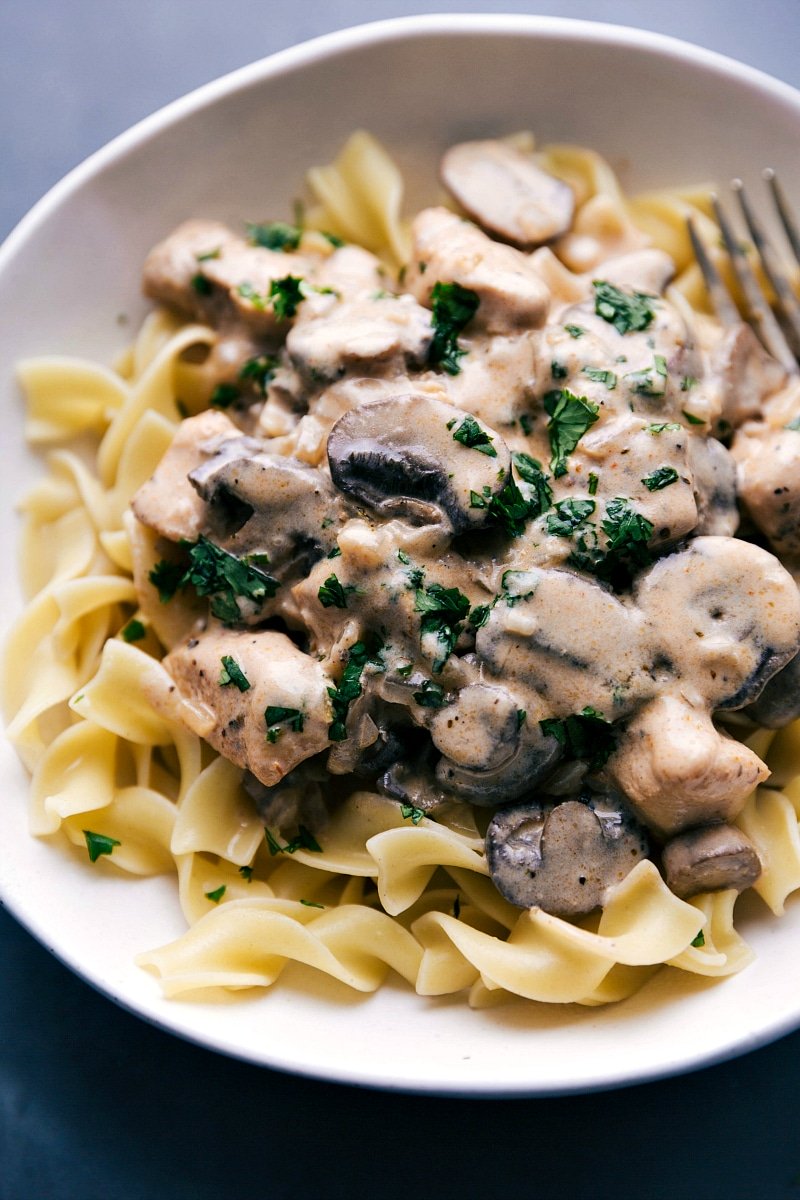 Can you freeze Chicken Stroganoff?
With all the dairy (heavy cream and sour cream) this dish doesn't freeze or thaw well. The sauce will break when it's re-heated and results in an unpleasant texture. This dish will last 3-4 days, stored properly, in the fridge. Reheat, stirring often and gently, in a skillet over low heat until warmed through.
Chicken Stroganoff side dish ideas
More delicious dinners: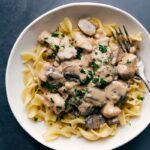 Chicken Stroganoff
Simple Chicken Stroganoff with onions and mushrooms -- just like beef stroganoff, but with chicken instead! This stroganoff is creamy and flavorful without using any "cream of x" soups. 
Course:
Dinner, Main Course
Keyword:
Chicken Stroganoff
Ingredients
Chicken
1

pound (453g)

boneless skinless chicken breasts

1

teaspoon EACH:

Italian seasoning and roasted garlic powder

1/2

teaspoon

paprika

fine sea salt and freshly cracked pepper

1

tablespoon

olive oil
Sauce
1 and 1/2

cups (1 large 7 oz onion)

diced yellow onion,

1 and 1/2

teaspoons (2 cloves)

minced garlic

8

ounces (227g)

sliced crimini mushrooms

3

tablespoons

unsalted butter

2

tablespoons

white all-purpose flour

1

tablespoon

tomato paste

1 and 1/2

cups (348 g)

chicken broth

1/2

cup (125g)

heavy cream

2/3

cup (160g)

sour cream

(I use fat free)

1 and 1/12

teaspoons

Dijon mustard
For Serving
10-12

ounces (300g)

wide ribbon noodles or egg noodles

freshly chopped Italian parsley (optional)
Instructions
PREP: Start by preparing the veggies (the onion, garlic, mushrooms). If you are serving this stroganoff over noodles, get water boiling for the noodles and prepare those noodles according to package directions; don't forget to generously salt the pasta water. We like Chicken Stroganoff best over wide ribbon noodles.

PREP CHICKEN: Trim the fat from the chicken breasts, dab with paper towel, and cut into 1-inch, bite sized pieces. Add chicken pieces to a bowl and toss with the Italian seasoning, garlic powder, paprika, salt and pepper. I add 1 teaspoon salt and 1/2 teaspoon pepper, but add to personal preference (add less if chicken broth is salted). Toss chicken to coat in seasonings.

COOK CHICKEN: Heat 1 tablespoon olive oil to a large skillet. Add the chopped chicken in a single layer and cook for 6-8 minutes or until cooked through (160 degrees F and juices run clear). Stir the chicken often to ensure all sides are evenly cooked. Remove chicken to a large plate. Tent the plate with foil and set aside.

COOK VEGGIES: Don't wipe out the skillet, since any browned bits will add lots of flavor! Add the 3 tablespoons butter, 1 and 1/2 cups diced onion and 1 and 1/2 teaspoon minced garlic. Cook for 3-5 minutes or until onion is translucent and fragrant. (Reduce the heat if anything is burning or browning.) Add the mushrooms and cook for another 1-2 minutes. Stir in the 1 tablespoon tomato paste and sprinkle 2 tablespoons flour on top. Stir, cooking for 1 more minute.

ADD CHICKEN BROTH: Gradually stir in the 1 and 1/2 cups chicken broth and then the 1/2 cup heavy cream, stirring constantly. Scrape the bottom of the pan to get any browned bits off the bottom of the pan. Bring to a simmer and then reduce the heat to medium low. Stir frequently and cook until slightly thickened, about 3-4 minutes.

ADD SOUR CREAM: Reduce heat to low. Add in the 2/3 cup sour cream and 1 and 1/2 teaspoons Dijon mustard. Stir until smooth and incorporated.

RETURN CHICKEN TO THE PAN: Add the chicken (along with any juices accumulated on the plate) into the sauce. Stir until coated and warmed through, about 1 minute. Taste and adjust for any additional salt or pepper needed. You can also add in some more Dijon here if desired.

SERVE: Serve chicken and sauce over cooked, drained noodles. Add fresh chopped parsley if desired.
Recipe Notes
If serving Chicken Stroganoff over pasta, don't forget to salt the pasta water! Salting is the only chance you have to season the actual pasta and it can make the entire dish taste bland if it isn't properly seasoned. (Read about how to properly salt your pasta water here.)