A delicious and creamy slow cooked chicken alfredo with pasta and broccoli. EVERYTHING gets cooked in the crockpot – the chicken, pasta, broccoli, and sauce so there is no need for separate pots/pans!
So, there has been quite a love affair with Alfredo at my home as of late. TWO Chicken Alfredo dishes on the blog in the same month– when in the almost two years I've been blogging I've never even had one! Growing up, anything Alfredo was my absolute favorite. I'll take a white creamy sauce over a red sauce any day.
However, my husband has never really been a huge fan of them and my little boy is completely obsessed with anything that has a red sauce. So red sauces tend to get used and I'd really forgotten how good a creamy Alfredo dish could taste.
Between this super simple crockpot Alfredo recipe, and my one pot skinny Alfredo dish, I've converted the boys in my family to all things Alfredo. To say I'm excited about this is quite the understatement. Bring on the creamy Alfredo!!
One of the reasons this dish is SO easy and only requires one pot (the crockpot) is because I'm using a pre-made Alfredo sauce by Prego. For this dish, I used their Roasted Garlic Parmesan because I love the extra garlicky flavor. This sauce has such a rich flavor and uses real ingredients (such as fresh cream). I love this sauce because of the authentic and delicious taste, but also because it makes this dinner come together in a flash.
As much as I enjoy making a homemade Alfredo sauce, days get busy and being able to use a jar of Alfredo makes dinner prep so much easier! And wow is this dinner easy — the chicken, pasta, and broccoli ALL get cooked in the crockpot so you don't have to dirty a pot for the pasta, a steamer for the broccoli, or a pot to make a homemade sauce.
As with all slow cooker/crockpot dishes, each crockpot is a little different. Some will cook hotter and faster while some cook slower and at a lower temperature. Just make sure to watch your dish carefully so that it doesn't get overdone. When the pasta is al dente or cooked how you like it, the broccoli is crisp and tender, and the sauce is thick and creamy — you know dinner is ready!
The extra "garnishing" really makes this dish shine — be generous with some extra seasonings. I love using a lemon-pepper seasoning, fresh cracked pepper, a little seasoned salt, lots of fresh parsley, a tiny bit of red pepper flakes (if you like the touch of heat), and an additional sprinkle of Parmesan cheese. You could also cube up some cream cheese and stir that into the dish if you like!
And before you know it, with very little work on your part, you'll have a restaurant-tasting Chicken Alfredo dish the whole family is going to LOVE!
Crockpot Chicken Alfredo Pasta with Broccoli
Ingredients
1

pound

boneless skinless chicken breasts

2 and 3/4

cups

chicken broth

separated

1

teaspoon

minced garlic

1/2

teaspoon

lemon pepper seasoning

I use Mrs. Dash chicken seasonings

1/2

teaspoon

freshly ground pepper

1 jar

(14.5 ounces)

container Prego Homestyle Alfredo sauce or Prego Roasted Garlic Parmesan Alfredo Sauce

2

cups

uncooked rigatoni pasta*

1

tablespoon

cornstarch

+ 1 tablespoon water

1 and 1/2

cups

chopped broccoli

1/4

cup

freshly grated Parmesan cheese

Optional: salt, red pepper flakes, fresh chopped parsley
Instructions
Spray the slow cooker with nonstick spray.

Remove any fat from the chicken breasts and cut into large pieces. Place the pieces of chicken breast in the crockpot and cover with 1 cup of chicken broth.

Place on low for 5-7 hours or high for 3-5 hours. The chicken should be completely cooked through.

Drain the chicken breasts and shred in the crockpot with 2 forks.

Add remaining 1 and 3/4 cups chicken broth, minced garlic, lemon pepper seasoning, ground pepper, jar of Alfredo sauce, and uncooked pasta to the crockpot. Stir well.

In a small cup, stir together the cornstarch and water with a fork until smooth. Pour into the mixture and stir.

Chop the broccoli into fairly small pieces. Place the chopped broccoli evenly on top of the mixture (Do not stir in. This will give the broccoli a "steamed effect" by placing it on top).

Cover and cook on high for 45 minutes to an hour or until the pasta is completely cooked through and the broccoli is crisp tender. (Watch carefully – every slow cooker is different!! Mine took exactly 45 minutes — the pasta was al dente and the broccoli crisp tender. However, yours may take longer or cook much faster so keep on eye on it!)

Remove the lid and stir in the Parmesan cheese (add more to personal preference) and all optional seasonings. I generally add more pepper, salt, a sprinkle of red pepper flakes (a nice touch of heat and flavor) and freshly chopped parsley.

Enjoy immediately.
Recipe Notes
*Cooking time and the liquid absorbed could vary depending on the pasta you use so I recommend sticking to regular rigatoni pasta. This recipe has not been tested with other forms of pasta (wheat or gluten free) so I can't vouch for them working in this recipe. For other forms of pasta, cook separately and omit the additional chicken broth.
More delicious chicken crockpot dishes: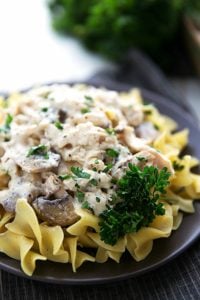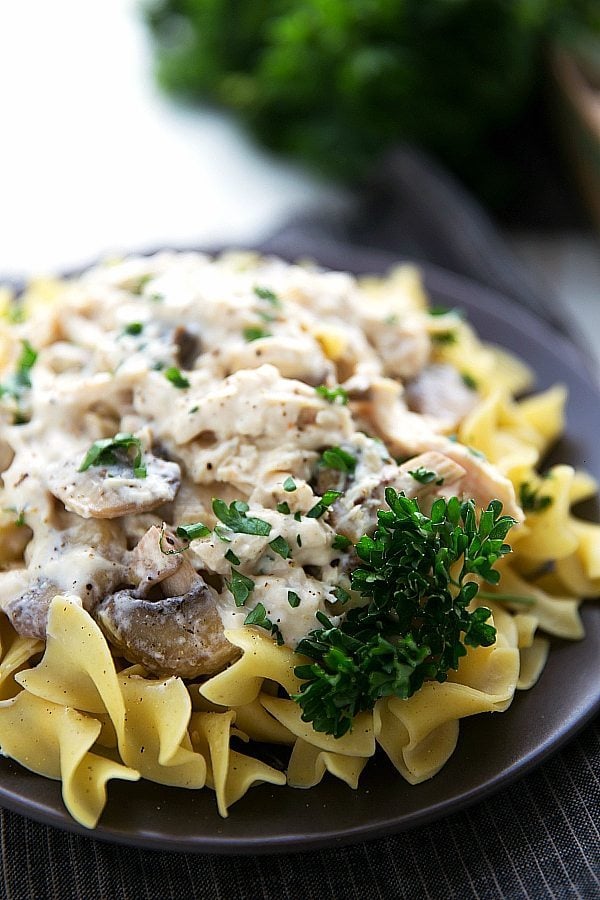 Easy Chicken Stroganoff made in the CROCKPOT — no cream of soups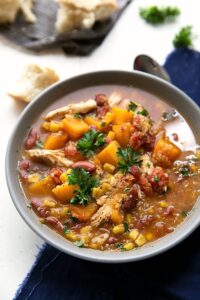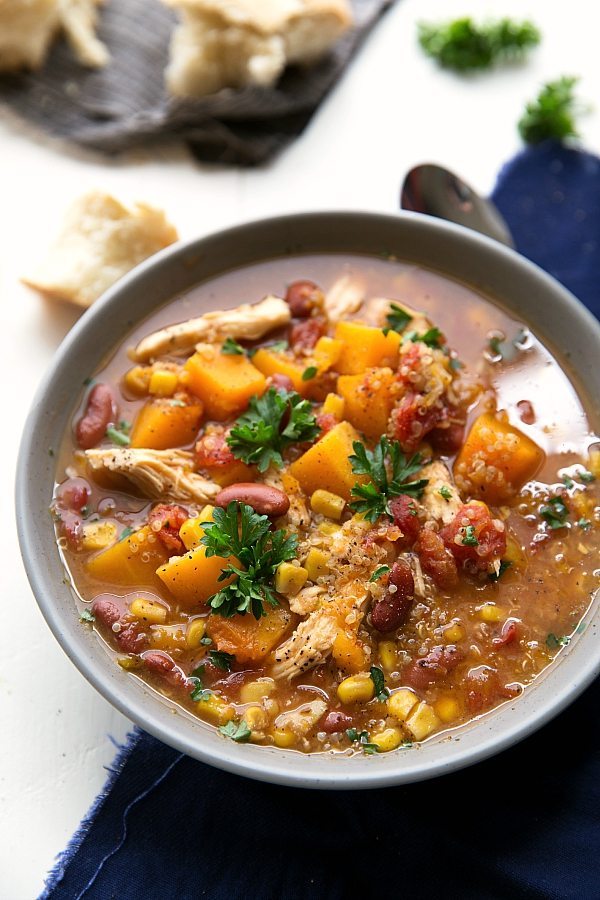 Crockpot healthy chicken, butternut squash, and quinoa soup
Crockpot BBQ Ranch Chicken Tacos