This ultra creamy and delicious sausage tortellini soup is packed with flavor — Italian sausage, cheese-filled tortellinis, vegetables, and herbs. 30-minutes from start to finish!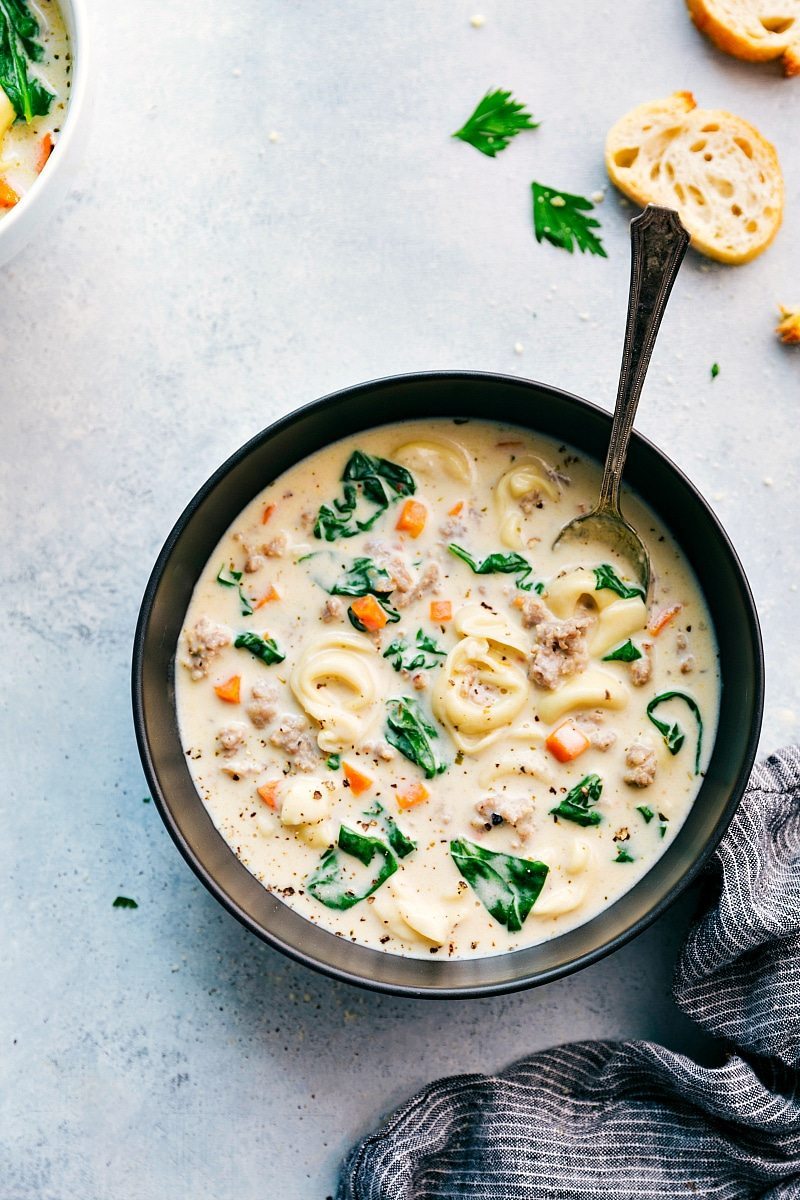 The toddler has become very fascinated with pictures and cameras the last few months. My phone has about 83,203 pictures of his nose and face, our IPad is out of memory from so many pictures, and he'll even help me snap a few shots for the blog on my camera.
He's showed such a consistent interest that I finally bought him his own toy camera. It's bright blue and actually has a memory card to save the pictures. It also has games on it and plays music.
When he first got it I asked him, "What are you going to take pictures of today?" And he said, "My breakfast." Haha. Definitely my son.
When we're taking pictures together he'll pause to play a game on his camera and then tell me: "mom, maybe you need to get a new camera because yours is old and doesn't have cool games OR music." He also informed me that my black camera is a little boring and would be a lot cooler if it was blue and/or had stickers on it.
He's completely convinced I need to get a new camera to take these blog pictures. And I'm just worried I'd get distracted playing those super fun games on it…
While the babe was napping, the toddler "helped" me take the video for this recipe. He's told me it's the best one he's ever made thanks to his shiny new blue camera. I haven't had the heart to tell him that, somehow, his footage didn't actually make the cut. (You're welcome.)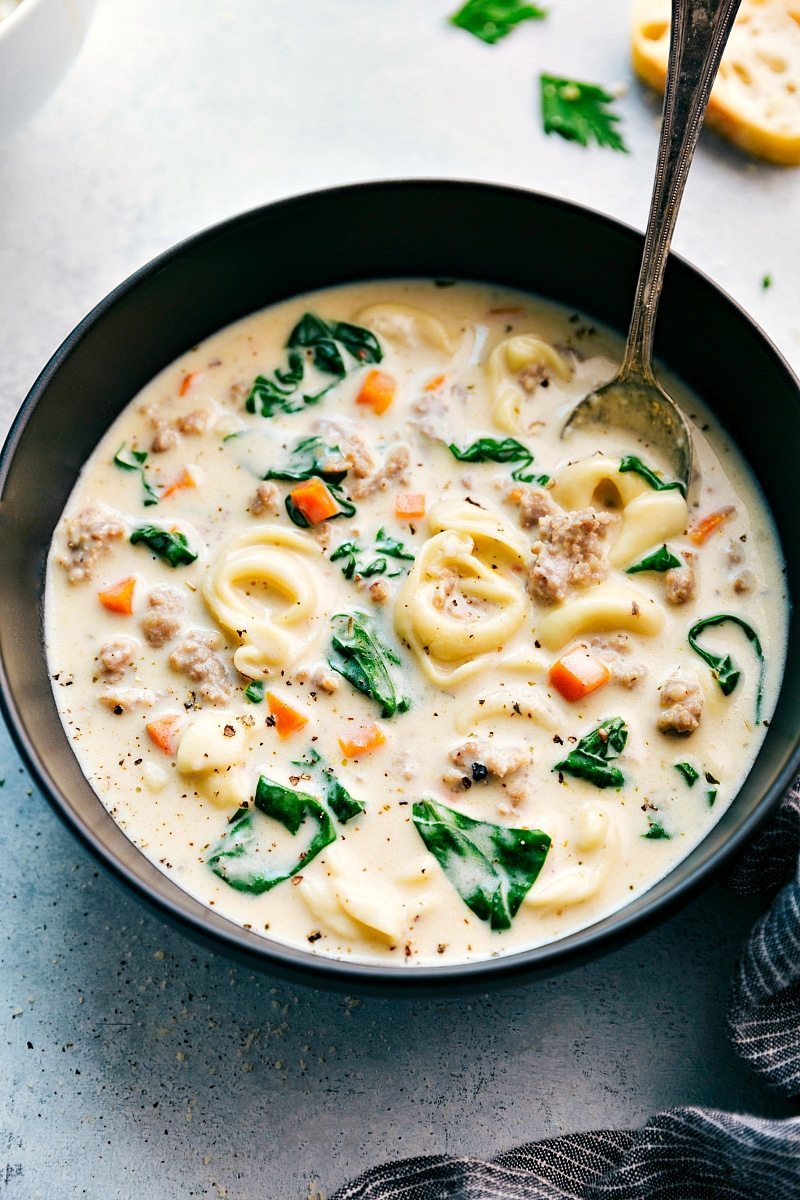 Several years ago I shared a creamy chicken tortellini & veggie soup which so many of you have absolutely loved! It's also a soup my husband requests every single Fall which is kind of a big deal because when we were dating he claimed that he didn't like soup and it was never filling enough for a full meal.
After 6 years of marriage I'm proud to say he'll actually request soup…for a MEAL. The boys also beg for tortellini and ravioli so this soup was kind of a win since they scooped those right out of their bowls and ate them. They also love dipping bread in the soup and then not eating the soggy bread…
This soup is so quick and easy to make and sure to be a cold winter staple! Enjoy!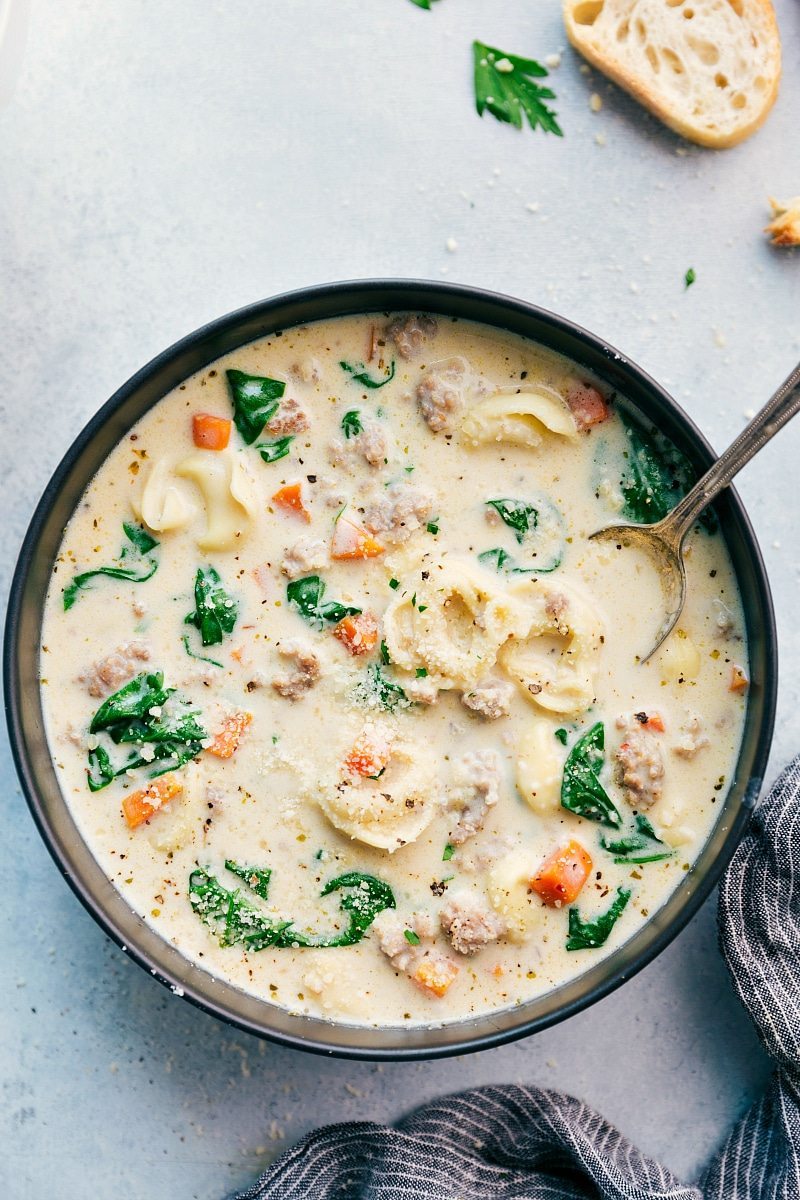 More Soup Recipes: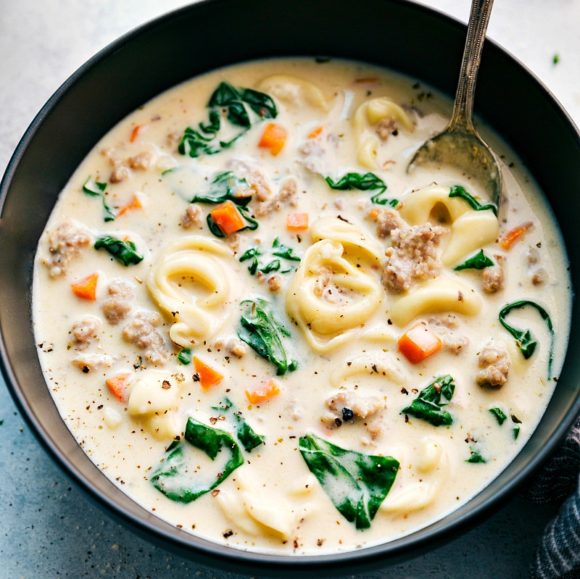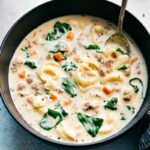 Sausage Tortellini Soup
This ultra creamy and delicious soup is packed with flavor -- Italian sausage, cheese-filled tortellinis, vegetables, and herbs. 30-minutes from start to finish!
Keyword:
Sausage Tortellini Soup
Ingredients
1

pound

hot or mild Italian Sausage

1

tablespoon

olive oil

1

small

yellow onion,

diced

2-3

large carrots,

peeled and diced

2

teaspoons

minced garlic

3

tablespoons

unsalted butter

1/4

cup

all-purpose flour

5

cups

chicken broth or stock

1

package (16 ounces)

cheese tortellini

1 and 1/2

teaspoons

Italian seasoning

4

ounces

fresh spinach,

stems removed and coarsely chopped

1

pint (2 cups)

half and half or heavy cream

Salt and pepper,

to taste

Freshly grated Parmesan cheese,

to preference

Optional: crusty baguette
Instructions
In a large pot over medium-high heat, cook & crumble the sausage until browned. Transfer the cooked sausage to a paper-towel lined plate and dab with another paper towel to get rid of the grease. Set aside.

Keeping the pot at medium-high heat, add in the olive oil along with the diced onion, and peeled & diced carrots. Saute, stirring occasionally, for 5-7 minutes or until the vegetables are soft. Add the garlic and saute for one more minute, stirring occasionally. Add in the butter and allow to melt.

Once the butter is melted, whisk in the flour and cook, stirring constantly, for 1 minute. Slowly add in the chicken broth or stock, whisking to combine. Continue cooking, stirring occasionally, until the mixture reaches a simmer. Reduce the heat to medium-low and allow to simmer and thicken for about 5-8 minutes.

Add the cooked sausage, Italian seasoning, tortellini**, salt & pepper (to taste, I add about 1 teaspoon salt and 1/2 teaspoon pepper), spinach, and half & half or heavy cream to the pot. Stir and then simmer or medium heat for about 5 minutes or until the spinach is wilted and the tortellini is cooked through.

Serve immediately with freshly grated parmesan and crusty baguette, if desired.
Recipe Notes
**If you plan on having the leftovers, cook the tortellini separately and add it to individual bowls. Otherwise it will bloat and absorb all the liquid (and become quite "soggy")
Recipe adapted from Crisco.