Flavorful Chicken Lettuce Wraps with ground chicken, tons of veggies, and a delicious sauce to coat it all!
We're obsessed with Chicken Lettuce Wraps! Try some of our other favorites next: peanut chicken lettuce wraps, taco lettuce wraps, vegetarian lettuce wraps, or beef lettuce wraps.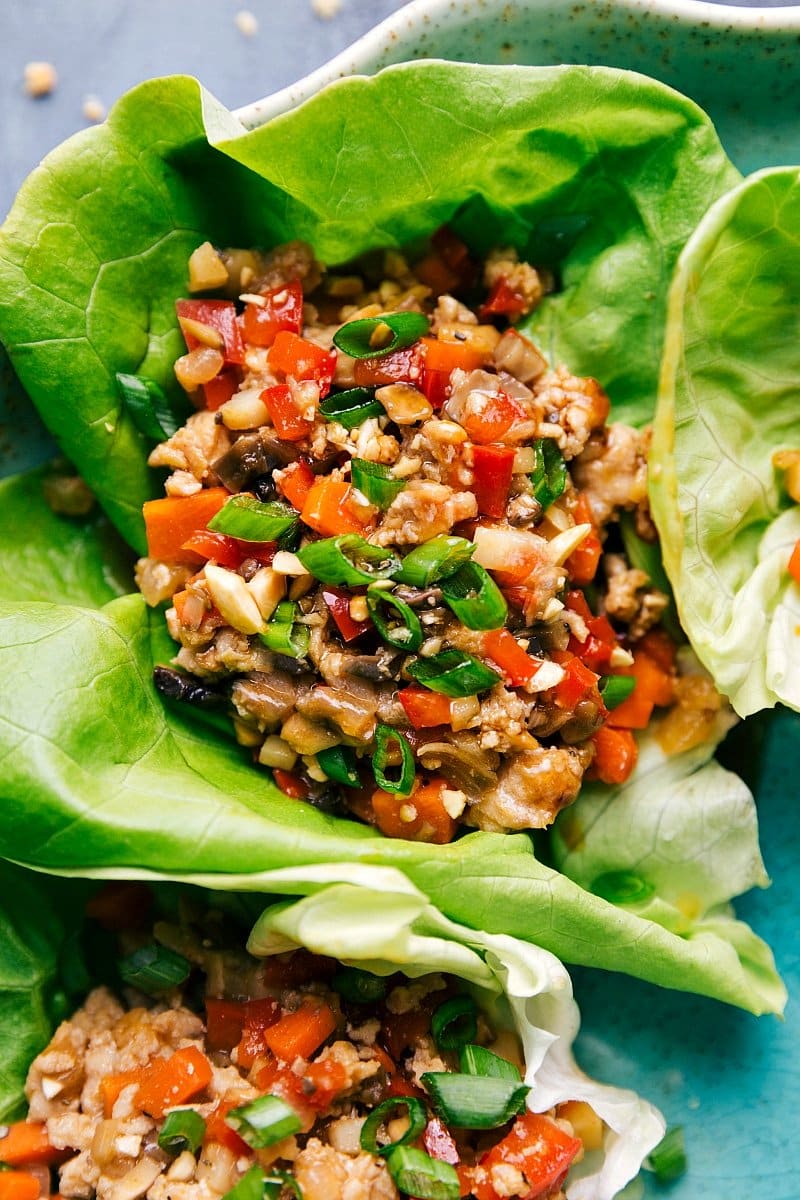 Nutritious and perfect for meal prepping
I've been working on this recipe for quite some time now, and am obsessed with the result. Most chicken lettuce wraps have loads of sugar in them or the sauce is primarily made of hoisin sauce. I'm personally not a huge hoisin sauce fan, so I wanted a sauce that was still flavorful without the hoisin. I also wanted to keep these lettuce wraps on the healthier side for a good and nutritious meal instead of a sugar laden "once-in-a-while" indulgence.
In fact, I've been making a batch of the filling every Sunday night, and using it for weekly lunches. This recipe is one of the best for meal prepping; the filling stores and reheats exceptionally well. In fact, the filling gets more flavorful every day — it's so good! Here are the meal prep containers I like.
I store the filling in a container in the fridge separate from the lettuce that's washed, dried, and stored in its own container. Come lunch time, I heat up a portion of the filling and layer it in the prepped lettuce wraps — lunch in an instant!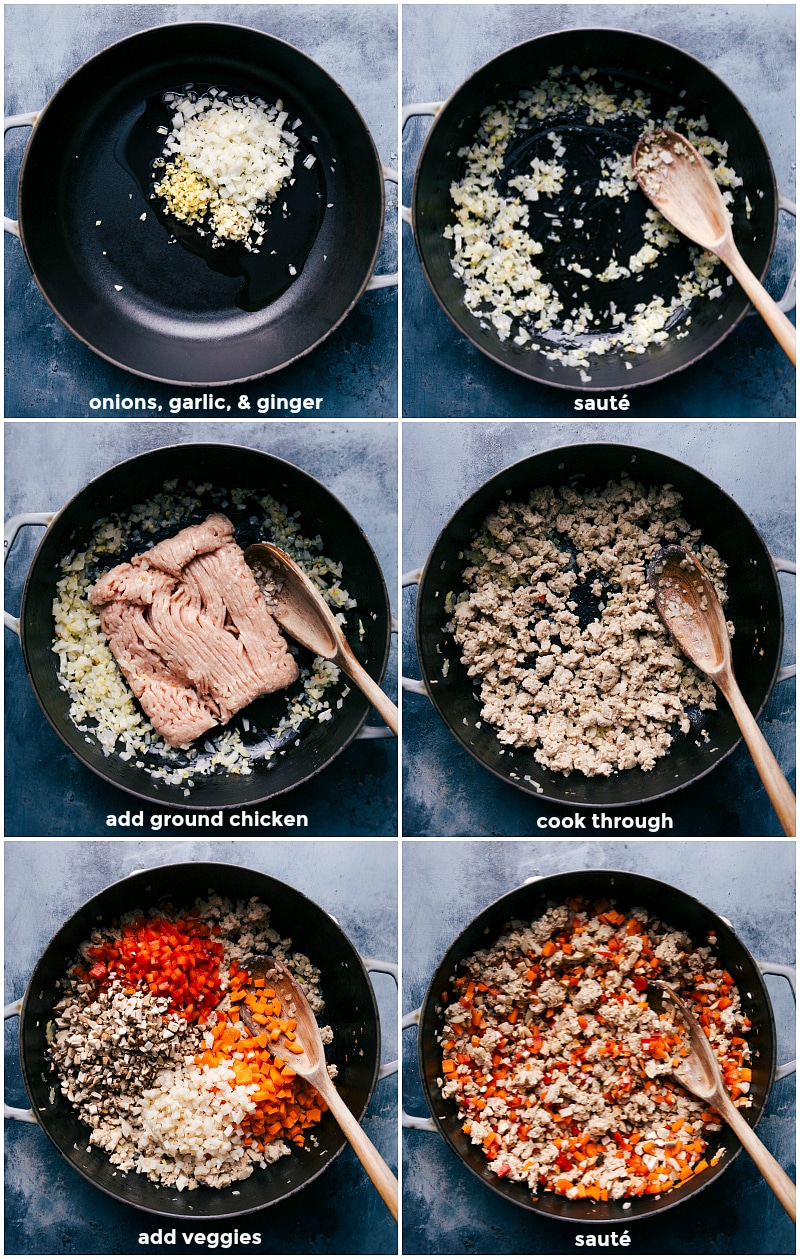 Below I'll break down all the components for these wraps beginning with the lettuce, then the filling, the sauce, and finally the toppings.
Best lettuce for wraps
My favorite lettuce for chicken wraps is butter lettuce (also known as Boston or Bibb). It has a nice flavor, the perfect amount of crispness, and rolls up nicely.
Green leaf and iceberg lettuces also work nicely in this wrap; Iceberg adds a really nice crispness, but does tend to be harder to wrap as it breaks easily. In a pinch, Romaine lettuce is also a workable option.
To prepare the lettuce for the wraps, carefully separate the lettuce leaves from the stem. Gently rinse the leaves and pat dry with paper towel. Try to keep the lettuce wraps whole and if desired, slice off any of the white or hard ends that won't wrap up nicely.
Filling
The filling consists of ground chicken, plenty of veggies and good-for-you ingredients like mushrooms, red pepper, carrot, onion, ginger, and water chestnuts.
As long as the quantities remain fairly consistent (and the veggies are diced small so they cook in the right amount of time), you can use pretty much whatever you've got on hand. Below are some ideas:
Replace the red pepper: Any sweet bell pepper works: red, orange, yellow, or even green. You can even leave out the pepper and use extra carrots instead.
Other veggie ideas: Try very thinly sliced red or green cabbage, thinly slice kale (or kale slaw), or broccoli slaw.
Sauce
Below are the ingredients used in the sauce for these wraps; I've also included some notes on why we add each ingredient and possible substitutions.
Cornstarch: Just a little for thickening
Soy sauce: Avoid dark or sweet soy sauce, instead, use regular or all purpose soy sauce.
Oyster sauce: Oyster sauce gives an amazing depth of flavor (don't worry it doesn't make the dish taste like oysters). Oyster sauce is the secret to delicious Chicken Lettuce Wraps!
Chicken stock: I prefer the heartier flavor of stock, but broth also works here. Use low sodium if you're concerned about salt content.
Rice vinegar: It adds a hit of acid and a nice contrasting flavor.
Brown sugar: Use just a little to balance flavors and counteract the spice from the Sriracha sauce. I've also tested this recipe with 1 tablespoon honey, if you want to use natural sweetener.
Sesame oil: This adds a great authentic flavor. (Toasted sesame oil is my favorite!)
Sriracha sauce: This adds some heat and flavor. You can also use Sambal Oelek (1:1 substitution)
Salt: Depending on how salty the soy sauce and chicken stock are, you may not need any salt, but remember that ground chicken does require more seasoning than most ground meats to avoid being bland.
Toppings
Chopped peanuts or cashews: I like getting roasted and salted nuts for these wraps. They add a nice crunch and hit of saltiness.
Fresh green onions: Thinly slice some green onions to finish up these wraps and add a nice fresh touch.
Fresh lime: I usually serve these wraps with a few lime wedges on the side so everyone can add a few squeezes of right before eating. I intentionally didn't add lime juice to the sauce because I planned for it here.
Extra Sriracha: For some more heat, add a few extra dashes of Sriracha on top.
Rice sticks: Many restaurants serve crispy fried noodles on top of their wraps. I love these, but don't often go to the extra effort of making them for a weeknight meal. If you'd like to make them, try this recipe.
Hoisin sauce: If you like hoisin sauce, use it as a dip for these lettuce wraps!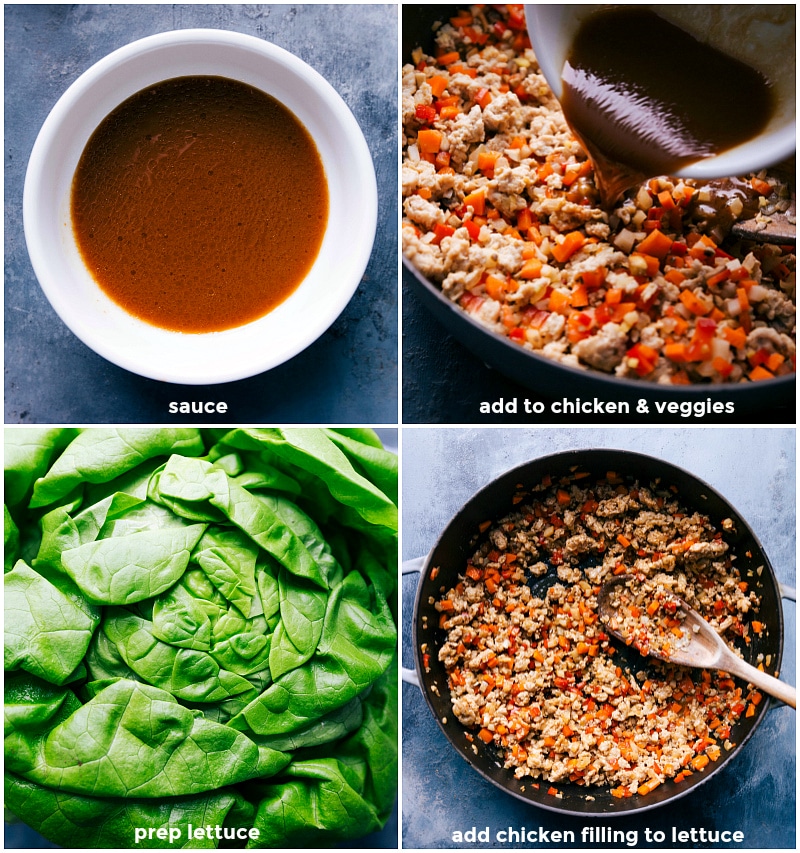 Tips for Chicken Lettuce Wraps
Chopping the veggies: It's important the veggies are chopped to even sizes (and as indicated in the recipe) so everything will cook through in the right amount of time. If the veggies are too big or thick, they'll take longer to cook and the chicken will be over-cooked.
Aim to use dark-meat ground chicken: Most of the fat in chicken is in the dark meat; the lighter the color the ground chicken, the lower the fat content will be. This also means it will dry out quicker and faster and taste drier when cooked.
Don't over-cook ground chicken: Just as chicken breasts can get very dry when overcooked, so can ground chicken. Stop cooking when it's no longer pink and has turned white. Stir and break up the chicken constantly while cooking it.
Drain off any liquid: Before adding the sauce, make sure to drain off any liquid that has accumulated while cooking the chicken to avoid soggy, bland chicken filling.
Serve these chicken lettuce wraps alongside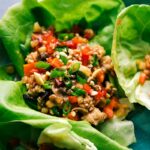 Chicken Lettuce Wraps
Amazing Chicken Lettuce Wraps with ground chicken, tons of veggies, and a delicious sauce to coat it all. These lettuce wraps are loaded with flavor and texture.
Course:
Appetizer, Dinner, lunch, Main Course
Keyword:
chicken lettuce wraps
Servings
:
12
-16 lettuce wraps
Ingredients
Sauce
1/2

tablespoon

cornstarch

3

tablespoons

chicken stock

2

tablespoons

regular (all purpose, not light) soy sauce

2

tablespoons

rice vinegar

3

tablespoons

oyster sauce

1

teaspoon

sesame oil

1-2

teaspoons

brown sugar

(add to desired preference)

1

teaspoon

Sriracha sauce
Filling
1

cup EACH

finely diced yellow onion, finely diced carrots, finely diced mushrooms, finely diced red pepper

(about 1 small onion, 1 large carrot, 4 ounces mushrooms, 1 bell pepper)

1

tablespoon

vegetable oil

1

tablespoon

minced garlic

1

tablespoon

ginger

minced (if you really love ginger, increase to 2 tablespoons)

1

pound

ground chicken

(dark meat if possible)

1/2

cup EACH:

finely diced canned water chestnuts, thinly sliced green onions

12-16

lettuce leaves

(we like Boston/Bibb lettuce best; Iceberg also works well)

Optional garnish: coarsely chopped peanuts or cashews, fresh lime wedges
Instructions
SAUCE: Start by whisking together the sauce: add the cornstarch to 1 tablespoon chicken stock and whisk with a fork until smooth. Then add remaining 2 tablespoons chicken stock. Add in the 2 tablespoons soy sauce, 2 tablespoons rice vinegar, 3 tablespoons oyster sauce, 2 teaspoon sesame oil, 1-2 teaspoons brown sugar (add to taste), and 1 teaspoon Sriracha sauce. Stir to combine.

VEGGIE PREP: Prep the veggies first, since the cooking goes quickly. Finely dice a yellow onion, peel and finely dice a large carrot, finely dice some mushrooms, finely dice a red pepper, mince garlic, and finely dice ginger. Drain the water chestnuts and finely dice those. Thinly slice green onions.

COOK: In a large skillet, heat 1 tablespoon oil over medium-high heat. Add in 1 cup onion, 1 tablespoon minced garlic, 1 to 2 tablespoons minced ginger. Cook for 2-3 minutes until beginning to get soft and fragrant. Add in the ground chicken. Make sure to break up the ground chicken with a wooden spoon so there are no large clumps. Sauté for 5-7 minutes (breaking up/stirring almost constantly) or until mostly white and cooked through. Drain off any accumulated liquid and return skillet to medium-high heat.

ADD VEGGIES: Add all the vegetables: the carrots, red pepper, mushrooms, and water chestnuts. Cook for 2-3 minutes until the carrot is softened and chicken is cooked through. Give the sauce another quick stir if it has settled and then pour over the mixture. Cook for another 1-2 minutes or until the sauce thickens and coats the filling. Taste and adjust seasoning. Add salt until the flavors sing.

SERVE: Transfer the filling to a bowl or large plate and serve alongside lettuce leaves, sliced green onions, and chopped peanuts or cashews (if using). Spoon filling into lettuce leaves and top with green onions and nuts. Serve with lime wedges on the side and add a squeeze of lime before eating. Roll up and enjoy immediately.
Recipe Notes
Chicken Lettuce Wraps are a great make-ahead meal -- in fact, they taste even better the next day! Store the filling in a container in the fridge, separate from the lettuce that's stored in its own container. Store garnish ingredients (lime/nuts) separately.