Delicious and simple baked coconut chicken tenders with an easy five-ingredient honey mustard dipping sauce. Video tutorial above written recipe.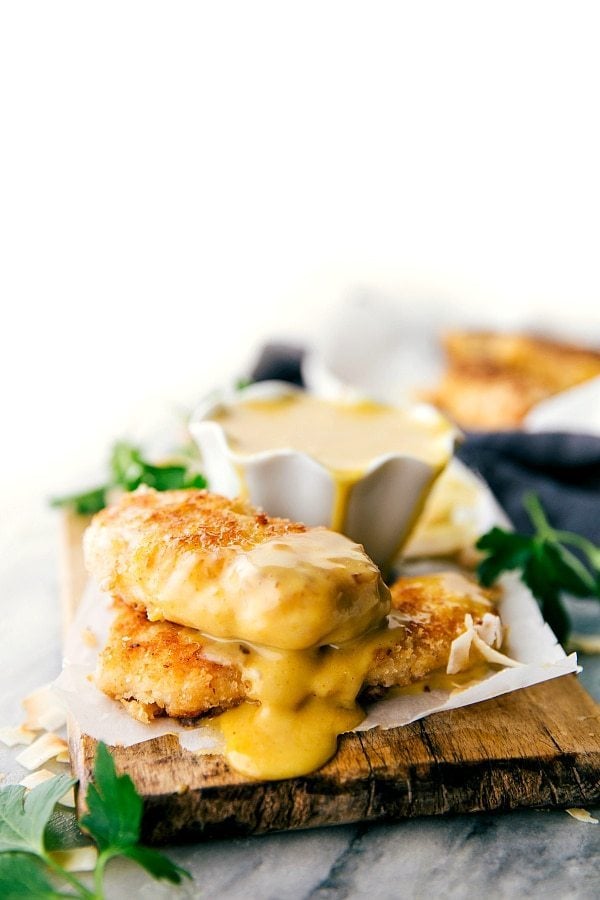 The husband and I have never been huge chick-fil-a fans. In fact we couldn't quite figure out what the hype was all about. His parents love the place and so we'd go with them occasionally and both leave thinking "meh."
That is, until we found out about their secret sauce. (How did we not know about it and how did it take us so long to discover it?!) Since finding out about that sauce we got hooked and have definitely discovered what the hype is all about. And now every time we go, we may or may no leave sneaking out a few packets of the sauce. And yes, my husband is both embarrassed of me stuffing the packets in my purse and then later thrilled when I whip 'em out for dinner.
That secret chick-fil-a sauce has some serious power to make those chicken sandwiches go from meh to amazing! And since we don't go frequently enough to have packets to use all the time for dinner, I decided it was time to re-create that sauce and make some delicious chicken to dip in it.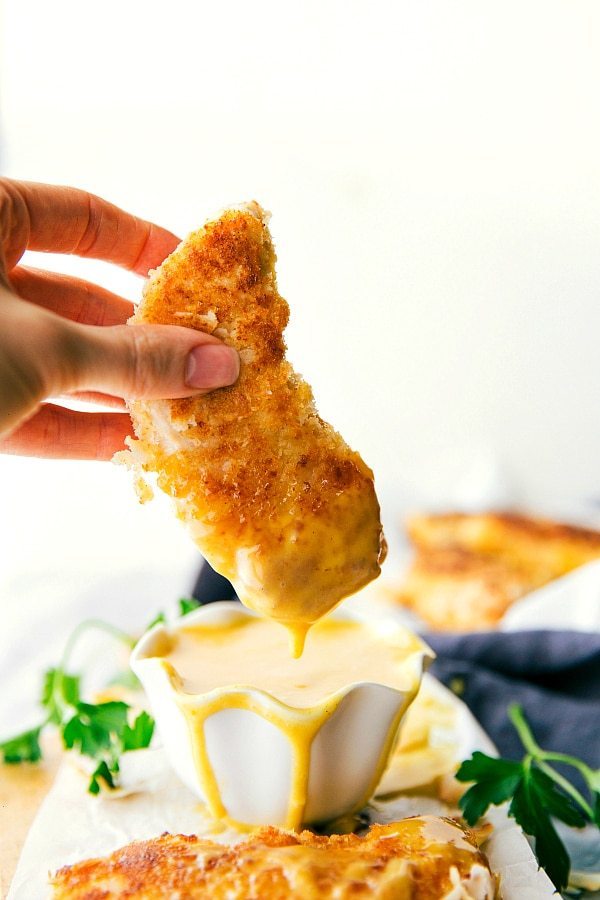 As much as I love this sauce (and my husband will tell you it's his favorite), the coconut chicken is what I'm super crazy about. I know there are no short of dozens of recipes for coconut chicken online, but I think I'll be able to convince you why this one is the best! There are quite a few differences in this recipe from the others that will really take your coconut chicken to the next level!
So, what are those differences? I won't try to bore you too much, but here are a few of the things that set this coconut chicken apart:
✔️Marinating the chicken tenders. Don't worry this isn't a step that is going to take you forever and a half to do. The marinade is just 1 ingredient! All you need is one can of full fat coconut milk. Trim the fat of your tenders (and definitely use chicken tenders for this recipe!), and toss them in with the coconut milk. Let it sit in the mixture til you are ready to make the dinner.
✔️ Panko. Instead of breadcrumbs or just flour I use panko. Panko is generally used in Japanese cooking and it can be found in the grocery store in the Asian foods aisle. I definitely prefer panko to regular breadcrumbs because of its lighter and more delicate texture. It results in a more crispy and crunchy end product than breadcrumbs. Especially when you are baking chicken instead of frying; the panko makes a huge difference!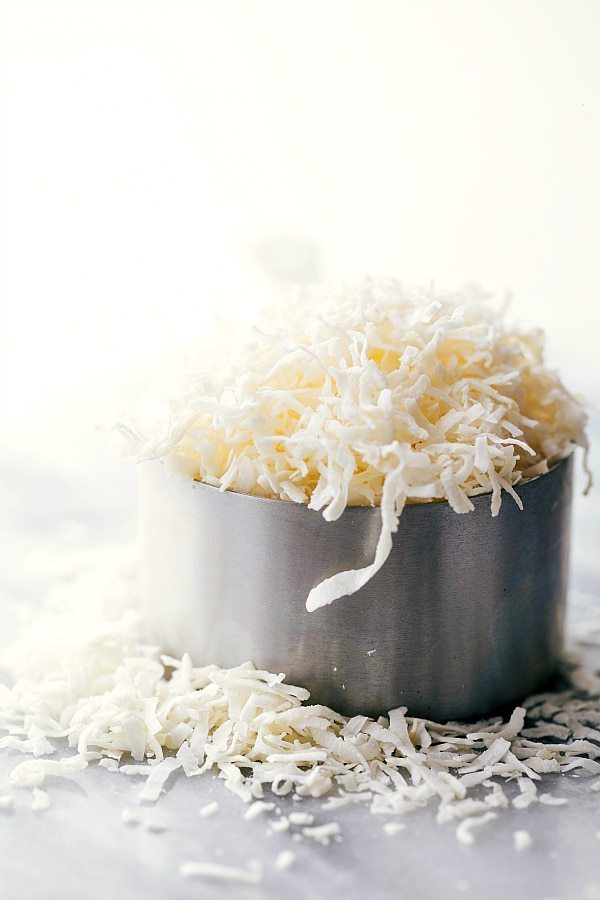 ✔️ The coconut: First off, I use sweetened shredded coconut. It adds a bit of sweetness to the final chicken tenders which makes them that much more delicious. The other big thing that changes this dish is how the coconut is prepared. Instead of keeping the coconut as is, I quickly pulse the coconut. This helps it to cook into a more even crust and keeps you from getting burned coconut bits. Quickly pulsing the coconut in a blender or food processor until it resembles crumbs is huge for this dish!
✔️ Coconut oil: I tried cooking the tenders in a skillet with coconut oil which gave them a delicious and crispy crust, but it was kind of a pain to do. You can only fit so much in the skillet and then the finished ones are cold by the time the rest (and the sauce) are done. SO to get that nice crispy crust I spread coconut oil on the pan and then cook the tenders on that. 5 minutes before they are all cooked you'll flip the tenders so both sides get a nice crispy crust and plenty of extra coconut flavor. This is my secret for easy baked chicken with a nice crust!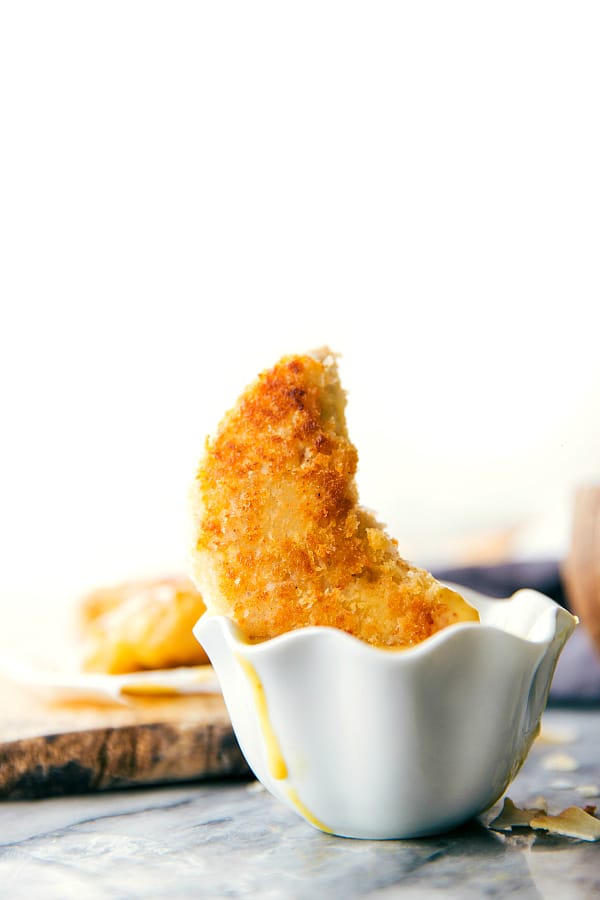 And then of course there is that dipping sauce. Which coconut chicken smothered in this sauce makes for THE best baked chicken tenders you might just ever eat ☺️ Seriously though, these tenders in the sauce…there are no words.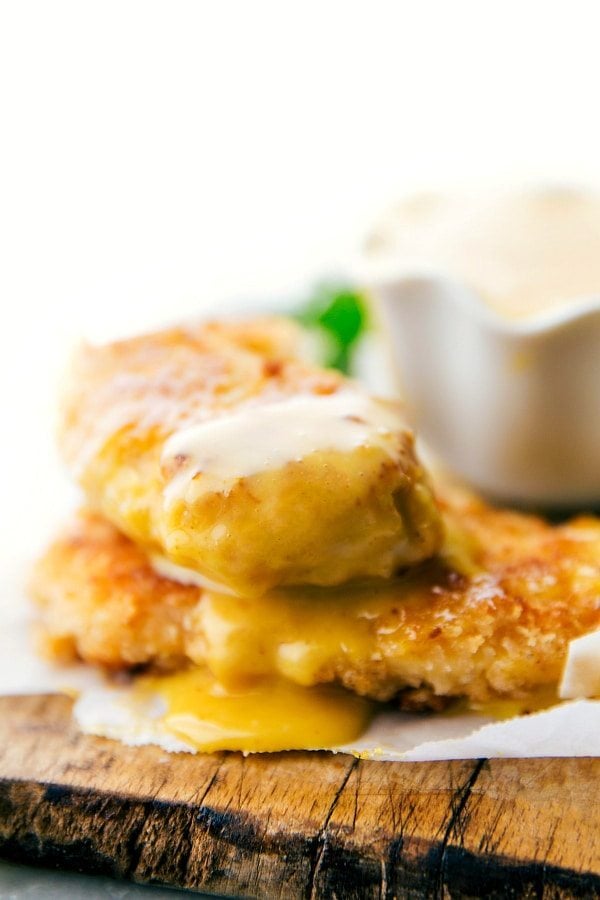 More delicious meat recipes: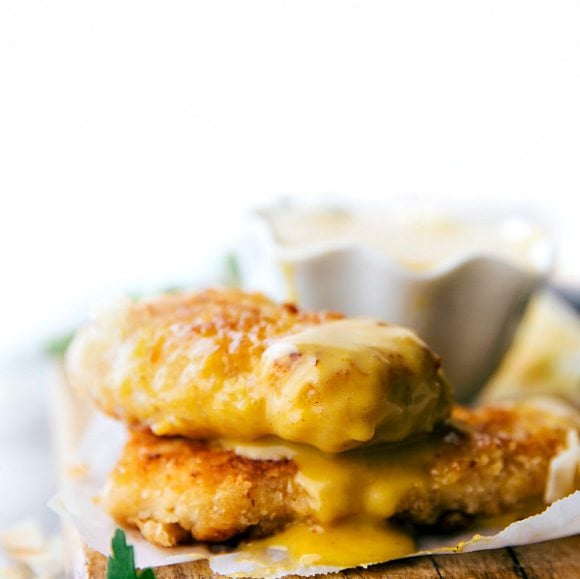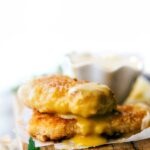 Baked Coconut Chicken
Delicious and simple baked coconut chicken tenders with an easy five-ingredient honey mustard dipping sauce. Video tutorial above written recipe.
Keyword:
Baked Coconut Chicken
Ingredients
Chicken
1 and 1/4

pounds

boneless skinless chicken tenders

1

can

full-fat coconut milk

optional

1/2

cup

white flour

Salt and Pepper

1/4

teaspoon

paprika

2

large eggs

1

cup

shredded sweetened coconut

1

cup

Panko*

2

tablespoons

coconut oil
Dipping Sauce
3/4

cup

real mayo

1

tablespoon

yellow mustard

1

teaspoons

and 1/2 lemon juice

3

tablespoons

honey

2

tablespoons

honey BBQ sauce

Salt and pepper
Instructions
Trim the fat from the tenders and place them in a large bowl.

Cover with 1 can of coconut milk. Cover the bowl and place in the fridge for at least 30 minutes up to 8 hours.

Preheat the oven to 400 degrees F.

Set out three bowls. Fill one with the white flour, about 1/4 teaspoon pepper, about 1/2 teaspoon salt, and paprika. Stir.

Fill the next bowl with the eggs and lightly beat with a fork.

Place the coconut in a blender or food processor and process to crumbs. Place the coconut crumbs in the third bowl with the panko and stir.

Remove the marinated chicken and discard the coconut milk.

Place the tenders in the flour mixture, then the egg, then the coconut mixture making sure to evenly and thoroughly coat each piece.

Melt the coconut oil and spread evenly over a cooking sheet.

Place the tenders on the sheet and then place in the oven.

Cook for 15 minutes and then flip the tenders and cook for another 5-8 minutes or until the internal temperature of the chicken reaches 165 degrees F.

Remove and enjoy immediately with the dipping sauce!

To make the sauce, whisk all the ingredients together. Add a pinch of salt and pepper, taste, and adjust any of the ingredients to personal preference.
Recipe Video
These calories are just for the chicken: