A crave worthy Valentine snack mix that is perfect for February! This snack mix is filled with cereal, pretzels, M&Ms, and coated in melted white chocolate. No baking required.
Serve this mix as a snack or dessert or package it up for a Valentine's gifts to family members, friends, coworkers, etc.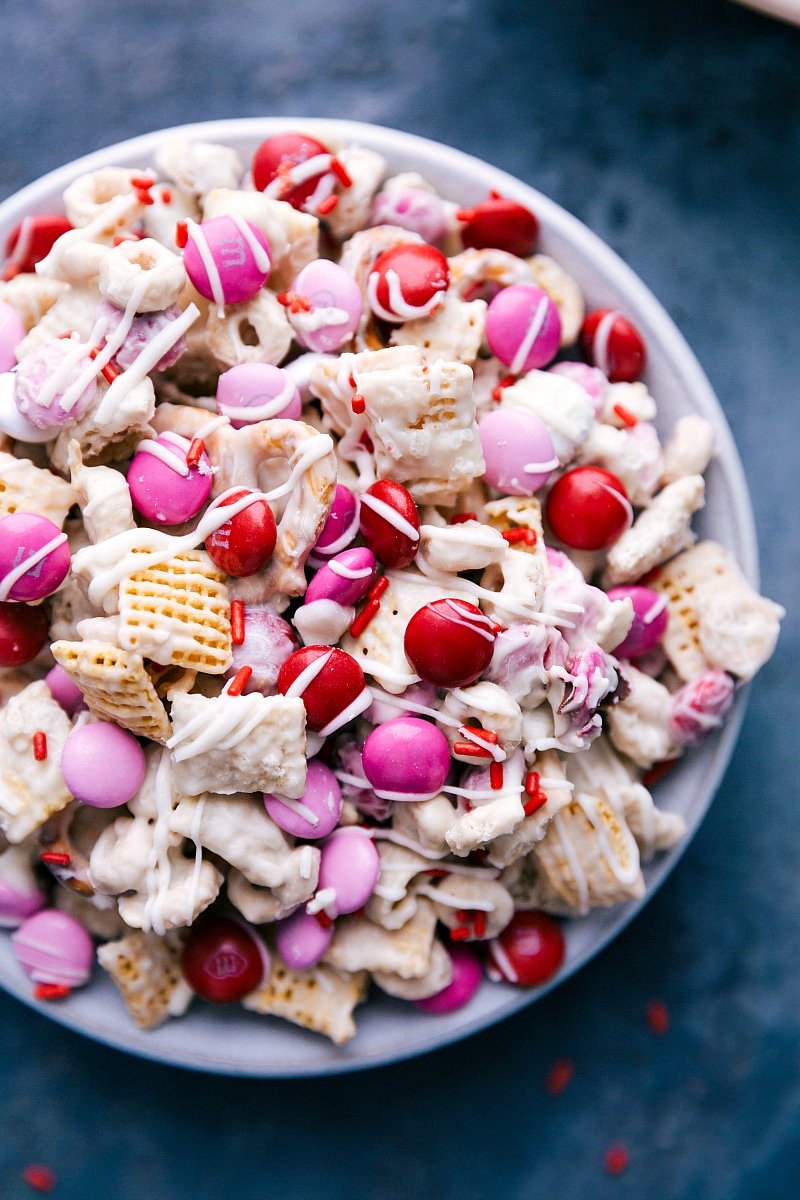 Valentine snack mix
There aren't too many holiday treats that are easier to make than this snack mix. It requires minimal ingredients and not a whole lot of time to prepare. It also sets up pretty quickly (pop it in the freezer if you want it even quicker!) and transports well.
And, if you're prepping for the big game in a few days, this can double as a great game day treat! You could even add some fun chocolate footballs like I added in this chocolate popcorn. A delicious game day snack that's festive for the month of February? Yes please!
How to make this Valentine snack mix
Descriptions below correlate with numbered photos.
Combine ingredients: Use a large bowl to add in all the ingredients. The bigger the bowl, the easier it will be for everything to get an even coating of white chocolate.
Melt white chocolate: add white chocolate to a bowl and melt in the microwave. Once melted, work quickly because white chocolate hardens fast!
Pour the white chocolate: right on top of the snack mix, use a spatula to scrape out every bit of melted chocolate on to the mix.
Toss: once the chocolate is on top of the mix, use two large spoons to quickly (but gently) toss everything until the white chocolate is coating everything.
Transfer the mix: to a parchment paper lined sheet pan.
Drizzle: if desired, add an additional white chocolate drizzle on top of the Valentine snack mix.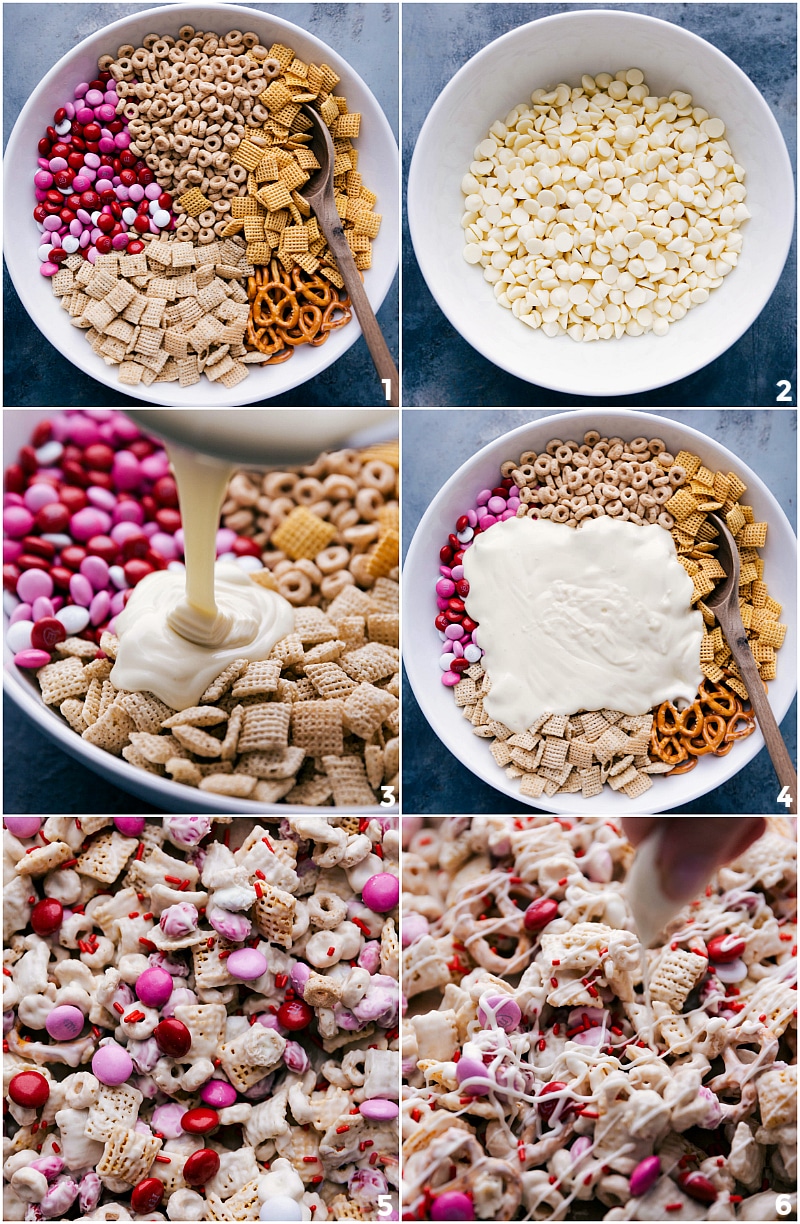 Snack mix tips
This mix is best with ingredients that are generally the same size. If you have to substitute in a different cereal or pretzel, try to get similar sizes. If using pretzel rods instead of twists, break the rods in half.
Use high quality white chocolate for best results: both a better melt and a better flavor.
When microwaving the chocolate, stir it often in between microwave bursts. Stir it for at least 10-15 seconds in between each burst. Remember the chocolate is still melting even outside of the microwave and it will burn if microwaved too long without being stirred. Chocolate is sensitive to high temperatures.
Don't allow any liquid near the white chocolate this will cause the chocolate to seize and harden. (Here's how to salvage seized or burned chocolate.)
Work quickly: white chocolate hardens quickly, so mix it with the other ingredients immediately after it is fully melted.
How to store this Valentine snack mix
Store this Valentine snack mix in an airtight container at room temperature for up to a week. We like this snack mix best within 2-4 days.
You can freeze any leftover snack mix in an airtight container/bag for up to 3 months; thaw at room temperature!
Variation ideas
Add some festive pink or red sprinkles to the mix; even better add in some heart sprinkles!
Use white or milk chocolate covered pretzels instead of plain pretzels
Add in 1 cup mini marshmallows (just make sure to eat the Valentine Snack mix the same day!)
Add a dark or milk chocolate drizzle in addition to the white chocolate.
More fun Valentine treats: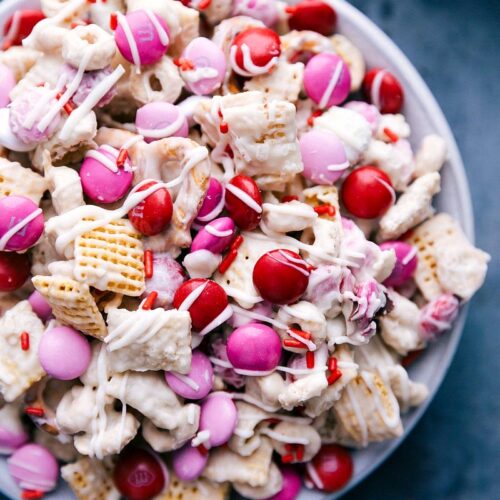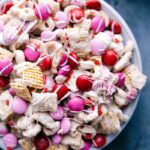 Valentine Snack Mix
A crave worthy Valentine snack mix that is perfect for February! This snack mix is filled with cereal, pretzels, M&Ms, and coated in melted white chocolate. No baking required.
Keyword:
valentine snack mix
Ingredients
2

cups

corn chex

1

cup

miniature pretzel twists

2

cups

rice chex

2

cups

honey nut cheerios (or plain cheerios)

1

bag

Valentine's M&Ms

(red, white, pinks)

3 and 1/4

cups

white chocolate chips

(just under 2 bags)

1 and 1/2

teaspoons

vegetable or canola oil

Optional: Valentine sprinkles
Instructions
PREP: Line a large sheet pan with parchment paper and set aside.

COMBINE: In a very large bowl combine the corn chex, miniature pretzel twists, rice chex, honey nut cheerios, and 1 cup Valentine's M&Ms. Stir to combine.

WHITE CHOCOLATE: In a medium sized microwave safe bowl add 3 cups of the white chocolate chips and 1 and 1/2 teaspoons vegetable oil. Microwave for 30 seconds, stir, and microwave for another 15 seconds. Stir for 15 seconds and then microwave another 15 seconds. Stir until melted and smooth. If needed, return to the microwave for a little longer. (Bursts of 15 seconds stirring for 10 seconds in between each burst). Pour the melted and smooth white chocolate over the snack mix.

COMBINE: Working quickly, gently stir until all ingredients are coated in white chocolate and then quickly transfer to the prepared baking sheet and spread into one even layer. Immediately add the remaining Valentine's M&Ms on top AND sprinkles if using. OPTIONAL STEP: Melt the last 1/4 cup white chocolate chips in the microwave and then transfer to a small bag. Cut off the tip of the bag and pipe stripes across the white chocolate snack mix.

FIRM UP: Allow white chocolate to firm up and harden at room temperature or place in the fridge until firm, about 10-20 minutes. Break into pieces and serve.