Two kinds of chocolate coat this Valentine's Popcorn! Plus, there are mini marshmallows and Valentine's M&M's in this fun snack mix.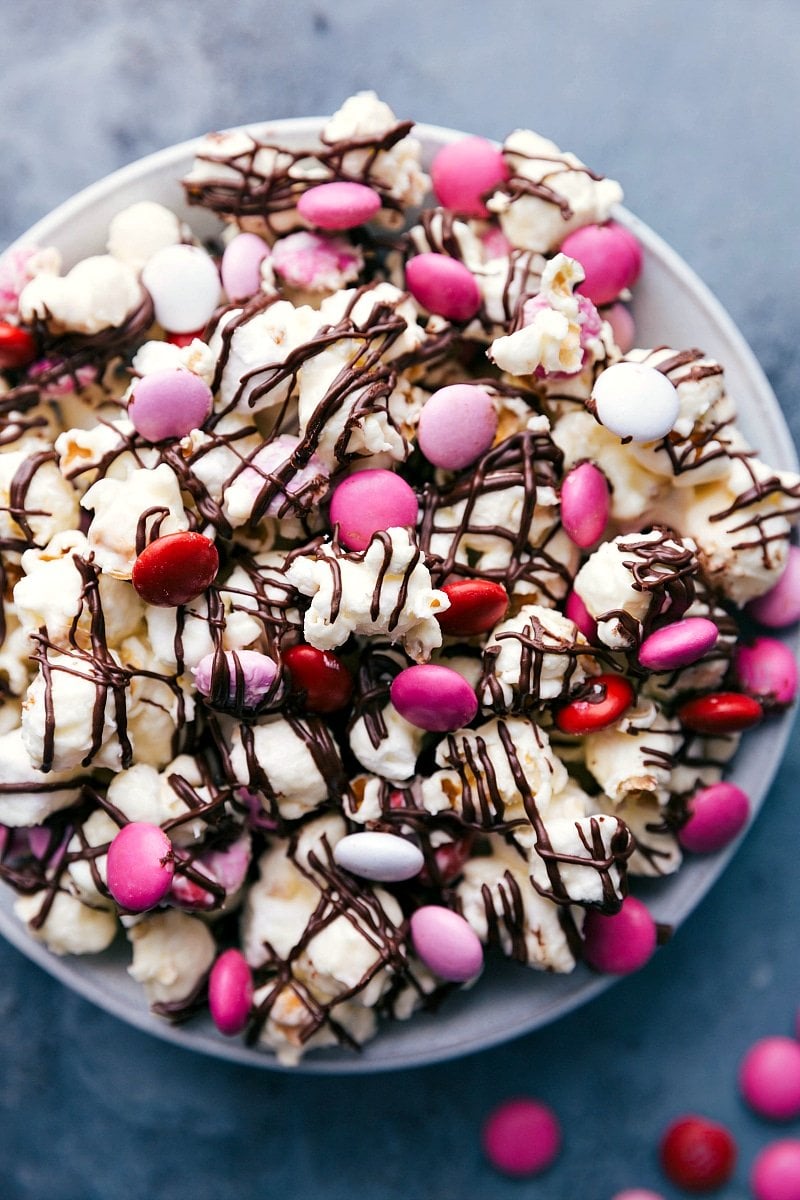 I love surprising my boys with fun treats throughout the first few days of February, and Valentine's Popcorn has been one of their favorites. They're obsessed with popcorn, and naturally they love it even more when it's covered in lots of chocolate and there are lots of M&M's throughout!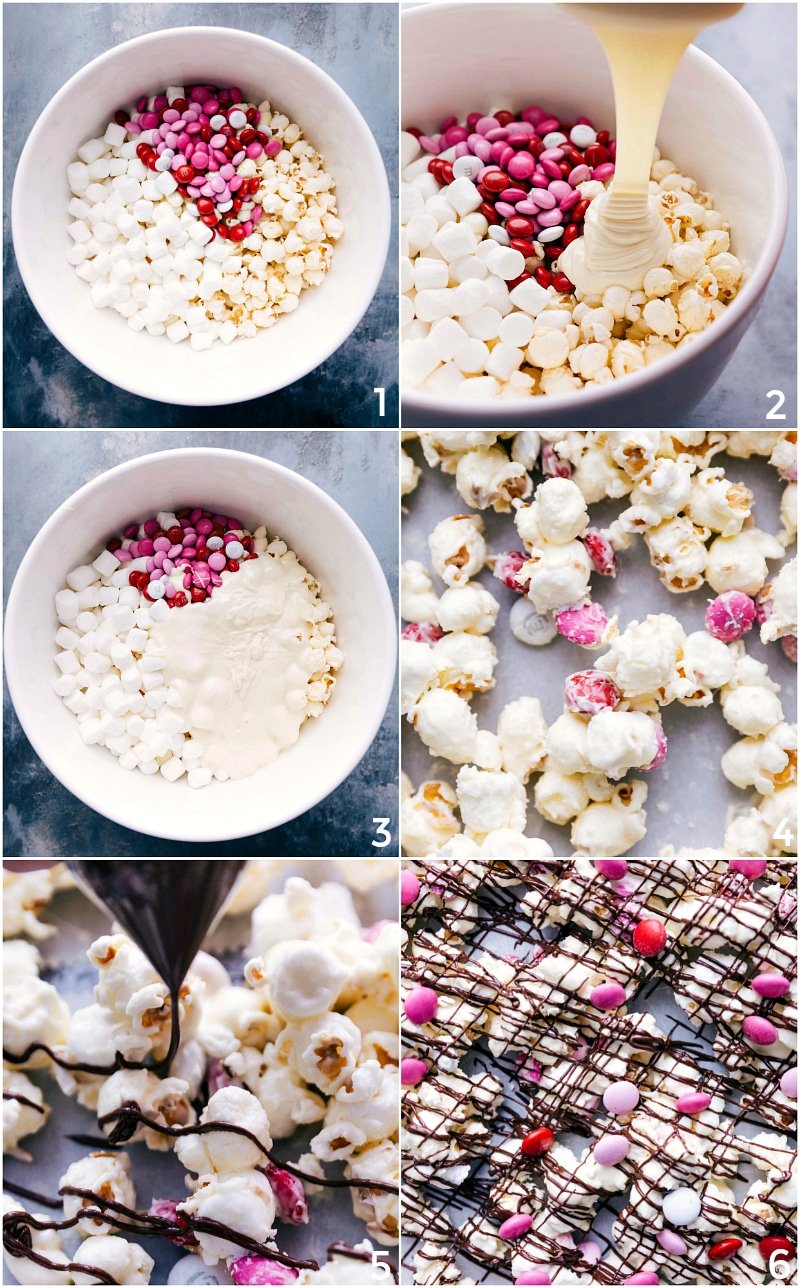 How to make Valentine's Popcorn:
Descriptions below correlate with photos above.
Add the popcorn, marshmallows, and half the Valentine's M&M's® to a very large bowl.
Drizzle in the melted white chocolate.
Quickly toss the ingredients together; the quicker you work here the better! And of course, be gentle so you don't crush the popcorn kernels.
Pour the white-chocolate-coated popcorn on a parchment paper (or non-stick baking mat lined tray. Spread the popcorn in one even layer.
Drizzle melted regular(brown) chocolate over the popcorn.
Tips for melting chocolate:
Stir the chocolate often during the melting process! This is the best tip I have to avoid burning chocolate in the microwave. Stirring often and in 20-25 second increments keeps the chocolate from getting too hot. Remember that the chocolate continues to melt, even when it's outside of the microwave.
Use high-quality white chocolate for best results. You'll get both a better melt and better flavor. My favorite on Valentine's Popcorn is Ghirardelli® or Guittard®. Cheaper brands can have a waxier content that is far less flavorful.
Don't allow any liquid near the chocolate. If it gets wet it will seize and harden, and you don't want that. Here's why.
Work quickly. White chocolate hardens quickly, so it's important to mix it with the other popcorn, marshmallows, and M&M's immediately after it's melted.
Add M&M's to the top. To keep this pretty, I like to press M&M's on top with the chocolate drizzle. You don't have to do this, but I feel like it makes the popcorn look better and ensures a very even distribution of M&M's.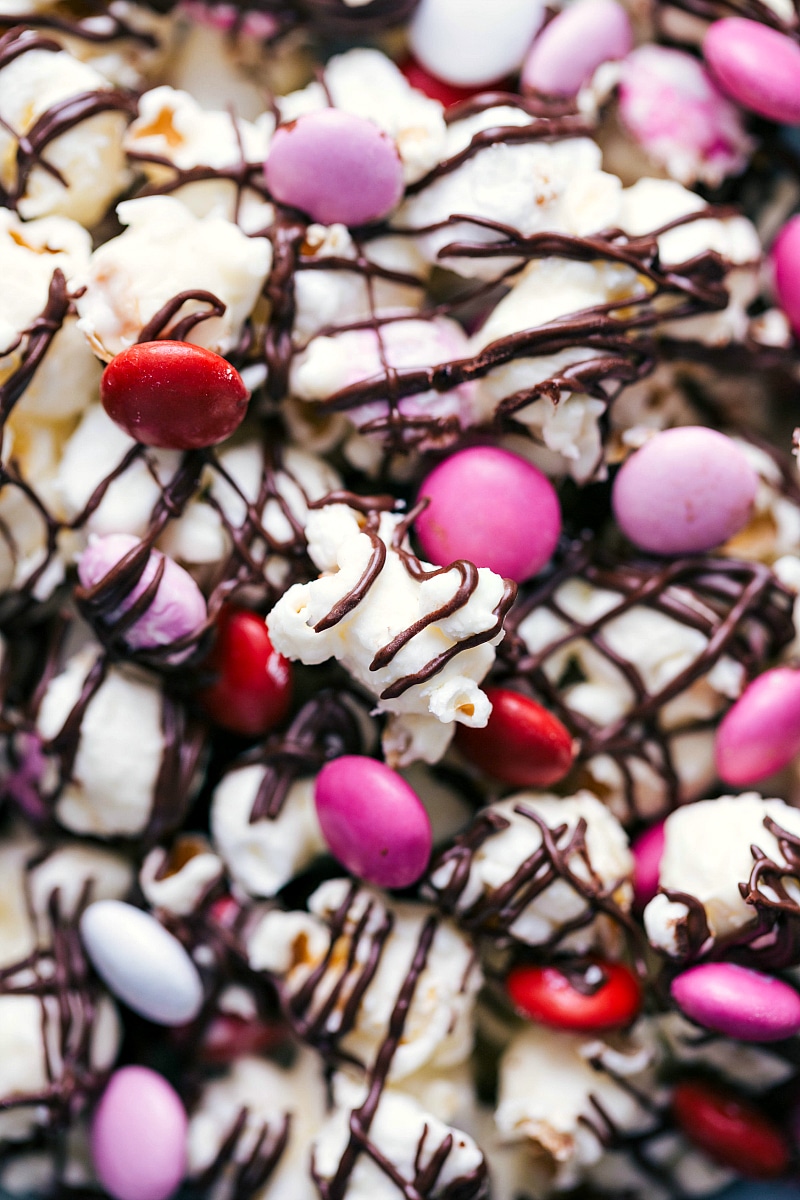 Valentine's Popcorn tips:
I recommend using already-popped popcorn. It's already been salted and it makes this recipe come together so quickly and easily. Make sure to pick out any un-popped kernels.
Use a really large bowl to toss all the ingredients with the white chocolate; it will be much easier with a large bowl or even spread out on a platter, to ensure it all gets coated in chocolate.
Don't forget to line the sheet pan(s) with parchment paper or a non-stick liner. Otherwise the Valentine's Popcorn won't come off the tray very well.
More Valentine's fun: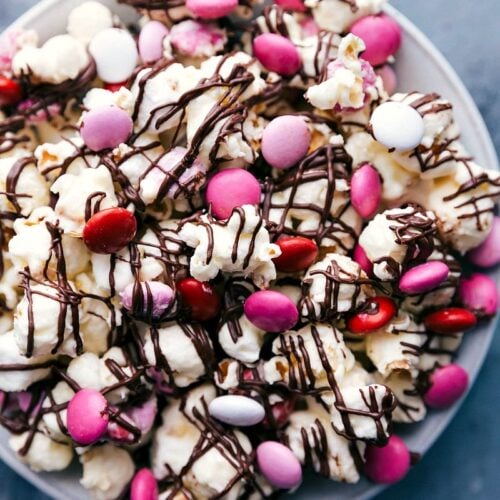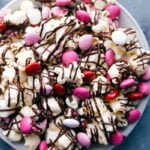 Valentine's Popcorn
Two kinds of chocolate coat this Valentine's Popcorn! Plus, there are mini marshmallows and Valentine's M&M's in this fun snack mix.
Keyword:
valentine's popcorn
Ingredients
10

cups

popped popcorn

no butter added; just air popped Note 1

1/2

teaspoon

salt

Note 1

2

cups

miniature marshmallows

2

cups

Valentine's Day M&M's,

divided

1

bag (12 ounces)

white chocolate chips

1/2

tablespoon + 1/2 teaspoon

shortening or vegetable/canola oil,

separated

3

tablespoons

Valentine's Day sprinkles,

optional

1/2

cup

milk, semi-sweet, or dark chocolate chips
Instructions
PREP: Line 1 extra large or 2 sheet pans with parchment paper or Silpat liners. Set aside. In a very large bowl or on a platter, add the popped popcorn, miniature marshmallows, and 1 and 1/2 cups of Valentine's Day M&M's. Toss and set aside.

WHITE CHOCOLATE: Place the white chocolate chips and shortening or oil in a microwave-safe bowl. Microwave in bursts of 25 seconds stirring in between each burst until the chocolate is melted and smooth. Be patient to avoid burning the chocolate. Once white chocolate is smooth and fully melted, pour over the popcorn. Working quickly, toss the ingredients together to coat all the ingredients in the white chocolate.

MILK CHOCOLATE: Immediately pour the white chocolate coated popcorn on to the prepared sheet pan(s). Spread into 1 even layer. (See Note 1) Melt the chocolate with 1/2 teaspoon of the remaining shortening or oil. Microwave in 15 second bursts, stirring between each burst. Transfer melted chocolate to a small zipper-top plastic bag and cut a tiny tip off corner with scissors (or use a pastry bag fitted with a #3 tip). Drizzle the chocolate evenly and generously over all the popcorn. While the chocolate is still soft, press remaining 1/2 cup Valentine's M&M's into the popcorn.

HARDEN: Let popcorn harden at room temperature (or in the fridge) until solid. Break into pieces and enjoy! Store any leftovers in an airtight container at room temperature. Best if used within 1-2 days.
Recipe Notes
Note 1: I like buying the already-popped popcorn at the grocery store. It's already got salt in it and is cooled down and ready to be made into this snack mix--a big time saver! If you are popping your own popcorn, salt it according to preference or sprinkle 1/2 teaspoon fine sea salt evenly over the popcorn once it's been covered in white chocolate and transferred to the sheet pan(s).