A brownie mix, chocolate pudding, and chocolate hot fudge all come together to make the most epic chocolate cookies yet. Oh and did I mention the chocolate chips? These brownie cookies are soft, chewy, and super fudgy.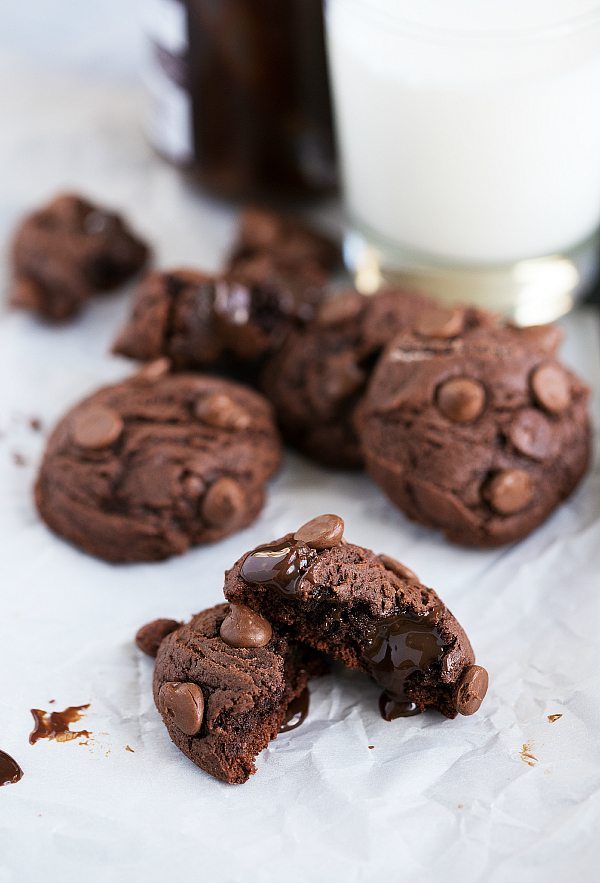 I know. I know. Cookies on a Monday, and BROWNIE COOKIES at that. What was I thinking?
Especially super-duper chocolate loaded cookies. I mean, these aren't light on the chocolate! I said triple chocolate, but really, I guess there are technically four types of chocolate. But quadruple chocolate in the title seemed a little ridiculous! So, the types of chocolate that are loaded in these amazing cookies? First off, the base is a brownie mix. So yes, these actually do taste like brownies in a cookie form! (Except even better than brownies in my opinion!)
Second, there is some pudding mix – making these cookies extra soft and chewy. While still having a crispy edge (you know, brownie style!!), and thirdly, there is HOT FUDGE. I mean, this addition, is just the perfect finishing touch in these cookies. They taste like pure fudge and as one taster described, "they melt in your mouth."
And then of course, loads of chocolate chips. I like to use a mix of chocolate chip chunks and regular chocolate chips. The chunks in the middle get all melty and with each bite, these cookies pretty much taste like a molten lava cake in cookie form. While still tasting like a fudge brownie. Because that all makes sense right? What you need to know is this — these cookies are the best chocolate-lover's cookie around!
So to answer the question I started the post off with… I was thinking, you definitely need this amount of chocolate in your life on a Monday morning. Because coping with the fact that it is no longer the weekend AND daylight savings (getting an extra hour) is not for another whole week. Well, then you understand right? These cookies are a must.
Off topic, but I'm already wondering. Will the whole daylight savings even mean anything for me with a baby on a strict "wake up at 5:30" routine. Or will he basically be waking up at the new 5:30 which is technically 4:30? Resulting in the once coveted daylight savings just being a very long day? Ah well. I, mean his cuteness will definitely make up for it, like it does every morning when I see 5:30 on the clock and think…really??!
Anyways. Clearly, I'll be making these cookies next Sunday morning as well. To make up for the fact that my cute baby will most likely not get the idea that I'm supposed to be sleeping in another hour.
Back to chocolate, and these cookies. A few notes about these guys:
Butter – room temperature! Not melted, not even a little or these won't be so pretty 🙂
And the hot fudge – cooled. I used my straight out of the fridge and it was very cold. If you are using room temperature hot fudge, you may have to chill this dough before baking the cookies. Or just chill the fudge first – whatever is easiest.
Next up, the thicker and chewier you want these cookies (more cakey), the more flour you'll want to add. If you want these cookies to spread more (a very defined chewy center with crisp edges), leave out 2 tablespoons of flour. This recipe is pretty forgiving with the flour – basically allowing you to test out your cookies and find the perfect consistency for you. (Obviously this recipe is the perfect consistency for me, but everyone is different!) So how do you find your perfect consistency? Add a little bit of flour, and then cook just 1-2 cookies. If you like the consistency of the cookie, cook the rest. If you want them puffier/chewier, add a couple more tablespoons of flour and try again.
Pretty factor (optional) – I like to stick a few extra chocolate chips on the tops of my cookie dough before baking. Totally optional, but oh so pretty.
You'll want to use a cookie scoop and then don't press down or flatten these cookies at all – they'll flatten as they bake! No cookie scoop? Try to mimic one – a tall and round ball of dough – not flattened.
Make sure to use the right amounts on all the ingredients – for instance, don't use a medium egg. You'll need a large one. And, for the brownie mix, make sure you use the same sized (check the ounces) box that I call out for in the recipe. Otherwise, these cookies will likely be off.
Another optional tip: I LOVE mixing two different kinds of chocolate chips – chunks and regular chocolate chips (semi-sweet and milk chocolate). Sososososo good!
Okay, that wraps up the keys for success on these guys. ENJOY!!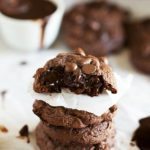 Triple-Chocolate Hot Fudge Brownie Cookies
Ingredients
1

package (18.4)

chocolate fudge brownie mix

1

large

egg

1/4

cup

chocolate fudge pudding mix

dry

1

teaspoon

vanilla extract

1/2

cup

butter

at room temperature

1/3

cup

hot fudge topping

not chocolate syrup

1/4

cup +2 tablespoons

white flour

1 and 1/2

cups

chocolate chips

we like milk chocolate
Instructions
Preheat the oven to 350 degrees F.

Make sure to have a brownie mix with 18.4 ounces and a large egg.

Beat together the brownie mix, egg, fudge pudding mix, vanilla, butter, hot fudge topping, and white flour.

Beat until well combined.

Stir in the chocolate chips. (I used a mixture of regular chocolate chips and chocolate chunks)

Using a cookie scoop, scoop the dough onto a parchment lined baking tray. Don't flatten the cookies. If you don't have a cookie scoop make round and "high" (not flattened) balls of dough. Place some chocolate chips on the top if desired.

Bake for 9-12 minutes and then allow to "bake" for another 3-4 minutes on the cookie sheet before transferring these to a cooling rack. (I like under-baking these cookies a little - they are chewier once cooled)

Feel free to play around with the amount of flour in this recipe. Less will make the cookies spread more (more flat and crisp) while more flour will make these cookies more thick, puffy, and cake-like. I used the amount indicated in the recipe for the cookies pictured in this post. **Higher Altitudes will need more flour -- add until the dough pulls away from the sides of the bowl.
Here are some more delicious brownie desserts: