A delicious and easy to make chocolate poke cake with an incredible mousse frosting.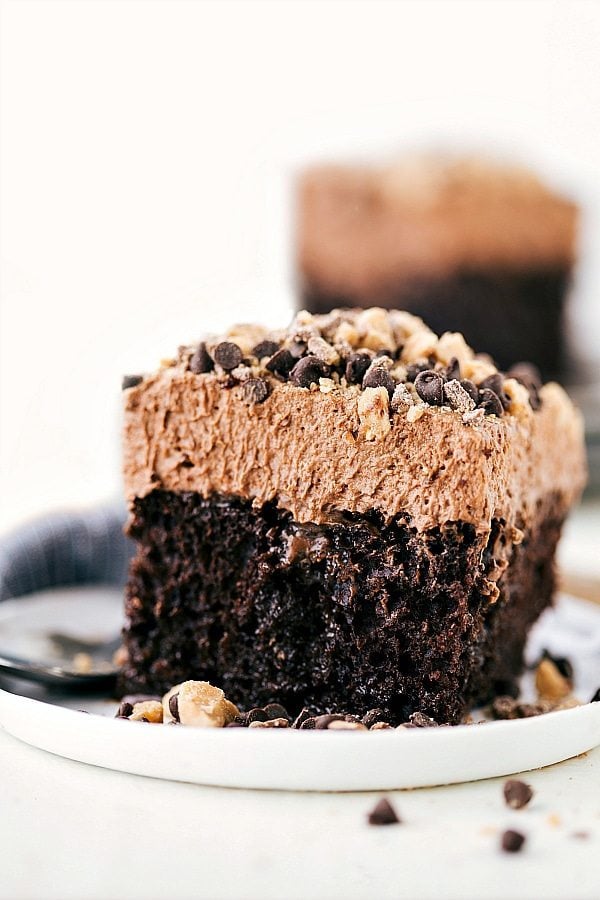 I thought since I'm writing a post about a ridiculously rich "death by chocolate" type of cake it was a good time to give you an update on how my running is going. It was my New Year's resolution to get back into running and I'm proud to say this chocolate cake has been motivating extra miles and no missed runs!
And it's worth every extra mile for an extra slice of this cake. Okay, fine, three slices of this cake. Because honestly, how do I just stop at one? I'm usually good with the whole balance thing, but, this cake is totally my weakness.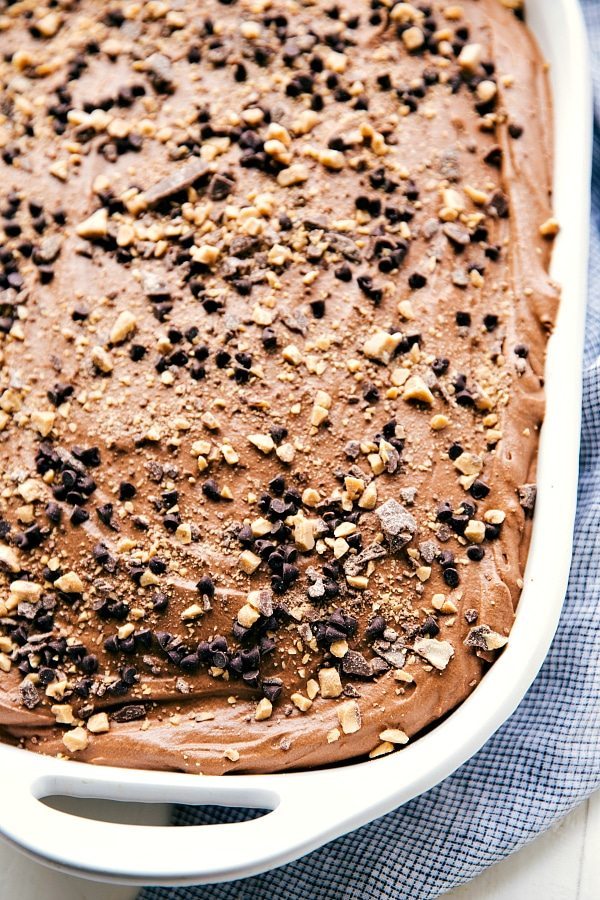 If you've never had a poke cake, you are in for a treat. This is one of the easiest cakes you'll ever make with incredible results. Basically you'll make a chocolate cake, bake it, and then poke holes all throughout the cake. You pour a delicious nutella + sweetened condensed mixture over the cake and that seeps into all of those little holes. The cake gets chilled and develops an outstanding flavor with out-of-this-world moisture.
The more moist a chocolate cake = the better! Chocolate cakes can be more dry than other cakes because of the cocoa powder in them. Since cocoa powder is high in fiber and starch it's going to absorb more moisture. However, with this trick of poking holes in the cake and putting moisture back in the cake you'll be amazed at the end texture.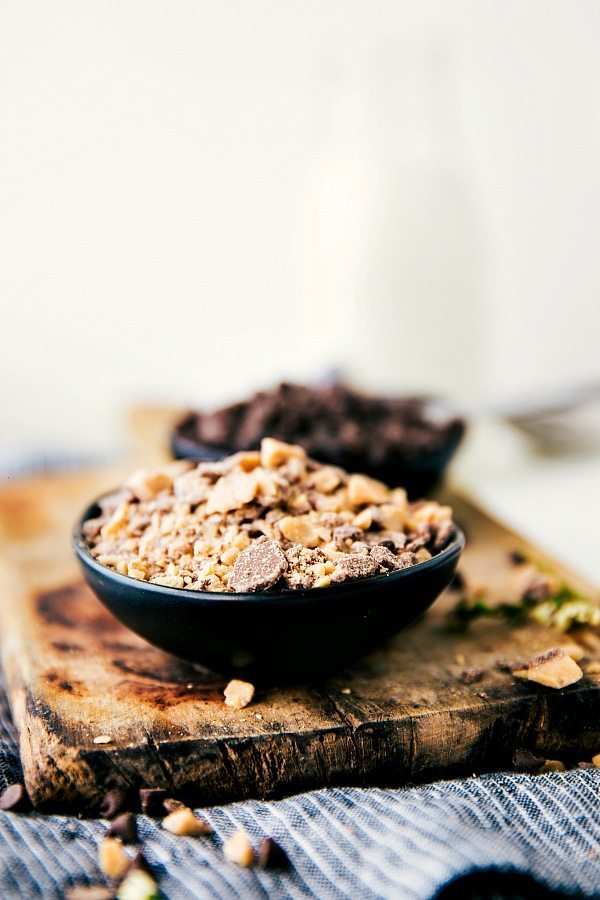 For the base we're using a cake mix! I've said it before, but one of the reasons I love cake mixes so much is that they allow the toddler to help me without drastic consequences. It's not hard to mess up when you only need to add three easy ingredients. He pretty much has cake and brownie mixes memorized with how much we make them together.
Let's talk about the mousse frosting that tops this cake because there are a few important notes.
First off, you'll create the whipped cream. Make sure the heavy whipping cream is STRAIGHT out of the fridge and very cold. Whip it until soft peaks form.
While that is being whipped, you'll create the chocolate nutella mixture. I've made this no short of 5-6 times and it is extremely particular. No skipping steps or being impatient or you'll likely have a seized chocolate mess. So here are my tips:
First, use high quality chocolate. I've used high quality chocolate baking bars and those work best. I have also used chocolate chips and they'll do (I even show them working in the video!). Use high quality chocolate whatever you chose. Next, it is important to very slowly melt the chocolate. Microwave in quick bursts (I do 15 seconds) and make sure to stir a lot in between each burst. A lot of melting happens outside of the microwave so give time for that to happen.
Make sure you combine the ingredients in the order listed. The nutella gets added first to the melted chocolate and then you let that sit and cool a bit. Then you add the cocoa + hot water mixture and rapidly stir until smooth. If needed, you can use hand mixers to get a very smooth consistency.
And then *gently fold the whipped cream in*. You don't want to beat or over-mix but rather fold together the 2 mixtures with a spatula to get the perfect consistency. And with that, you are equipped with all my tips for the best chocolate mousse topping! ?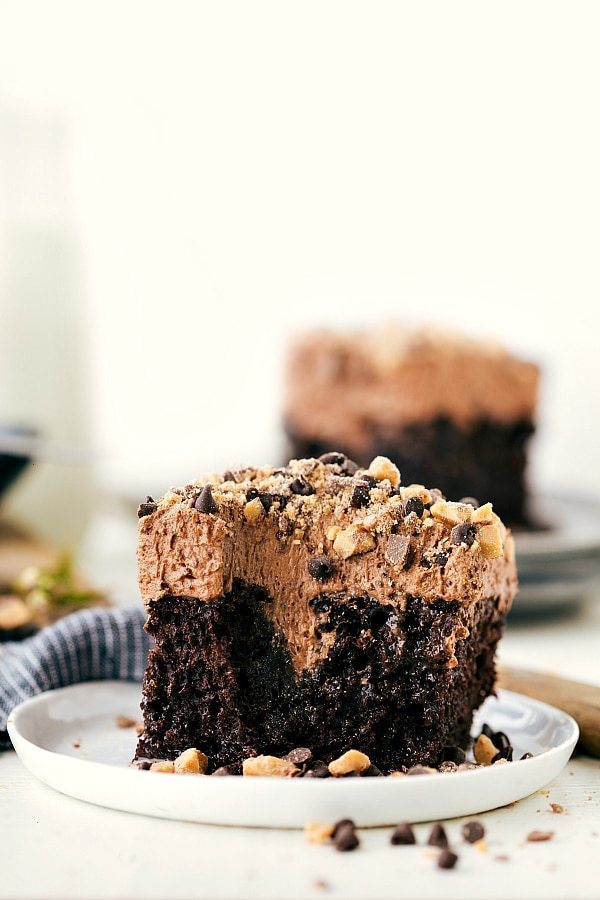 More delicious desserts: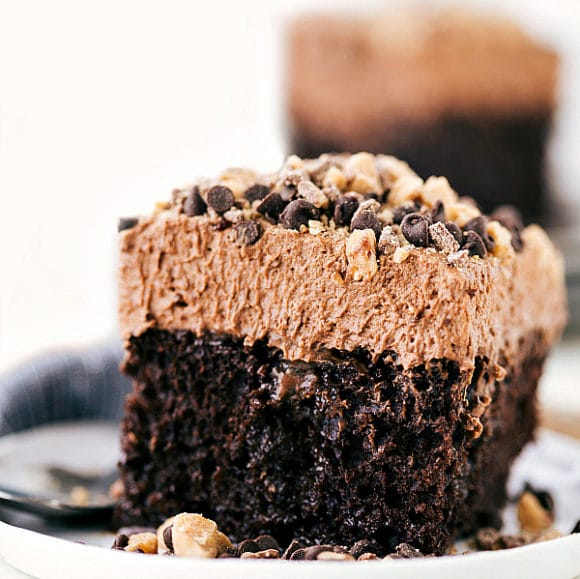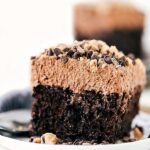 Chocolate Poke Cake
Delicious chocolate poke cake with a nutella chocolate topping.
Keyword:
Chocolate Poke Cake
Ingredients
1

package

Devils Food Cake mix + ingredients called for

(9 x 13 pan)

2

cups

milk chocolate

separated, chips or chopped chocolate

1

cup

nutella

separated

1

can

sweetened condensed milk

1/4

cup

dutch process cocoa powder

1/2

cup

hot water

2

cups

heavy whipping cream

2

teaspoons

vanilla extract

1/4

cup

powdered sugar

Optional: 1/3 cup mini chocolate chips, 1/3 cup toffee bits
Instructions
Generously grease a 9 x 13 pan and set aside.


Follow the package directions to make the chocolate devil's food cake and bake according to package directions.


Remove and allow to cool.


Using the bottom end of a spoon, poke holes all throughout and over the cake. Poke the holes all the way to the bottom of the cake (see video above recipe).


In a microwave safe bowl, add 1/2 cup nutella and 1/2 cup chocolate chips. Add in the condensed milk and stir together. Microwave in bursts of 20 seconds, stirring in between each burst for 15 seconds until the mixture is smooth.


Pour the mixture over the holes in the cake and spread evenly. Allow the cake to stand at room temperature for 1 hour then cover and move to the fridge and chill for 3-4 hours.


While the cake is baking or chilling, prepare the mousse:


Microwave 1 and 1/2 cups high quality chopped chocolate or chocolate chips in bursts of 15 seconds, stirring in between each burst for 15 seconds. Be very careful to slowly heat the chocolate so it doesn't seize when other ingredients are added.


Stir in 1/2 cup nutella until smooth and let slightly cool.


In another bowl, combine cocoa powder and very hot water. Whisk until completely combined. Allow to slightly cool (both the melted chocolate mixture and this cocoa powder mixture should be about the same temperature).


Gradually add the cocoa powder mixture to the chocolate mixture while beating with hand mixers until smooth.


Take 2 cups of cold (straight out of the fridge) heavy whipping cream and whip in a stand mixer until it reaches soft peaks. While whipping, add in the vanilla extract and powdered sugar.


Add the chocolate nutella mixture to the whipping cream gently folding until both mixtures are completely combined. Cover and chill in the fridge until cake is ready.


Top the chilled cake with chilled mousse and top with miniature chocolate chips and toffee bits if desired.

Recipe Notes
Cook time refers to chilling time required.