Special thanks to the Cherry Marketing Institute for sponsoring this post. As always, all opinions are my own.
A delicious and simple tart cherry and rhubarb crisp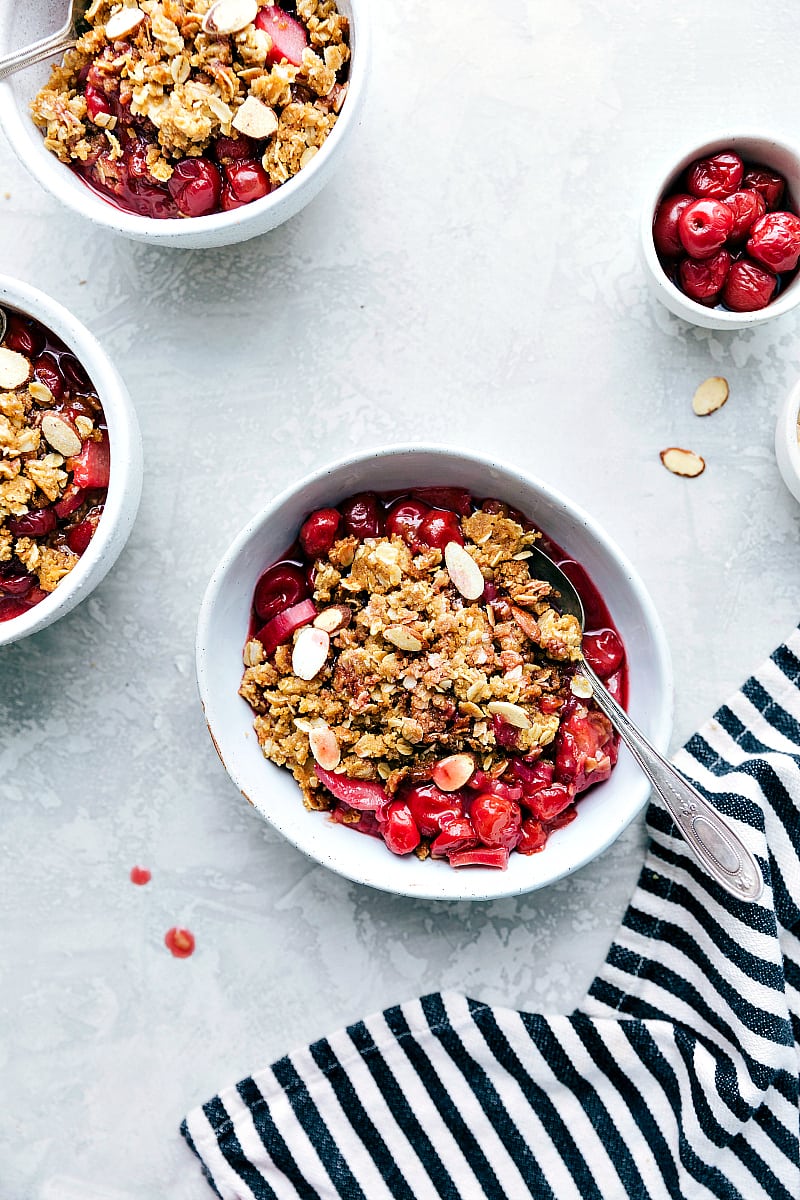 While it's no secret I have an affinity towards chocolate when I'm thinking about dessert, I'm becoming more and more a fan of fruity desserts — pies, crisps, tarts, galettes, etc. My husband's favorite dessert is an apple pie and not too far behind is cherry pie. While I do like pie, nothing compares to a good crisp topping in my opinion 🙂
So I took one of his all time favorite fruits — tart cherries and combined it with my favorite topping (crisp!) and we've got one heck of an amazing summer dessert! It's so quick and easy to make and packed with incredible flavors.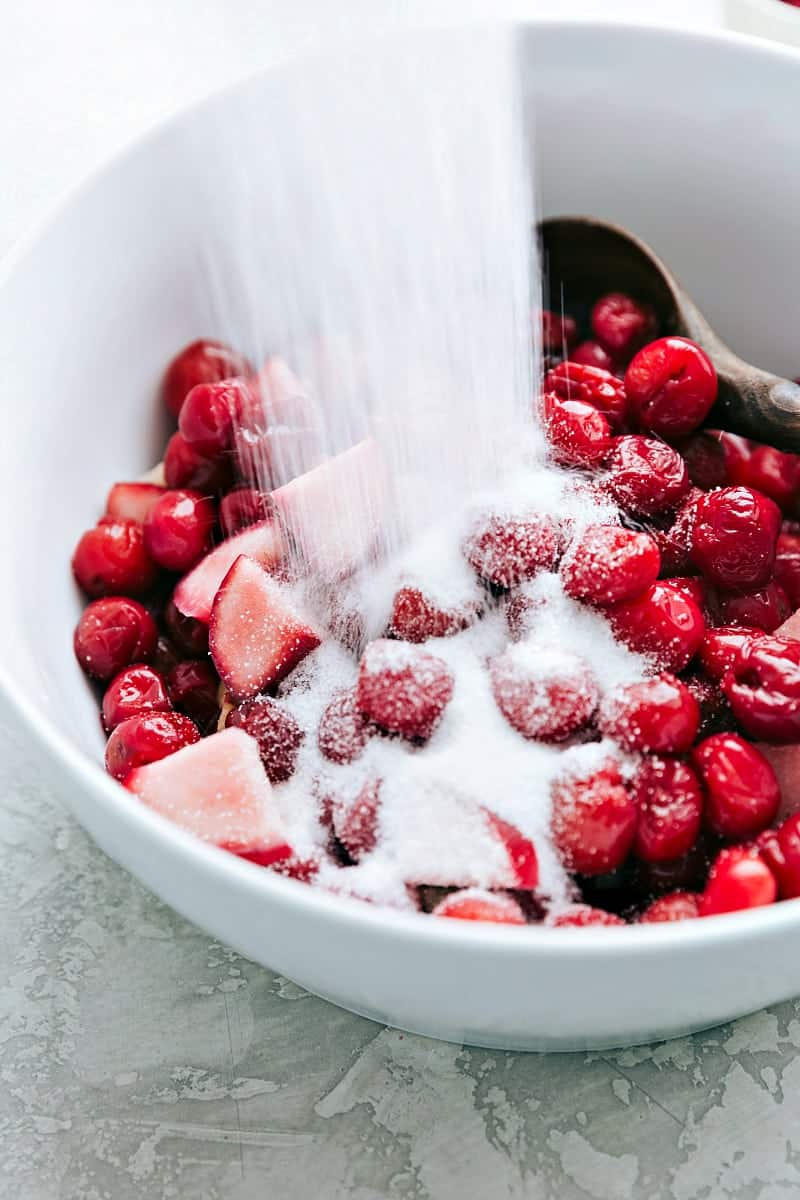 This tart cherry and rhubarb crisp starts with some tart Montmorency cherries. July happens to be tart cherry harvest so it's definitely the time to start thinking about cherry desserts — and this crisp is just the place to start using up those cherries!
I love using Montmorency tart cherries because first of all they taste delicious. But also important — these tart cherries provide great health benefits. Tart cherries have been linked to protecting the heart — researchers have found that tart cherries may provide cardiovascular benefits such as lowering cholesterol and triglyceride levels, reducing inflammation, and improving belly fat. And all of these benefits are linked to reducing heart disease risk. So why not get some good health benefits in while enjoying a delicious summer dessert?!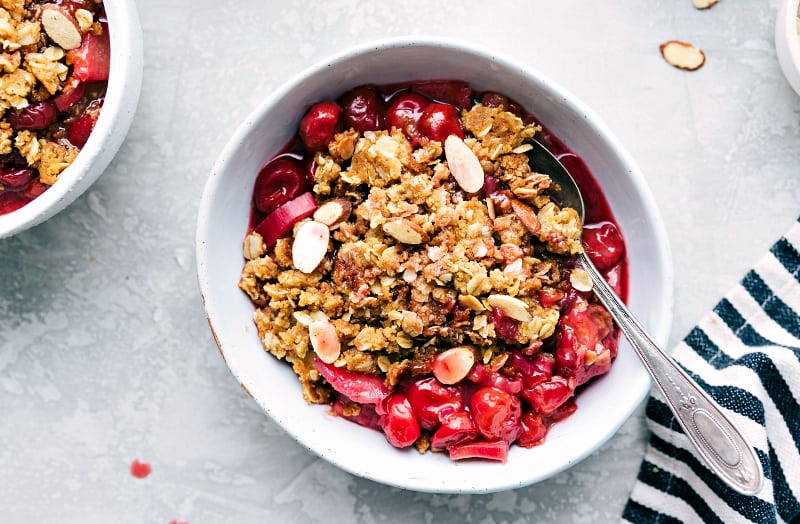 More Dessert Recipes:
For more delicious recipes, follow along on Pinterest, Instagram, Facebook, and YouTube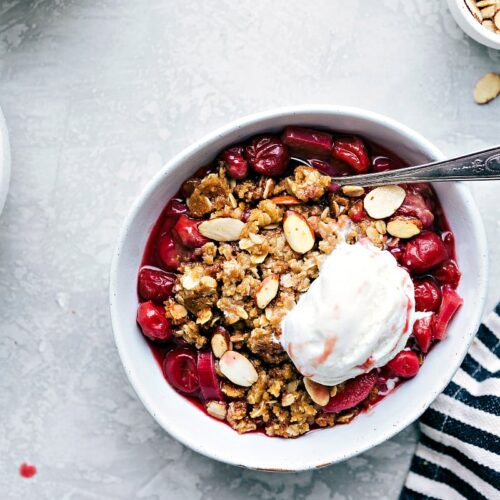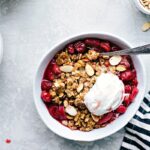 Tart Cherry Rhubarb Crisp
A delicious and simple tart cherry and rhubarb crisp
Ingredients
Tart Cherry and Rhubarb Filling
3

cups

frozen Montmorency tart cherries

completely thawed (and pitted)

2

cups

fresh rhubarb

thinly sliced

1/4

cup

cornstarch

3/4

cup

white granulated sugar
Crumble Topping
1/2

cup

white flour

1/2

cup

old fashioned oats

2/3

cup

brown sugar

lightly packed

1/4

teaspoon

fine sea salt

1

teaspoon

ground cinnamon

1/4

teaspoon

ground nutmeg

1/2

cup

roasted honey almonds*

coarsely chopped

1/3

cup

unsalted butter

at room temperature

Optional: Vanilla bean ice cream
Instructions
Preheat the oven to 350 degrees F. Spray an 8 x 8 baking pan with nonstick spray and set aside.

Set out the tart cherries in a strainer in the sink until completely thawed. Shake off all excess liquid and place in a large bowl. Add the thinly sliced rhubarb, cornstarch, and sugar. Toss gently to combine and set aside while making the crumble topping.

In another large bowl, toss together the flour, oats, brown sugar, salt, cinnamon, nutmeg, and honey roasted almonds (see notes for homemade version of these nuts).

Cut the butter into small cubes and then cut that butter into the mixture. Use your fingers to work the butter into the mixture until a thick dough has formed.

Using a slotted spoon, spoon the cherry and rhubarb filling into the bottom of the prepared pan. Add the crumble on top in an even layer.

Place the pan in the oven and bake for 35-40 minutes or until lightly golden brown on top. Remove and allow to slightly cool for 5-10 minutes.

Serve topped with plenty of vanilla bean ice cream and drizzle extra fruit juices accumulated over the ice cream as desired.
Recipe Notes
*I purchase pre-made roasted honey almonds at the store. To make your own: Grab: 1/4 cup white sugar, 1/4 cup honey, 3 tablespoons water, 1 tablespoon oil, 1/2 teaspoon salt, and 2 cups whole unsalted almonds. Preheat the oven to 350 degrees F. In a large nonstick skillet, combine honey, olive oil, and water; set over medium high heat and stir until the mixture thins out. Add in the almonds, sprinkle with salt and mix until combined. Spread out on parchment lined baking sheet and bake for 10-15 minutes, tossing the almonds every 3-4 minutes. Cool to room temperature and then coarsely chop for this recipe.​