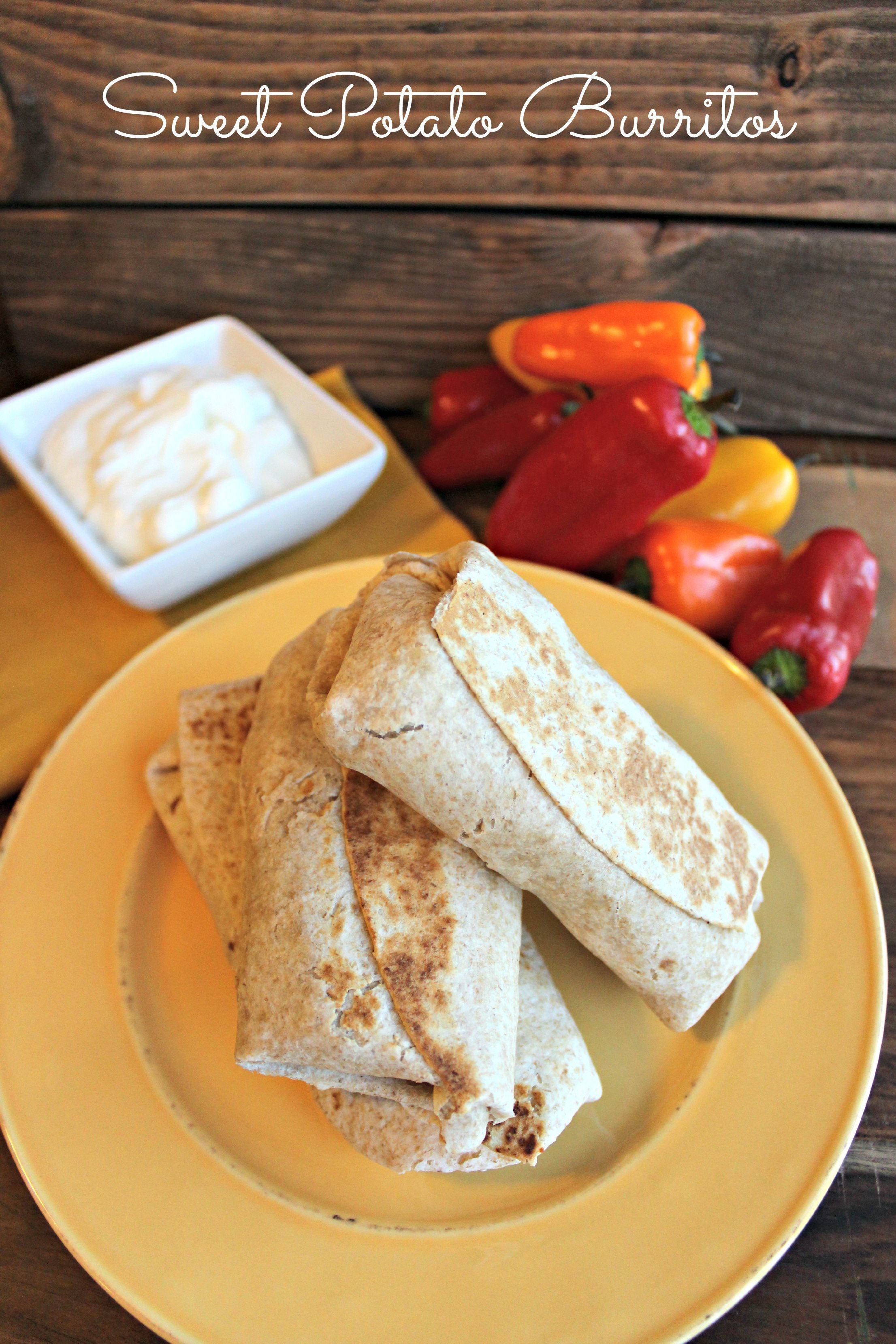 So remember how I was trying to balance out from all the Halloween candy with a healthy meal? Well then I went and ruined all those good healthy vibes going on by making these incredible snickerdoodles.
And then I ate way too many of those bars…
So here I am again. Trying to balance it out with a healthy meal. A meal that tastes almost as good as those bars. (Minus the whole chocolate, caramel, cookie, and peanut butter…)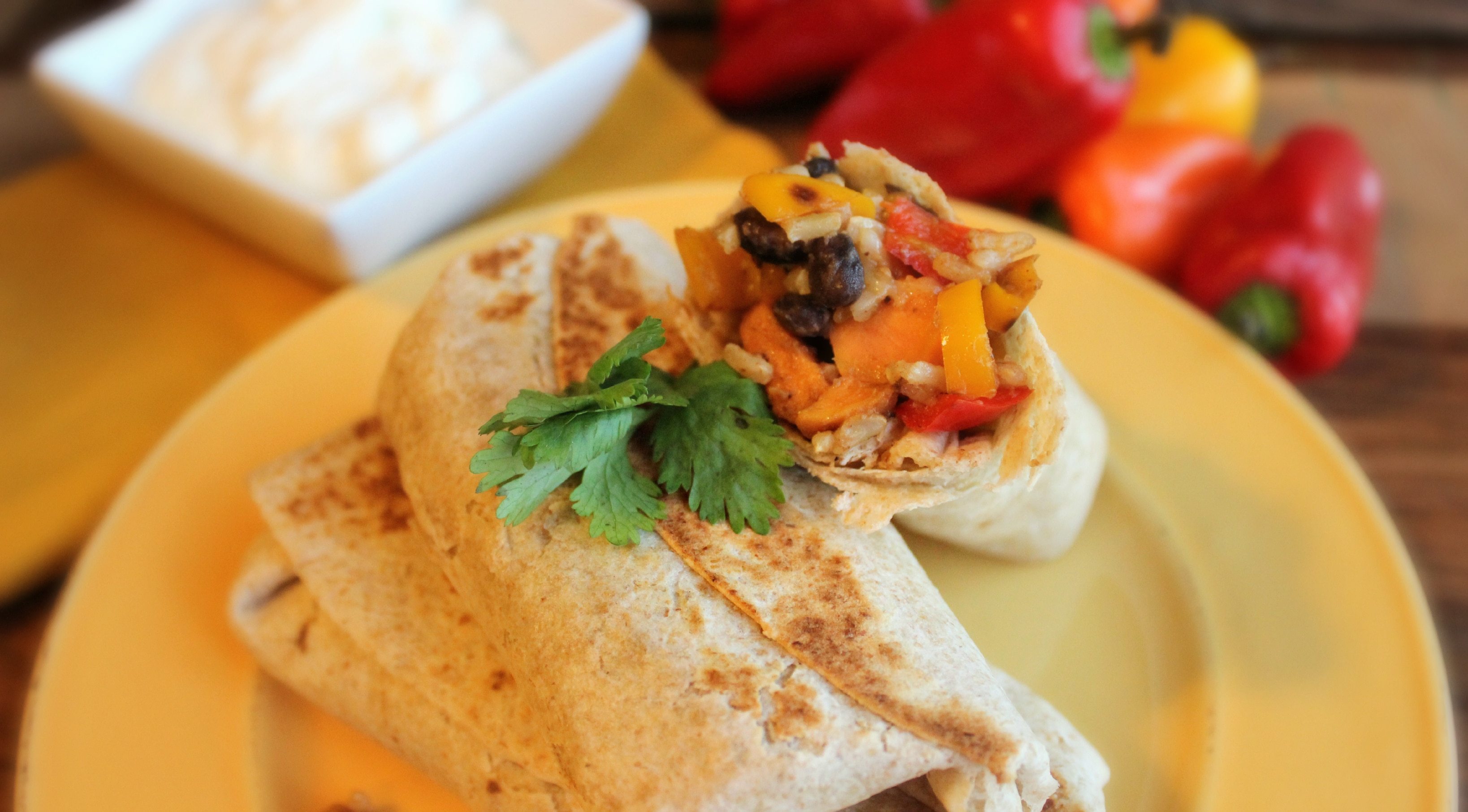 Okay, so you're right. It can't even be compared to those bars. But not because it's not as delectable as those bars.
Simply because it is so different. And comparing a chocolate laden, peanut butter filled dessert with a main course vegetarian entree is never a fair comparison. Just doesn't work that way.
Sooo I guess the point I'm getting to is that this meal is super good. Plus it's healthy. (Win, win I'd say)
These burritos are chock-full of good-for-you ingredients. Namely brown rice, sweet potato, sweet peppers, olive oil, corn, black beans, and salsa. Oh yeah, and they are encased in a whole-wheat tortilla.
These burritos are vegetarian, but trust me, you won't even miss the meat. And they still have plenty of protein (thanks black beans!)
The assembly is super easy. Mix the insides, plop about 1/2 cup on the left side of a tortilla, sprinkle on some cheese, fold the sides up and around all burrito-like, and set them in a skillet (medium-high heat) for 2-3 minutes on each side. Serve with sour cream and devour.
Go ahead and make it tonight for dinner. You can thank me later 😉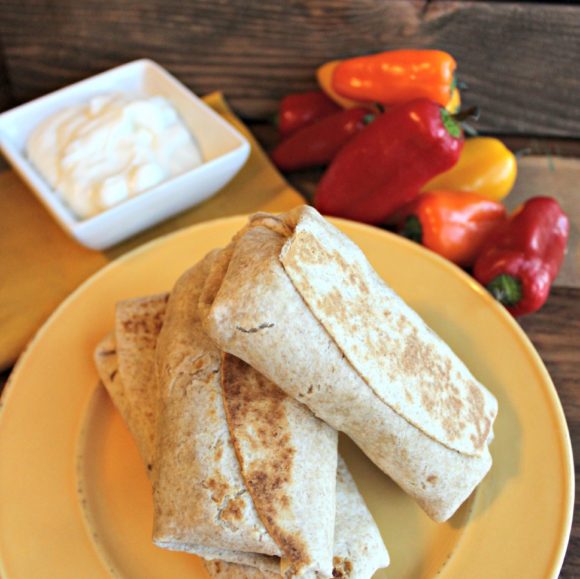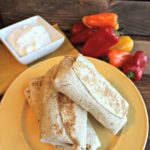 Healthy Burrito
These burritos are chock-full of good-for-you ingredients. They are simple, vegetarian, protein-packed, and delicious!
Ingredients
3

tablespoons

olive oil

separated

2

cups

sweet peppers

(1 red pepper and 1 yellow pepper), chopped

3

cups

sweet potatoes

chopped

1

packet

taco seasoning

1

can (15 ounces)

black beans

drained and rinsed

1

can (15 ounces)

corn

drained and rinsed

1/2

teaspoon

minced garlic

2

cups

brown rice

or white

1

cup

salsa

I used mild

8-10

whole-wheat tortillas

Optional: shredded cheddar cheese, low-fat sour cream and extra salsa for dipping
Instructions
Follow package directions to cook one serving size (2 cups) of brown or white rice.

Meanwhile, in a large skillet, combine 2 tbsp. olive oil and the 1/2 tsp. minced garlic with the sweet potatoes over medium-high heat.

Cook until the potatoes begin to get tender (about 8 minutes) and add in the sweet peppers with the last tbsp. of olive oil. Cook for an additional 3-4 minutes and then add in the corn and black beans. Keep on the skillet until the beans and corn are warmed through.

In a large bowl combine the sweet potato mixture with 1 cup salsa, 1 packet taco seasoning (you can use less than a packet if desired), and cooked rice.

Scoop about 1/2 of the mixture onto the left side of a whole-wheat tortilla. Sprinkle with a handful of cheese if desired. Fold the top and bottom in about an inch and then roll from left to right to create a burrito.

Fold the burrito seam-side down into a large skillet on medium heat and cook for about 2-3 minutes on each side.

Remove and enjoy immediately with an optional side of extra salsa and low-fat sour cream.