Ultra chocolatey and fudgy brigadeiros — a traditional Brazilian dessert made of sweetened condensed milk, cocoa powder, butter, and chocolate sprinkles. This candy is simple to make and sure to be a hit with whoever tries them!
These brigadeiros are simple to make, but require a bit of planning since they do need some chilling time! They're a great make ahead treat, transport well, and make a beautiful addition to any party or holiday spread.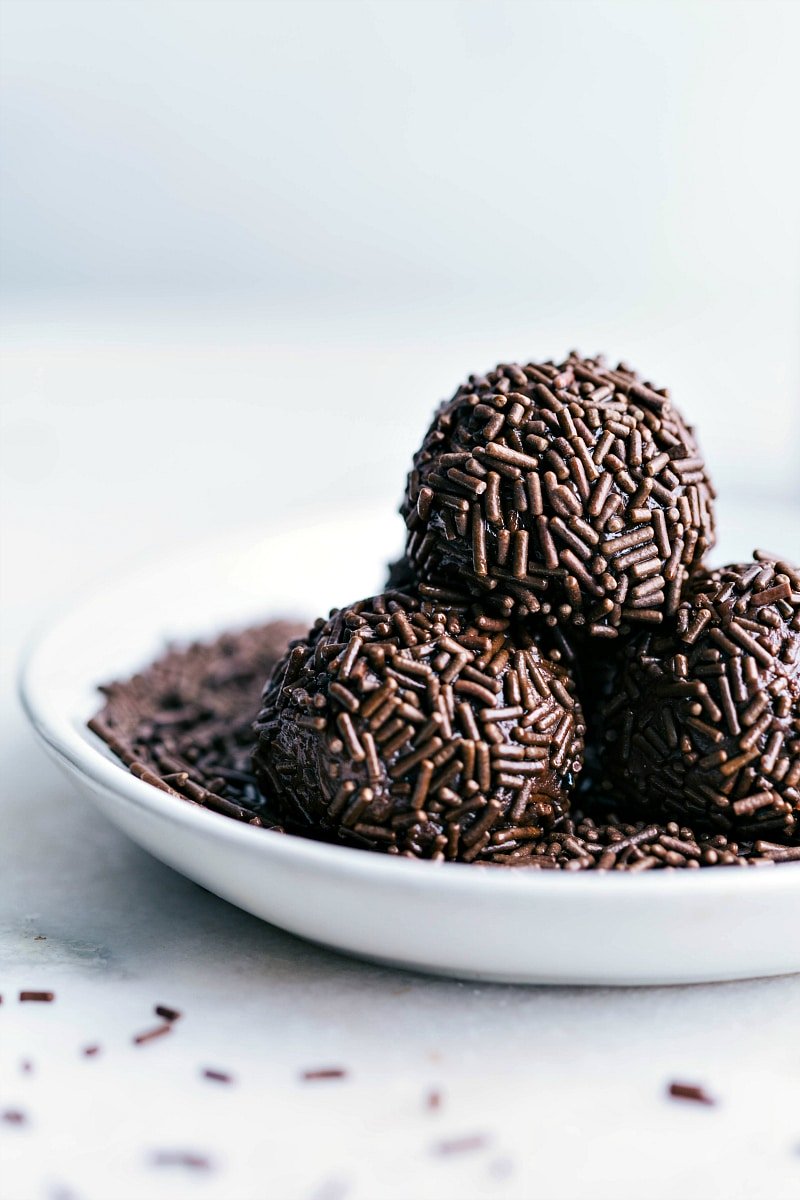 My mom spent a few years of her childhood (and then returned as an adult) in Brazil. She still speaks perfect Portuguese and has made us brigadeiros and limonada brasileña (brazilian limeade) ever since I can remember. Those were some of our two favorite treats growing up!
We loved sitting over the stove stirring the brigadeiro dough with her and then rolling the fudgy balls in chocolate sprinkles (stealing bites of the dough and handfuls of sprinkles of course). So today I'm sharing my mom's brigadeiro recipe that came her friends in Brazil. I've added a pinch of salt to balance the sweet and enhance the flavors, but other than that, this is the recipe we've eaten and enjoyed for years.
What are brigadeiros
A brigadeiro is a traditional Brazilian delicacy. It's made of sweetened condensed milk, butter, cocoa powder, and sprinkles covering the outside layer. Brigadeiros are a staple in Brazil and can be eaten with a spoon straight from the pot, which is by they are often called "brigadier de colder" (spoon brigaderio). Trust me you're going to be stealing spoonful from these brigadeiros.

Can I freeze Brigadeiros?
Brigadeiros freeze great for up to 3 months. If you have any leftovers or you want to make them ahead of time just make sure you have already rolled them in the sprinkles, and then keep them in a plastic airtight container with the lid tightly closed in the freezer.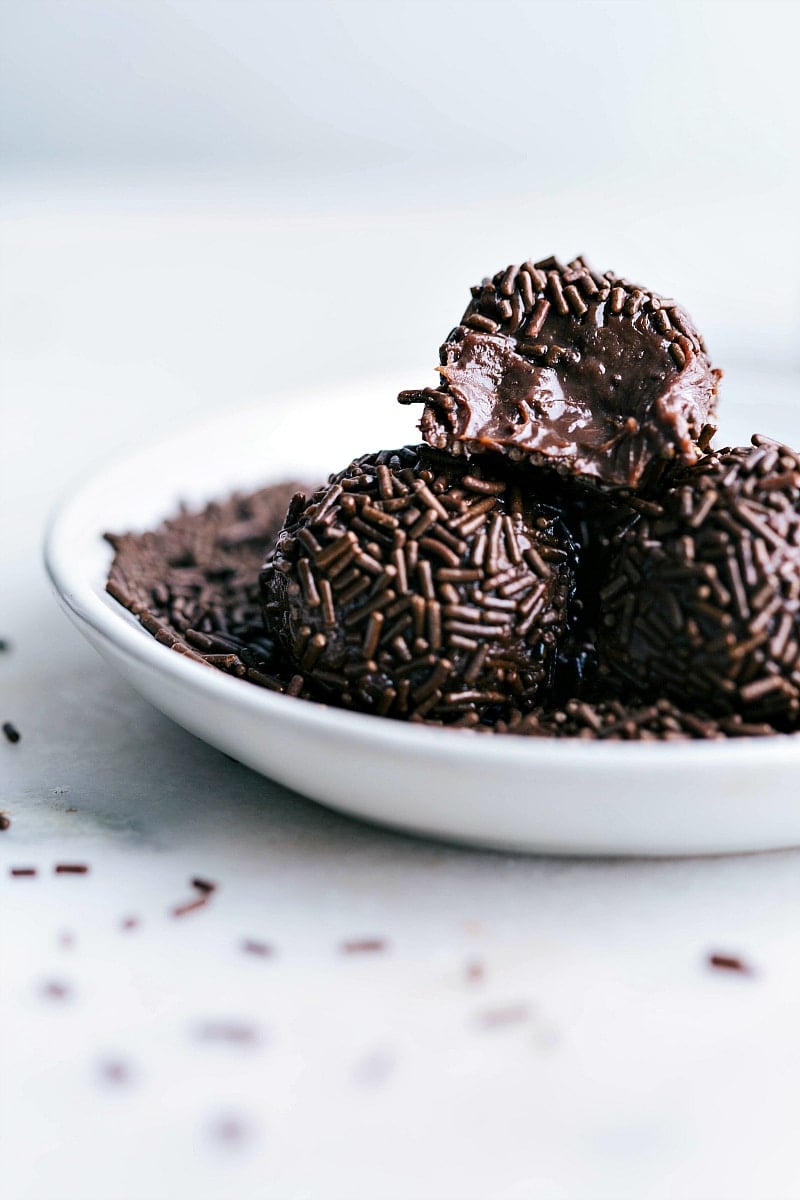 More no bake treats: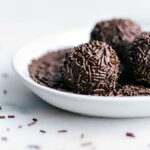 Brigadeiros
Ingredients
3

tablespoons

unsalted butter,

separated

1

can (14 ounces)

sweetened condensed milk

(do not use low fat or fat free)

1/3

cup

regular cocoa powder

(not dutch process)

1/8

teaspoon

salt

Chocolate sprinkles or additional cocoa powder,

for decorating
Instructions
Soften 1 tablespoon butter and rub it over a large plate. Set aside.

In a nonstick 10 to 12 inch saucepan over medium-low heat, melt the remaining 2 tablespoons butter and add the sweetened condensed milk. Add the cocoa powder and salt and reduce the heat a tiny bit. Stir nonstop for 8-13 minutes or until the mixture begins to pull away from the edge of the pot; it should be very thick. To check if its done, run a wooden spoon through the center and watch to make sure it takes a few seconds to melt back into the center again. Transfer the mixture to the prepared plate and place in the fridge for at least 30 minutes

When mixture is set, butter your hands to prevent sticking, and pull off a portion of the mixture (about 1/2 to 1 full tablespoons). Roll the mixture between your hands to get a perfectly round ball. Repeat with the remainder of the mixture to get about 12 balls. Pour sprinkles (or cocoa powder) on a flat plate and roll the fudge balls into the sprinkles (or cocoa powder) to coat.