Brigadeiros are simple Brazilian chocolate bonbons. These are mixed up a bit and made ready for spring with spring sprinkles and a strawberry flavor.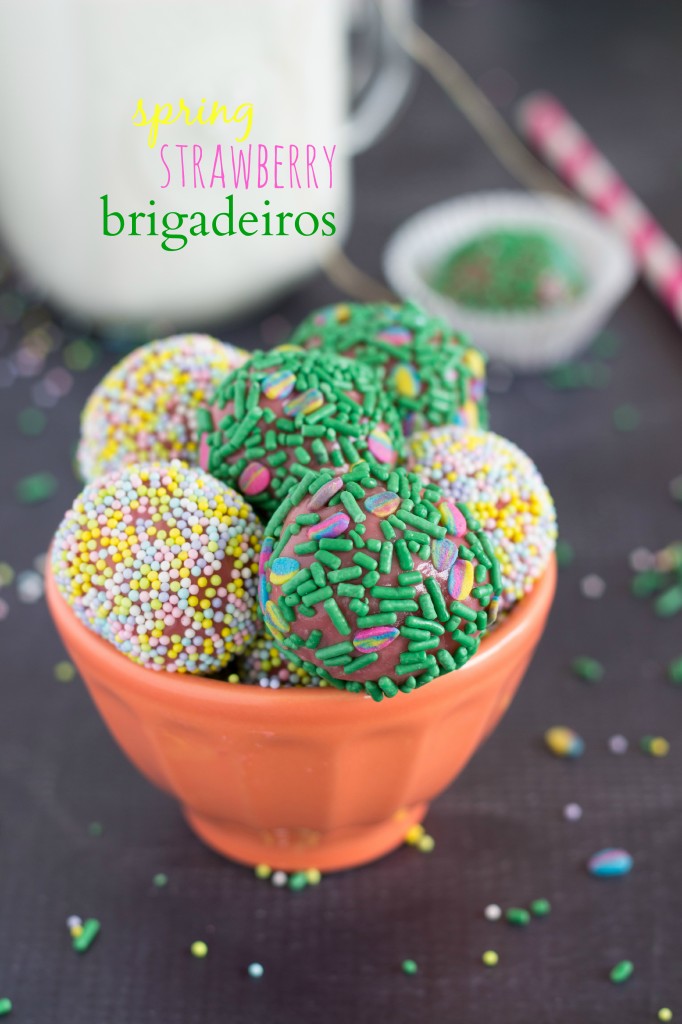 Are you familiar with brigadeiros? For once, this is a word I can actually pronounce. And, I can even pronounce it quite well.
But, before I take all the credit, I should probably say that my mom lived in Brazil for several years – as a child and adult.
Soooooo. Please still think I'm cool. Even though I know I wouldn't be able to say the word had my mom not lived in Brazil, or made these for us as kids, or called them by their name and helped us say them correctly.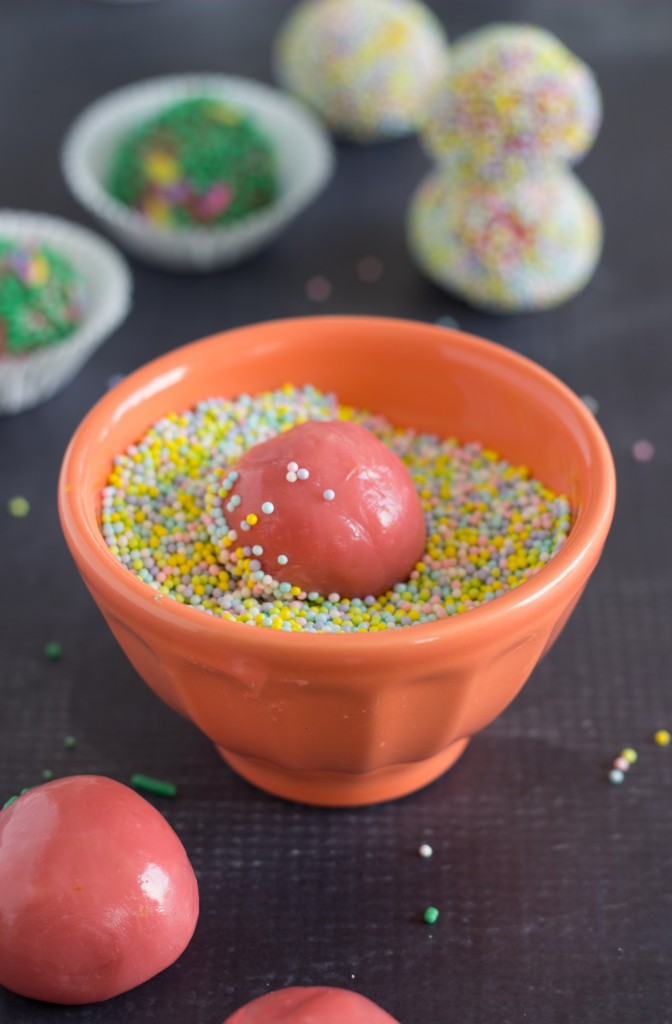 But here's the thing.
These aren't very traditional brigadeiros. Brigadeiros are chocolate and fudgy. They are coated in rich milk chocolate sprinkles. And they are delicious.
These are not chocolatey. But they are fudgy. They are coated in sprinkles – Spring ones! And they are SO DELICIOUS!
This recipe is very similar to traditional brigaderos and prepared in the same way. So I kept the name, but not so much the chocolate. But I think you'll still really love them.
Brigadeiros are so simple to make and require few ingredients.
That said, they can get a mess in a hurry if you don't follow the directions. The mixture is extremely sticky and thick and messy. But easily tamed (<–weird word choice for food) with a few tips.
So first off, make sure you leave the mixture on the stovetop long enough. It takes about 10-12 minutes before the "dough" is done. Basically two ingredients (sweetened condensed milk and strawberry Nesquik powder) get combined in a saucepan. These two ingredients will become very thick and dough-like. When the dough starts to pull away from the edges of the saucepan, stir it for a few more minutes and then remove it.
Some salt, a little bit of butter, and a tad of vanilla get stirred in. And then the mixture needs to cool.
I recommend pressing the dough in between two sheets of parchment paper and then placing it in the fridge. The "dough" needs to be chilled for at least one hour and preferably longer. I usually make the dough the night before and roll these in the morning.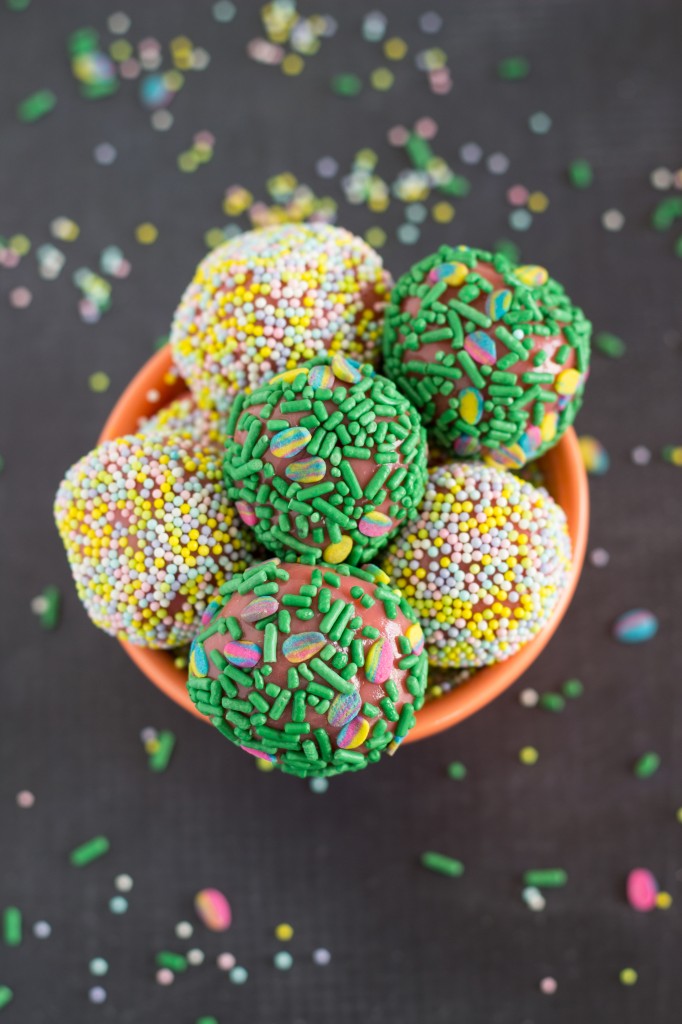 Once the "dough" is sufficiently chilled, you will want to grease your hands. Butter or margarine will do the trick, but I find it the easiest to just spray my hands with nonstick spray.
Then either cut off sections or pulled them apart with your hands (the dough is like a thick taffy) and then start rolling. Balls will form quickly and easily.
Once a ball is formed, roll it in the sprinkles until completely coated.
And then they are ready to be eaten! So easy and so good.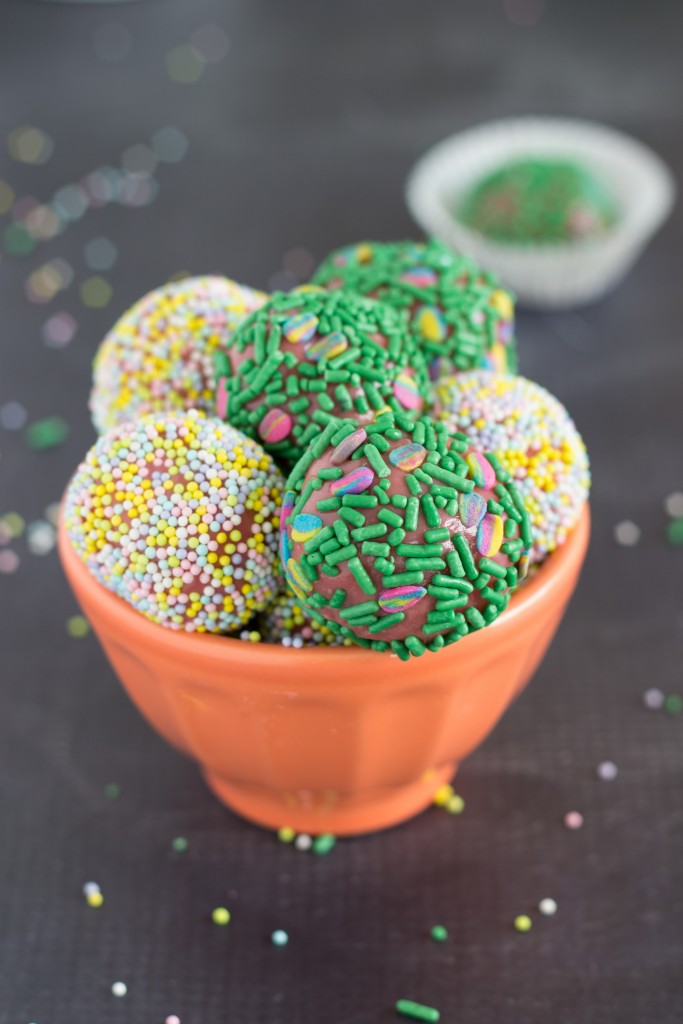 Have you entered to win the $300 cash or amazon gift card giveaway?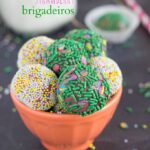 Spring Strawberry Brigadeiros
Ingredients
1

can (14 ounces)

sweetened condensed milk

full fat (not evaporated milk)

1/4

cup

Nesquik strawberry powder

dry

1

tablespoon

butter

1/4

teaspoon

salt

optional

2

teaspoons

vanilla extract

Sprinkles of choice

I used a spring mixture
Instructions
In a medium saucepan over medium heat combine the sweetened condensed milk and Nesquik strawberry powder. Stir to combine.

Stir the mixture constantly and when it boils, reduce the heat to medium low and continue to stir.

The mixture will become thick and dough-like, continue to stir for another 2-3 minutes.

The total process should take about 10-13 minutes.

Remove from the heat and add the butter, salt, and vanilla. Stir until completely combined.

Spoon the dough onto a large sheet of parchment paper. Place another sheet of parchment paper and top and smash the mixture in between the two papers.

Place in a large airtight container in the fridge for at least 1 hour and preferably 6-8 hours.

Once the dough has been sufficiently chilled, remove from the fridge and remove the top sheet of parchment paper.

Grease your hands with either butter, margarine, or cooking spray. Grab off large pieces of the mixture and roll in your hands.

Once a ball has formed, roll the ball into sprinkles of your choice.

Place the truffles into miniature muffin liners to serve.
Recipe Notes
I like these chilled, so I place in the fridge prior to serving and back in the fridge if there are leftovers