A healthy, quick, and easy hummus veggie wrap loaded with southwestern hummus and tons of veggies.
Today's post is pretty exciting. Not only is there a recipe that has quickly become mine and the toddler's favorite quick & healthy go-to lunch, but I'm also way excited about a new food product that recently was released!
The recipe? Southwestern Veggie Hummus Wraps (!!!) A vegetarian (but trust me meat lovers, the meat is NOT missed in this one) packed wrap filled fresh veggies and a southwestern black-bean hummus.
The new product? TWO-ingredient blender hummus made by BUSH'S Hummus Made Easy.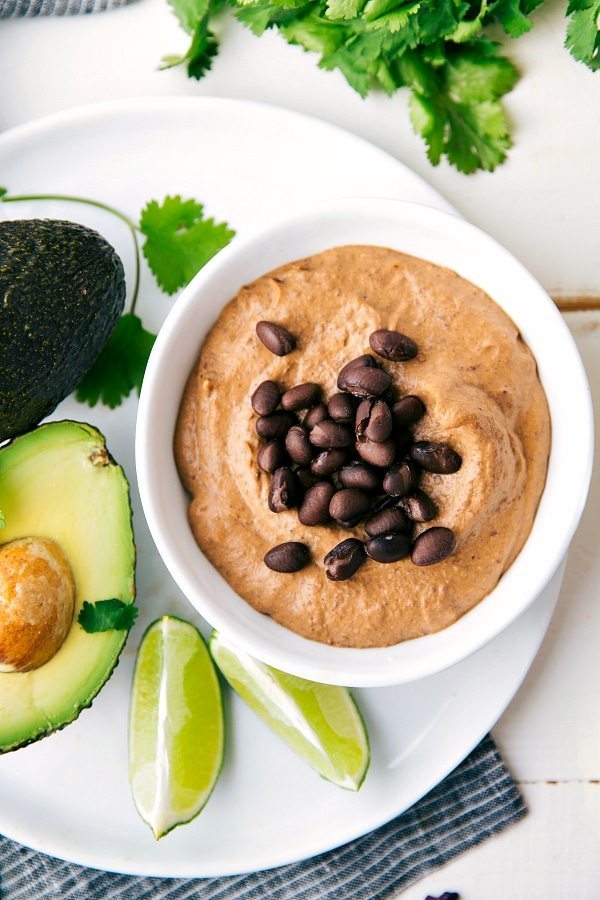 I'm so excited about this product because not only is it extremely tasty, but it also makes hummus so simple to make. Essentially you mix a "hummus pack" with a can of BUSH'S Beans in a food processor or blender, pulse, and VOILA — homemade delicious hummus! It's the first product of it's kind to hit shelves which is pretty exciting. And did I mention how extremely customizable the varieties of hummus are? They have the hummus "essentials" (olive oil, tahini, spices) and then you can easily add some of your favorite flavors such as diced jalapenos or green chiles.
We've now tried the classic hummus, southwest black bean hummus, and the red pepper hummus and they are definitely top notch. The Black Bean Hummus is my absolute favorite and makes a fantastic base for this veggie wrap. Hummus in a wrap is a great alternative to mayo or other dressings and it still gives you a good creamy flavor. Plus, it's mega filling.
On top of the hummus this wrap is LOADED with good-for-you ingredients. More black beans, corn, tomato, sweet peppers, avocado, and cilantro. Add some fresh lime, a little zesty Italian dressing (not southwestern flavored, but SO good!), some cheddar cheese, and lunch is served. ??
Hummus Veggie Wrap
A healthy, quick, and easy hummus veggie wrap loaded with southwestern hummus and tons of veggies.
Keyword:
Hummus Veggie Wrap
Ingredients
1

can

plus an additional 1/2 cup Black Beans

1

package

BUSH'S Southwest Black Bean Hummus mix

or blend 1 can black beans with another prepared hummus

4

pitas or large tortilla wraps

1

large red pepper

1

large orange pepper

1/2

cup

canned corn

roasted corn is the best!

2

roma tomatoes

1

avocado

8

tablespoons

zesty Italian dressing

8

slices

sharp cheddar cheese

Optional: fresh lime juice

fresh cilantro

Salt and pepper
Instructions
Prepare the hummus by combining 1 can (drained and rinsed) black beans with the southwest black bean hummus package in a blender or food processor.

Blend or pulse until smooth.

Generously spread 4 large tortillas or pita bread with the hummus.

Deseed and remove the stems from the peppers. Slice in thin slices.

Top the tortillas evenly with the sliced peppers. Evenly disperse the remaining 1/2 cup black beans and corn over the peppers.

Slice the tomatoes and avocado. Add to the tortillas along with the cheese slices.

Sprinkle salt and pepper over the tortillas and then add 2 tablespoons dressing to each tortilla.

If desired add some fresh lime and coarsely chopped cilantro.

Roll up and enjoy immediately.
Recipe Notes
We also love roasted red pepper hummus in these wraps. It can be found at most grocery stores! 🙂