Sweet pulled pork made in the slow cooker and smothered in the sweetest honey-chipotle BBQ sauce. The pork is put in a tortilla with freshly grated cheddar cheese and baked in the skillet – no oven required for these taquitos!
How was everyone's Father's Day?
We had a great day celebrating our dads and especially my husband and the great dad that he is.
And of course, I had to make meals that were perfect for the husband (AKA lots of meat).
Which, it's a bit of a bummer I did not get this recipe to you sooner so you could use it for Father's Day too. Because let me tell you — this was the best Father's Day meal I've ever made. By a long shot.
I'm rating that based off of the response this meal elicited from the husband.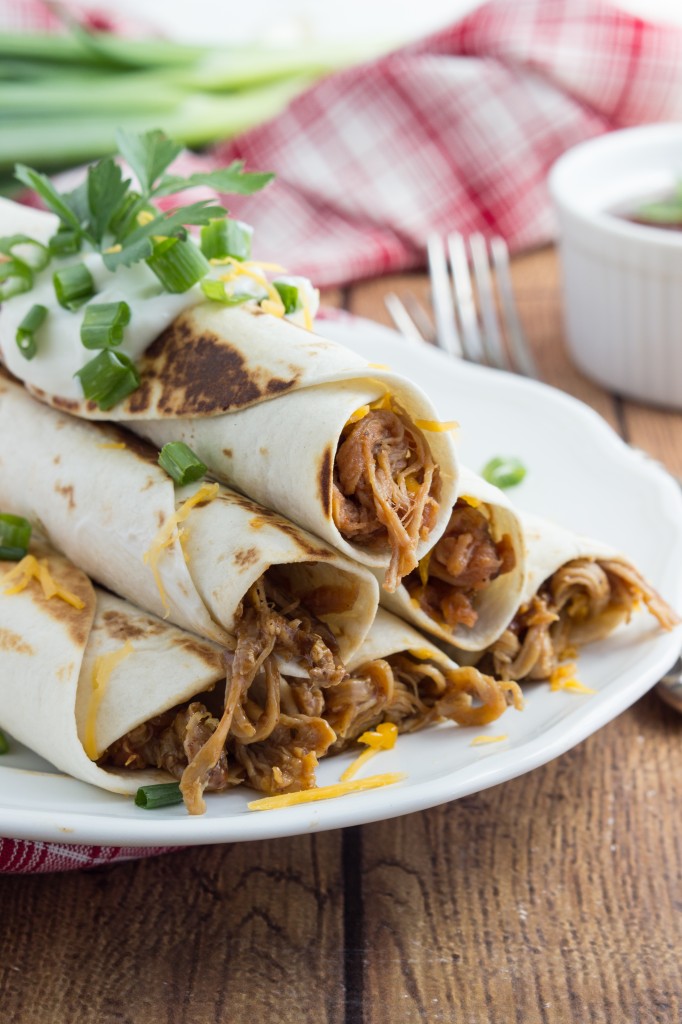 Things the husband said about this meal:
"What is this sauce? How did you get this flavor?"
"Mmmmm. These are so good."
"Dude you could make these and sell them out of a truck. What do you think people would pay? $2? No, these are $3 material."
"That was the best meal I've ever had."
"We need to have these every week."
Also – no oven! The meat sits in a slow cooker and then to make the crunchy taquito, they are cooked in a skillet. Like the picture above, you just place meat and cheese in a tortilla, roll it up tight and place it over low heat in the skillet. Then using tongs or a fork you can slowly rotate the taquito about 10-15 seconds on each side or until desired crispy-ness has been reached. These are SO quick.
However, these can also be cooked in the oven if you want – just 420 degrees F for about 10-13 minutes or until the tops are brown and crunchy. Mmmm.
And the sauce for the pork? Well it was inspired by Baby Ray's Honey Chipotle BBQ sauce, which you could use if you are in a pinch, but I wouldn't recommend it.
This recipe for sauce is seriously the perfect amount of sweet with spice and all of the right flavors mixed in.
You're going to love it.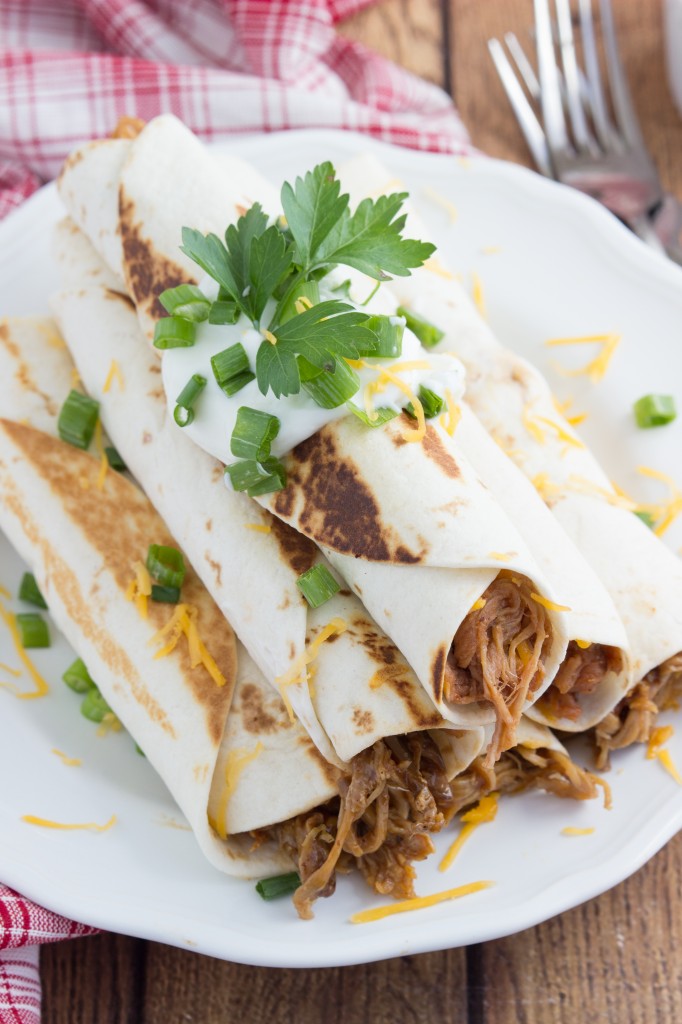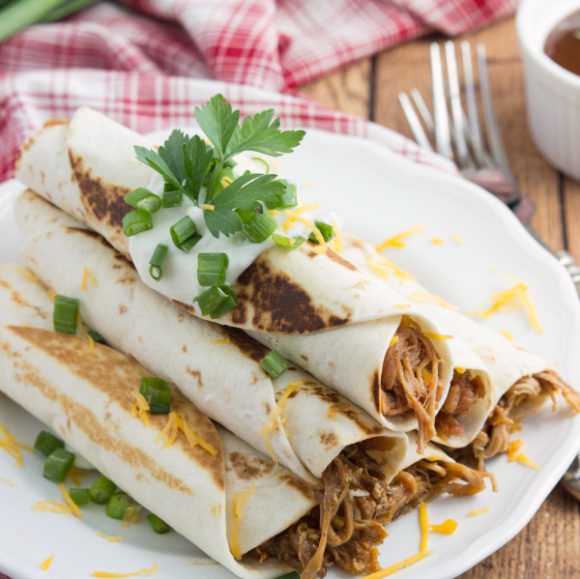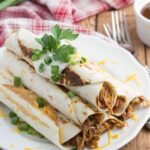 Crockpot Pork Taquitos
Ingredients
Pork
2 and 1/2 - 3

pounds

boneless pork tenderloin

2

medium yellow onions

thinly sliced

2

teaspoons

minced garlic

1

cup

chicken broth

2

tablespoons

packed brown sugar

1

tablespoon

chili powder

1

tablespoon

salt

1

teaspoon

ground cumin

Pinch ground cinnamon
Chipotle Honey BBQ Sauce
1

cup

ketchup

1/2

cup

brown sugar

2/3

cup + 1 tablespoon

honey

6

teaspoons

chipotle chiles in adobo

1 and 1/2

tablespoons

apple cider vinegar

2

teaspoons

Worcestershire sauce

1

teaspoons

minced garlic

1/4

teaspoon

salt

Pinch of pepper
Other Ingredients
6-

inch

flour tortillas

Cheddar Cheese

Optional: Sour Cream, green onions, more BBQ sauce for dipping.
Instructions
Remove the outer peels of the onion and thinly slice the onions. Layer a large slow cooker with the sliced onions and garlic.

Remove the packaging on the pork.

Combine the brown sugar, chili powder, salt, cumin, and cinnamon in a small bowl. Stir and then rub evenly over the pork.

Place the pork in the slow cooker and pour the chicken broth over the meat.

Cook for 6-8 hours on high or 9-11 hours on low.

Once the meat is completely cooked through, drain the liquid and discard (or eat) the onions.

Using two forks shred the pork.
Chipotle Honey BBQ Sauce
Combine all of the ingredients in a blender or food processor. Blend or process until smooth.

Taste and adjust ingredients to preferences (you may want more chipotle or a little more salt or pepper).
Putting it together.
Mix the sauce with the pulled pork until completely combined.

Place about 3-4 tablespoons of the meat mixture in the middle of a flour tortilla. Top with 1-2 tablespoons of cheese and roll up tightly.

Place 3-4 of the taquitos in a pre-heated skillet (warm the skillet to medium heat and then turn to low heat to cook the taquitos on).

Using tongs, rotate the taquitos on to each side for 10-15 seconds or until browned and crispy.

If desired, you can cook these in the oven (425 degrees F for 10-13 minutes).

Enjoy with a dollup of sour cream and green onions if desired.
Recipe Notes
Pork rub adapted from Chow