A delicious "energy bite" type of treat – a center cookie dough filling made with natural ingredients such as cashews and oats. The "cookie dough" bites are coated in a rich dark chocolate shell. These delicious treats are gluten-free, packed with protein, and an indulgent treat to satisfy your cravings in a healthier way.
So back when I was experimenting on these deeelectable brownie chocolate chip thumbprint cookies (have you tried them yet?!), I also experimented making some cookie dough-filled chocolate cups. Since the cookie dough used for the thumbprint cookies is egg-less and totally edible without being cooked, I thought, why not?!
So that's exactly what happened – out of one of the final test batches for those cookies, I used half the dough to make these little candies. Of course I fell in love with them. Because what's not to love – cookie dough + chocolate? I mean that's straight happiness right there.
And then I took pictures of them and planned on sharing them, but it's already mid-January and this whole healthy eating thing is going so well. I mean besides all of the tourist-y eating I've been doing for just about every meal. Okay, right, I am totally failing at this healthy January thing. But dang. The food and restaurants here are delicious. There's a little restaurant called Nando's that I'm mildly obsessed with. It's been 3 out of the past 5 meals for me. So that's probably classified as more than a mild obsession, but I digress.
Anyways, so the whole healthy January was a good thing before Australia which is when I decided to make the same recipe (cookie dough-filled chocolate cups) but in a completely healthy version. Or at least healthier.
There are tons of great ingredients in these – dark chocolate, check. Nuts, check. Honey, check. Coconut oil, check. Oats, check check!
Oh. BUT if you are reading this and are at all sad that these are NOT the unhealthy version I was talking about, all you need to do is halve the recipe for these cookies (just the chocolate chip cookies without the brownie filling) and then use the same directions below substituting semi or milk chocolate for the dark chocolate. Or I guess dark chocolate would work great too if you really like it.
Anyways, the cookie dough filling is adapted from one of my all-time favorite blogs Averie Cooks. She has a completely vegan version on her site and they are a bit different so definitely check them out. Everything on her site will seriously make your mouth water.
From her original recipe, I scaled down a bit on the added sweetener (and changed it to honey), but if you find they aren't rolling as well as you would like then feel free to add a bit more. While we are talking about rolling these, I squished the dough more than I rolled it together into a squat ball. You don't want a perfectly round ball because then the cookie dough won't be as evenly dispersed in the chocolate cup.
Another note for these, if you don't want to make them into chocolate cups, you can always dip the cookie dough ball into dark chocolate to make more of a truffle. I'd say that version is a little bit more time consuming, but not by much. It's also a great alternative in case you don't have a miniature muffin tin + miniature muffin liners. (Both are needed to make the chocolate cups). I also call for coconut oil in the cookie dough and in the chocolate shell. Coconut oil can get a bit melty at room temperature so I recommend storing these in the fridge.
And there you have it – healthier cookie dough dessert cups. I think I even like them better than my original unhealthy version, but don't tell anyone I said that. 🙂

Healthy Cookie Dough Filled Chocolate Cups (GF)
Ingredients
2/3

cup

raw cashews

1/3

cup

old fashioned oats

1 and 1/2

tablespoons

honey

1

tablespoon

melted coconut oil

1 and 1/2

teaspoons

vanilla extract

3

tablespoons

miniature dark chocolate chips

1

cup

dark chocolate chips

use high quality for best results

1/2

teaspoon

coconut oil
Instructions
Line a miniature muffin tin with miniature muffin liners and set aside.

In a food processor, pulse the cashews and the oats until they resemble a flour-like consistency. Too little blending and these treats won't be as smooth and too much blending and it can start to turn into cashew butter. Try to pulse just until it looks like flour.

Transfer to a bowl and mix in the honey, coconut oil, and vanilla extract.

Knead with your hands until a thick dough forms. Knead in the chocolate chips.

Squish the dough to form squat balls - you don't really roll it, but more of a squishing process from one hand to the next. (If needed add a little bit more honey if the balls aren't sticking together well enough)

In a small microwave safe bowl, combine the chocolate chips and coconut oil. Melt in the microwave at half power for 30 seconds and then in bursts of 15 seconds stirring in between each burst for 10 seconds until the chocolate is melted.

Using a spoon, dot the bottoms of each of the lined muffin cavities with the melted chocolate.

Press a small ball of cookie dough into the dot of chocolate spreading the chocolate to cover the bottom of the muffin liner.

Pour and smooth the chocolate over the cookie dough until it is just covered.

Alternatively, you could just dip the cookie dough into the melted dark chocolate and place the dipped truffles on a parchment lined tray to harden.

Allow the cups to completely harden in the fridge.

Store any leftovers in an air-tight container in the fridge as these have a tendency to be a bit melty.
More delicious treats that are healthier for you:
Flourless Oatmeal Breakfast Cookies
Flourless and Healthy Chocolate Chip Cookies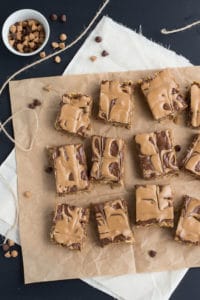 {No Bake & Healthier} Chocolate Peanut Butter Cup Cereal Bars