Hawaiian haystacks start with a bed of rice that's been topped with creamy gravy chicken. The chicken is loaded with fun "salad bar" type toppings such as pineapple, chow mein noodles, olives, tomatoes, cilantro, etc.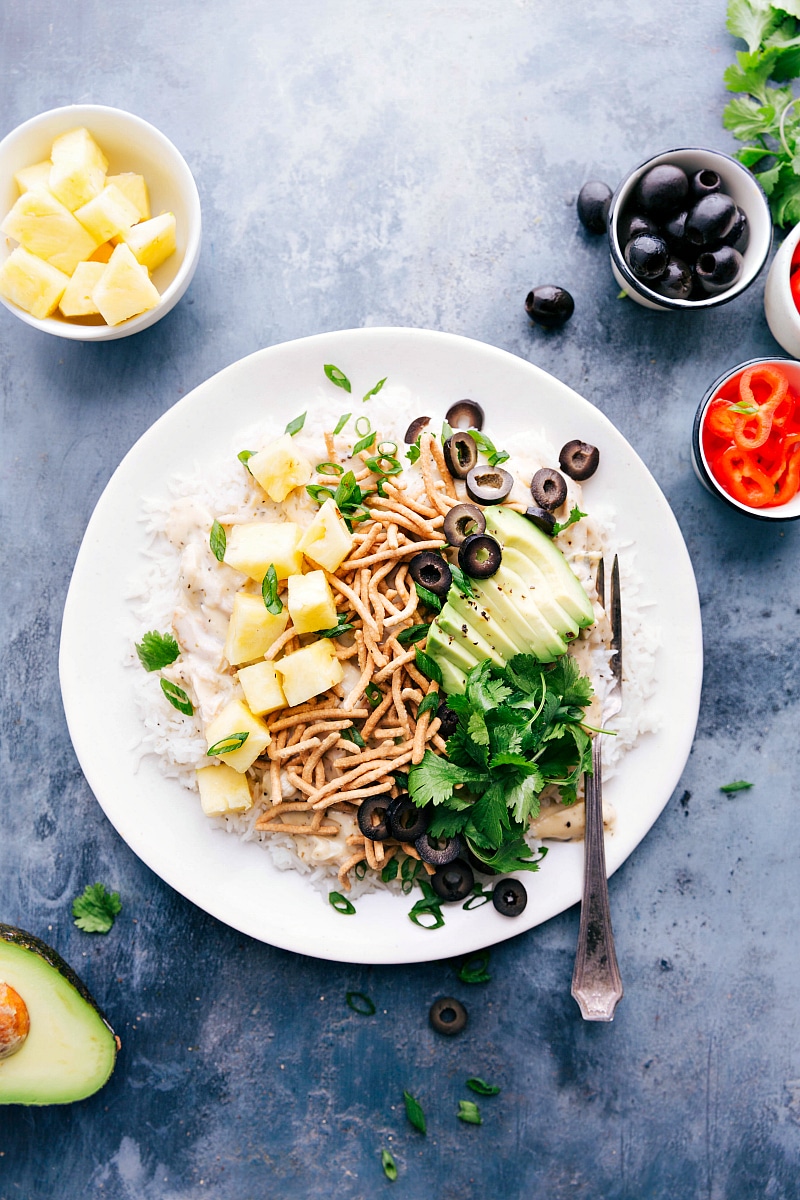 What are Hawaiian haystacks?
Essentially Hawaiian haystacks contain shredded chicken that has been coated in a creamy gravy and served on top of rice. The rice is loaded with "salad bar" type toppings (pretty much anything you'd find in a salad bar buffet — fresh cut veggies, herbs, mandarin oranges, pineapple, etc.).
Typically toppings are served potluck style and everyone grabs whatever they'd like to pile on top of the creamy chicken.
Hawaiian haystacks are wildly popular where I live and they show up at potlucks, neighborhood parties, church events, etc. They're simple to make, incredibly tasty, and totally fun — who doesn't like adding ridiculous amounts of toppings to a dinner?!
How to make Hawaiian haystacks
Make a roux: melt butter and whisk in flour. Whisk until smooth and the raw flour taste has cooked off, about 1-2 minutes.
Add seasonings: add seasonings — garlic powder, onion powder, Italian seasoning, chicken bouillon, salt and pepper. Stir until smooth.
Alternate adding milk and chicken broth slowly and gradually until sauce is smooth and thickened.
Add freshly grated cheese and sour cream. Whisk until smooth.
Stir in the prepared rotisserie chicken. Stir to coat and the chicken gravy is ready!
While preparing the chicken gravy, prepare the rice and set out Hawaiian haystack toppings. (More on toppings below).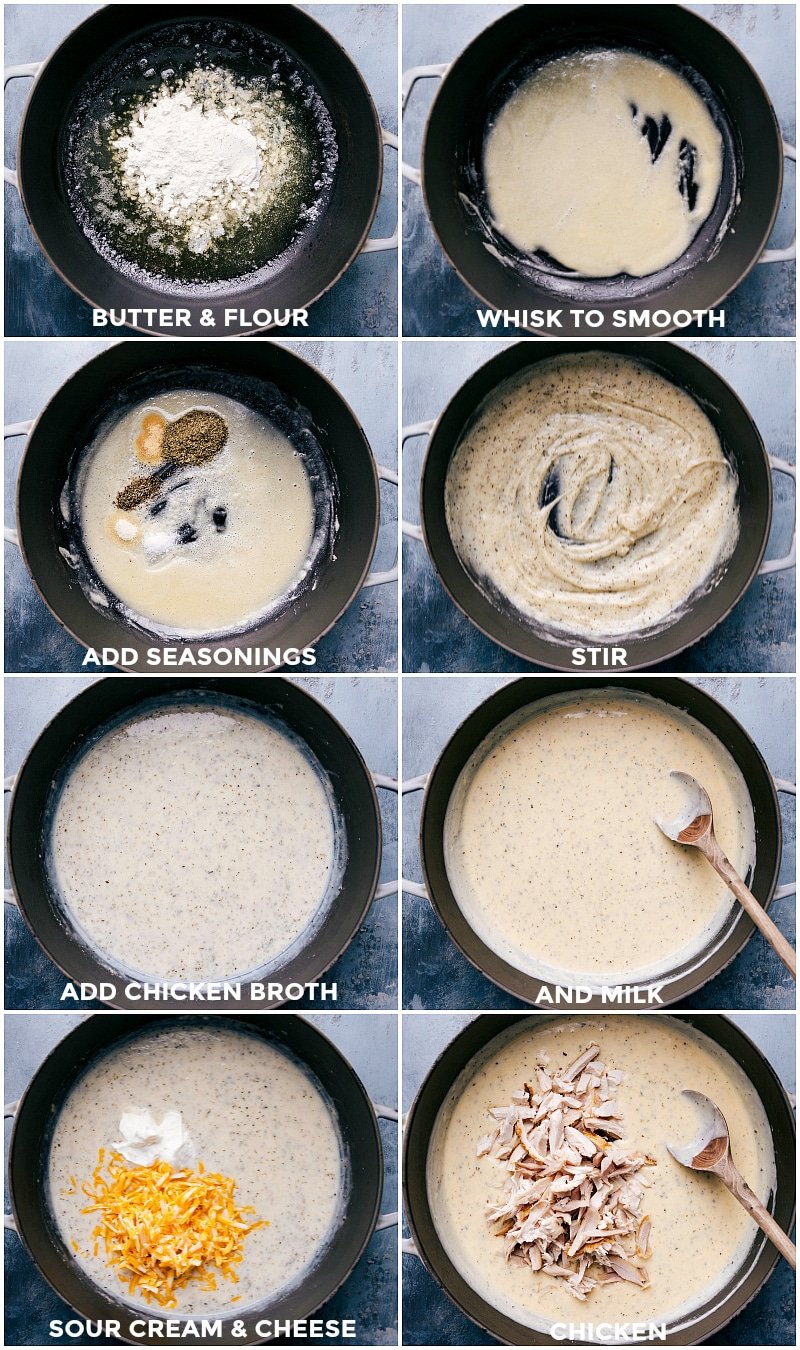 Toppings
The best part of Hawaiian haystacks are the toppings! I like to pick 4-6 of the below and add them to individual bowls. Everyone can then grab what they like best and pile it on top of the rice and gravy chicken.
The two toppings I'd say are a "must have" with Hawaiian haystacks: pineapple and dried chow mein noodles. In fact, we typically layer rice, chicken, and crushed or diced pineapple right on top before adding other toppings.
Additional grated cheese
Sweet bell peppers: chopped
Green bell pepper: chopped
Slivered almonds
Drained mandarin oranges
Crushed pineapple or freshly chopped pineapple
Thinly sliced Green onions
Golden raisins
Shredded coconut
Chopped spinach
Sliced olives
Grape tomatoes
Chopped broccoli
Sliced celery
Sliced or diced avocado
Fresh cilantro
Diced ham
Diced bacon
Crushed cashews
Bean sprouts
I'd love to know what you top your Hawaiian haystacks with! Leave a comment below in the comment section 🙂
Make these Hawaiian haystacks for a crowd
We love these Hawaiian haystacks for an easy weeknight dinner, but they also make a great meal to feed a large group of people.
Purchase toppings in bulk
Double or triple the gravy chicken recipe
Double or triple the amount of rice
Serve toppings in individual bowls, keep rice in warmers, and transfer the gravy chicken to crockpot(s) (on warm) when serving these Hawaiian haystacks to a crowd. Store any leftover gravy chicken in airtight containers in the fridge for up to 5 days.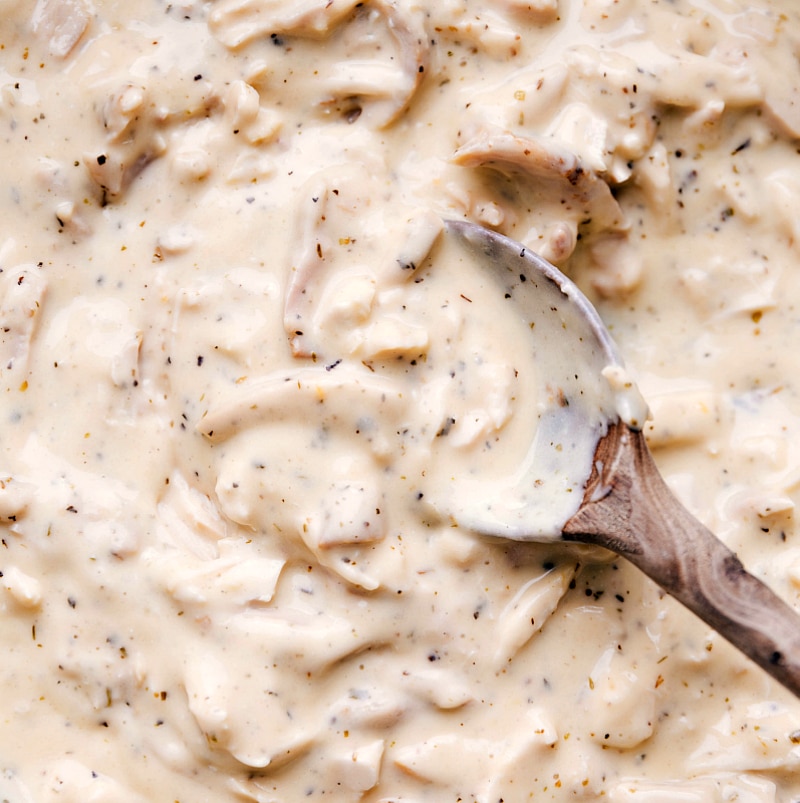 More easy dinner recipes: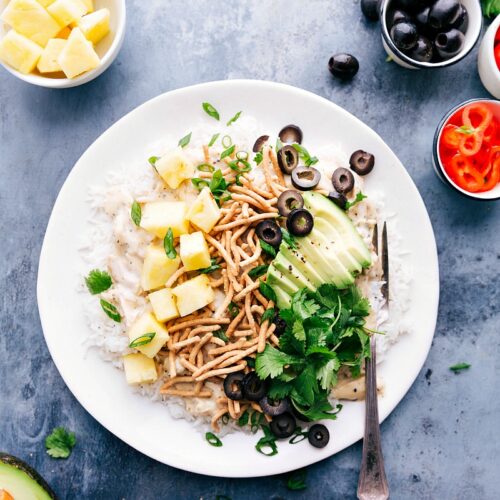 Hawaiian Haystacks
These Hawaiian haystacks start with a bed of rice that's been topped with creamy gravy chicken. The chicken is loaded with fun "salad bar" type toppings like pineapple, chow mein noodles, olives, tomatoes, cilantro, etc.
Keyword:
hawaiian haystacks
Ingredients
1

cup

white or brown rice + water

4

tablespoons

unsalted butter

1/4

cup

white, all-purpose flour

1/2

tablespoon

Italian seasoning

1/2 - 3/4

teaspoon

fine sea salt

1/4

teaspoon EACH:

freshly cracked pepper, garlic powder, onion powder

2

teaspoons

chicken bouillon powder

1

cup

whole milk

1

cup

chicken broth or stock

1/4

cup

sour cream

1

cup

extra sharp cheddar cheese,

freshly grated

4

cups

prepared rotisserie chicken

shredded/chopped (Note 1)

Toppings of choice such as: black olives, cherry tomatoes, crispy chow mein noodles, drained crushed pineapple, green onions (see blog post for more ideas)
Instructions
RICE: Cook the rice according to package instructions.

ROUX: Meanwhile, in a skillet, over medium heat, melt the butter. Slowly whisk in the flour until completely combined with no chunks (a thick dough will form). Stir over medium heat for 1 minute. Add in the 1/2 tablespoon Italian seasoning, 1/2 to 3/4 teaspoon fine sea salt (Note 2), 1/4 teaspoon pepper, 1/4 teaspoon garlic powder, 1/4 teaspoon onion powder, and 2 teaspoons bouillon powder.

FINISH GRAVY: Gradually (while whisking constantly) add in the chicken stock or broth and then the milk (add gradually). Reduce the heat, stir over low heat until thickened. Remove from heat and stir in the 1/4 cup sour cream, 3/4 cup cheddar cheese, and 4 cups (Note 1) shredded chicken.

TOPPINGS: pick as many toppings as you'd like (we think canned crushed pineapple or freshly diced pineapple and chow mein noodles are 2 must haves!) and separate toppings into bowls.

SERVE: add rice to plates, top with chicken gravy. Allow everyone to pick their toppings and add them right on top. Enjoy immediately.
Recipe Notes
Note 1: If you'd like a more saucy chicken (bigger emphasis on the gravy), only add 3 to 3 and 1/2 cups rotisserie chicken. 
Note 2: add salt to personal preference; amount of salt will depend on the stock used and the bouillon used. Add slowly, you can always add more.