A creamy chicken casserole with a base of rice and plenty of toppings to choose from such as black olives, crushed pineapple, cheddar cheese, green onions, chow mein noodles, and cherry tomatoes. A crowd and family pleasing meal!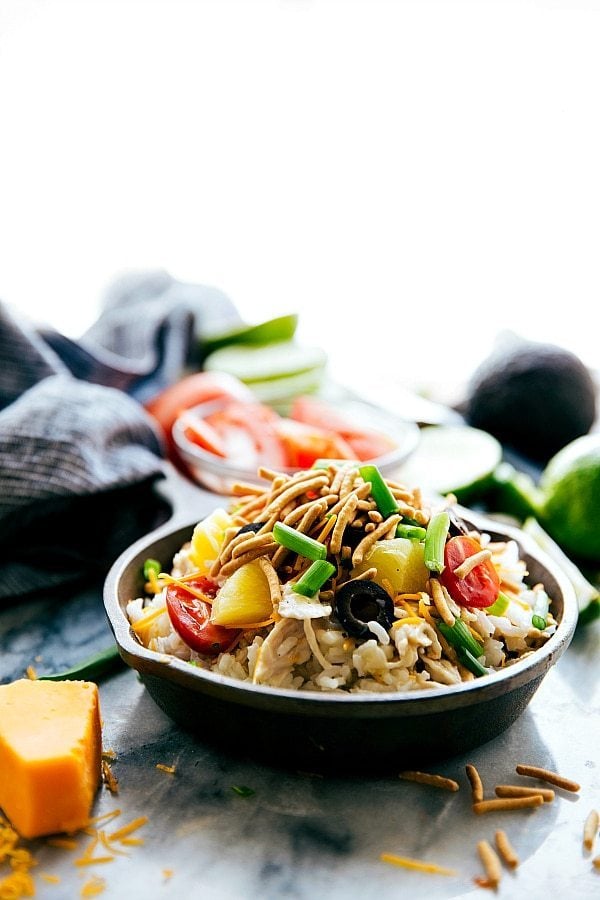 I have a huge obsession with Hawaiian haystacks. You've all heard of them right? Some form of shredded meat on top of rice with a variety of different toppings to chose from? Otherwise known as: the best food ever.
My obsession for Hawaiian haystacks turned into creativity. In the form of trying to think of every possible way I could have more haystacks in my life. Haystacks in the form of a breakfast overnight oats kind of dish? Errr. Not so much. In the form of a snack or energy bite? Yeah, let's not go there. A deliciously simple casserole? Ding ding! Winnnnner!
I adapted a traditional Hawaiian haystack dish into a cook-in-your oven, all-in-one-place kind of dish. And it's pretty great if I do say so myself.
Start off by making up some rice. You can do brown or white, but traditionally haystacks are made with white. I used white rice for this dish.
The chicken gets mixed in with a cream base and placed on top of the rice. Shred some cheese on top and cover the casserole with foil. In to the oven it goes and cooks for about 25 minutes and then 5 minutes without the foil. And then it's time for the FUN part! Also known as the toppings. And you can totally get crazy here. Like, seriously, anything goes! Well, I guess within the context of food…and wouldn't taste too strange with creamy chicken and rice.
Okay so not anything, but lots of options here! Just pick your favorites.
The hubs loves olives, so he got his fair share (None on my piece of the casserole thankyouverymuch). Other toppings on this casserole included: drained crushed pineapple, crispy chow mein noodles (my personal fave), chopped green onions, sliced cherry tomatoes, and an extra helping of cheddar cheese.
You can place these toppings on the casserole as soon as it comes out of the oven. Orrrr if you have some picky eaters, you can place the different toppings in separate bowls around the table for people to pick and choose what they want on their casserole piece. Told ya it was totally kid friendly? Oh…or I guess I didn't. But now you know!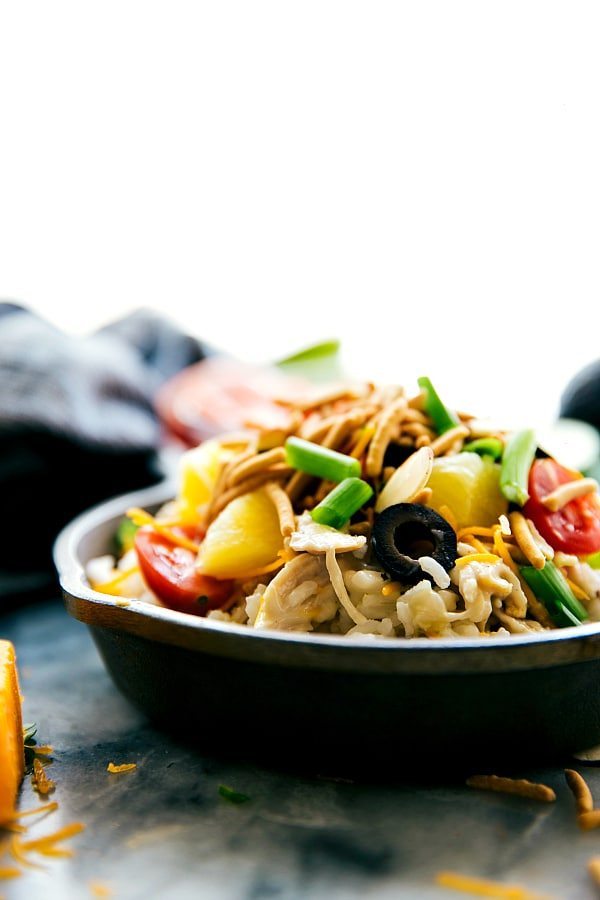 Now…if I can only think of more ways to get extra haystacks in my life…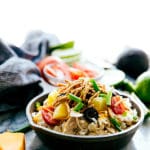 Hawaiian Haystacks Casserole
Ingredients
1

cup

white or brown rice + water

2

cups

prepared rotisserie chicken

shredded/chopped

4

tbsp

unsalted butter

4

tbsp

all-purpose flour

1

cup

whole milk

1

cup

chicken broth or stock

1/4

tsp

pepper

1/2

tsp

salt

1/4

tsp

garlic salt

1/4

cup

sour cream,

(I use fat free)

3/4

cup

cheddar cheese

shredded

Toppings of choice such as: black olives, cherry tomatoes, crispy chow mein noodles, drained crushed pineapple, green onions
Instructions
Cook the rice according to package instructions.

If baking the casserole right away, preheat the oven to 350 degrees.

In a small sauce pan over low heat, melt the butter. Slowly whisk in the flour until completely combined with no chunks (a thick dough will form). Stir over medium heat for 1 minute. Gradually (while whisking constantly) add in the chicken stock or broth and then the milk (add gradually). Add in the pepper, salt, and garlic salt.

Stir over low heat until thickened.

Remove from heat and stir in the sour cream and shredded chicken.

Cover the bottom of an 8 x 8 pan with rice. Place the chicken mixture on top and cover with tin foil. If not cooking right now, place in the fridge.

If cooking now, place in the oven for 20 minutes. Remove the foil, cover with the cheese and return to the oven for another 5 minutes.

Remove and place toppings of choice on casserole.
More delicious chicken meals: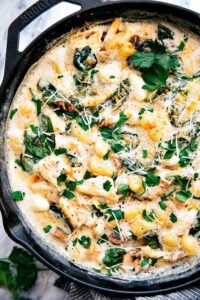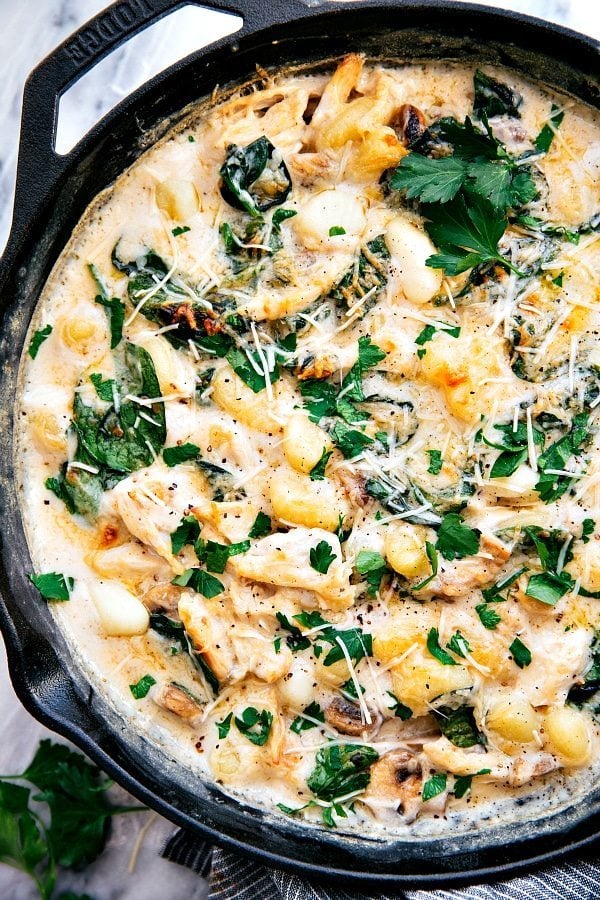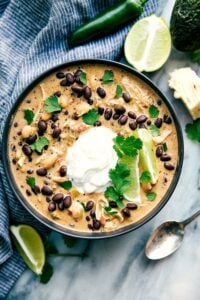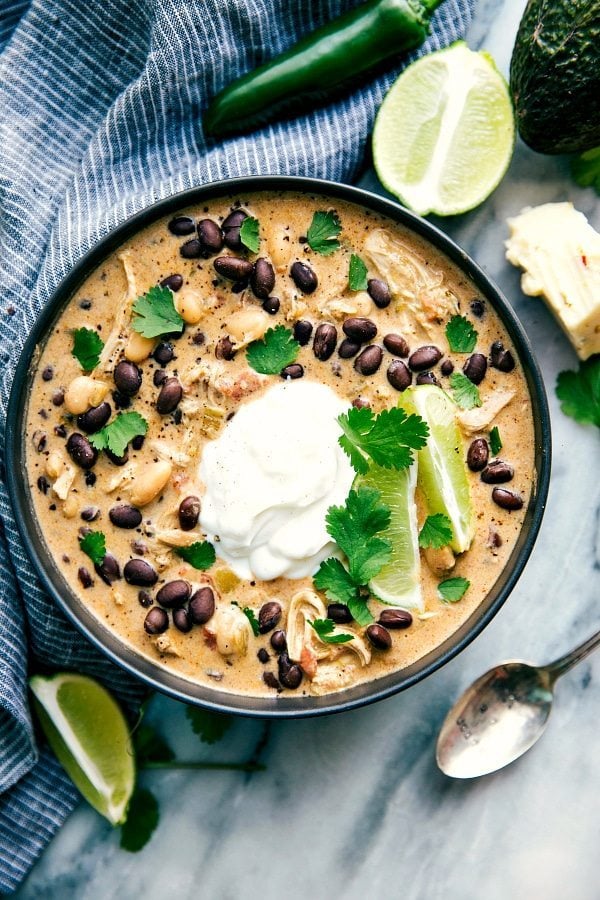 Crockpot Green Chile Chicken Enchilada Soup