Tin Foil Packet Seasoned Italian Chicken and Veggies.
video tutorial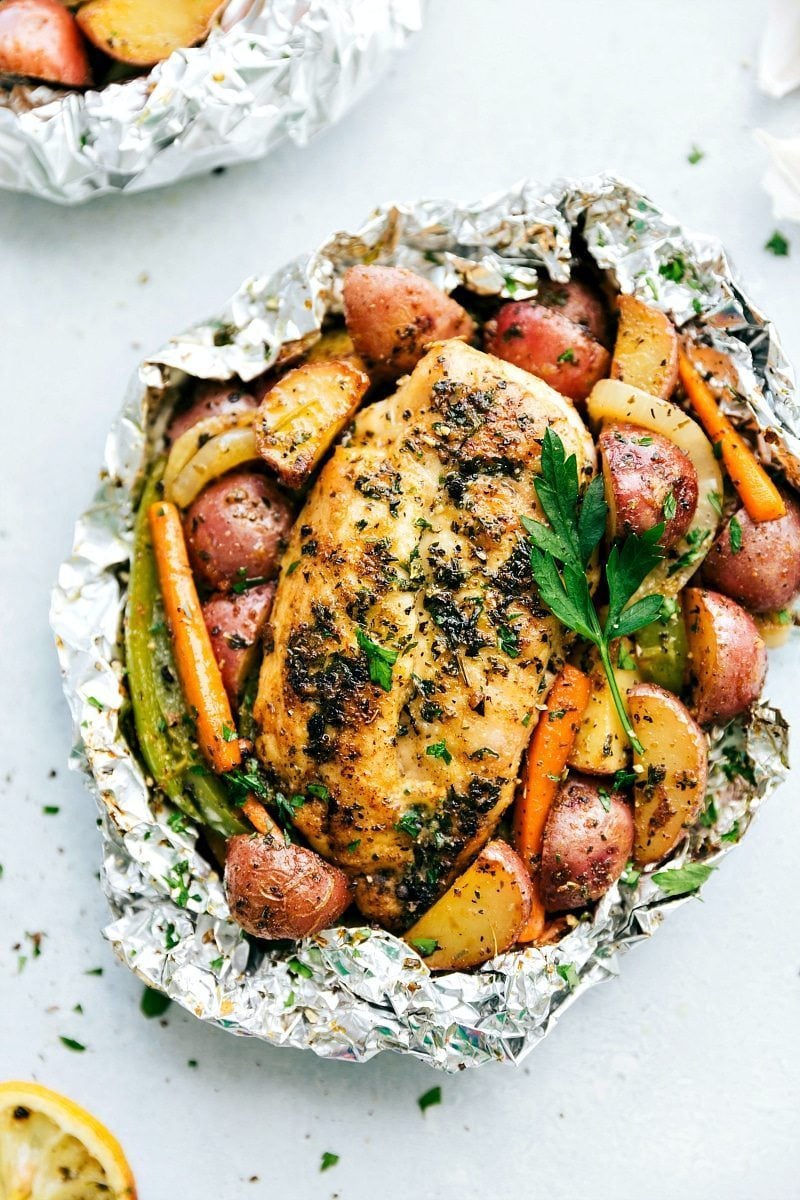 So many of you have been going crazy over these Foil Pack Italian Sausage and Veggies and I've loved seeing all your recreations on Instagram and Facebook! I've had quite a few people ask me if they can change it up and add chicken, so I thought I would make a separate recipe — these Italian Chicken and Veggie foil packs and tell you exactly how it works. 🙂
I changed up the veggies a bit, but you've still got all the amazing Italian seasonings. Plus, this dish is just about as inexpensive to make and just as healthy. Good-for-you ingredients, very little prep, and virtually no clean-up! This dinner is a mega win! ?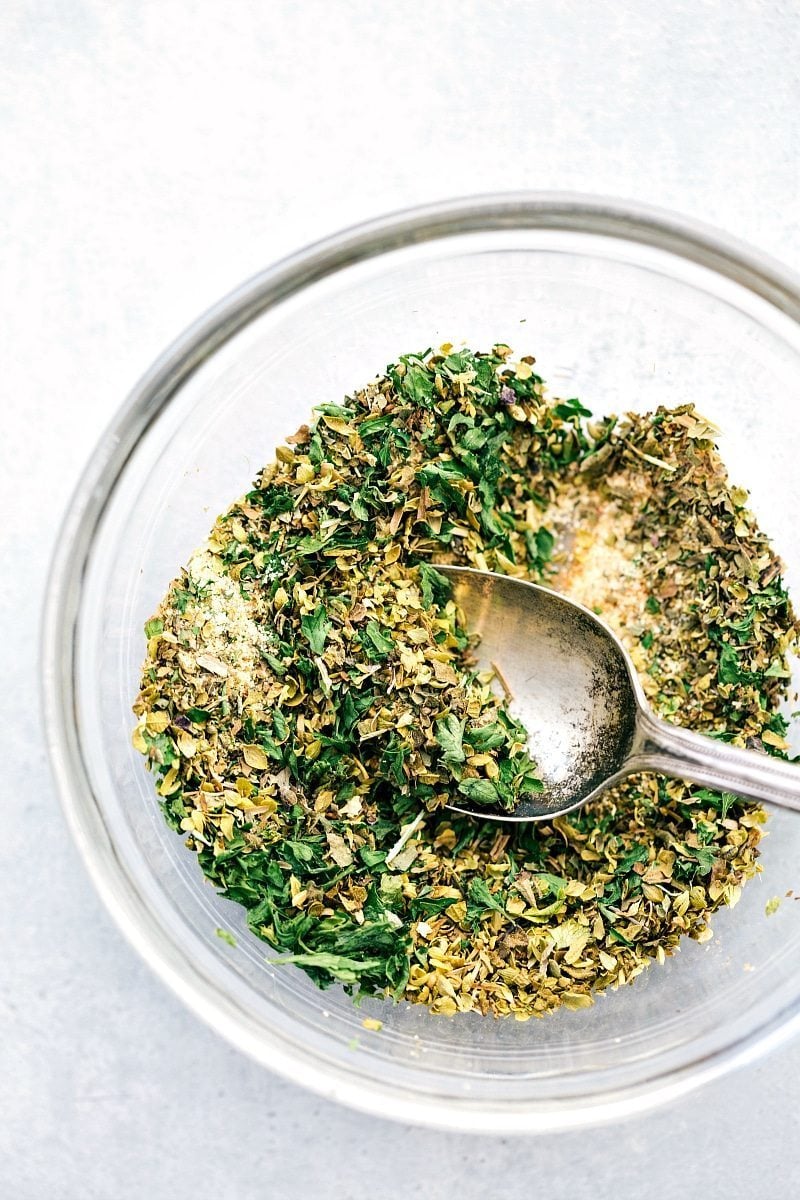 These tin foil packets aren't HARD to make, but they are a little bit particular. What I mean by that is you have to make sure you have the ingredients pretty uniformly prepared (to recipe specifications) so that everything can be perfectly cooked in time. The most important thing to make sure is you have the right sized chicken breasts in each packet. Here's a quick run-down on specifications:
Chicken Breasts — you'll want 16 ounces TOTAL for this recipe which is about 2 large breasts. Try to get 2 large breasts that are each 8 ounces and then slice the 2 breasts horizontally into two even pieces that are each 4 ounces. Pound the chicken and ensure that the 4 pieces of chicken you have are each an even 4 ounces.
Red Potatoes — the potatoes are what takes the longest to cook, so it's important to prepare them correctly so they will cooked through in time. I use baby red potatoes and then halve or even quarter them so you'll get pretty small pieces of potato. If you use baby reds, get the smallest ones possible and halve. Larger baby reds need to be quartered and if you're using regular red potatoes you'll want to chop it into pretty small bite-sized pieces.
Carrots — the next longest cooking veggie are the carrots. I buy regular sized carrots and cut them into pretty thin match-sticks. You're aiming for 1- to 2-inch pieces that are about 1/8-inch by 1/8-inch thick.
Onion — just thinly slice it into rings. Alternatively you can dice up the onion.
Green pepper — slice into thin strips.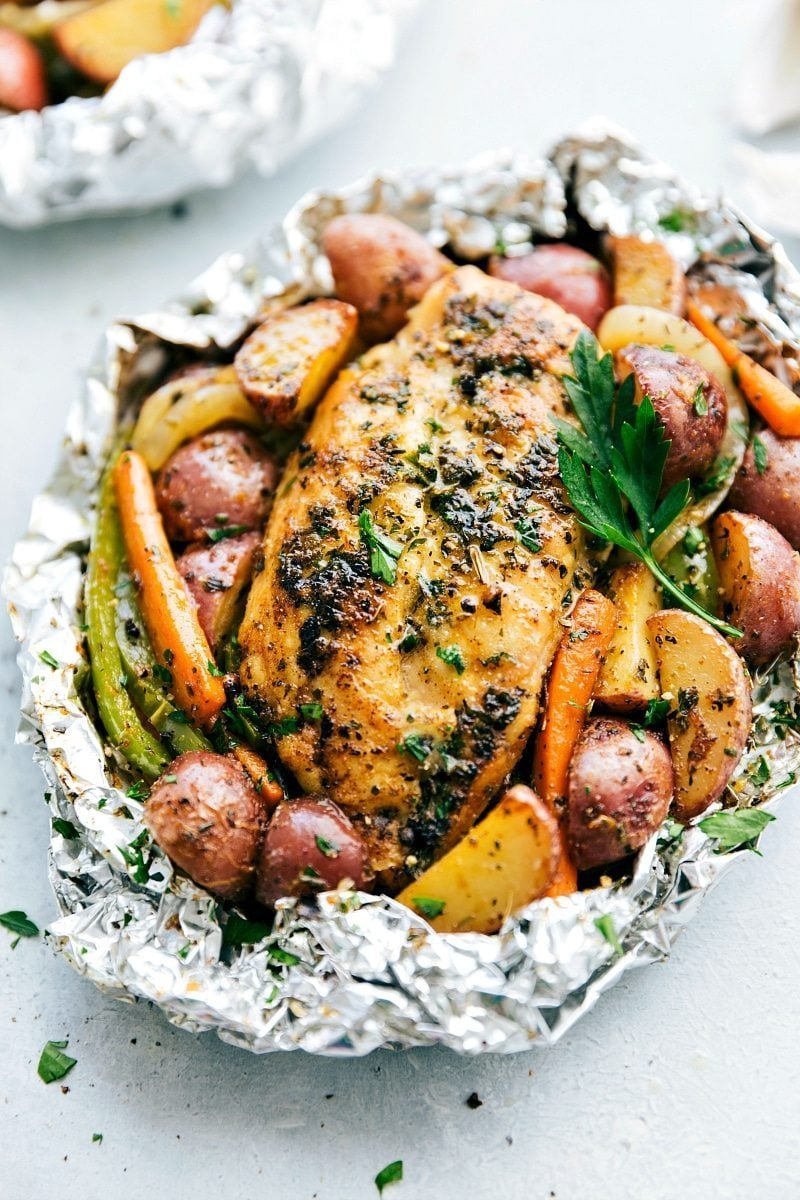 A few tips for success:
If you're baking these, you want to avoid removing them from the oven and checking too often; when you open the foil packet, all the steam is released and it's going to take a lot longer to fully cook when being placed back into the oven. That said, it's hard to know exactly when they're done because each oven is different and ingredients are always prepared a little different. I'd recommend pulling out just ONE packet (not all) and testing at 40 minutes (see if the veggies are tender and use a meat thermometer to test the chicken). If that one's not done, return it (it will likely need an additional 5 minutes over the rest now) and test a different one at 45 minutes. These packets (if you have the right sized ingredients and a calibrated oven) shouldn't take longer than 50 minutes and can be done as soon as 35 minutes.
When grilling, I like to grill these over HIGH heat and actually leave a little bit of an opening at the top of the foil packet — so they're folded up, but not fully sealed. I think it gives them a better flavor! Grilling at high heat these can be done as soon as 20 minutes depending on the actual temperature of your grill.
Toss the seasoning mix and olive oil thoroughly with all of the ingredients so you get a nice even coating over everything!
Use heavy duty foil for grilling.
Follow the weight and veggie chopping guidelines carefully! 🙂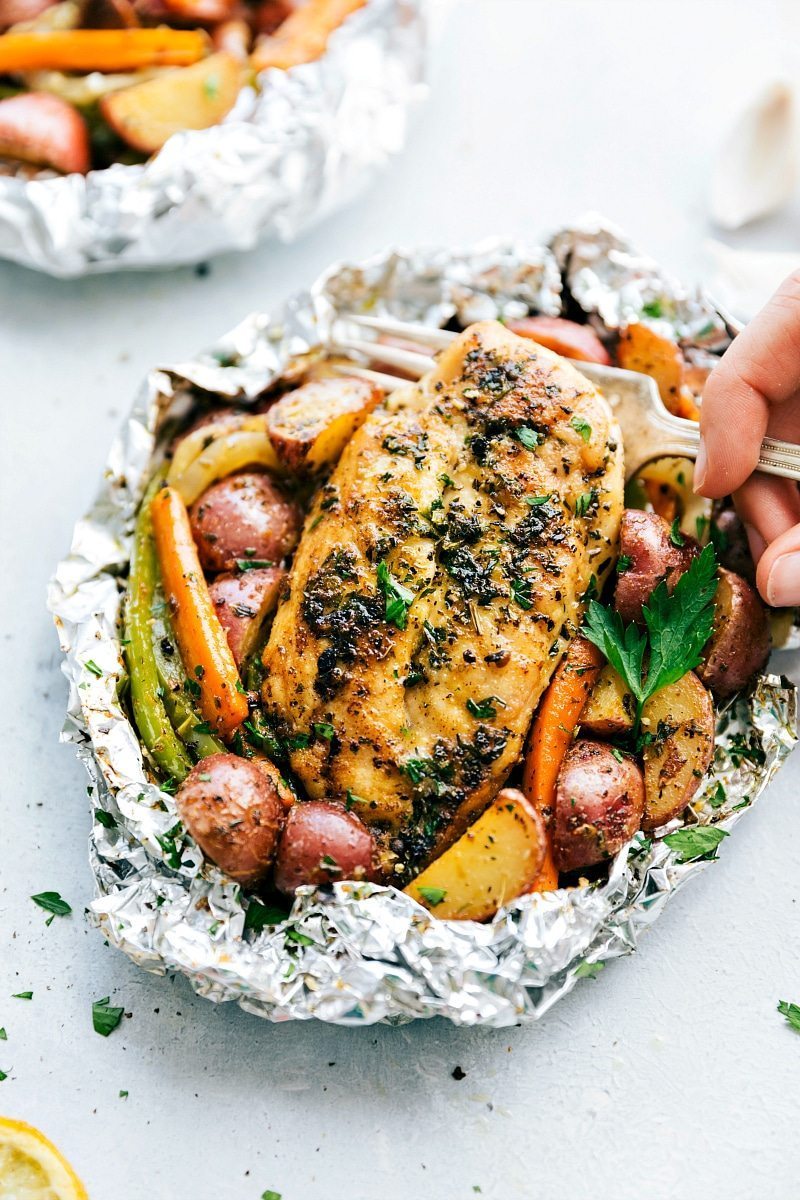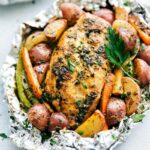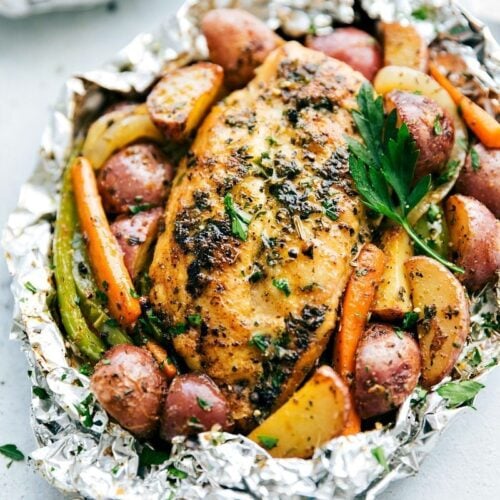 Italian Chicken and Veggies
Tin Foil Packet Italian-Seasoned Chicken and Veggies.

Ingredients
2 large

(16 ounces total; 1 pound)

chicken breasts,

sliced horizontally to get 4 even 4-ounce pieces

2

cups

baby potatoes,

halved or quartered

1

green bell pepper,

thinly sliced

1

yellow onion,

cut into rings

1

large

carrot,

cut into matchsticks

1

tablespoon

minced garlic

1/4

cup

olive oil
Seasonings
1/2

tablespoon EACH:

dried basil, dried oregano, dried parsley, garlic powder

1/2

teaspoon EACH

onion powder, dried thyme

1/2

teaspoon

red pepper flakes,

optional

Salt and pepper,

to taste

Optional: fresh lemon, fresh Italian flat-leaf parsley, freshly grated Parmesan cheese
Instructions
Preheat the grill to high or the oven to 425 degrees F.

Slice the chicken breasts horizontally to get 4 pieces. Pound the pieces to even thickness. Make sure each piece is 4 ounces.

Prep the veggies: half or quarter baby red potatoes (you want pretty small pieces so they'll cook in the same time as everything else). Thinly slice the green bell pepper, cut the onion into rings, and cut the carrots into 1/8th inch thick matchsticks.

In a very large bowl, add the chicken, potatoes, bell pepper, onion rings, carrots, and minced garlic. Pour the olive oil over everything and then all of the seasonings: the dried basil, dried oregano, dried parsley, garlic powder, onion powder, dried thyme, and red pepper flakes if desired. Add salt and pepper to taste (I add about 1/2 teaspoon of salt and 1/4 of pepper, but do it to your preference).

Toss all of the ingredients together to ensure everything is well coated in the seasonings and olive oil.

Set out 4 large sheets of foil. Divide the mixture evenly among the foil making sure each foil pack gets 1 chicken piece.

Seal the foil and grill on high heat for 15-25 minutes (large variance based on different grills/heat; my grill had these finished at 20 minutes) or in the oven for 30-45 minutes (again; large variance based on your oven temperature and how ingredients are prepared) or until the chicken is completely cooked through (registers 165 degrees F). My oven cooked these perfectly at 37 minutes and a friend tested this recipe and they were done at exactly 40 minutes.

If grilling, I like to open the foil packs just a tiny bit at the top and if oven baking, you can open the foil packs at the end and broil for 1-2 minutes. (Totally optional.)

Remove the foil packets from grill or oven and open carefully allowing for the steam to escape. If desired top with fresh parsley, a squeeze of fresh lemon, and freshly grated Parmesan cheese. Season additionally with salt and pepper if desired and enjoy immediately.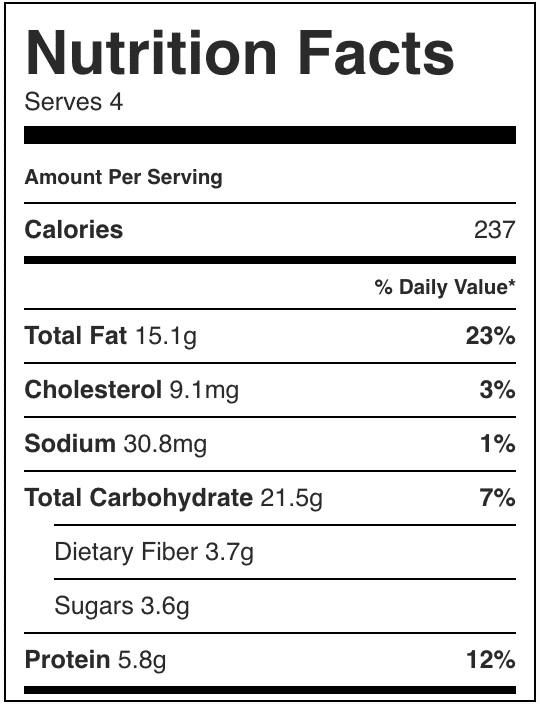 More EASY Tin Foil Dinners: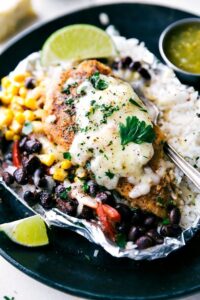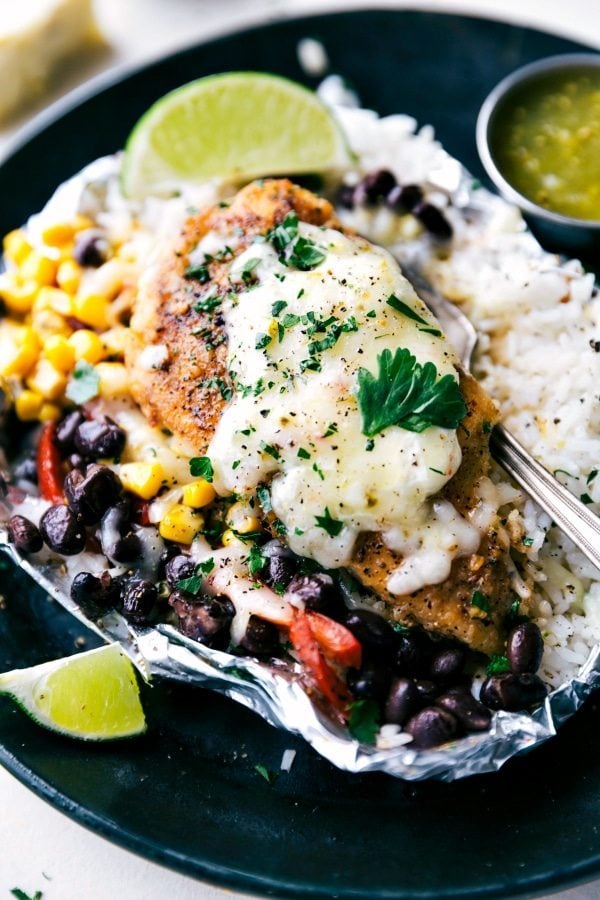 Tin Foil Salsa Verde Chicken, Rice, and Veggies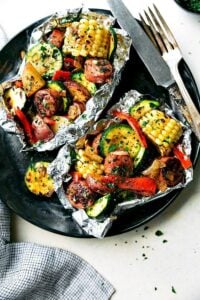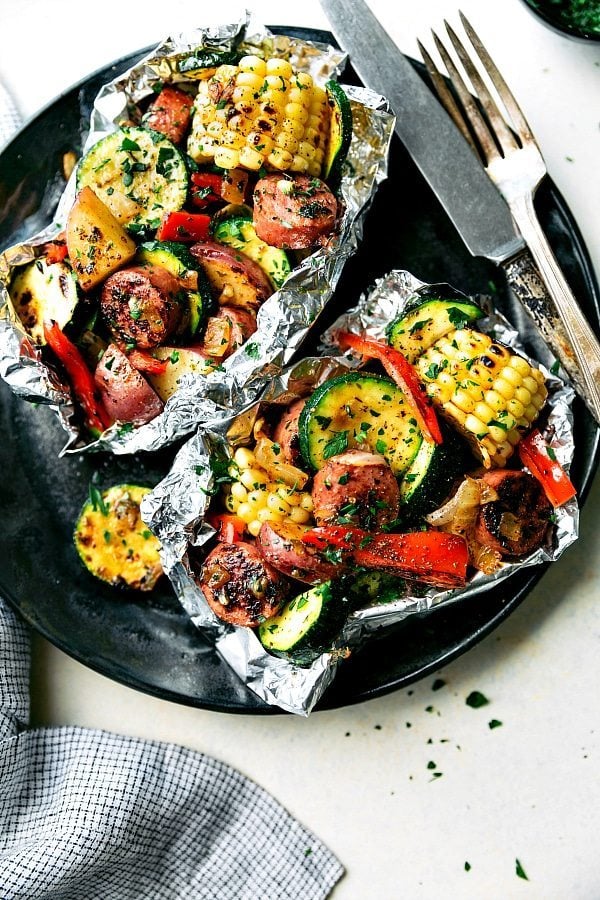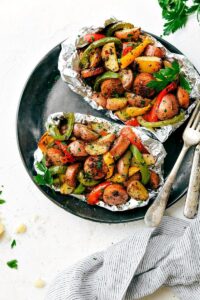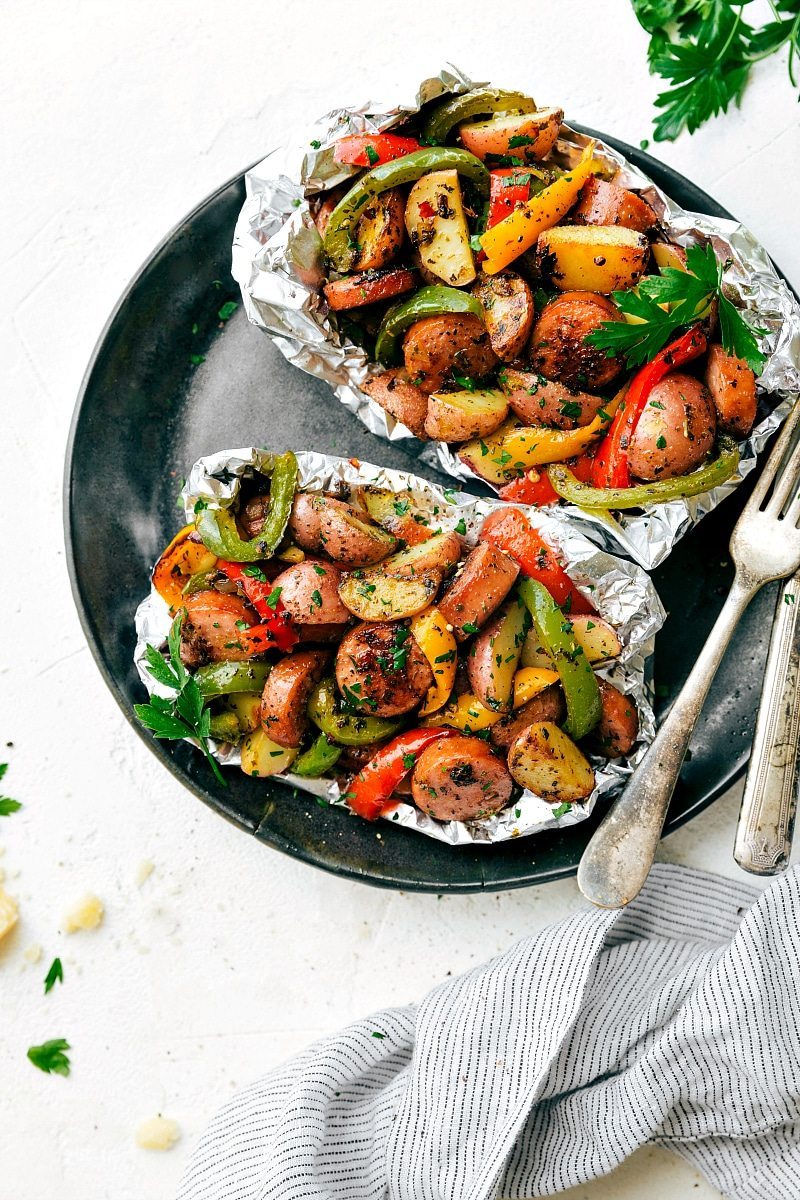 Tin Foil Italian Sausage & Veggies