An easy & healthy meal of cuban-style grilled chicken marinated in "mojo" sauce with a fresh citrus avocado salsa served over rice (or quinoa)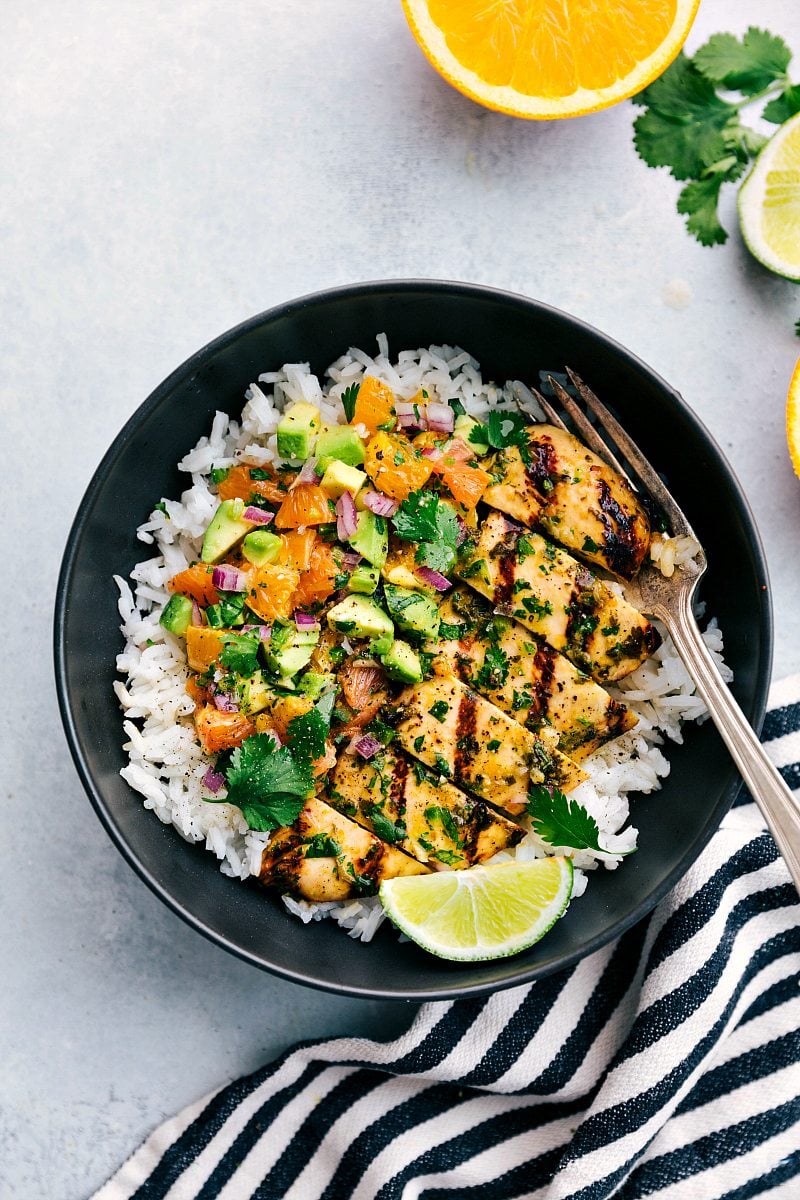 In my book, there aren't too many spring/summer meals better than a good marinated and grilled chicken with some kind of fresh veggie or fruit salsa on top! I've shared a few different chicken marinade + fruit salsa combos here and they've been a huge hit so I don't think I'm alone in my love for these dinners.
This taco grilled chicken with an avocado-corn salsa is one of the most loved recipes on my site and today I've got a pretty good contender 🙂 A Cuban Mojo Chicken plus a citrus-avocado salsa. It's the perfect Spring meal — the citrus is still in season, it's warm enough to grill (or hopefully it is at least bearable!), and it's a meal that tastes like summer is on its way!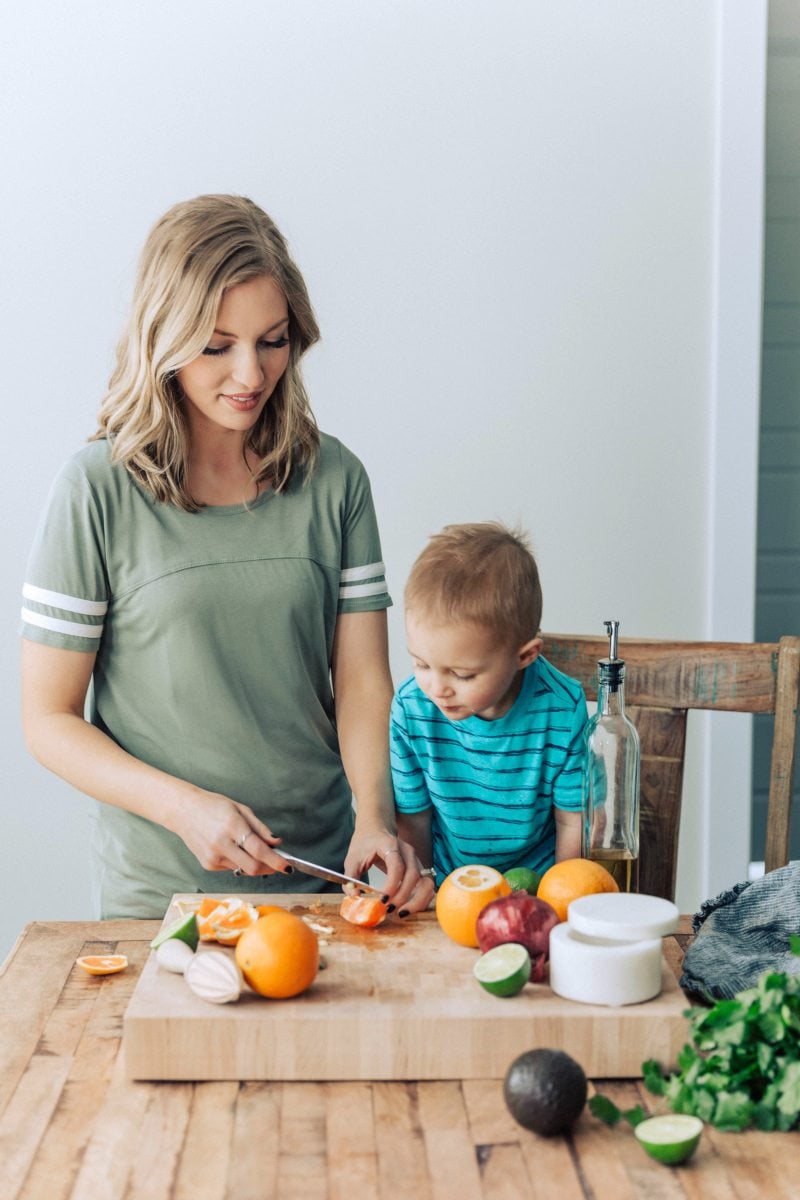 The citrus salsa was inspired by none other than little Bentley. He's obsessed with anything citrus! Since Grey goes to school in the afternoons which is when I typically test my new recipes, Bentley has become quite the helper.
If I'm being honest, he's not as good of a helper as Grey is. In fact, he's actually not really help at all. But what he IS great at? Taste testing. He can eat. and eat. and eat some more. Any time I'm buying citrus for a recipe, I double the amount I'm buying and so far, Bentley has never let me down in eating the extras. 🙂

One of the reasons I love grilled chicken dinners like this one is that the steps are broken apart and it really feels like the dinner doesn't take much prep time at all. You make the marinade and prep the chicken either the day before or hours before and so when it comes time to finish dinner all you've got to do is make the salsa and whatever base you want for the meal (rice, quinoa, etc).
Chicken breasts (or chicken thighs) are tossed with several ingredients and set aside in the fridge to marinate for a few hours to overnight. To make this cuban mojo chicken marinade we've got fresh herbs: cilantro and mint, cloves of garlic, orange zest and juice, a few spices, lime juice, and olive oil. This cuban mojo chicken marinade is loaded with fresh flavors and has an incredible depth of flavor: citrus, garlic, and freshness from the herbs. The chicken is bursting with flavor and the salsa perfectly complements those flavors.
The salsa is made with similar ingredients to the marinade: citrus, lime juice, cilantro, and garlic. I add in the avocado for a good creaminess, red onion for a bit of tang, and some jalapeños for heat. Add a good pinch of salt + pepper and you'll see just why my boys go crazy for this salsa!
Here are a few tips for making this Cuban Mojo Chicken and Avocado-Citrus Salsa:
For the salsa: if you are worried about heat, you can reduce or omit the jalapenos. If you are a heat lover, feel free to increase the amount of jalapenos.
For the salsa: to take away the "bite" of the red onion, you can soak it in cold water for 5-10 minutes. Drain well and then add to the salsa!
For the salsa: make sure to get a good ripe avocado. It adds the needed creamy component to this dish as well as a great flavor to the salsa and the chicken. Sometimes I'll even add slices of avocado in addition to the salsa 🙂
For the Cuban Mojo Chicken: Make sure to slice in half (or pound) your chicken breasts into very even pieces before marinating. That way they've soaked up all the delicious flavor from the marinade and are right ready to go on the grill AND to cook evenly. Additionally, to add more of the delicious marinade flavor, reserve some of the marinade and brush it on the chicken as you grill.
For the Cuban Mojo Chicken: Generously OIL your grill grates. When the grill is fully heated, clean it well with a wire brush, and then roll up a few paper towels, drench them in oil (I use canola), and (using tongs that are holding the paper towel wad), rub it along the grill grates generously. Cleaning the grill and brushing it with oil will give your chicken gorgeous grill marks and contribute to a beautiful sear.
For the Cuban Mojo Chicken: make sure the grill is completely heated before you add your meat. High heat is going to sear the surface of the meat which will give you a juicier chicken.For the grilled cuban chicken: use a meat thermometer. The best way to ensure your meat is perfectly cooked is to use a meat thermometer. Chicken is cooked at 165 degrees F. I like to take it off around 160 degrees as it will cook the last bit as it sits for a minute.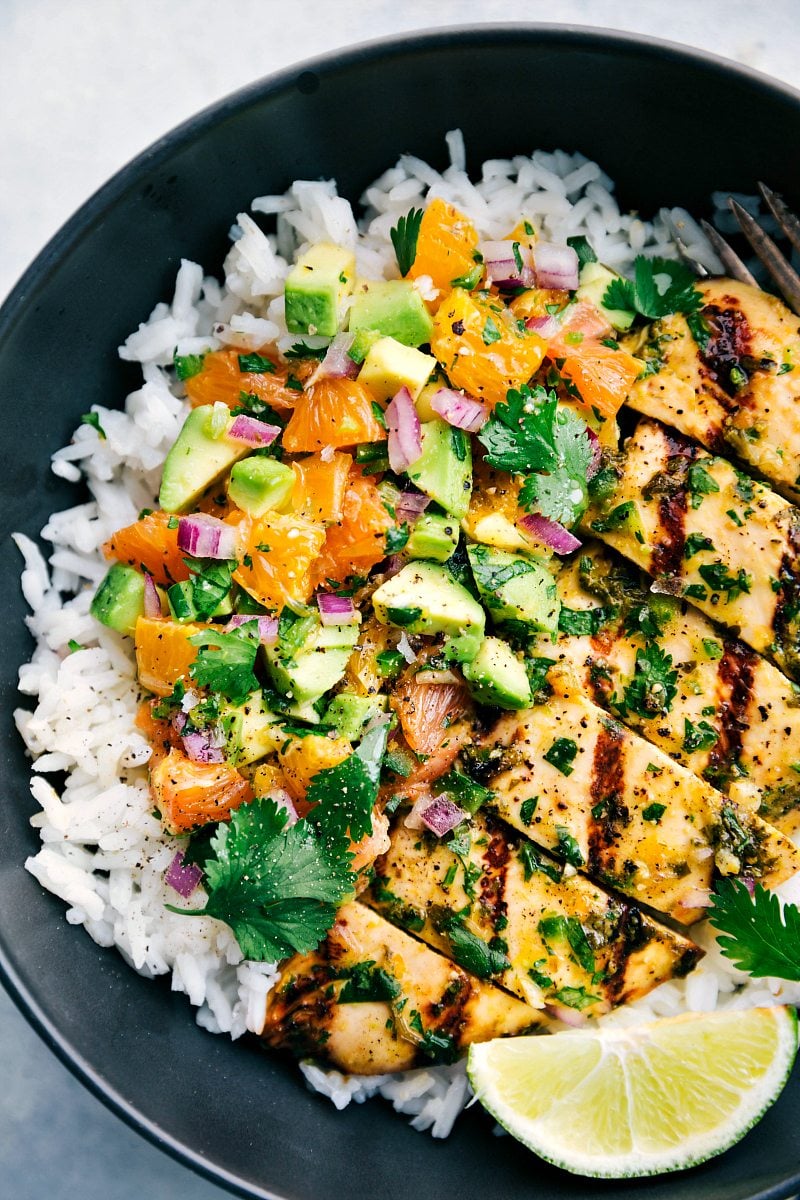 More Delicious Grilled Chicken Meals:
Grilled Chicken Bowls with an Avocado Corn Salsa
Grilled Cilantro Lime Chicken with a Mango Salsa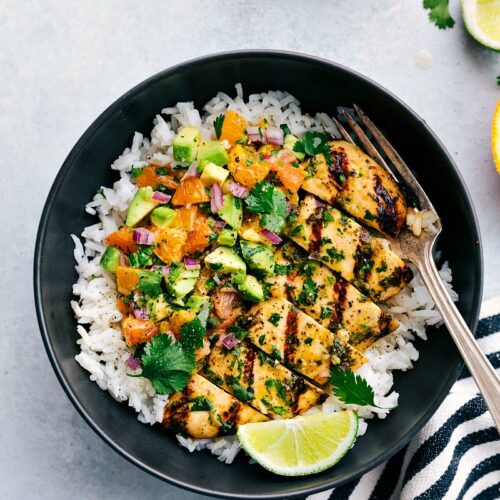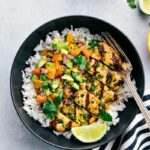 Cuban Mojo Chicken with a Citrus Avocado Salsa
Cuban-style grilled chicken marinated in "mojo" sauce with a fresh citrus avocado salsa served over rice (or quinoa)
Ingredients
Chicken Marinade
1 and 1/2

pounds

boneless skinless chicken breasts

1/3

cup

cilantro leaves,

packed

2

teaspoons

minced garlic

2

large

navel oranges

(1 teaspoon zest; 1/2 cup juice)

2

large

limes

(1/4 cup juice)

1 and 1/2

teaspoons EACH:

dried oregano flakes, cumin powder

2

tablespoons

fresh mint leaves,

lightly packed

1/3

cup

olive oil

Fine sea salt and freshly cracked pepper
Citrus Avocado Salsa
1/3

cup

chopped red onion

1

cara cara orange

1

navel orange or tangelo

peeled, segmented and diced*

1

cloves

garlic

minced

1/4

cup

fresh cilantro,

finely chopped

1

large

avocado,

peeled, pit removed, and diced

1

large

lime

1

small

jalapeno,

optional, finely diced
Cilantro Lime Rice
1

cup

white (or brown rice)

2

cups

chicken stock or broth

Optional additions: 1 clove minced garlic, 3 tablespoons lime juice, 3 tablespoons packed cilantro
Instructions
Trim the fat and slice large breasts in half widthwise. Pound chicken to even thickness (ensures the best grilling!) Set aside in a large plastic sealable bag. For the marinade: place the cilantro leaves, minced garlic (or 3-4 garlic cloves), 1 teaspoon orange zest, 1/2 cup freshly squeezed orange juice, 1/4 cup freshly squeezed lime juice, dried oregano flakes, cumin powder, 1 teaspoon salt and 1/2 teaspoon pepper, and fresh mint leaves in a food processor. Cover and pulse until cilantro, mint, and garlic is finely chopped. Drizzle in the olive oil and pulse until just combined. Do not blend vigorously with the olive oil. Reserve 1/3 cup of this marinade and set aside.

Pour remaining marinade over chicken. Knead to coat chicken and place in the fridge for at least 1 hour up to 12 hours. The longer the chicken marinades, the more flavorful it will be.

Lightly oil the grill grate and then place the marinated chicken (discard marinade in bag) on the grill. Cook for 10-12 minutes turning as needed (depending on the size of your pieces) or until chicken juices run clear and internal temperature is at 165 degrees F. As you flip and cook the chicken, brush it generously with 1/4 cup of the the reserved marinade. Add the last tablespoon or so of the marinade to finished chicken after removing from the grill. Tent with foil and allow to rest for 5 minutes before slicing/chopping.

Prepare cilantro-lime rice: combine the rice, chicken stock or broth, and minced garlic in a pot over high heat. As soon as the mixture begins to boil, reduce the heat, and cover with a lid until the rice is cooked through. Once the rice is cooked through, tender, and no liquid remains, stir in 3 tablespoons (1 large) lime juice and 3 tablespoons packed & finely chopped cilantro. Season to taste with salt and pepper.

For the salsa: finely chop the red onion and then soak in a bowl or cup of cold water while preparing the rest of the salsa (this will take away the bite). Zest one of the oranges to get 1 teaspoon zest. Peel the cara cara orange and navel or tangelo and then segment the oranges. Dice the segments into small pieces and place in a medium-sized bowl. Add the garlic, orange zest, and finely chopped cilantro. Add the diced avocado and top with 1 teaspoon lime zest and 2 tablespoons lime juice. If desired add in the finely diced jalapeno. Add a generous pinch of salt and freshly cracked pepper. Drain red onion and add. Gently stir to combine.

In separate bowls, layer the cilantro-lime rice, the grilled chicken (slice or chop), and even parts citrus avocado salsa.

Top bowls with fresh lime wedges and fresh cilantro as desired. Enjoy immediately.