Delicious and simple pepper steak made in the slow cooker. The steak and peppers become super tender after slow cooking all day!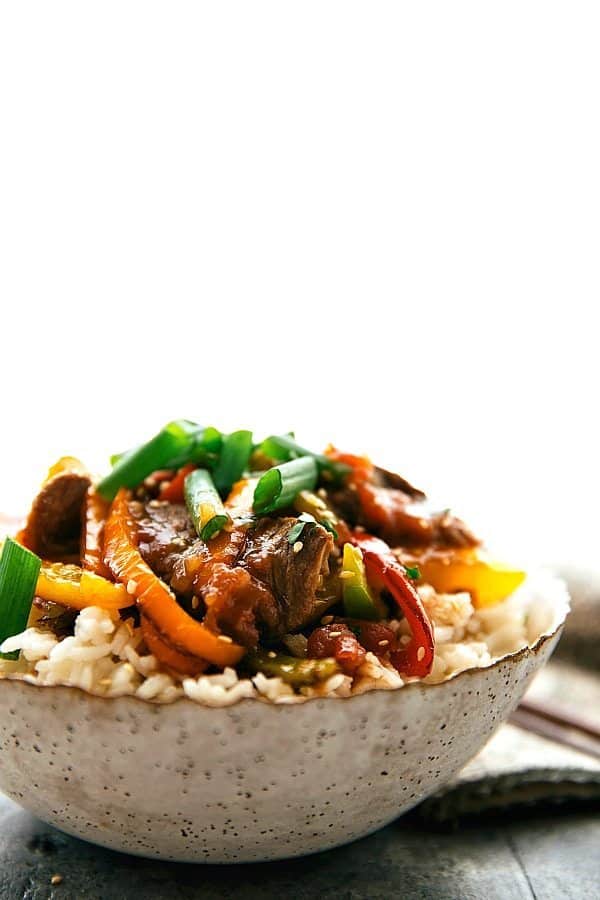 Aaaaaand I'm seriously considering re-naming this little website to "Chelsea's Messy CROCKPOT." Because, honestly, it's constantly in use and constantly messy from being used.
And if you are doubting there are enough crockpot recipes on my site to justify re-naming the blog, then be prepared because I've got about 3619150 more crockpot recipes coming at you. And no, I'm never prone to exaggeration. ? Okay so I am an exaggerator ?, BUT there really are quite a few more crockpot recipes I have on the docket and there are some really, really great ones that I can't wait to share!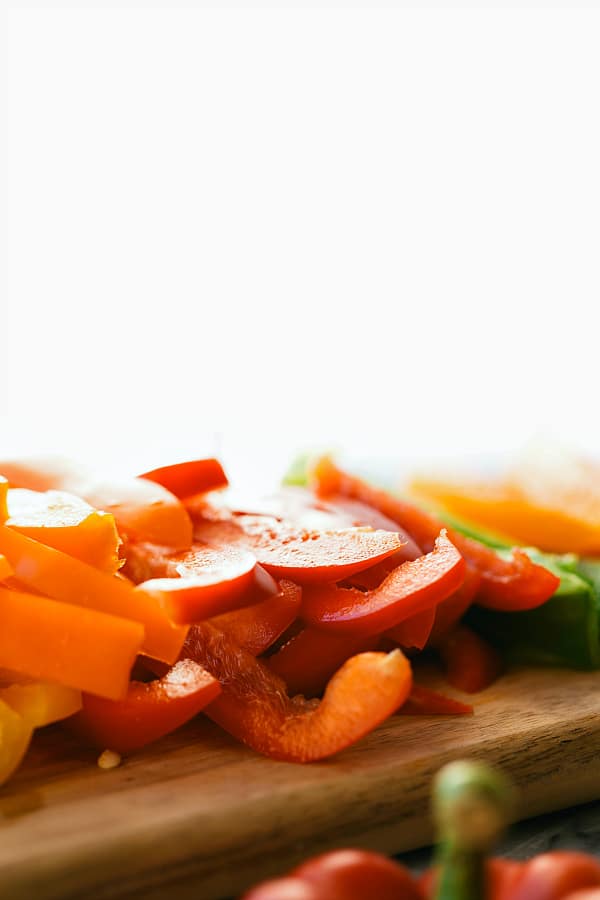 This crockpot recipe today is a little different than most. In fact it's the first recipe I've shared with cooking sirloin in a crockpot. And let me tell you right now — slow cooking sirloin all day long is incredibly delicious. The meat literally falls apart tender which is hard to get that kind of texture any other way.
There are a few tips to making sure your meat does get that delicious tender in your crockpot. First is knowing your crockpot. What I mean by that is know if your crockpot runs hot or cold based off of recipe cooking times from recipes you've tried (did it finish faster or slower than indicated?). If it runs hot, the meat may cook way quicker and end up drying out instead of being super tender. Make sure you check on it often if you have a crockpot that tends to run hot or cook things quicker.
The other thing that I've found: if the meat isn't pretty covered with liquid, it tends to get a bit dry. So make sure to really stir the meat into the liquid and make sure it's well covered. I'll also stir it around a few times during the day just to ensure all the meat is staying nice and covered by liquid.
And finally, do not cook this meal on high! While it technically works being cooked on high, the meat does not get the same amount of tender and the flavors really don't meld as well as when it's been cooking on low for 6-8 hours. SO if you are wondering why the instructions don't include a high temperature time, it's because I don't recommend it! 🙂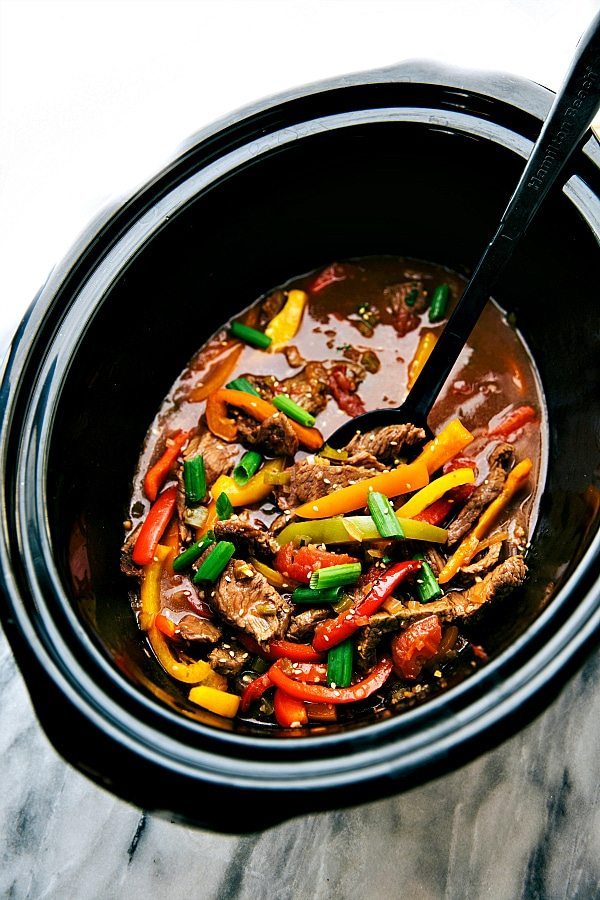 In the recipe, I include an option to marinade your meat. I personally LOVE preparing the meat in the marinade the night before, sticking it in the fridge overnight, and then waking up to literally DUMP the meal in the crockpot and FORGET about it! (I'll even prep everything else that needs to go in!)
It's especially nice to have the meat all cut up and ready to go if you have to run somewhere in the morning. Sunday morning church — I'm talking about you! It's perfect to just remove the meat from the marinade and pop it in the crockpot with the other ingredients. However, since this is a crockpot meal and aimed at being super simple, if you don't want to marinade the meat it's not going to be wildly different. It's still delicious, but you will have a more tender and flavorful meat by marinating it. Even 30 minutes will do something for it!
You could also add in a few more veggies. My sister tested this recipe last week and thought carrots would be great (add those in with the meat at the beginning of the cooking process if you want to try that!) and also had the idea of adding some pineapple chunks; which YUM. Pineapple chunks would be delicious! If you add pineapple, I would recommend either throwing that in about 30 minutes before everything is done if you want the pineapple slightly cooked OR just add them to the finished dish! And final note, she used fresh ginger and about 1 teaspoon grated fresh ginger was "perfect!"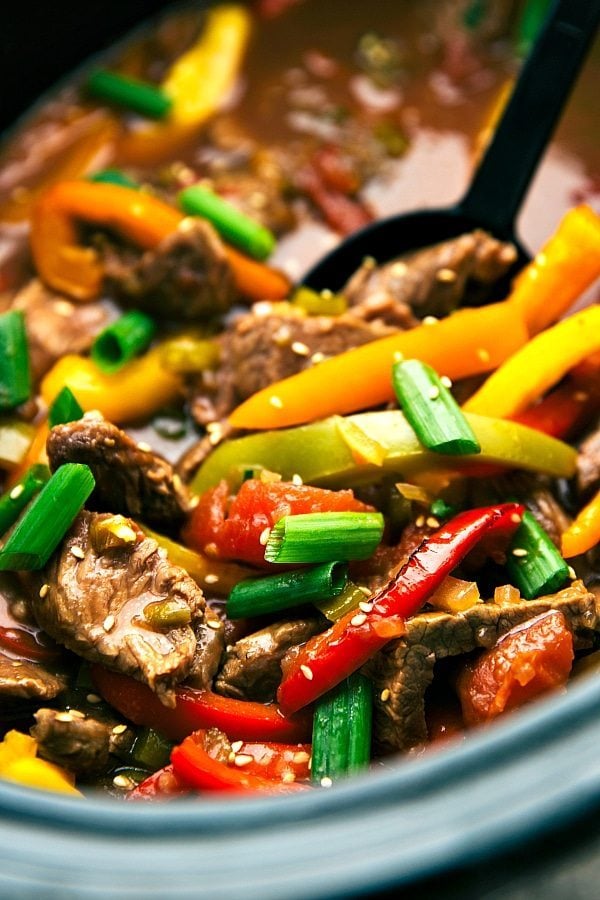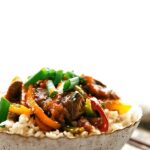 Crockpot Pepper Steak
Ingredients
Optional marinade: 1/3 cup soy sauce, 2 tablespoons cornstarch, 1 teaspoon minced garlic, 1/8 teaspoon baking soda

2

pounds

top sirloin

1

yellow onion

1 can

(14.5 ounces)

sliced stewed tomatoes

1 & 1/2 to 3

tablespoons

brown sugar

lightly packed

3

tablespoons

soy sauce

1

tablespoon

Worcestershire sauce

3/4

cup

green bell pepper

chopped, ~1 small pepper

1

cup

beef broth

1

teaspoon

minced garlic

1/4 - 1/2

teaspoon

ground cayenne pepper

1/4

teaspoon

ground ginger

3

tablespoons

cornstarch + 3 tablespoons water

3

sweet bell peppers*

Optional: green onions, fresh parsley, rice or quinoa, toasted sesame seeds, crushed red pepper, pineapple chunks
Instructions
If desired, marinade the meat. Remove the fat and cut the top sirloin into 2 inch strips. Place in a large sealable bag and shake or massage with the cornstarch, minced garlic, and baking soda. Add the soy sauce in the bag and shake to coat. Seal the bag and place in the fridge overnight or for a few hours. At the least, marinate for 30 minutes for an effect.
Crockpot
Finely dice a yellow onion and add it to the crockpot. Pour in the undrained sliced stewed tomatoes. Add the brown sugar (start with 1 and 1/2 tablespoons and add more to taste at the end of cooking.)

Add the soy sauce, Worcestershire sauce, chopped green bell pepper, beef broth, minced garlic, cayenne pepper, and ground ginger.

In a small bowl whisk with a fork the cornstarch and water together.

While stirring constantly, add to the crockpot.

Discard the marinade and add the meat. I also add about 1/2 teaspoon seasoned salt and 1/4 teaspoon pepper here, but add to your taste preference and depending on if you used low sodium soy sauce or not)

Cover and cook on low for 6-8 hours (less if your crockpot runs really hot! Check around 4-5 hours)

About 2 hours before you are ready to eat, add in the bell peppers (stems and seeds removed and thinly sliced). Stir and cover again. This keeps them nice and "crisp tender" instead of getting mushy if added at the start.

When ready to serve, serve over rice or quinoa. Add fresh parsley, green onions, toasted sesame seeds, crushed red pepper to taste as desired. Add pineapple chunks if desired. Increase any spices to personal preference (cayenne pepper, ginger, garlic powder)
Recipe Notes
*I use one red, one yellow, and one orange but any variety will be great!
More delicious crockpot meals:
Crockpot Creamy Enchilada Soup
Easy Crockpot Sweet Potato Stew