A simple crockpot cajun chicken and vegetable dish. Serve it over rice for a delicious meal!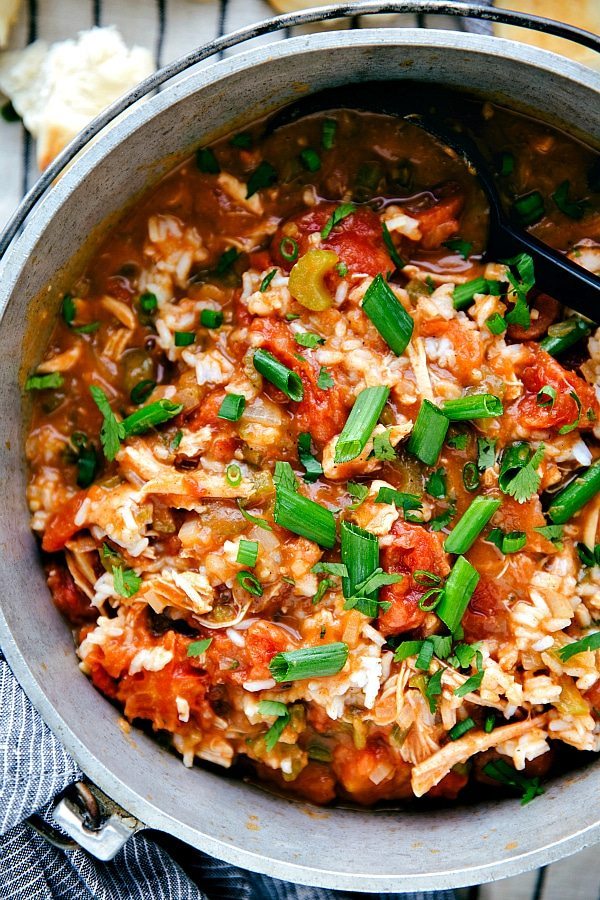 Clearly by the title, I didn't quite know what to call this…It's not quite a soup, maybe a bit of a stew? And when you serve it with rice it's just a good dinner. (??!) So the title is purely descriptive — there is some chicken, some veggies, and some rice. And it just so happens to be another slow cooked meal!
The inspiration for this dish started after I had a big bowl of gumbo at a restaurant a few weekends ago. The gumbo wasn't a super traditional one, but it was so delicious. It was spicy enough to make my eyes water a bit and so when the toddler asked for a bite I was a bit hesitant, but gave him some anyways.
After that bite, he made the funniest face that had us all cracking up. After his first bite, I was certain he wouldn't want any more. So I proceeded to try and feed him something else. But ALL he wanted was the soup. He continued to eat it, bite after bite. After each bite, he'd make a contorted face that looked like he wasn't enjoying it, take a big sip of water, and then take another bite.
He was definitely feeling the spice, but ate it anyways and claimed he loved it! So he polished off my soup and I was left with his kiddo meal. Ha!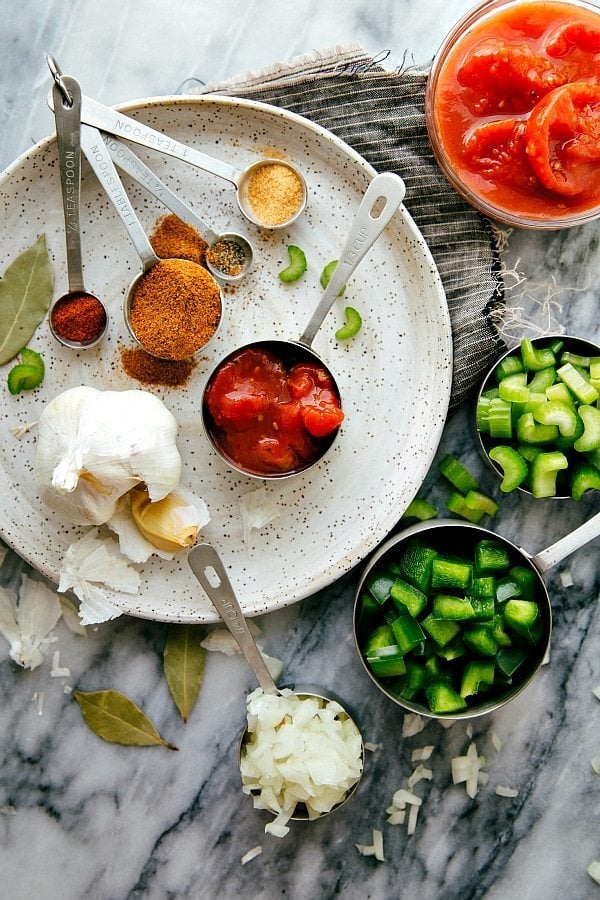 Since I didn't get my fill of the soup and I knew the toddler would be supportive of the idea, I made my own wannabe gumbo. Except it's so non-gumbo traditional that I didn't want to offend any die-hard gumbo lovers by using that word in the title. ??
And it ended up pretty different from the soup in the restaurant so calling it a soup didn't quite fit either.
Regardless of not knowing exactly what to label this as, I will tell you it is SERIOUSLY delicious and so quick and easy to make! Especially if you buy prepared chopped veggies…then it's as quick as dumping it in the crockpot and waiting!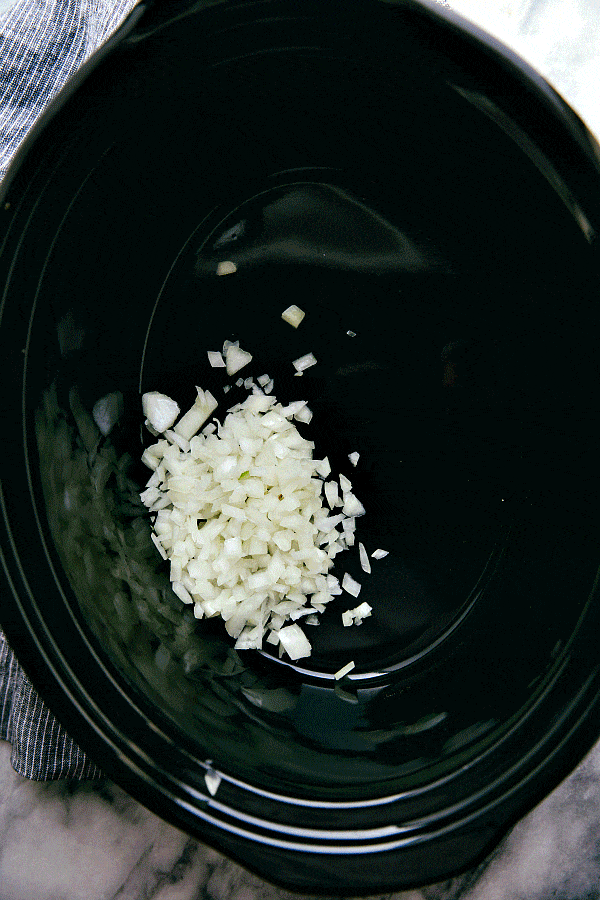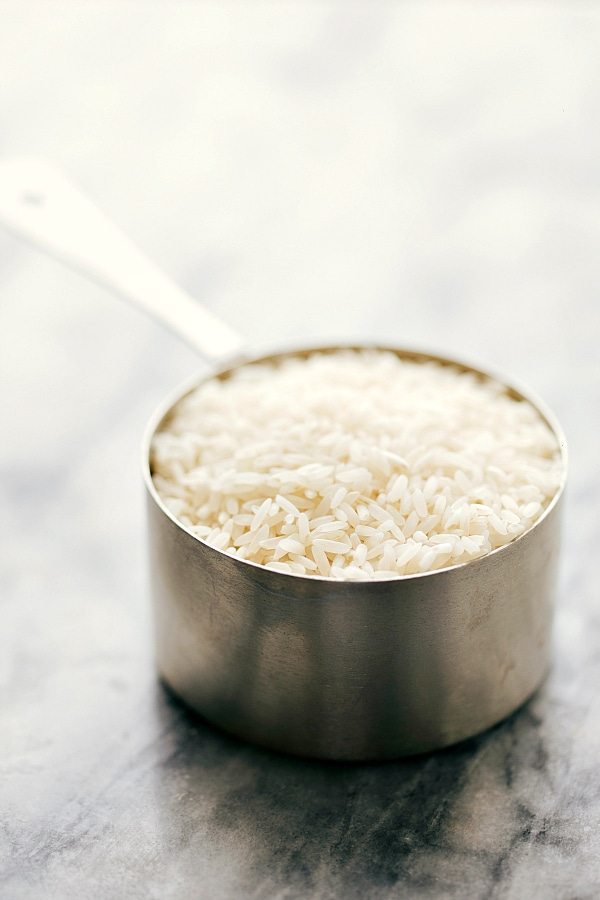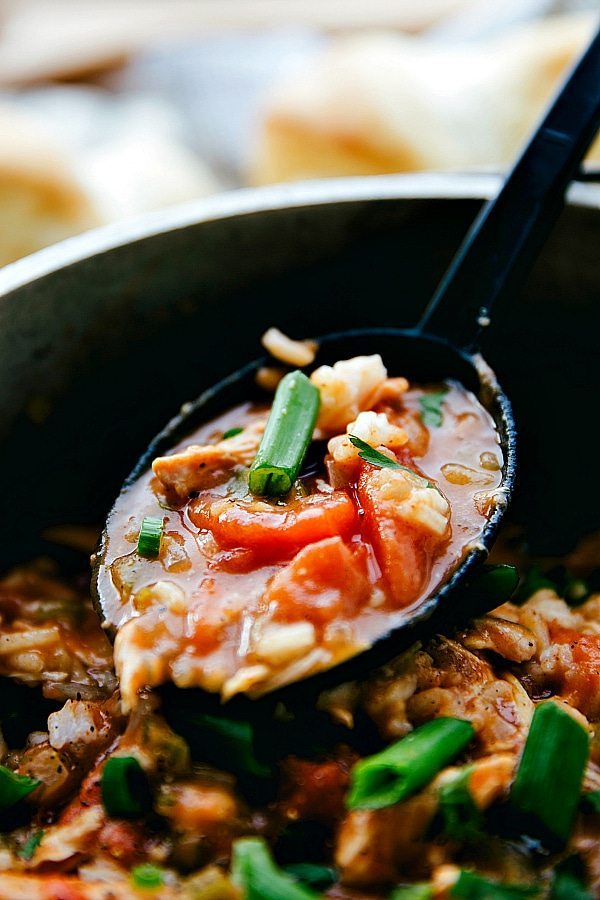 However, this isn't a 100% dump it and forget about it meal, because you do need to use a pot near the end of cooking time to add a simple roux (butter + flour). Then you use that same pot to cook the rice!
I actually did try a version where I added the rice in the crockpot about an hour before dinner time and unfortunately it didn't work out so well. The rice wasn't very evenly cooked (some pieces got "soggy" while some where still hard) and the texture just wasn't the best. (Come on rice! Cook well in the crockpot! ?)
So it's a crockpot plus one pan kind of meal! All still very easy though, trust me!
And final note, if you don't have a crazy toddler that can handle ALL the spice (seriously, though ?) add the cajun seasoning slower and to taste!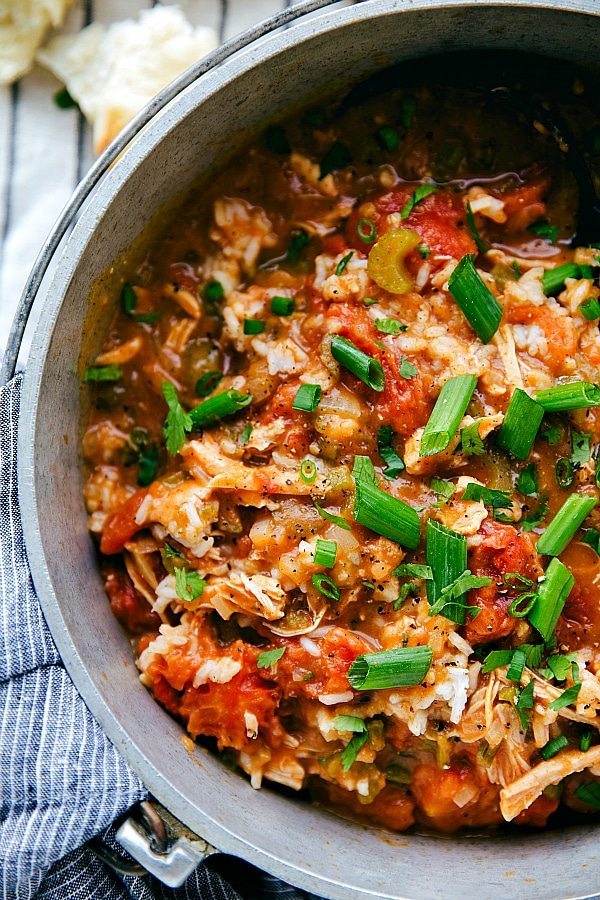 More delicious crockpot recipes: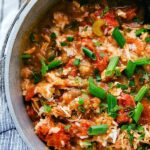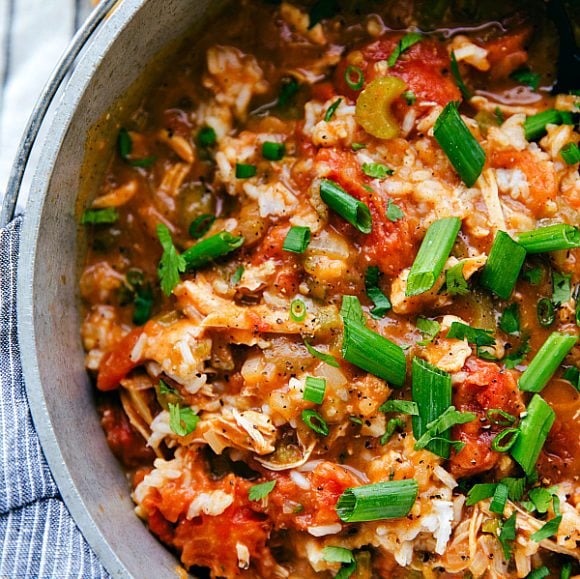 Crockpot Cajun Chicken, Vegetables, and Rice
Ingredients
Crockpot
1/2

cup (~2-3 stalks)

celery

1

cup (~1)

small yellow onion

1

cup (~1)

small green bell pepper

1

tablespoon

minced garlic

2 cans

(14.5 ounces EACH)

stewed tomatoes*

1

pound

boneless skinless chicken thighs

breasts will also work

2

cups

chicken stock or broth

1/2 to 1 full

tablespoon

Cajun seasoning

1/4

teaspoon

ground cayenne pepper

1

bay leaf
Add later
1

cup

rice

white or brown

4

tablespoons

butter

5

tablespoons

white flour

Green onions,

optional
Instructions
Prepare the veggies (or buy pre-chopped veggies for an even quicker prep)

Very thinly slice the celery, very finely chop the onion, chop the bell pepper (remove stem and seeds), mince the garlic (or use pre-minced garlic).

Add to the crockpot. Pour the stewed tomatoes (do not drain) into the crockpot and then add the chicken thighs.

Pour the chicken stock (more flavor) or broth (or even water with chicken bouillon) into the crockpot.

Add the cajun seasoning. I use McCormick which is a little more mild than others I've used so do this completely to taste preference. We like a full tablespoon, but you may like less or more. Always start with less and add more at the end!!

Add the cayenne pepper, bay leaf, and a generous sprinkle of salt and pepper. (I add about 1/2 teaspoon seasoned salt and 1/4 teaspoon pepper)

Set to low for 5-8 hours or high for 3-5 hours or until the chicken easily shreds. Every slow cooker is different so watch yours carefully!

About 45 minutes before serving, place a small pot on the stovetop and heat the pot to medium high heat. Add the butter and whisk until completely melted and frothy. (Margarine doesn't work here.)

Briskly whisk in the flour, 1 tablespoon at a time, adding slowly. Whisk until smooth in between each flour addition.

Whisk constantly until a creamy and lightly browned mixture forms (if it clumps you'll need to start again). Lower the heat and allow to slightly thicken. Carefully add to the crockpot (it sizzles when added, so do it slowly!)

Remove the chicken and shred. Return to the crockpot.

Meanwhile, in the same pot used to make the roux, prepare the rice according to package directions.

Either add the cooked rice with everything else or serve separately. (I like separately so leftovers don't get "soggy")

Remove the bay leaf, add more cajun if desired, and some salt and pepper. If desired, add some chopped green onions to each bowl. Enjoy!
Recipe Notes
*I use stewed tomatoes with basil, garlic, and oregano.