Overnight oatmeal flavored to taste like chocolate-covered almonds

There have been quite a few overnight oatmeal recipes posted on this blog! Partially because overnight oats are something I feel I know inside and out.
The four years I was in college, overnight oatmeal was my breakfast about 80% of the time. However, since I really take the 80/20 rule to heart, the other 20% of breakfasts were likely something slightly less healthy than oats. And by slightly less healthy I mean probably not healthy at all. Okay fine. ALL THE DONUTS.
About the only dishes I owned in college were small tupperware containers — 5 of them, all the same size. I'd prep the oatmeal usually on Monday and have it the rest of the week. It was the perfect thing to grab as I was headed out to my early morning classes or the gym. Because I'd eaten donuts the day before. (Balance.)
Peanut butter was generally the base of most of my overnight oatmeal recipes. In fact, this peanut butter cup oatmeal (which has been on of the most popular recipes on this site) was a personal favorite. It was also probably the most frequently made in my college breakfast years.
However, the last bit of my college years I started trying some different nut butters. One in particular that I fell in love with is almond butter. In fact, I think it may be my favorite in overnight oats nowadays. And although I don't make overnight oats like I used to in college, we still make them quite a bit.

And all those years of throwing together ingredients to make overnight oats has truly paid off. Because THESE overnight oats are hands down my favorite overnight oats EVER.
They are ultra fudgy, taste EXACTLY like how I describe (if you use all the correct ingredients I promise you will TASTE the flavor of cocoa roasted almonds ❤❤❤, and they are super filling.
As in, I made one serving and it filled me up for an entire evening (yes, sometimes overnight oats are made in the morning and consumed for dinner at my house). Which, that never happens. I'm always hungry after dinner.
These oats are so delicious, creamy, and filled with good ingredients. I mean, can you really go wrong with chocolate almond milk, dark chocolate, cocoa powder, and cocoa roasted almonds? That's four types of chocolate right there.

Other delicious overnight oats recipes: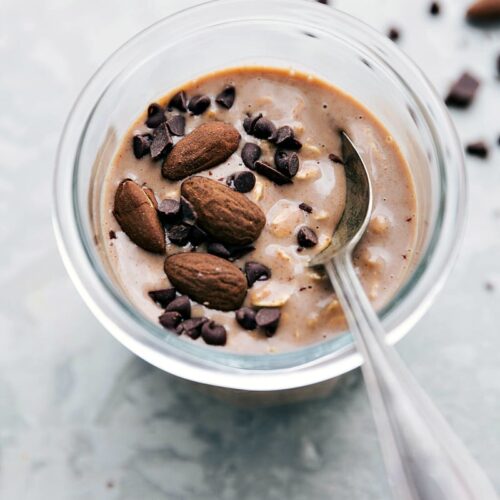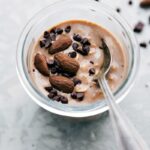 Chocolate Almond Overnight Oats
Overnight oatmeal flavored to taste like chocolate-covered almonds
Keyword:
Chocolate Almond Overnight Oats
Servings
:
1
overnight oat serving
Ingredients
2

heaping tablespoons

creamy almond butter

1/4

cup

vanilla yogurt

1/3

cup

dark chocolate almond milk

Silk makes this

1/2

teaspoon

vanilla extract

1/2

cup

old fashioned oats

1

teaspoon

unsweetened cocoa powder

Optional: cocoa roasted almonds, dark chocolate chips/chunks, dried cranberries
Instructions
In a small bowl, or tupperware container, stir together the almond butter and vanilla yogurt until completely well combined. If you use natural or homemade almond butter you may need to warm it up first. I just used creamy store-bought almond butter.

Pour in the dark chocolate almond milk and vanilla extract. Mix to combine.

Stir in the old fashioned oats and the cocoa powder.

Stir until all ingredients are well incorporated. Taste the mixture and add sweetener if desired (I think it's plenty sweet without it!) But if you want some add about 1/2 teaspoon truvia or a few teaspoons maple syrup/agave.

Cover the tupperware container or transfer the mixture to a mason jar and place in the fridge overnight or until sufficiently cooled and thickened. (Sometimes I'll even make them in the morning, get ready, and then go eat them -- they are great even after 20 minutes in the fridge)

Optionally top it with some cocoa roasted almonds, dark chocolate chunks, and/or dried cranberries.

Enjoy!

Best enjoyed the very next morning (within 8-10 hours after being made).
Recipe Notes
A lot of my overnight oat recipes can be prepped in advance and stored for several days in the fridge. However, these don't store as well. I like these best within one day of being made.