A pumpkin chocolate-chip flavored cookie overnight oats packed with protein, flavored with pumpkin and spice, and with actual chocolate chips mixed in.
Little Grey had his first experience with overnight oats and he LOVED them. I swear this kid has my taste-buds. He even ate some decently spicy soup (coming soon!) that even the husband thought was a little hot. But then again, the husband doesn't like onions and Grey loves them.
Clearly, where it counts, Grey got the good genes. I mean taste is vitally important in life — especially as the son of a food blogger. After-all, he is the executive taste tester behind Chelsea's Messy Apron. The husband sometimes gets demoted from taste tester when there are onions involved OR he's gone at work and we happen to make an entire batch of pumpkin chocolate chip cookies and then eat entire said batch in the same afternoon. I tell you what, he can pack down those pumpkin chocolate chip cookies!!
Anywayyys these oats – they are SO simple and are everything Fall. Which by the way, did you know Fall officially starts in three days? Not that you would know that I knew that because, well, I've been all about Fall since September 1st. Okay; you got me since like mid-August. I can't help it!!
They are pretty simple and take minutes to put together! The almond butter adds a fun flavor to the pumpkin, but you can always substitute peanut butter if you'd rather have that – it just has a stronger peanut butter taste/flavor. Then I used my favorite – almond milk by Silk. Have you tried this yet? You've probably noticed I use almond milk in TONS of recipes. I love it!!
Other than that you've got a few spices and adding in some optional protein and these oats are ready to set up overnight for some delicious breakfast action first thing in the morning!!
Pumpkin Chocolate Chip Cookie Overnight Oats
Ingredients
2

tablespoons

almond butter

1/2

teaspoon

vanilla extract

1/2

tablespoon

maple syrup or honey

1/4

cup

canned pumpkin

not pumpkin pie filling

1/3

cup

vanilla almond milk

1/2

cup

old fashioned oats

1/4

teaspoon

cinnamon

1/4

teaspoon

pumpkin pie spice

Pinch of salt

2

tablespoons

dark or milk chocolate chips

dark is healthier

Optional: 1 tablespoon vanilla protein powder
Instructions
In a small bowl, combine the almond butter, vanilla extract, and honey or maple syrup. Microwave for 10 seconds and then stir until well combined.

Add in the pumpkin, milk, and oats.

Stir well and make sure the almond butter is mashed in thoroughly.

Add in the cinnamon, pumpkin pie spice, and salt. (Add in protein if desired) Again stir well and then mix in the chocolate chips.

Transfer the mixture into a small jar or sealed container.

Place in the fridge for at least an hour or until oats are completely softened (preferably overnight)

Warm them up in morning or eat them cold straight out the fridge garnished with a few extra chocolate chips if desired.
Recipe Notes
Store overnight oats in the fridge for up to 3 days.
More healthy pumpkin treats (or ways to use leftover pumpkin):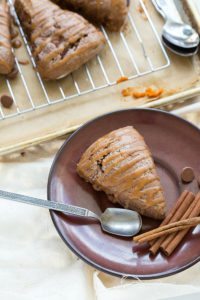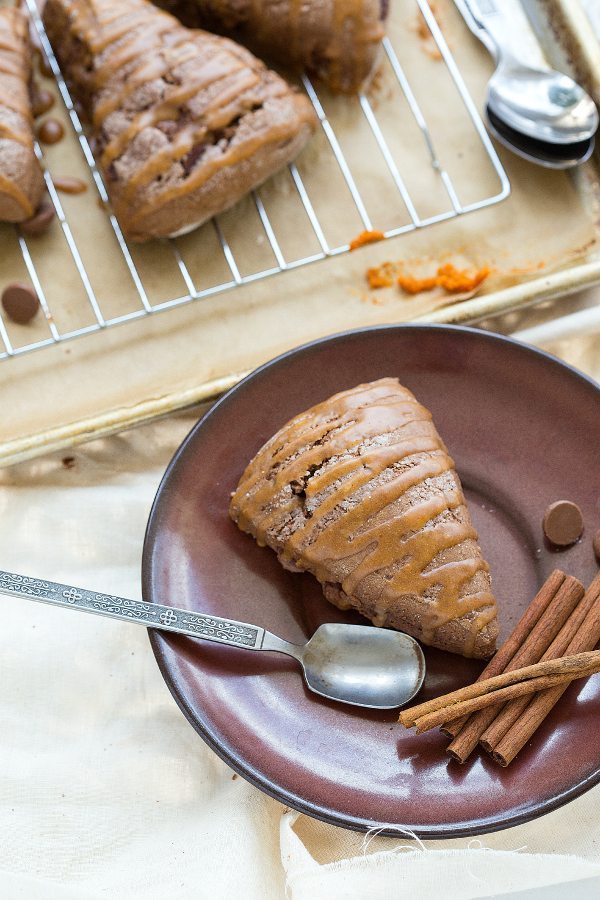 Healthy pumpkin chocolate-chip muffins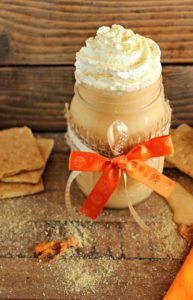 Here are some more delicious overnight oats: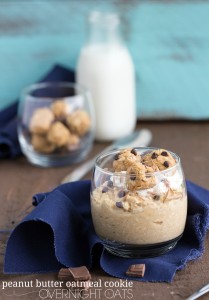 Peanut Butter Oatmeal Cookie Overnight Oats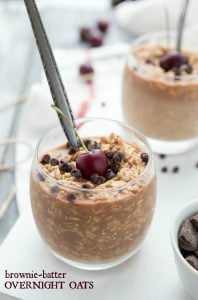 Double-Chocolate Brownie Batter Overnight Oats