Creamy and rich chicken tikka masala with marinated chicken and a flavorful spice-packed sauce.
Pair this chicken tikka masala with hot cooked basmati rice and/or naan bread. We also love roasted eggplant on the side!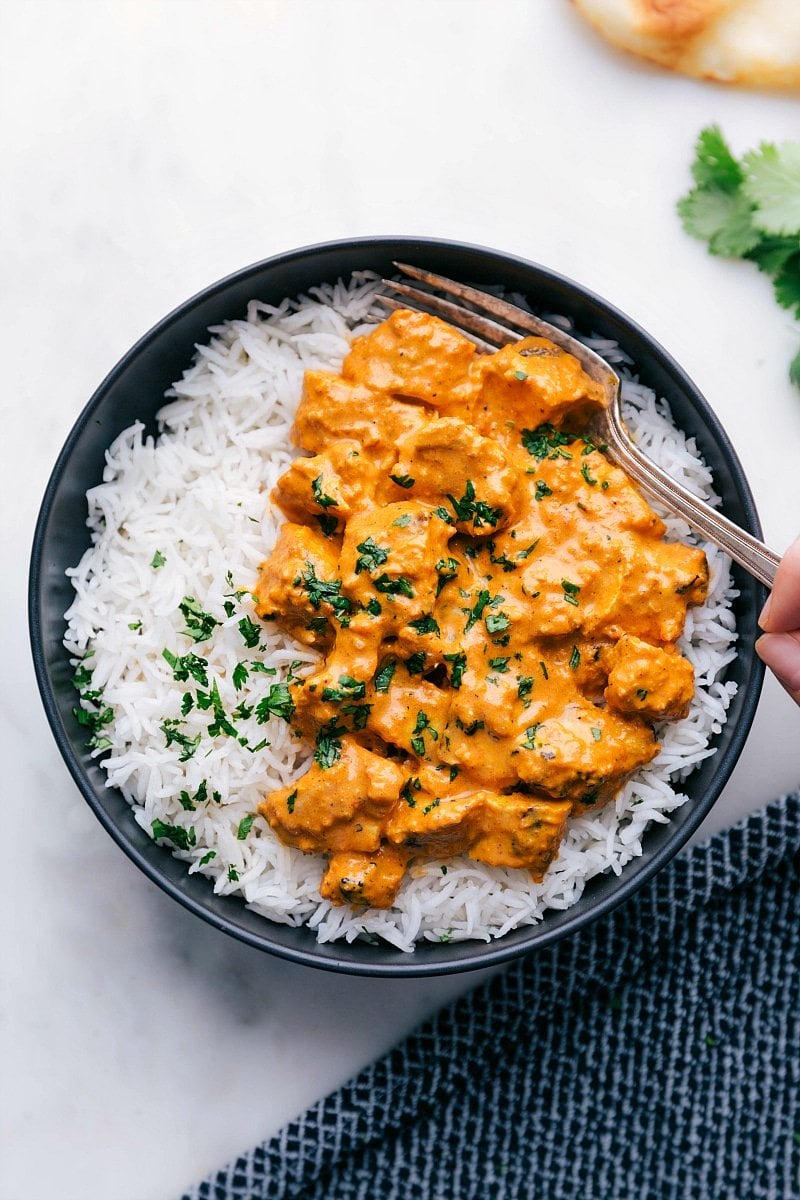 Chicken tikka masala
When we lived in Perth, we ate tikka masala like it was our day job! We had several incredible Indian restaurants right by our apartment and as much as we tried to branch out…we almost always ended up with Indian.
I've been making this chicken tikka masala recipe for several years now, but have always hesitated sharing it. It's not the simplest recipe (and I try to keep things easy here!) and it's also not the healthiest recipe. BUT, it is my husband's favorite recipe and since he requests it often, I decided it's time to add it here.
I'm not claiming any authenticity for this recipe, but it's our favorite. And while I said it's not the simplest recipe you'll find it is far less involved (with less ingredients) than most tikka masala recipes on the web.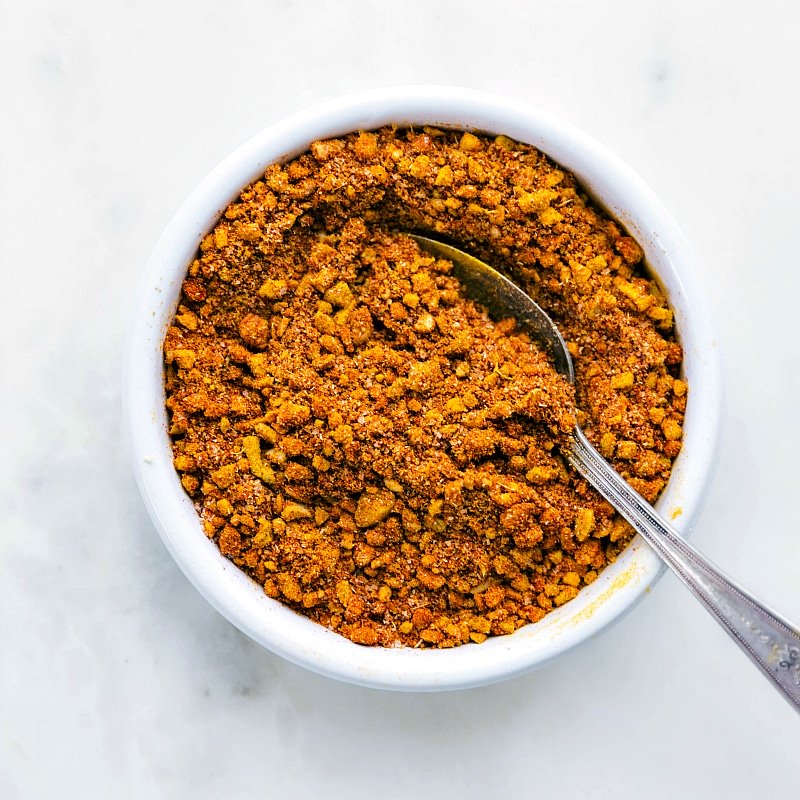 So with that, let's get started with a few FAQS:
Is Chicken Tikka Masala Indian?
As with many recipes, there's a debate on the actual origins of this dish. Some say it's a British take on curry, some are convinced it's from India, and others say it was created in Glasgow, Scotland.
If you're interested, you can read more about the history here.
Basmati rice
Basmati rice is the best with chicken tikka masala. Here's a video showing my favorite way to cook it!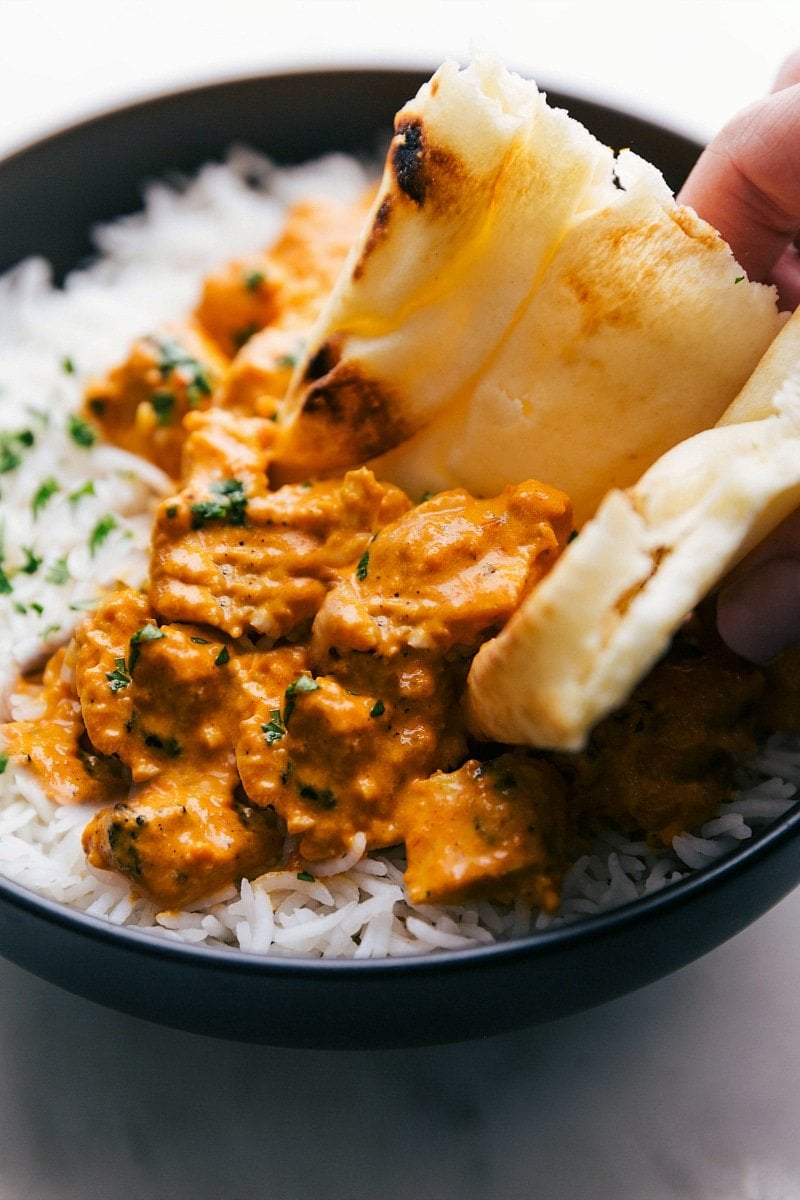 More delicious chicken dinners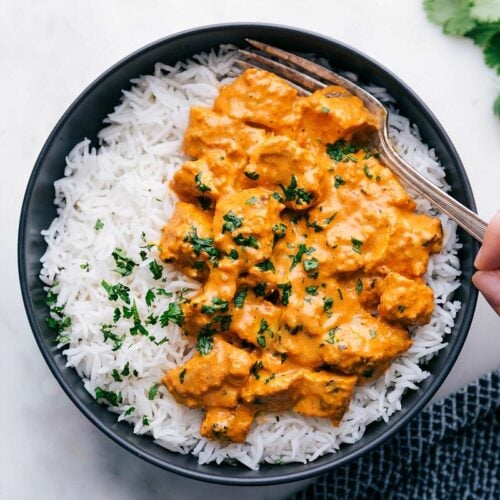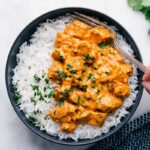 Chicken Tikka Masala
Creamy and rich chicken tikka masala with marinated and roasted chicken and a flavorful spice-packed sauce.
Keyword:
Chicken Tikka Masala
Ingredients
6

finely minced garlic cloves

(~2 tablespoons)

1 and 1/2

tablespoons

finely grated peeled ginger

(~1 and 1/2 inch piece)

1 and 1/2

tablespoons

ground turmeric

2

teaspoons

garam masala

2

teaspoons

ground cumin

2

teaspoons

ground coriander

1

tablespoon

fine sea salt salt

(if not using Kosher salt OR sensitive to salt, reduce to personal preference)

3/4

cup

whole milk PLAIN yogurt

(don't use Greek)

2

teaspoons

lemon juice

2

pounds

boneless skinless chicken breasts,

OR thighs

3

tablespoons

vegetable oil

1

small yellow onion,

finely chopped

1/4

cup

good quality tomato paste

1/4

teaspoon

ground cardamom

1/2

teaspoon

crushed red pepper flakes

1

can (28 ounces)

good quality fire roasted crushed tomatoes

2

cups

heavy cream

3/4

cup

chopped fresh cilantro plus sprigs for garnish

Basmati rice, naan, and additional cilantro,

for serving
Instructions
SPICE BLEND & MARINADE: In a small bowl: combine minced garlic, minced ginger, turmeric, garam masala, cumin, coriander, and salt. Stir to combine. In another bowl, whisk yogurt, half of spice mixture that was just made, and lemon juice until combined. Halve chicken breasts and pound pieces to even thickness with a meat mallet (or the bottom of a frying pan). Add chicken to this yogurt marinade and stir to coat. Cover tightly (or transfer to a sealable bag) and place in the fridge for at least 6 hours and preferably 24 hours. Cover and chill remaining spice mixture in the fridge.

SAUCE: Heat vegetable oil in a large heavy pot over medium heat. Add the finely chopped onion and cook until beginning to soften, about 2-3 minutes. Add in the tomato paste, ground cardamom, and red pepper flakes. Cook, stirring often, until the tomato paste has darkened and onion is soft, about 5 minutes. Add the remaining reserved half of spice mixture and cook, stirring often, until bottom of pot begins to brown and everything is very fragrant, about 4 minutes (reduce heat if needed, nothing should be smoking/burning).

SAUCE CONT: Add entire can of tomatoes. Increase the heat, bring the mixture to a boil and then reduce the heat. Simmer, stirring often and scraping up browned bits from bottom of pot, until sauce thickens about 8 minutes. Add in the heavy cream and cilantro. Simmer, over lowest heat, stirring occasionally until the sauce thickens about 30 to 40 minutes. IF desired, transfer the sauce to a blender and blend until smooth. Or use a stick blender to puree until smooth. This is optional. Taste the sauce for any additional seasoning/salt. Also depending on the tomatoes you used, you may need 1-2 teaspoons sugar to balance acidity.

COOK CHICKEN: (Note 1) Meanwhile, preheat a grill or grill pan to medium-high heat (about 400 degrees F.) Generously oil the grill (I drench a rolled-up paper towel in vegetable oil and, holding it with tongs, rub it over the grill grates. Don't skip this step.) Remove chicken from marinade and discard any remaining marinade. Grill the chicken turning once halfway through grilling, about 4-6 minutes per side (until the thickest part of the chicken registers 165 degrees F and juices run clear). Transfer the chicken to a plate and cover with foil. Allow the chicken to rest for a few minutes so the juices can re-distribute. Chop into bite-sized pieces. Stir into the sauce until coated, remove and serve over freshly cooked rice with warmed naan. Add additional chopped cilantro to garnish as desired.

Note 1: if you don't have a grill/grill pan follow this alternate cooking method: heat 1 tablespoon oil in a non stick pan over high heat until smoking. Add half the chicken (it will need to have been cut into 2 inch pieces before being marinated) and spread out in one even layer. Leave for 2 minutes or until charred. Flip each piece and cook the other side until charred (chicken won't be cooked through; just charred) Remove chicken and set aside. Scrape out charred bits in pan and quickly wipe the pan clean. Add more oil and repeat with the remaining chicken until it's all charred. Add to the sauce and simmer, stirring occasionally, until chicken is fully cooked through, 2-3 minutes.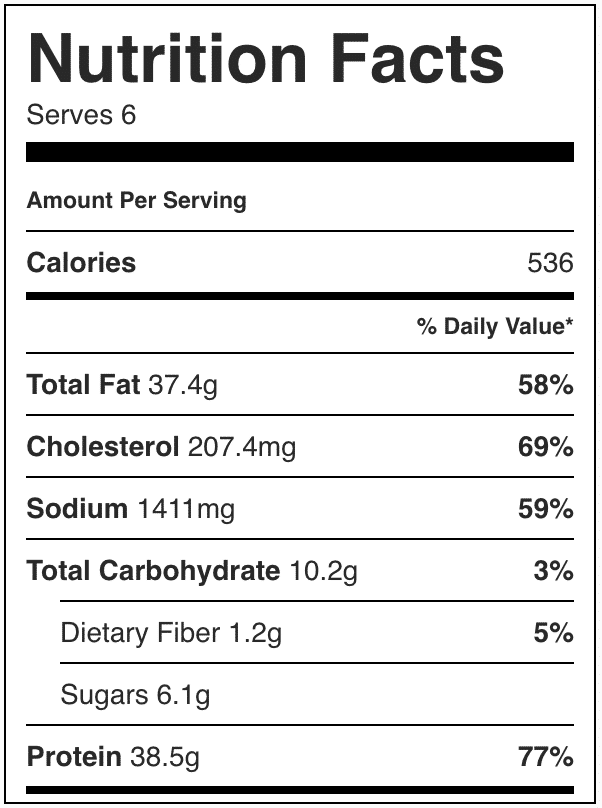 Recipe adapted from Epicurious