Delicious oatmeal cookie brownie bars with a chocolate caramel brownie base – a "brookie" (brownie-cookie) bar at it's best!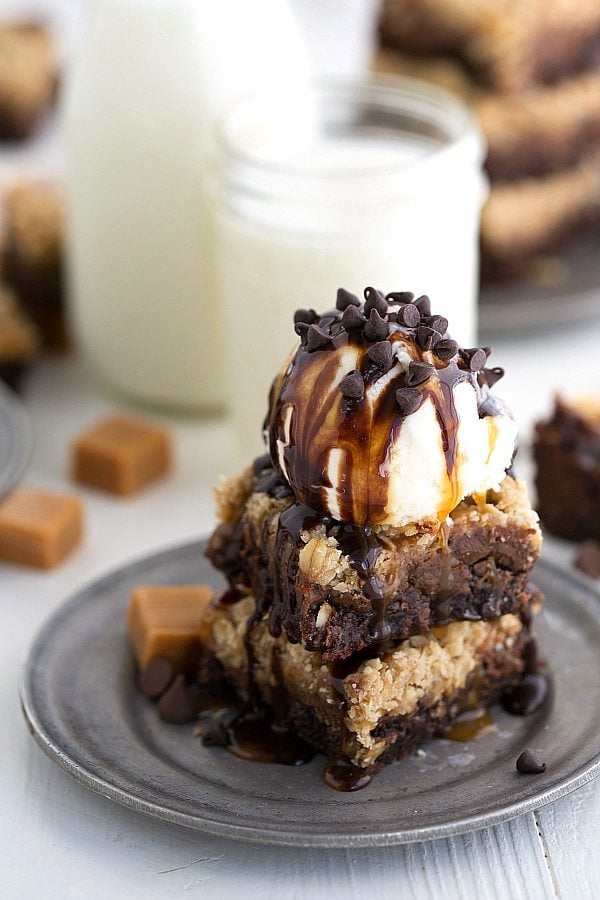 Hey everyone! How was your weekend? And how is this dessert for starting your Monday off in a great kind of way?!
Mondays definitely call for a bar just like this! Brownies combined with cookies, plus caramel, and a chocolate layer? Yeah this is kind of a crazy dessert, but it's absolutely delicious. And it's honestly not "too rich" even though it kind of looks like it would be.
I had the idea to make some kind of brookies (brownies and cookies mashed together) and thought bars would be the simplest way to make them. From there, I wanted to get a little more creative with the cookie topping and since these molten lava oatmeal caramel cookies are probably my favorite cookie ever, they were the inspiration for the caramel-chocolate-oatmeal cookie layers.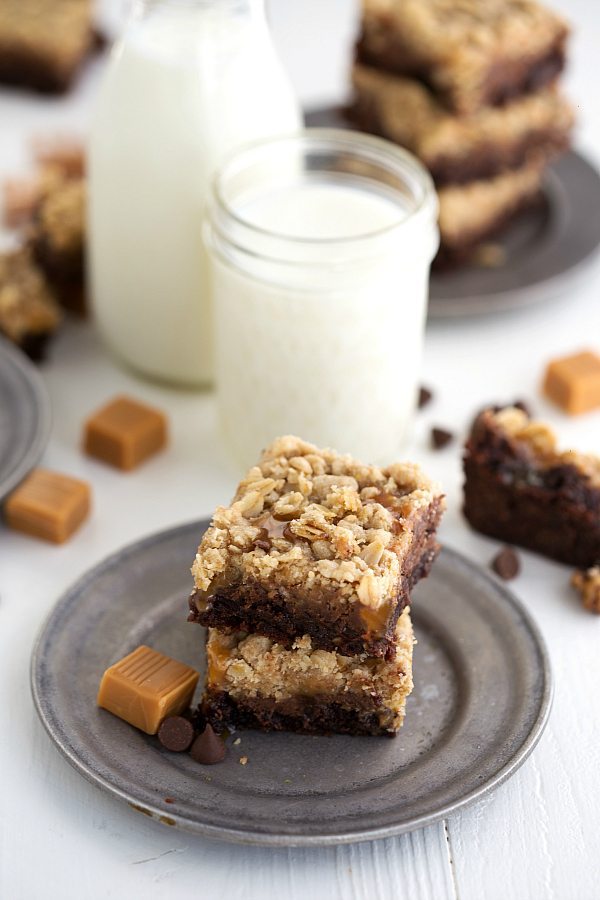 Since I've been dying to share with you all the cake I made for my mom's birthday over a month ago (chocolate with chocolate mousse layers), I decided today would be the perfect day to share that recipe! However, I had some bad luck this past week. The first time I made the cake, one of the cake layers broke in half as I was trying to layer it. I tried to salvage the cake, but it ended up being pretty slanted and didn't look too spectacular. So, no big deal, I decided to make it again! The next time? Gorgeous cake — I was so excited to start taking pictures of it! And then I dropped it. The entire cake – on the floor. Somehow I thought I could carry my little guy AND the cake at the same time. When he lounged forward, the cake followed.
Okay, so third time is the charm right?! Wrong. This time I thought I would change up the mousse a bit and try something new. Somehow I had become bored of making the same mousse. 🙂 So I tried something different and bam – mousse ruined. I slightly over-cooked those cakes too and that was when I threw in the towel for this cake.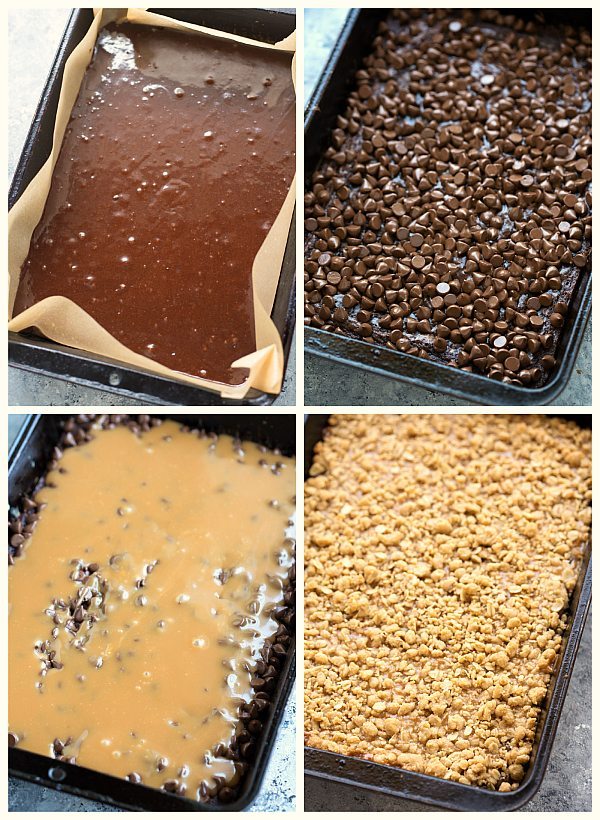 Don't worry though. I'm no quitter and you will get that cake recipe! It's one of my absolute favorite creations! However, after three failed attempts I needed a break and that is why this post does not contain a cake or cupcake recipe. I think the bars do a blog birthday justice though. I mean, I'd be happy to get a batch of these for my birthday! 🙂
PLUS, I only had to attempt these bars twice before getting you this recipe so that was a major bonus. The first time they still tasted great, but I way under-cooked the brownies. It ended up more like a fudge at the bottom. And I decided the top cookie layer needed a little more "omph." Second time and these bars are now considered perfection by the husband, the babe, and a few members of my family that got to sample them. I sent some with my mom to take to my great grandma and she loved them too!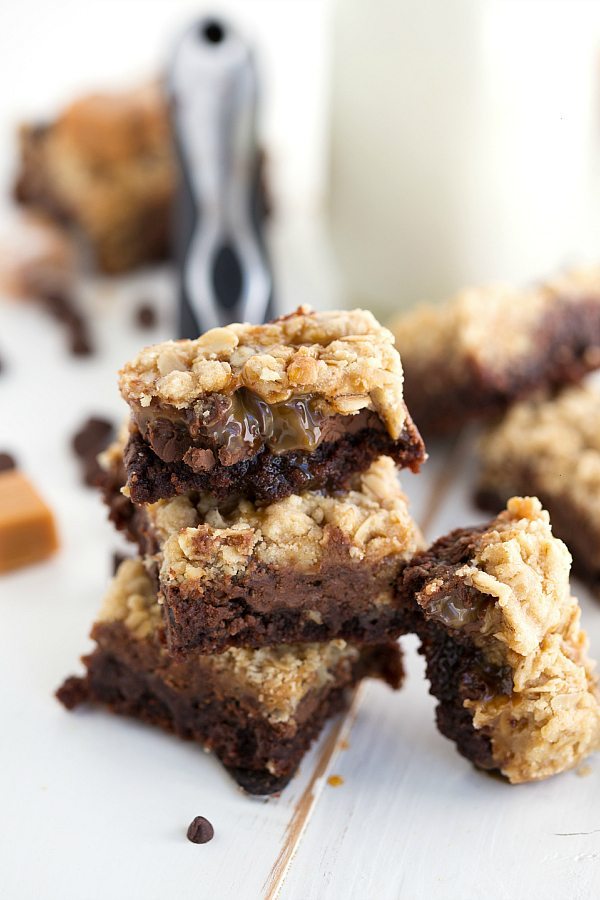 Although they have four different layers, they whip up super quickly. One reason is I used a brownie mix as the base. If you are a follower of my site you know I'm crazy about brownie mixes – I love the flavor and the ease. But these bars (like most recipes where I use a brownie mix) can also use your favorite homemade brownie recipe for the base.
The next two layers are pretty easy – one is just a bag of chocolate chips. Milk chocolate is the best in these, but if you are a big fan of dark use that. OR if you are worried about this dessert being too rich, try using semi-sweet chips. Next is melted caramel. I recommend using the individually wrapped caramels just because the caramel bits (or unwrapped caramel) tends to get pretty waxy.
Finally: the "oatmeal cookie" layer which is super quick and easy to make – oats, flour, butter, brown sugar, baking soda, and some salt. Mix together, bake, and dessert is ready! Well, kind of. These bars do take a few hours to really "set-up." They are pretty gooey right out of the oven so make sure to allow some time for them to harden and the layers to solidify if you want a cleanly cut bar.
Happy, happy blogiversary Cat! I wish I could send you all some of these delicious brownie cookie bars to help celebrate!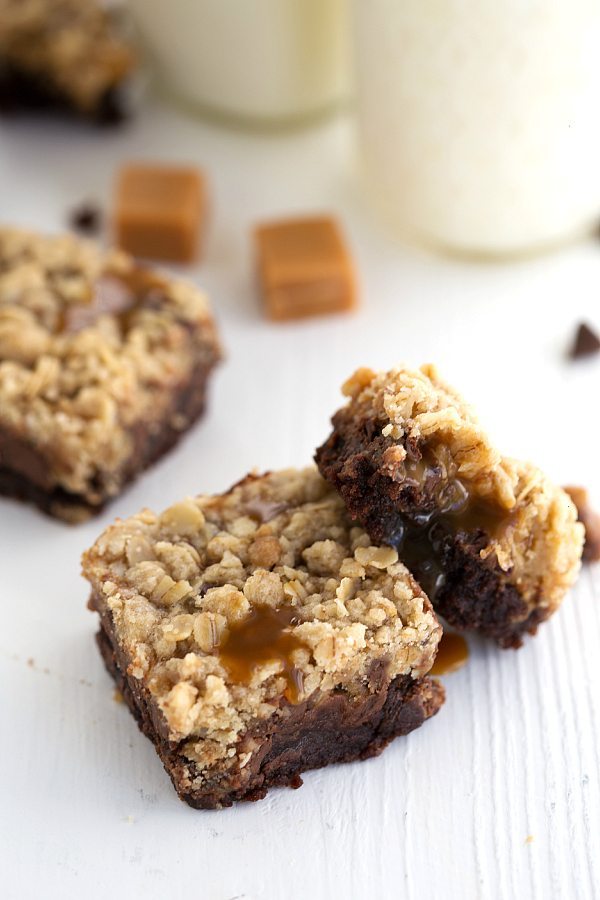 More delicious desserts: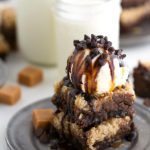 Cookie Brownie Bars
Delicious oatmeal cookie brownie bars with a chocolate caramel brownie base - a "brookie" (brownie-cookie) bar at it's best!
Keyword:
Cookie Brownie Bars
Ingredients
1

package (18.3 ounces)

fudge brownie mix + ingredients called for

1

bag (11 ounces)

wrapped caramels

1/4

cup

heavy cream or whole milk

1

(2 cups)

milk chocolate chips
Oatmeal Cookie Layer
3/4

cup

white flour

3/4

cup

old fashioned oats

1/2

cup

brown sugar

packed

1/2

teaspoon

baking soda

1/4

teaspoon

salt

7

tablespoons

unsalted butter

1 and 1/2

teaspoons

vanilla extract
Instructions
Generously grease (or line with parchment paper) a 9 x 13 pan. Set aside.

In a large bowl, prepare the brownies according to package instructions. Bake for 20 minutes at 350 degrees F.

Meanwhile, unwrap the caramels and put in a microwave safe bowl with the heavy cream or milk.

Microwave in bursts of 30 seconds stirring for 20-25 seconds in between each burst until the caramel mixture is smooth and creamy. Be patient and microwave for short amounts of time to avoid burning the caramel.

When the brownies are done (they shouldn't be cooked all the way - take them out right at 20 minutes), pour the chocolate chips evenly over the brownies.

Pour the melted caramel over the chocolate chips.

In another bowl, combine the flour, oats, brown sugar, baking soda, and salt. Mix until well combined.

Melt the butter and add it to the mixture along with the vanilla. Stir until a good crumble is formed. If the mixture is too wet, add a little bit more flour and if it is too dry, a bit more melted butter.

Crumble the cookie mixture evenly over the melted caramel and bake for another 13-16 minutes or until golden brown on top.

Remove and allow to cool and set up for at least 1 hour or you are able to cut clean bars.