Easy baked sweet and sour chicken served over rice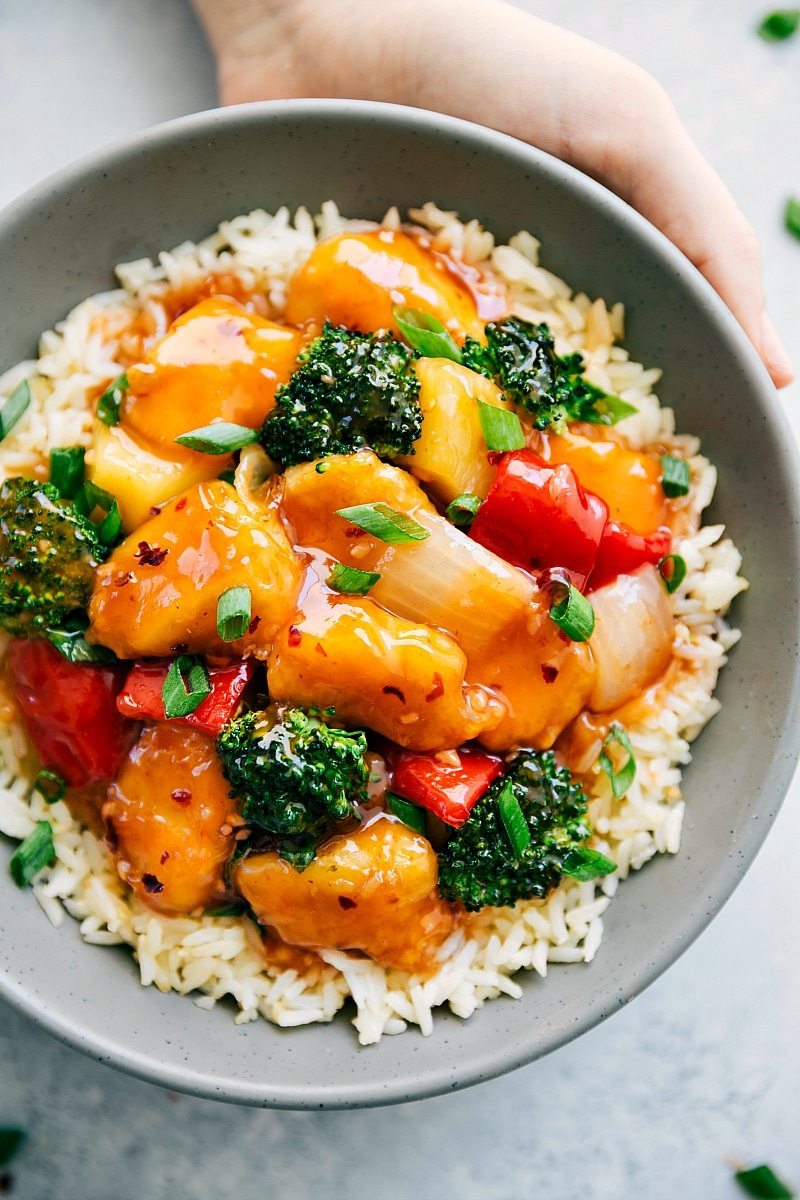 About this recipe
Looking for a delicious and easy to make sweet and sour chicken recipe? Look no further – this is your recipe!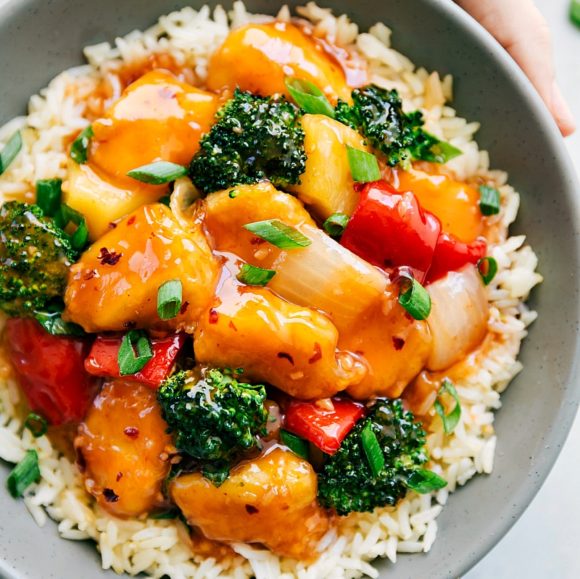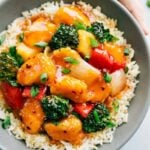 Sweet and Sour Chicken
Easy baked sweet and sour chicken served over rice
Keyword:
Sweet and Sour Chicken
Ingredients
1

cup + 1 tablespoon

cornstarch,

separated

1

pound

boneless skinless chicken breasts,

cut into bite-sized pieces

2

large

eggs

1

head

broccoli

Vegetable Cooking Spray

1/4

cup + 1 tablespoon

vegetable oil,

separated

1

small

yellow onion,

diced

1

teaspoon

minced garlic

1/2

teaspoon

minced ginger,

optional

1

red bell pepper,

chopped

1 can (8 ounces)

pineapple chunks,

drained, but reserve sauce
Sauce
3/4 - 1 full

cup

brown or white sugar,

to sweetness preference

1/4

cup

apple cider vinegar

1/4

cup

white vinegar

2

tablespoons

pineapple juice

(reserved from the can of pineapples)

1/4

cup

ketchup

1

teaspoon

Worcestershire sauce

1

tablespoon

low sodium soy sauce

1/4-1/2

teaspoon

red pepper flakes,

optional

Salt and pepper

Cooked rice,

for serving

Optional: green onions
Instructions
Fill a large ziplock bag with 1 cup cornstarch. Set aside. Cut chicken into bite-sized pieces and sprinkle with salt (about 1/2 teaspoon total). Add to a bowl and toss with the egg. Pick the chicken up and shake off the excess egg and transfer to the prepared bag with cornstarch.

When all the chicken is in the bag, seal it (with plenty of air in it) and then shake to generously coat the chicken. Pull the chicken out and discard the extra cornstarch and bag.

Heat up 1/4 cup vegetable oil in a large skillet on high (use 2 tablespoons for smaller skillet and do 2 batches). Add chicken (do 2 batches if your skillet is not big enough) and cook quickly for 2 minutes, turning every 30 seconds just to make the outside light golden and a bit crispy. The chicken should be raw inside and not cooked through at all. Transfer to a very large baking tray taking up 3/4ths of the tray. Chop the broccoli into bite-sized pieces and add to the remaining 1/4th section of the large baking tray (don't overlap chicken pieces or broccoli -- you want everything to get baked not steamed!) Spray everything generously with cooking spray and bake for 15-20 minutes or until internal temperature of the chicken registers 165 degrees F.

Meanwhile, discard any extra oil in the skillet and reduce the heat to medium high. Add in 1 tablespoon oil. Add the chopped onion and saute for a few minutes. Add in the garlic and ginger and stir until fragrant, about 30 seconds. Add in the chopped red pepper and cook for 2 more minutes.

Add in the brown sugar (to sweetness preference -- you could even add up to 1 cup), apple cider vinegar, white vinegar, pineapple juice, ketchup, Worcestershire sauce, soy sauce, and any salt + pepper to taste. Stir until the sauce begins to lightly bubble. In a small bowl, whisk together the remaining tablespoon of cornstarch with 3 tablespoons water until dissolved.

Add the cornstarch mixture to the sauce and stir constantly for about 2-4 minutes. Reduce the heat to a simmer and cook until the sauce is thickened. Remove from heat and stir in the pineapple chunks and cooked chicken + broccoli. Add red pepper flakes if desired.

Serve immediately over rice. Add green onions if desired.
More Easy Dinner Recipes: