White chocolate covered strawberries decorated to look like little Easter chicks. A simple and fun treat for Easter or Spring parties. 
Chocolate covered strawberries are one of my favorite treats.
So basically anytime I can come up with an excuse to make them, I do.
And in thinking about Easter, I've seen the carrot covered strawberries (so cute), but I couldn't think of ever seeing any baby chick ones. So bam. Gotcha covered!
These are soo easy to make. I used white chocolate that I dyed yellow, but you can also just buy yellow candy melts – whichever you prefer.
White chocolate can be a bit touchy, and tends to harden a lot quicker than dark or milk chocolate. However, if you get a high quality white chocolate and are patient, it can make some beautiful strawberry chicks.
I separated the white chocolate into two batches – melting one cup at a time. I use vegetable oil to thin out the chocolate, but you could also use shortening. When melting white chocolate, I have found the most success in the microwave. That said, it can be burned and ruined very easily. If you are patient and stir frequently, you can save it from being burned. I like to microwave it for 30 seconds and then stir for at least 30 seconds. A lot of melting will happen outside of the microwave, it just requires patience for that melting to happen.
If it starts to harden while you are dipping, just microwave it for another 5-10 seconds and add a little bit more vegetable oil if needed. Last white chocolate note – I recommend using Wilton dyes because they don't mess with the consistency of the white chocolate. Plus I think the colors are the most authentic and turn out the best.
The decorating of these chicks is just with store bought frosting. I used small bags that I cut the tip off of. If you cut a very small bit off the top of a bag, the frosting will pipe great onto these chicks. You can add more decoration if you want or nix the wings – however you like it!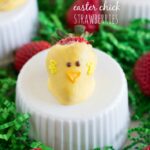 White Chocolate Easter Chick Strawberries
Ingredients
1

pound

ripe strawberries

2

cups

high quality white chocolate chips

1 – 12 ounce bag

Yellow and orange food coloring

1-2

tablespoons

vegetable oil

1

tablespoon

chocolate frosting

3

tablespoons

cream cheese frosting

separated

3

small plastic bags
Instructions
Line a baking sheet with parchment paper and set aside.

Wash the strawberries and allow to dry completely. They won't dip well if they are at all wet.

Since white chocolate hardens so quickly, I like to work in several batches.

In a microwave safe bowl place 1 cup of white chocolate chips with 1/2 tbsp. vegetable oil in the microwave*. Microwave for 30 seconds, stir, and microwave for another 25 seconds. Stir until melted or return to the microwave for a little longer. Add more vegetable oil if needed.

Carefully dip strawberries into melted chocolate, turning all the way around so that all of the strawberry gets coated

Place the dipped strawberries on prepared baking sheet and allow to completely dry.

Place the chocolate frosting in a small bag. Snip off the very end and pipe little eyes onto each of the strawberries.

Place 2 tablespoons of the cream cheese frosting with a few drops of yellow food coloring and mix until a yellow color is achieved. Place the dyed frosting in another small bag and snip off the very end.

Pipe on wings for the chick.

Dye the last tablespoon of cream cheese frosting orange. Place the orange frosting into a third small bag and cut off the very tip. Pipe on beaks.

Allow to completely dry.

If you have frosting tips you can use three frosting bags with #2 tips to decorate these chicks.
More Easter fun?

Carrot Cake Cookie Cups