Double-layered strawberry jell-o parfait cups — strawberry jell-o on bottom and a strawberry jell-o mousse on top.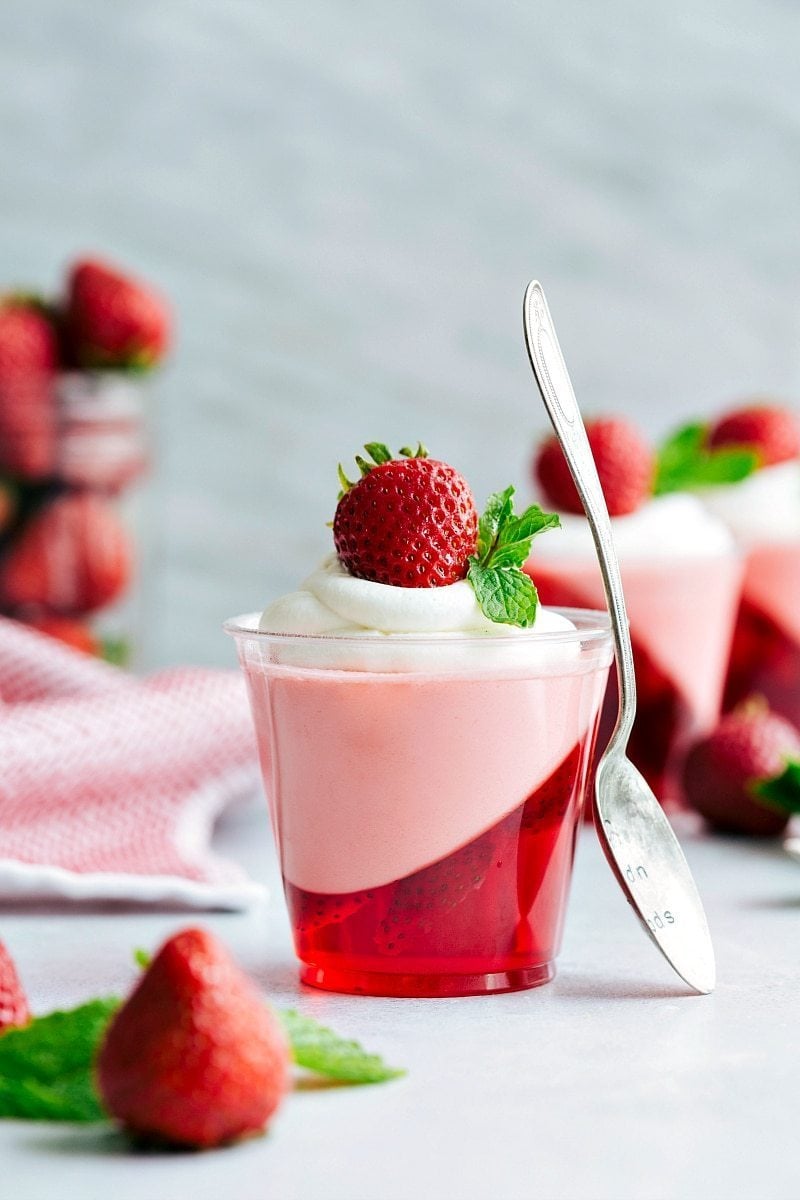 Because of our "one treat a day" rule, the toddler is constantly asking me what happens if he eats more than one treat. To which I've generally responded, "you could get sick" or "it's just not good for you."
So the other night he had a bit of a fever and was complaining his head hurt. While I was snuggling him he confessed he'd snuck an extra brownie that day — he was completely convinced that was what had made him sick. ?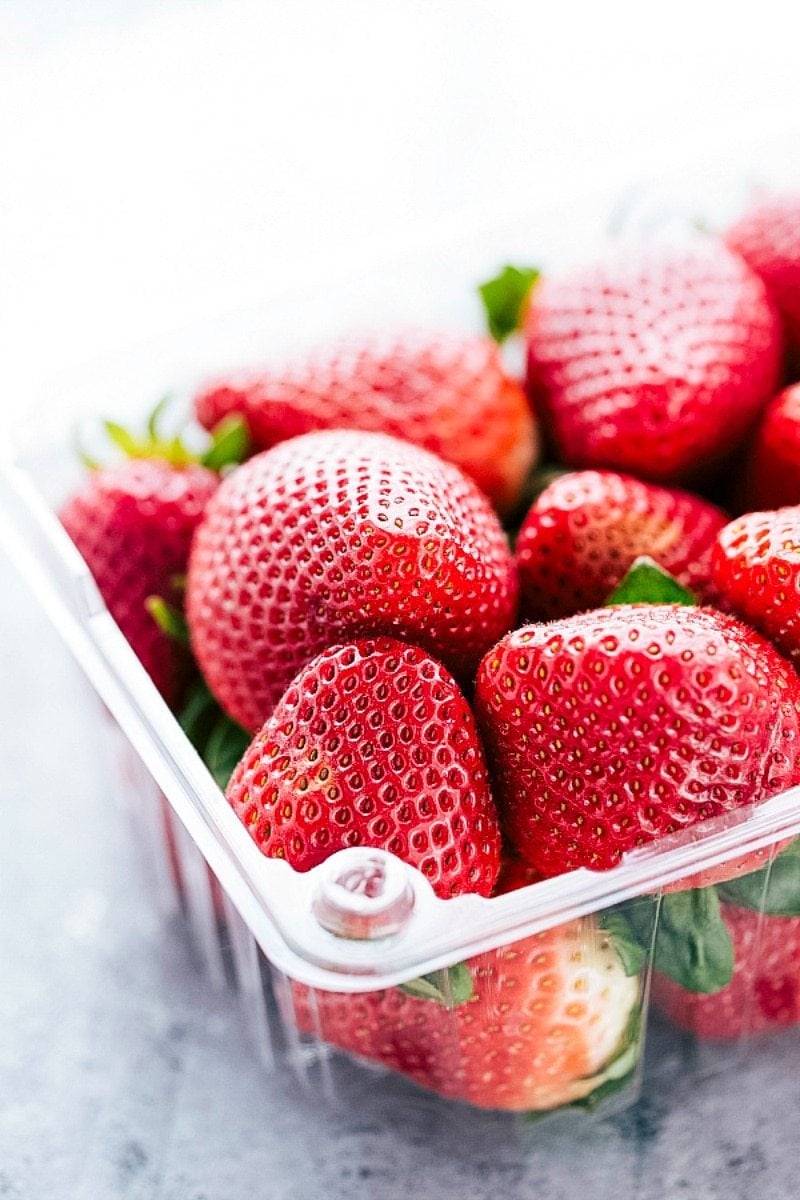 That very next day I'd slept on my back funny and said something about it hurting to which he quickly piped in, "You shouldn't eat all your treats at once mommy, and then you wouldn't be sick." He went on to lecture me about only eating one treat a day and if I did that, I wouldn't get "sick" anymore.
He's been very careful about eating only one treat a day lately. You know, to avoid those head colds. ?
He's also been quite bossy with the rest of us. While I'm cooking or baking for the blog, if I happen to take a taste he tells me "well, that's your treat for today mom." OR "you already had a taste, you can't have too many treats or your back will hurt."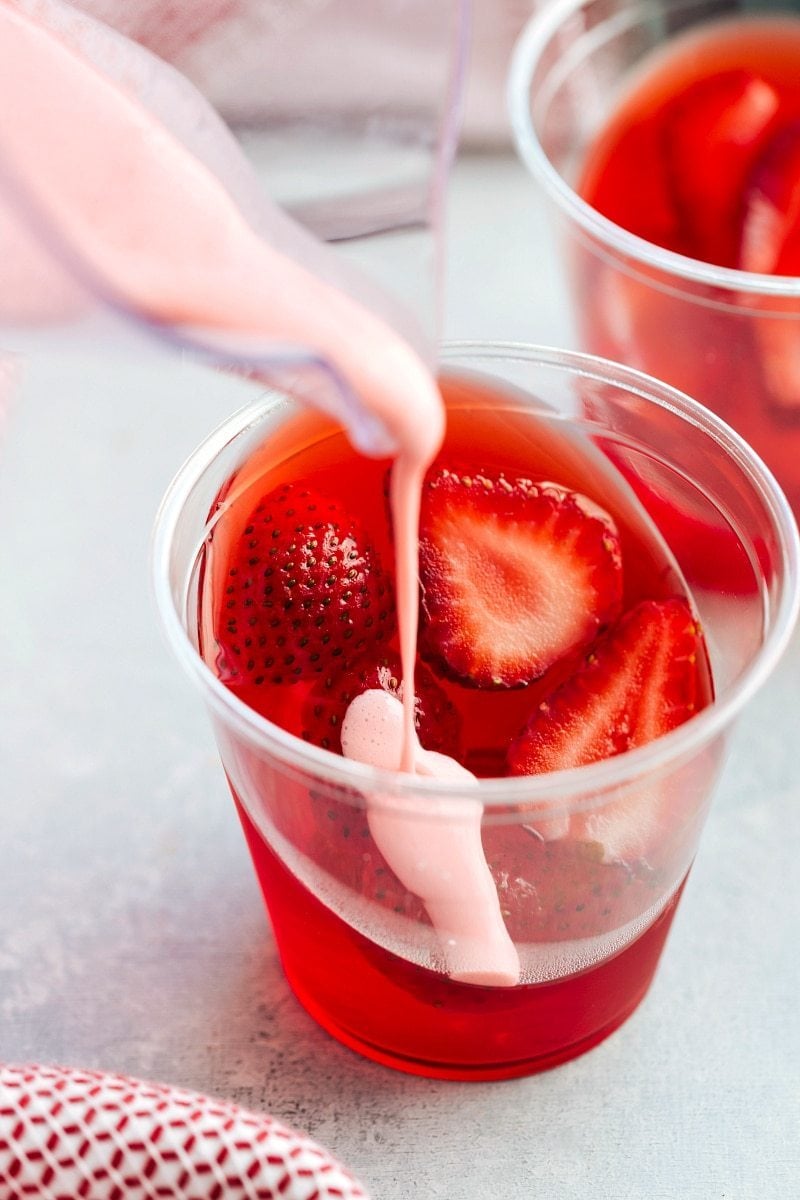 I'll tell you what though, if I'm going to sacrifice sickness for breaking the "one treat a day" rule, these are the treats that would make it worth it. These are crazy delicious! They've got an amazing flavor, incredible texture, AND they're fun to look at. I mean, how pretty are these?!
At first glance they may look a bit complicated, but I swear they couldn't be easier to make! That fun slant of jell-o to mousse is simply done by placing the cups at an angle in a muffin tin. The video tutorial (at the top of this page) shows you just how easy it is to achieve that slanted look.
To secure the slanted cups in the muffin tin, I quickly wad up pieces of foil into balls and put them in the muffin tin. You can do that, or use whatever else you have lying around. If you have marbles or extra paper (from the 10,593 pictures your kids might give you a day. What?! I'd never use those…?) or anything else you can think of that allows the cup to sit on a slant and stay put.
Once the cups are set on a slant, you'll add in strawberry jell-o and strawberries. Let that set completely and then you can pull the cups out of the muffin tin and you've got a perfect jell-o slant layer. Pour the mousse on top, let that set, and then these treats are ready! They take some time (mostly chilling time), but the time spent on these is more than worth the end product — these are one of the best jell-o treats ever!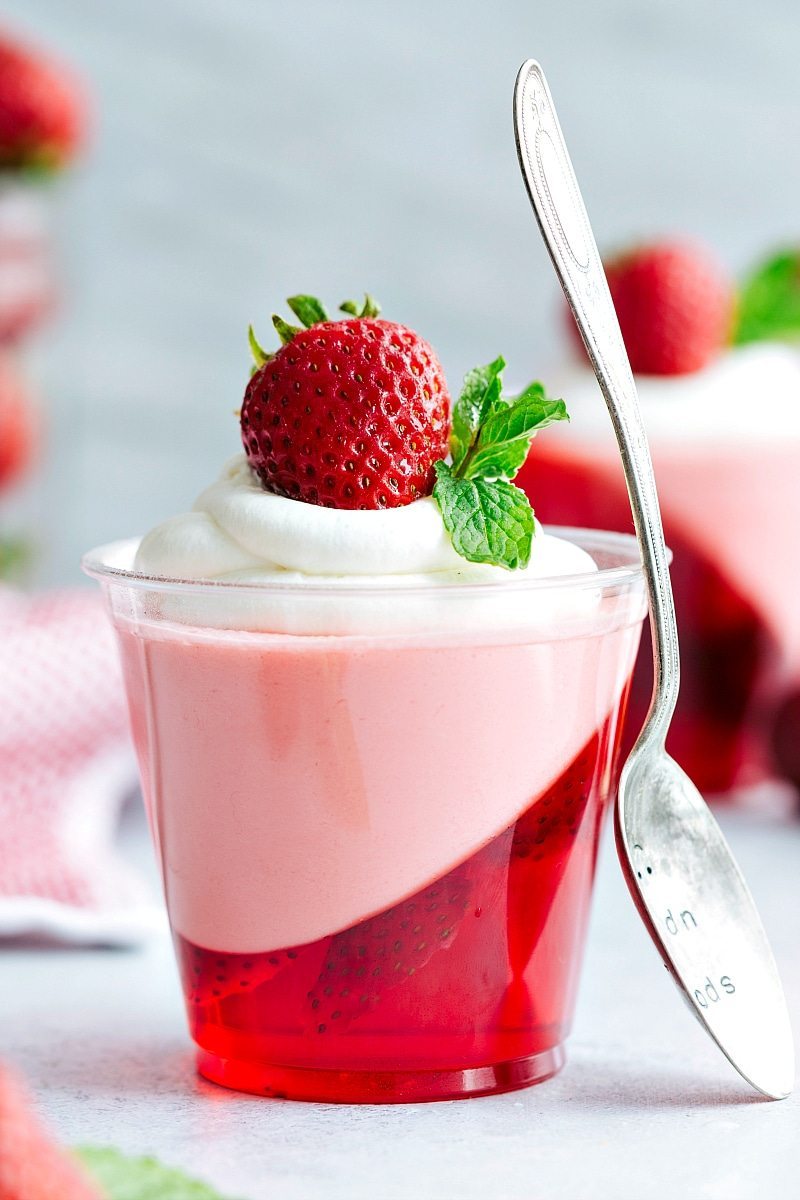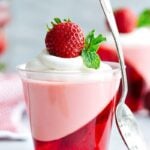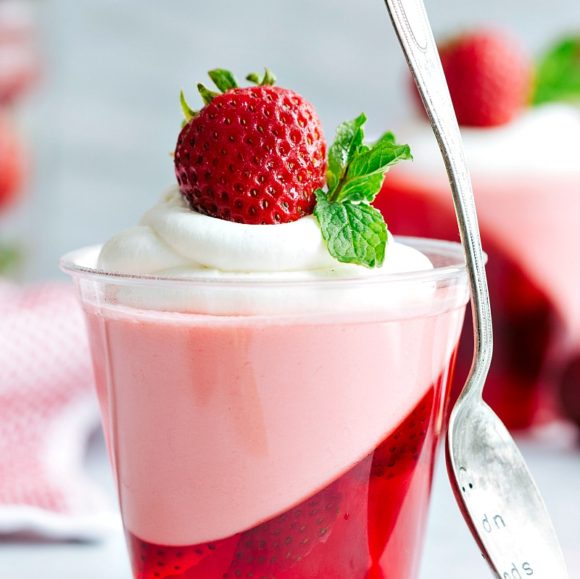 Strawberry Jell-o Parfaits
Double-layered strawberry jell-o parfait cups -- strawberry jell-o on bottom and a strawberry jell-o mousse on top.
Servings
:
9
parfait cups*
Ingredients
Jell-o Layer
2

packages (3 ounces EACH)

strawberry jell-o

+ boiling and cold water called for

1

pint (about 2 cups)

strawberries,

hulled and sliced
Jell-o Mousse Layer
2 and 1/2

cups

COLD Sprite,

separated

1

package (3 ounces)

strawberry jell-o

4

ounces

full-fat cream cheese,

softened

1

container (8 ounces)

Cool Whip,

completely thawed

Optional: additional whipped topping or fresh whipped cream to top

Optional: fresh mint and strawberries for garnish
Instructions
Prepare a regular sized muffin tin: use 9 small balls, or wad up balls of foil (or paper) and place in the muffin tin. Place 9 clear plastic cups on top of the balls at an angle (see video at top of this page!) The small balls help to keep the cup at an angle.

Next prepare the strawberry jell-o (both packets) according to package directions (not for quick set, but for regular set). Fill up the cups evenly with the strawberry jell-o (be careful as you pour and ensure the cups stay at an angle).

Hull and slice the strawberries and then place a few slices of strawberries into each jell-o cup. Carefully transfer the muffin tin into the fridge and allow the strawberry jell-o to completely set up.

When the jell-o layer is nearly set up, you can begin on the mousse.

Place 1 and 1/2 cups Sprite in a microwave safe bowl or cup and microwave just until the mixture comes to a boil. Whisk the packet of strawberry jell-o into the Sprite.

Transfer the mixture to a high powdered blender and add in the cream cheese. Blend until completely smooth. And in remaining 1 cup of (COLD) Sprite and blend again until smooth.

Add in the completely thawed Cool Whip and blend just until smooth. (You can leave out about 1/2 cup for optional garnish at the end if desired).

Pour this mixture evenly over the jell-o layers (you shouldn't use as much of this mousse as you did of the jell-o or it tends to be overpowering).

Place in the fridge and allow to set completely.

If desired, garnish with fresh whipped cream (or 1/2 cup extra cool whip) and garnish with fresh mint and a small strawberry.
Recipe Notes
*The yield of this recipe depends on the cups you use. The ingredients I listed pretty much perfectly filled up 9 of the cups I used (having a more generous base jell-o layer).  Total time does not include the required chilling time which is up to 4 hours. I haven't tried this recipe with low-fat, sugar-free products. They could be fine, but also could end up being too watery or not set up properly.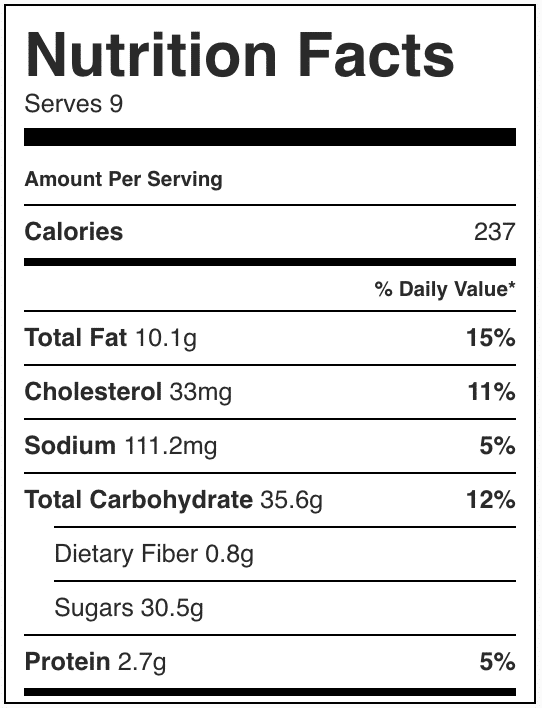 Similar Recipes: