A slow cooker cream cheese glazed fondue with 20-minute miniature cinnamon rolls on a stick. This is the perfect party food and an all around great dessert!
I have seriously been dying to share this recipe with you all! I had the concept for it about two months ago and then experimenting ensued. When I finally had something I was totally in love with, I just had to get around to taking pictures which was proving a bit difficult as we kept eating this at night as a dessert. But anyways now IT'S HERE! And I am so excited.
Because fondue is just the best. It's fun to do with family, at a party, during a game (hint. football!), or errr absolutely by myself. Which by the way, I totally had a solo cinnamon roll fondue party at 9:30 AM the other day while the babe was sleeping and I finally had a chance to take these pictures. It was awesome.
There is nothing better than shoveling down miniature sugary cinnamon rolls dipped dredged in a super thick sugary fondue and calling that breakfast. I speak from experience on this one. (If only every breakfast could be like that.)
Except I would seriously miss my pumpkin overnight oats, chocolate granola, and no bake breakfast cookies. Wow…making that short list makes it seem like all I do eat is dessert for breakfast. But life is is meant to be enjoyed aaaand those options do happen to be (secretly) healthy so why not!? So it's settled. Dessert for breakfast everyday!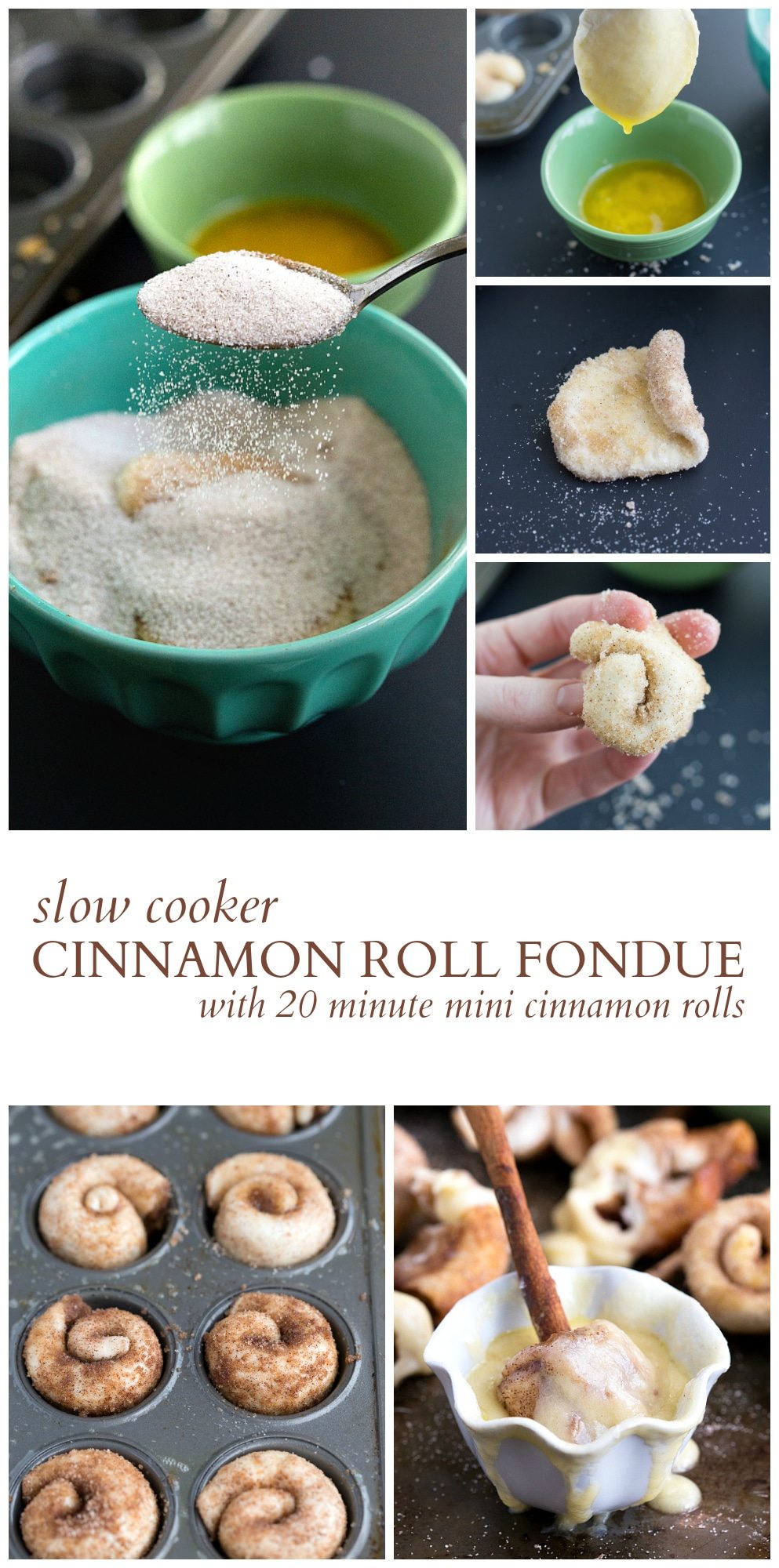 So let's talk about making this delicious dessert. Or we are calling it breakfast now? Okay! Hopefully the few step-by-step pictures above help. It's pretty basic recipe – the miniature cinnamon rolls are super quick and easy to make.
The "cinnamon rolls" are just regular buttermilk biscuits that have been dipped in melted butter and then in a cinnamon-sugar mixture. Once you shake off the excess cinnamon-sugar mixture you roll it from one side to the next (left to right or right to left) and then take the other end and roll it up to create a miniature cinnamon roll. Those miniature rolls get placed in a well-greased miniature muffin tin and bake for about 8-10 minutes or until cooked through to your preference. I like them a little gooey so I tend to under-bake them a bit 🙂
This dessert is best when the cinnamon rolls are still hot, so I like to wait until the fondue has about 30 minutes left and then whip up the cinnamon rolls. If you make the cinnamon rolls in advance. you may want to experiment re-heating them so they are still warm when dipped in the fondue. They aren't bad cold, just not near as good!
The fondue is just four ingredients – powdered sugar, cream cheese, vanilla, and butter. Those get beat together and then poured into a glass or ceramic bowl that is heat proof. Then place the bowl in your slow cooker on low heat and cover the slow cooker for about 2 hours stirring the fondue occasionally. No need to add any water to the slow cooker, just make sure the fondue is in a separate bowl in the slow cooker. How easy is that fondue?! And the whole recipe for that matter?
I looooove easy and delicious recipes – and this one fits both categories! Plus – cinnamon rolls and fondue. <3
More delicious cinnamon recipes:
Cinnamon Roll Fondue
Ingredients
Slow Cooker Cream Cheese Fondue
1

package (8 ounces)

cream cheese

at room temperature, full-fat

1/2

cup

butter

at room temperature

1 and 1/2

teaspoons

vanilla extract

2

cups

powdered sugar
Miniature Cinnamon Rolls
2

packages regular-sized Buttermilk Biscuits

not grands

1/4

cup

butter

melted

3/4

cup

white sugar

1

teaspoon

cinnamon
Instructions
For the fondue, beat the cream cheese (that has been at room temperature) until completely smooth. Beat in the room temperature butter (do not melt) and vanilla extract until smooth and well combined.

Slowly beat in the powdered sugar until completely combined.

Transfer the mixture to a heat-safe glass or ceramic bowl or dish that will fit into your slow cooker.

Place the bowl or dish filled up with the fondue mixture in the slow cooker. Place the lid over the slow cooker and place on low for 1 hour and 30 minutes to 2 hours stirring occasionally.

When ready to serve, either leave it in the slow cooker to keep it warm, or pull it out and transfer to another dish.

Time the cinnamon rolls to be done when the fondue will be done for best results!

For the cinnamon rolls, preheat the oven to 400 degrees F. Spray a miniature muffin tin with non-stick spray and set aside.

Remove the biscuits from the package and roll each one out with a rolling pin to get it a little bit wider/larger.

In a small bowl, melt the butter. In another small bowl, combine the sugar and cinnamon (Add more cinnamon if desired).

Dip each biscuit in the melted butter, shake off the excess and then dip and cover it in the cinnamon-sugar mixture. Shake off the excess.

Roll from left to right to form a long tube. Then roll from bottom to top to form a miniature cinnamon roll.

Place each one in it's own cavity in the miniature muffin tin. Bake for 8-10 minutes or until the biscuits are no longer gooey and are baked through. (I like to under-bake them slightly, but do what you prefer).

Place the baked cinnamon rolls on popsicle sticks, or cinnamon sticks and dip into the fondue mixture.

This dessert is best when the cinnamon rolls are hot/fresh out of the oven!