Delicious garlic butter skillet steak with a tangy and delicious potato & corn salad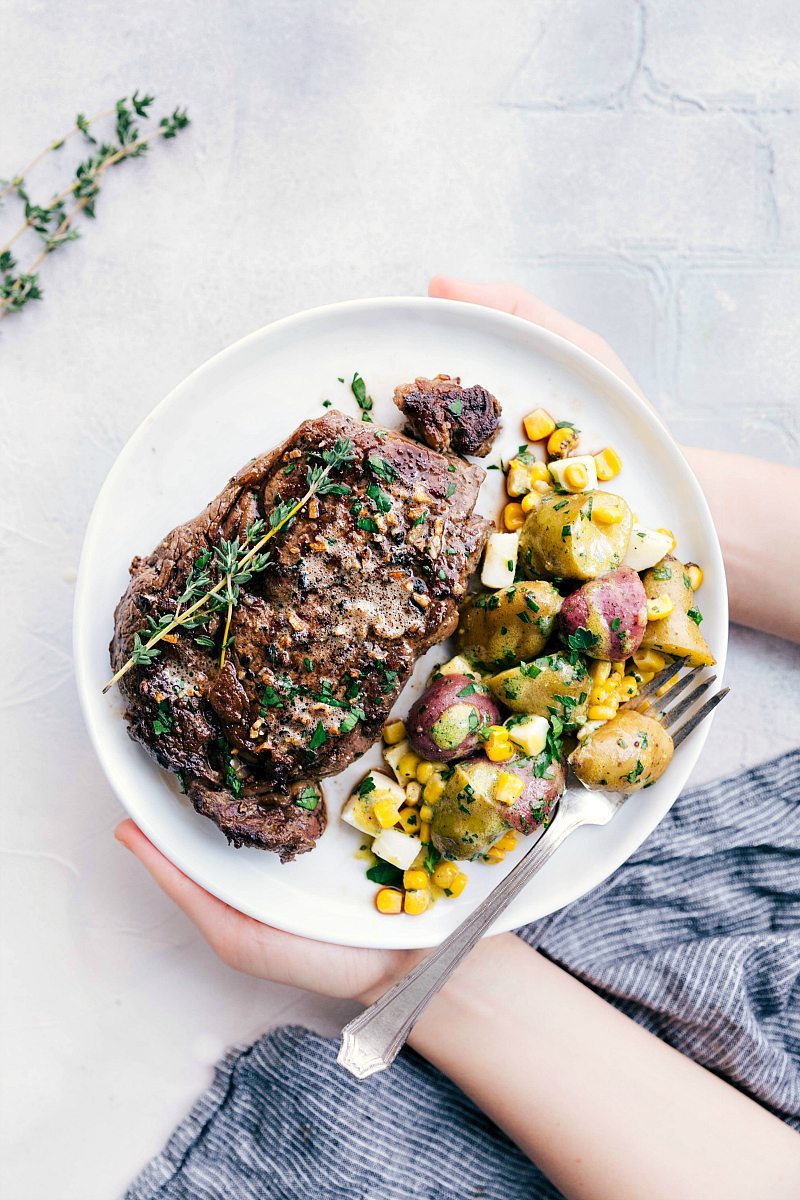 I get that this is kind of a summer recipe, okay really a summery recipe, but sometimes potato salads need to be made in the middle of the winter and I am certain if you try this one you will forgive me for the lack of seasonality with this recipe.
Winter or not, we can't get enough of this salad lately and it's the perfect side to a delicious herbed, garlicky, and buttery skillet steak. Which, I did not grill because I am not completely insensitive to the snowstorms and freezing temperatures so many of you are experiencing. 🙂 So I'm sharing how to perfectly cook steaks (in the warmth of your home) in a skillet. If you are wanting to grill this steak; I've got a whole guide to grilling perfect steak here.
This cold potato salad is pretty unique and not like your typical mayo and hard-boiled-egg-laden salads. It's light and tangy and has all the perfect textures and flavors. It's also pretty quick to whip together and the dressing perfectly complements the fingerling potatoes, corn, and mozzarella.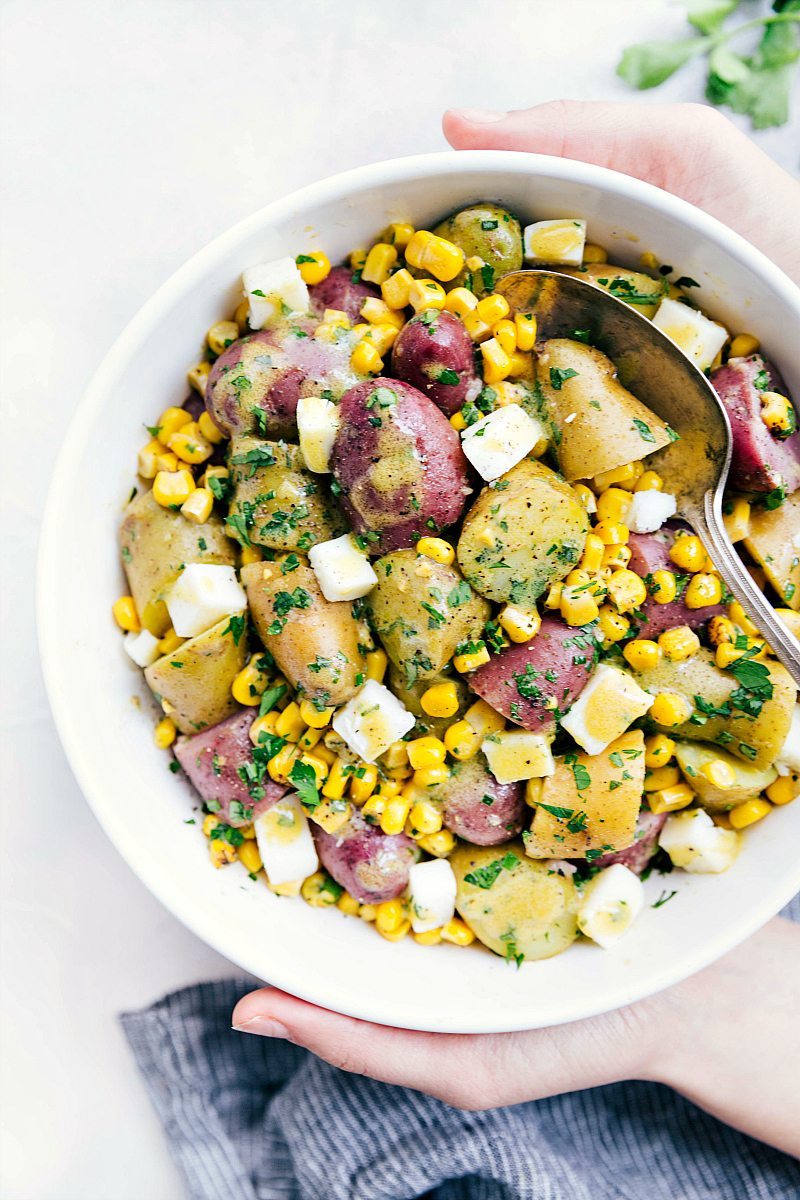 How To Cook Perfect Skillet Steak over the Stovetop:
Buy the best steak for pan-searing. You're looking for boneless steaks that are 1 to 1 and 1/2 inches thick with lots of marbling (the white fat you can see on the meat). You want a steak to have enough fat that it can remain juicy during the cooking process.
Salt the steak and add spices AFTER searing. First off, you don't want to add other spices or herbs (or even cracked pepper) to the steaks at first for a good pan seared steak. The reason is the hot pan is going to burn those spices before they have a chance to add any flavor to your steak. The one spice you do want to add before cooking is salt. I like to pat the steaks dry with paper towel and then generously salt the steaks (with coarse sea salt) about 30 minutes before cooking them. Seasoning the steaks with salt is going to help create a dry surface which will give you the perfect sear.
Don't add oil or butter at first: You'll notice this recipe doesn't call for any oil or butter at the start of cooking and you might be worried your steaks are going to stick to your skillet. But trust me, the steaks will flip just fine without the butter or oil (as long as you're using a very hot cast iron pan, sticking shouldn't be a problem.). Oil and butter can inhibit browning which will result in a slow sear.
Cook the steaks hot and fast! You want to use your heaviest pan (I highly recommend a good cast iron pan) over high heat and get it really hot before you even add the steaks. The heat in that pan is what will give you a perfect crust on your steak. We're giving the steaks a good sear which will create a crisp crust on the outside and give your finished steak tons of flavor. Keep those stakes moving (flip or turn them every couple of minutes) to create that perfect even crust. Once the steaks are halfway cooked is when you'll add in those herbs and some butter so you can baste the steak as its finishing.
Cut the cooked meat against the grain: When you slice steak against the grain you're creating shorter meat fibers which will give you an easier-to-chew (more tender) piece of steak. The "grain" on a steak is the long striations that run across a steak (usually they go tip to tip). You want to cut across or against those long striations.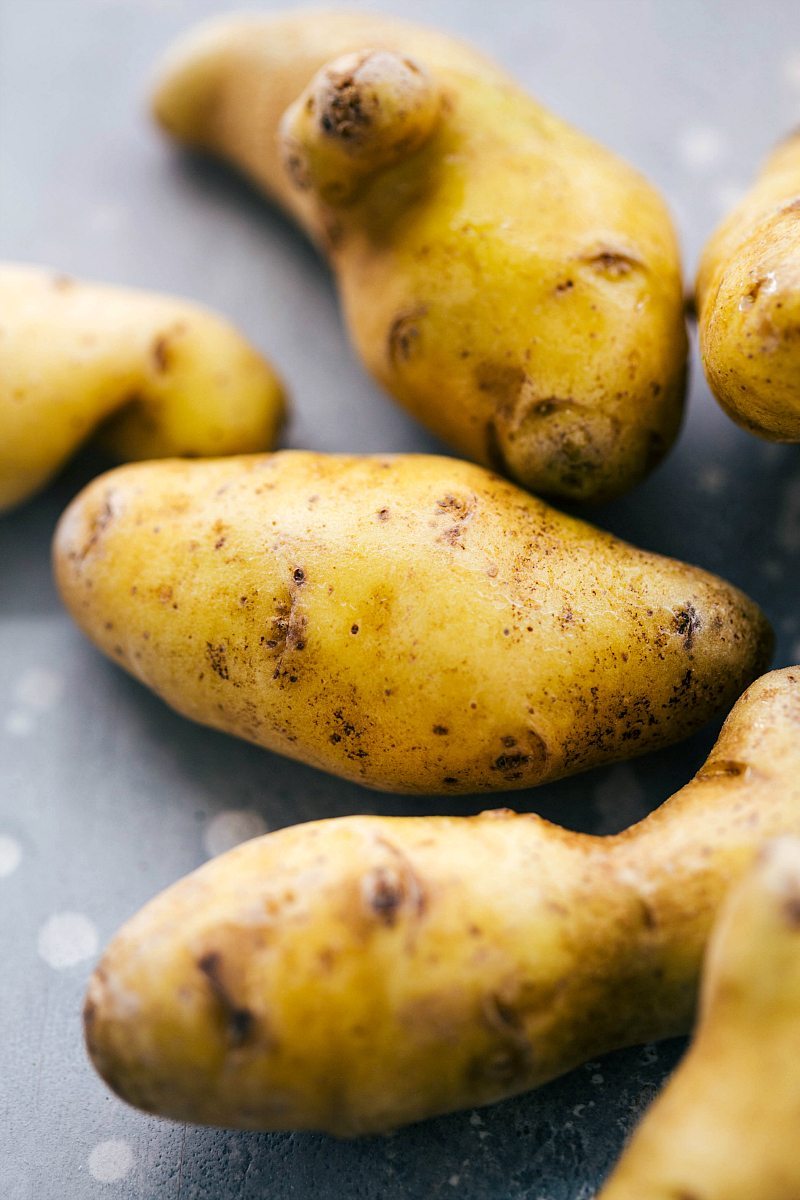 How do you know when your skillet steak is cooked to your liking?
I've found the easiest way to determine the doneness of the steaks is by using a thermometer. With all of the varying factors at play (the actual steak (thickness, temperature, etc.), the pan, your stovetop, etc.) I always think a thermometer is the safest way to make sure you get the steak exactly where you want it. I'll also pull it off about 5-10 degrees before it's where I want it, because it will cook a bit more after being removed from the pan.
Here's a general guide for how long to cook your skillet steak:
Rare steak: 125 degrees F; about 6 minutes
Medium-rare steak: 130 degrees F; about 8-9 minutes
Medium steak: 140 degrees; about 9-10 minutes
Medium well steak: 155 degrees, about 10-11 minutes
Well-done steak: 165-170 degrees, about 12-13 minutes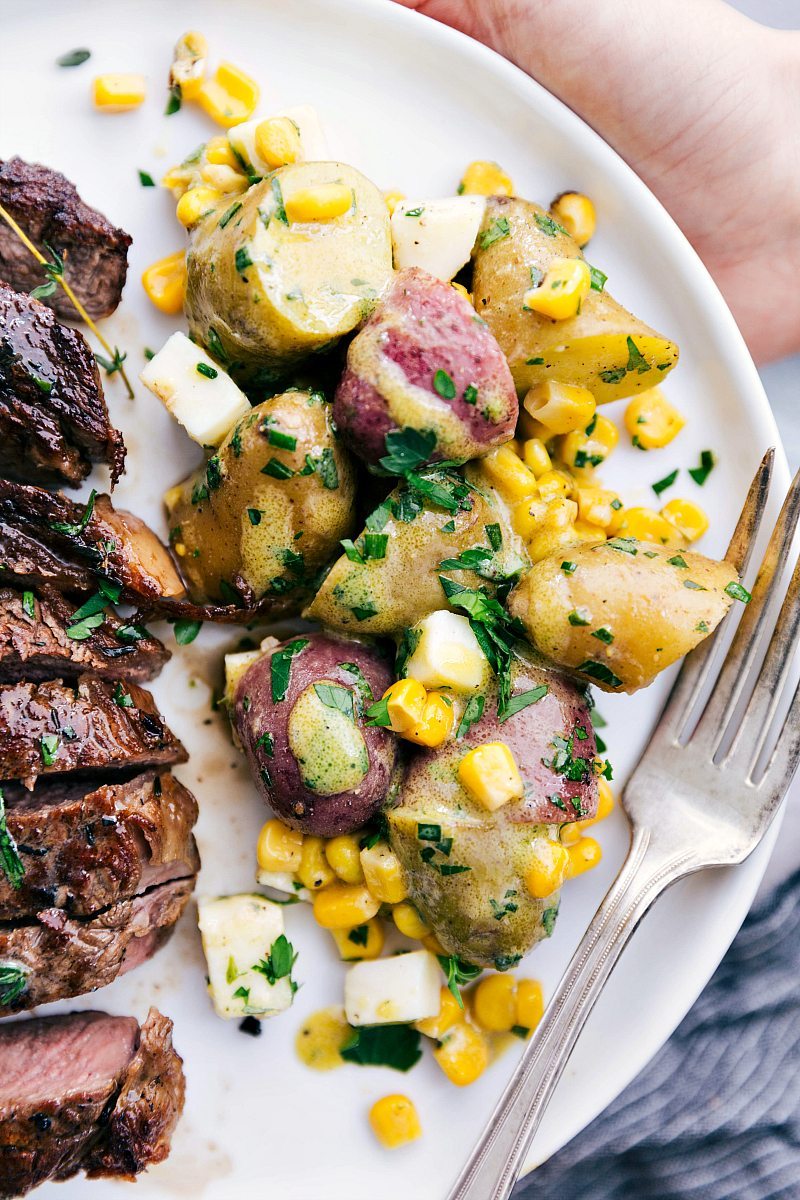 More Easy Dinner Recipes:
1 Pan Italian Sausage and Veggies
1 Skillet Creamy Sundried & Chicken Tomato Tortellini
For an "old fashioned" potato salad, check this one out!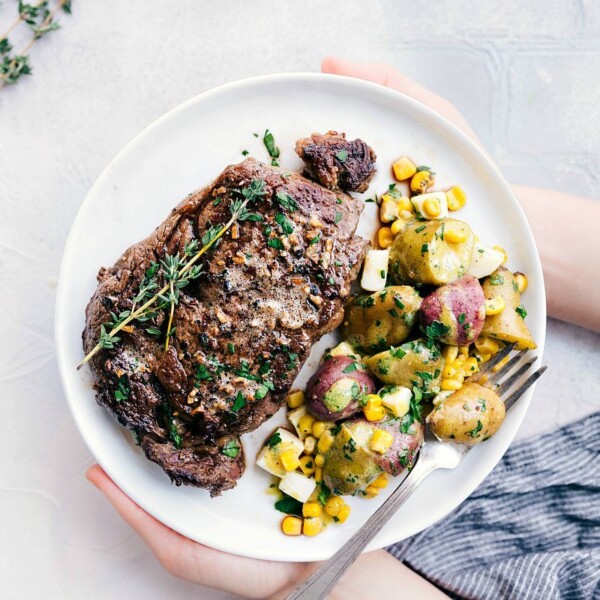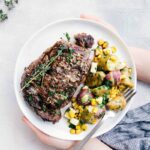 Skillet Steak and Potato Salad
Delicious garlic butter skillet steak with a tangy and delicious potato & corn salad. All the tips and tricks you need to know to perfectly cook a skillet steak!
Ingredients
Potato Salad
1 and 1/2

pounds

fingerling potatoes,

(I used a red and yellow mix) halved widthwise

Fine Sea Salt and freshly cracked pepper

1 and 1/3

cup

corn*

3

ounces

cubed fresh mozzarella

2

tablespoons EACH:

fresh basil leaves, fresh chives:

both finely chopped

2

tablespoons

Dijon mustard

2

tablespoons

apple cider vinegar

1

teaspoon

honey

3

tablespoons

finely chopped flat leaf parsley,

separated

3

tablespoons

extra virgin olive oil
Skillet Steak
2

(1 to 1 and 1/2 inches thick)

rib-eye or New York steaks

(steaks should be around 12 ounces each)

3 and 1/2

tablespoons

unsalted butter

3

cloves

garlic,

finely diced

3-4

sprigs

mix of fresh thyme and fresh rosemary

Freshly cracked pepper and coarse kosher salt

1-2

teaspoons

finely chopped flat leaf parsley,

optional
Instructions
For the potato salad: Fill a large pot with about an inch of water. Add a steamer insert, cover, bring to a boil, and then add in the washed and halved potatoes on top. Cook until the potatoes are fork-tender, about 15-20 minutes depending on their size. Remove from the pot and set aside. Let cool completely before tossing with the other ingredients. Once cooled, toss with the corn, mozzarella cheese cubes, fresh basil leaves, fresh chives, and 2 tablespoons fresh parsley.

For the dressing on the potatoes: in a small bowl, whisk together the Dijon mustard, apple cider vinegar, honey, and remaining 1 tablespoon parsley. Add salt and pepper to taste (I use 1/2 teaspoon salt and 1/4 teaspoon pepper). While whisking constantly, slowly stream in the olive oil. Whisk until smooth. Pour over the the salad. Toss together and let chill in the fridge until the steaks are ready.

Prep the steaks: Remove the steaks from the refrigerator about 30 minutes to 1 hour before cooking. Place them on a paper towel-lined plate and pat dry with more paper towels. This will help dry the surface of the meat, making a better crust. Change out the paper towels occasionally if needed.

Prepare the rest of the steak ingredients: Because cooking the steaks will go quickly you want to have everything ready to go! I also like grabbing some plates and a meat thermometer to set near the oven.

Heat a 12-inch cast iron skillet over high heat for about 5-8 minutes; the pan should smoke just a bit when it is heated and ready.

Just before adding the steaks to the skillet, pat dry with paper towels once more and then liberally coat the steaks with the salt. (Get both sides and the sides of the steaks). Place the steaks in the hot pan and cook for one minute (by then the steaks will have created enough of a crust to be able to easily flip). Flip to the other side and cook for another minute. Continue cooking and flipping for another 3-4 minutes (I flip every 30 seconds or so).

Next you'll want to very slightly reduce the heat and carefully add the butter, garlic, and herbs to the pan. Add cracked pepper to the steaks. Flip the steaks once more. Tilt the pan so the butter pools on one side and use a large spoon to baste the butter over the steaks. Flip again and repeat on the other side. Begin checking the internal temperature of the steaks at 6 minutes total cook time for your preferred doneness. (Remember steaks will continue to cook for a little after being removed from heat so I usually pull it off 5-10 degrees early).**

Remove steaks to plates and let rest (covered with foil) for about 5 minutes. Make sure to slice the steaks against the grain and enjoy with the pan juices, some finely chopped parsley if desired, and a side of the potato salad.

Recipe Notes
* If using canned corn use fire-roasted and if not use a good frozen corn. If you can find fresh corn grill it up and cut it off the cob! 
**Rare steak: 125 degrees F; about 6 minutes, Medium-rare steak: 130 degrees F; about 8-9 minutes, Medium steak: 140 degrees; about 9-10 minutes, Medium well steak: 155 degrees, about 10-11 minutes, Well-done steak: 165-170 degrees, about 12-13 minutes