Simple sugar cookie truffles without raw eggs or flour that require no baking and come together in 15 minutes or less!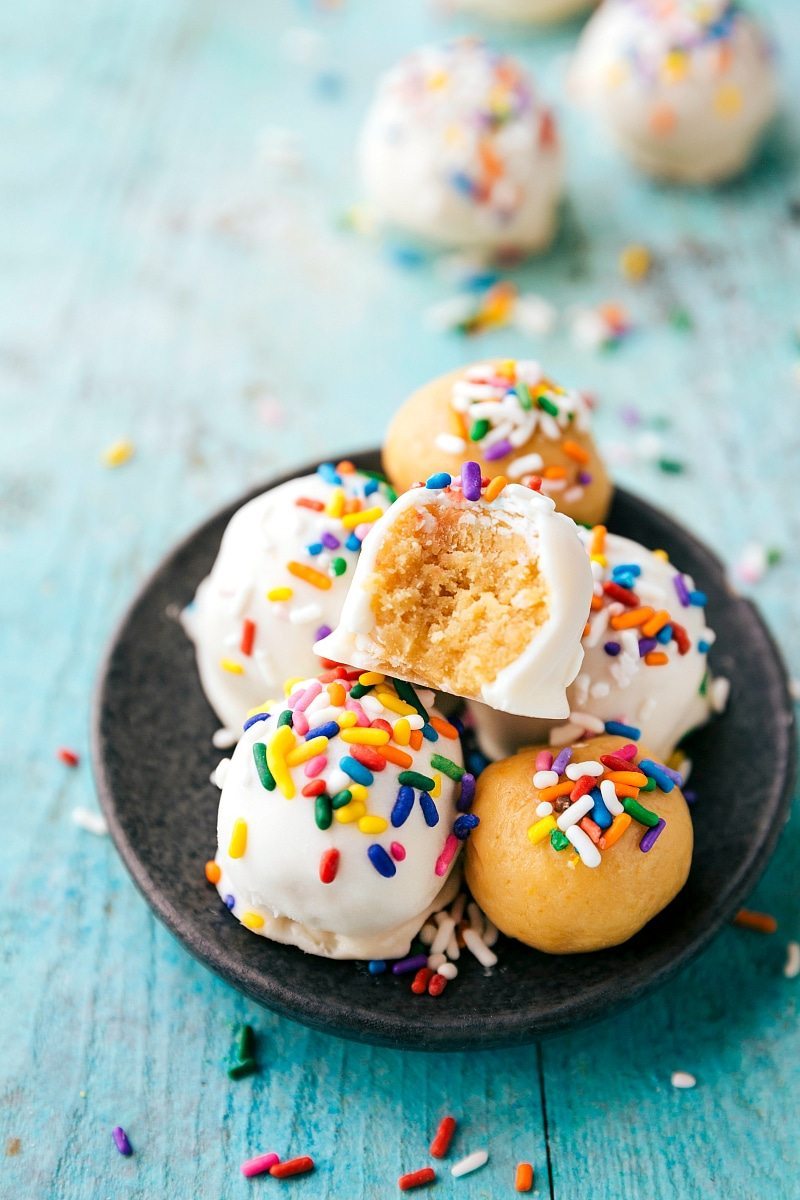 These are essentially the equivalent of an oreo truffle, but in sugar cookie form! ?? It's no secret I'm obsessed with sugar cookies (see here, here, here) and it's also definitely no secret I'm obsessed with oreo truffles (here, here, here, and here).
So combining my adoration for the two and you've got one amazing truffle! Completely with plenty of sugar cookie flavor, a chocolate exterior, and of course — lots of sprinkles.
The only tricky thing about this recipe is: no sugar cookie is the same. I use packaged sugar cookies (to make these quick and easy), but you can definitely use your own homemade sugar cookies. Whatever cookie you use, it could be softer, harder, moister, bigger, smaller, etc. than the cookies I use. BUT it's not a huge issue, since these truffles are pretty foolproof. The only thing that will change is the amount of cream cheese you'll need.
If you have super soft or small cookies, I'd start with 2 tablespoons cream cheese. Mix the cookie crumbs and cream cheese for quite a while before determining if you need more cream cheese. (You can always add more, but you can't take it away!) If you've ever made oreo truffles, you'll know what to look for, but essentially you are trying to make a very thick "dough." It shouldn't be too wet, but it should also be easy to roll the "dough" into balls. If you do happen to use the same sugar cookies I use (Wal-Mart soft bakery cookies) 3 tablespoons cream cheese is perfect! If you are using dryer or bigger cookies, you will likely need 4 (maybe even 5?) tablespoons cream cheese. Just be patient in adding the cream cheese and you'll be golden! Enjoy!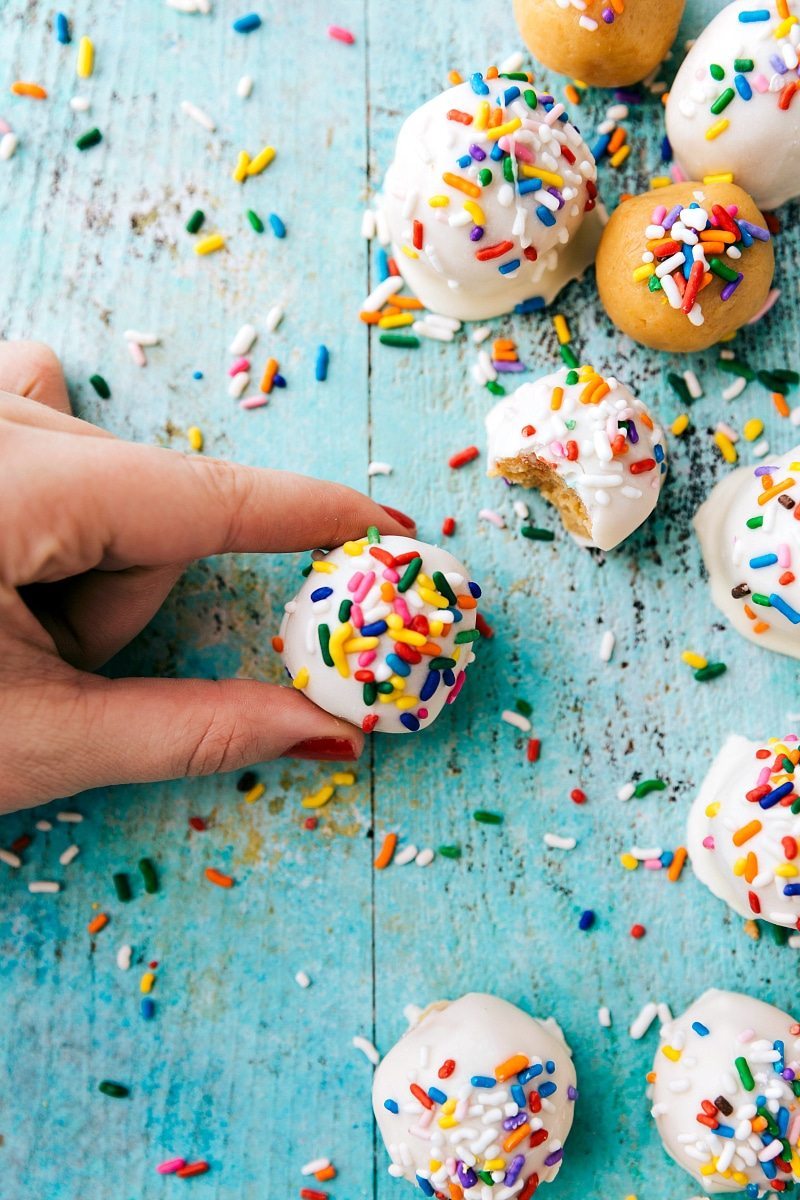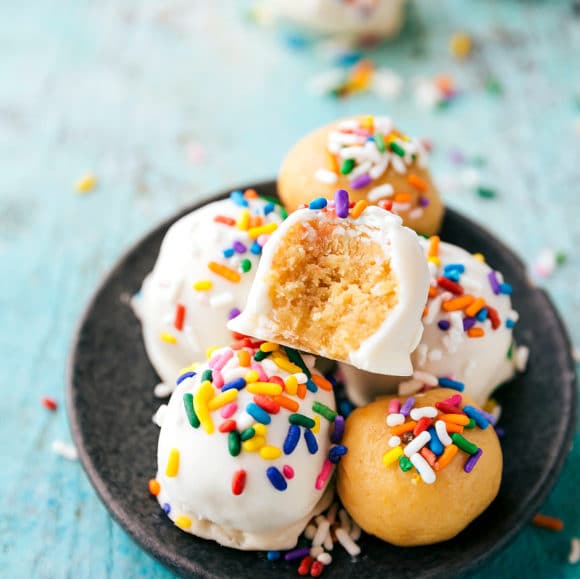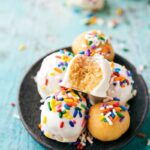 Sugar Cookie Truffles
Servings
:
16
bites, depending on the size you roll them
Ingredients
1

package very soft sugar cookies*

12 cookies total

2-4

tablespoons

full-fat cream cheese

at room temperature

1 and 1/2

cups

white chocolate chips

2

teaspoons

vegetable oil

Funfetti Sprinkles
Instructions
In a food processor or blender, add in 6 cookies at a time and pulse until they are in crumbs. Transfer to a bowl and pulse the last 6 cookies to crumbs.

Add in the cream cheese. The variance in the total amount really depends on the cookies you use. If your cookies are larger/dryer you'll need more, softer/smaller, you'll need less. I use the Wal-Mart bakery cookies (see note) and use THREE tablespoons of cream cheese.

Make sure to not melt your cream cheese, but it should be at room temperature.

Using hand mixers, beat the cream cheese into the crumbs until a thick dough forms (this takes a while, be patient.)

Once a thick dough forms, roll the dough into even sized balls. I get 16 balls total from these.

Place in the fridge while preparing the chocolate.

Separate the chocolate into two parts (3/4 cup + 1 teaspoon vegetable oil) and melt in the microwave in bursts of 20 seconds, stirring in between each burst for 15 seconds.

Once the chocolate is completely melted, dip the truffles into the chocolate and then set them on the prepared tray.

Immediately sprinkle with funfetti sprinkles.

Allow to harden at room temperature.

Melt the remaining chocolate and vegetable oil and dip the rest of the truffles (I separate the chocolate so it doesn't harden in between dipping and keeps the dipping easier!)

Store in an airtight container in the fridge.
Recipe Notes
*I use the bakery soft sugar cookies from Wal-Mart -- they are seriously delicious and perfect in these truffles! There are 12 unfrosted sugar cookies (they are generally by the other cookies M&M's, snickerdoodles, etc.)
More delicious treats: