Homemade jam-filled pastries with an easy vanilla glaze. These copycat toaster strudels are so quick and easy to make!
If serving these toaster strudels for a fun breakfast or brunch be sure to pair them with some savory options such as this quiche lorraine, sausage veggie hash, or this ham and cheese quiche.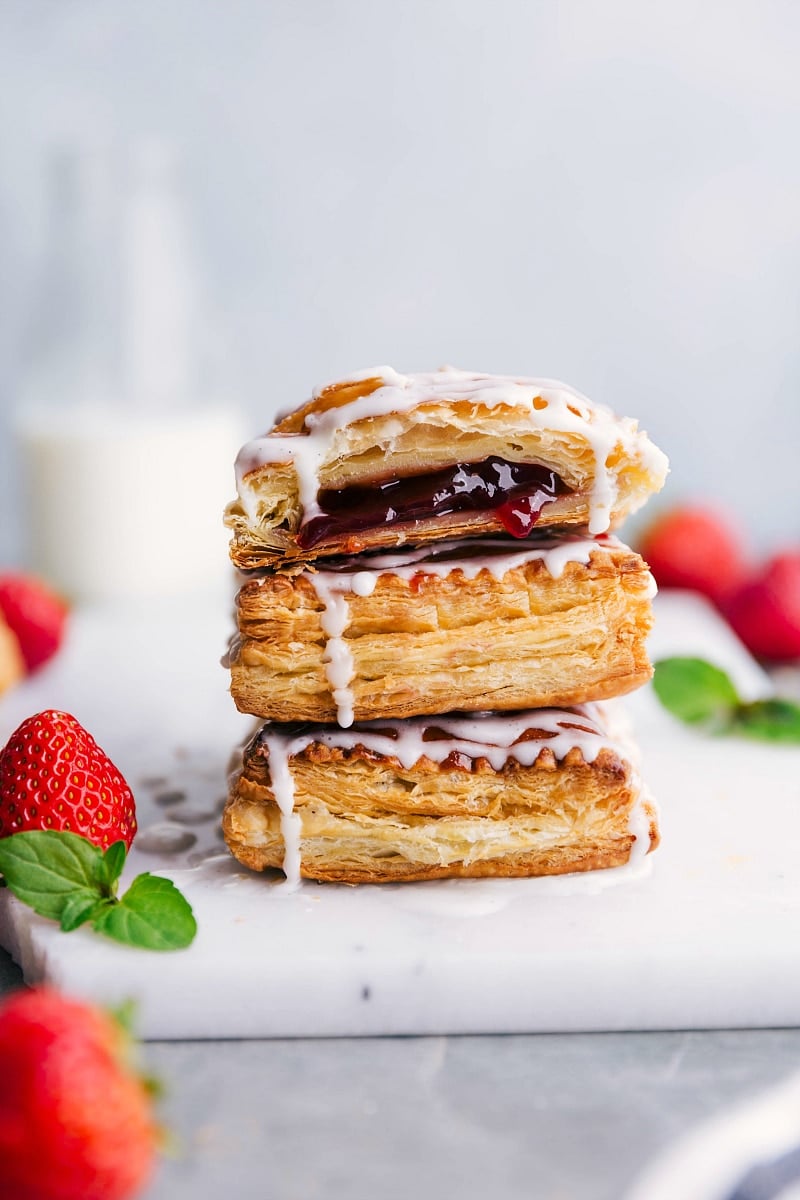 Gretchen Weiner's father, the inventor of Toaster Strudels, would be happy to know that toaster strudels were one of my favorite treats growing up. My mom didn't buy them too often, but when she did my siblings and I all went crazy over them.
Nowadays they don't taste near as good as I had remembered, but I'll admit I still love them. And this (semi) homemade version is the best!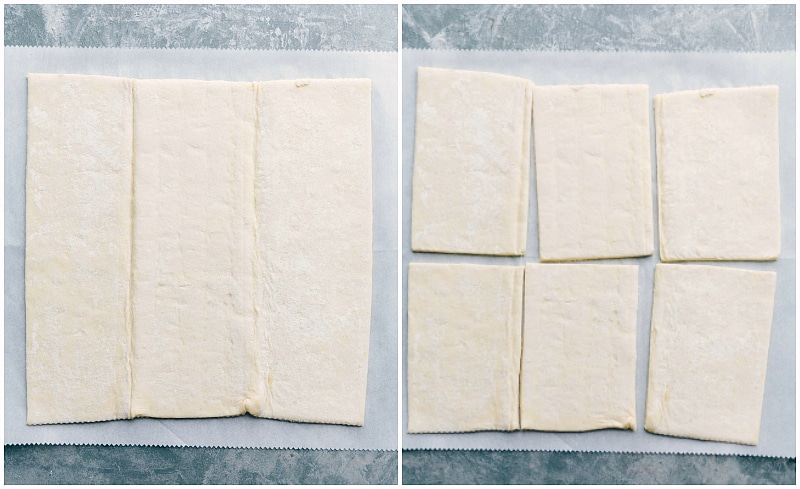 For one, these homemade ones are a lot bigger, but more importantly you can add as much glaze as you want. Which is important, if, as a child, you spent more time squeezing every ounce of the icing out of the packet than actually eating the toaster strudel
…or was that just me?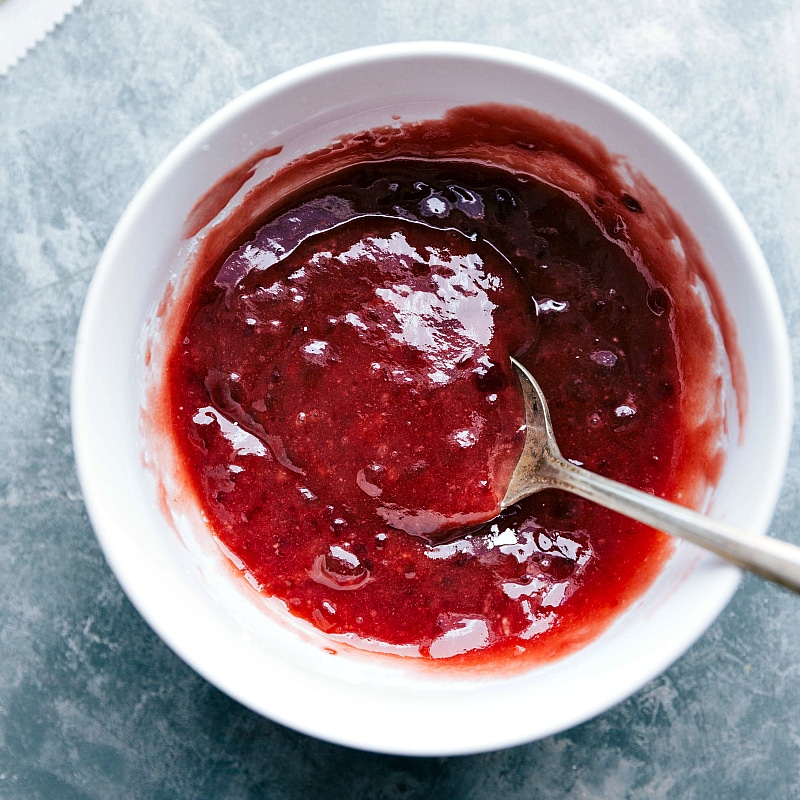 Puff pastry dough
I mentioned these are semi-homemade because we do start with store bought puff pastry dough. If you're super ambitious, you can make puff pastry from scratch.
The puff pastry I recommend in this recipe can be found in the freezer section of your grocery store. It's a little tricky to find sometimes, so use a store app if your grocery store has one. I like pepperidge farm puff pastry dough sheets (click to see a visual; not sponsored).
Toaster strudel filling
Once you have the dough, it's just about the filling and icing! For the filling, I like combining two different jams for a berry flavored toaster strudel.
I recommend seedless jam for a better eating experience.
Other flavor options: blueberry jam, blackberry jam, orange marmalade, cherry or apple pie filling, a few tablespoons Nutella, chocolate spread, or peanut butter, lemon curd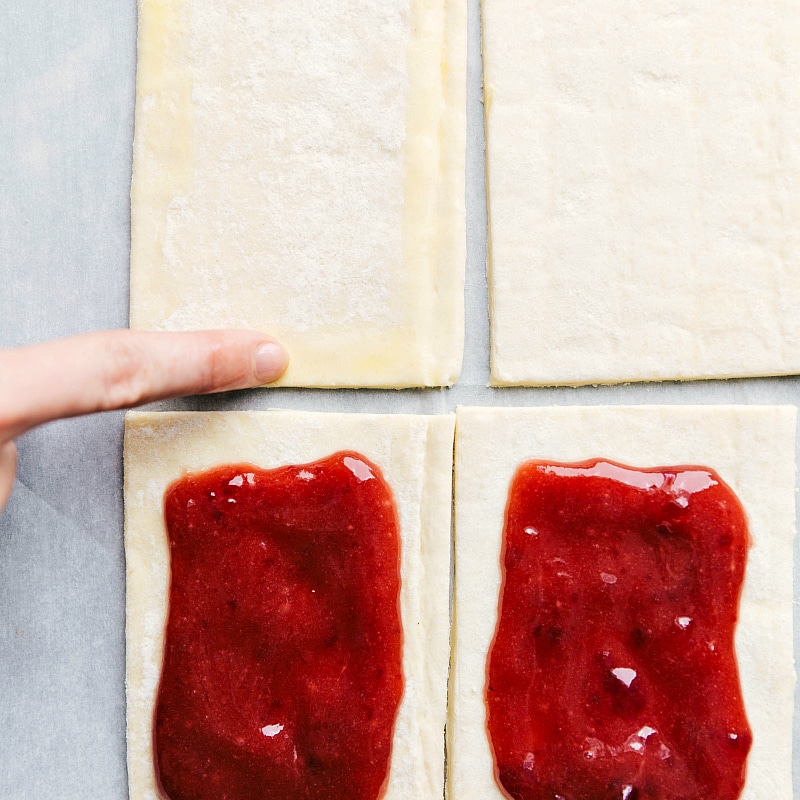 Toaster strudel variation ideas
Add cream cheese: a smear of cream cheese before adding the jam would be delicious. I recommend using spreadable cream cheese.
Top with frosting: such as this cream cheese frosting or use a chocolate buttercream if adding Nutella or a chocolate spread inside!
Add some spices: add some cinnamon and nutmeg for a good flavor variation.

Toaster strudel tips
Wait to add icing to the pastries until they've cooled down a bit. Right out of the oven the icing will melt too much and turn into a mess!
Press down the pastries: don't be alarmed, but while these bake and right out of the oven they are HUGE. Let them slightly cool for about a minute before gently pressing them down. They also deflate even more as they cool.
Crimp well: make sure to crimp tightly and keep the jam well away from the edges — this ensures you won't have jam seeping out of the dough.
Bake on parchment paper or a silpat liner: not only does this help the toaster strudels bake better, it also ensures you won't have a mess if the filling does happen to seep out.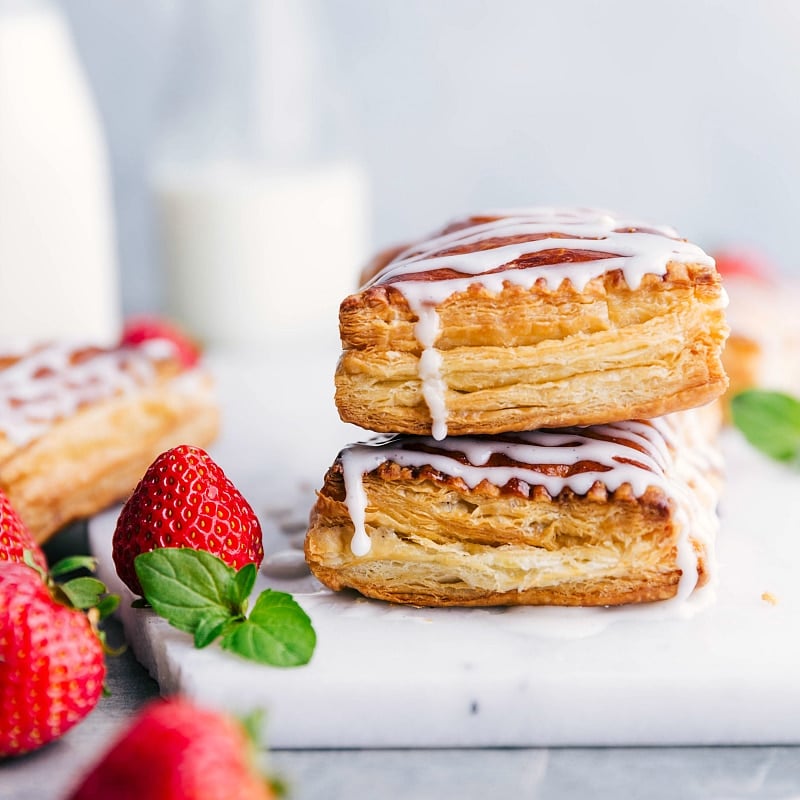 Brunch spread
I mentioned a few savory options to pair these toaster strudels with, but if you're looking to do an entire brunch spread for a baby/bridal shower or similar event I've got a few more ideas: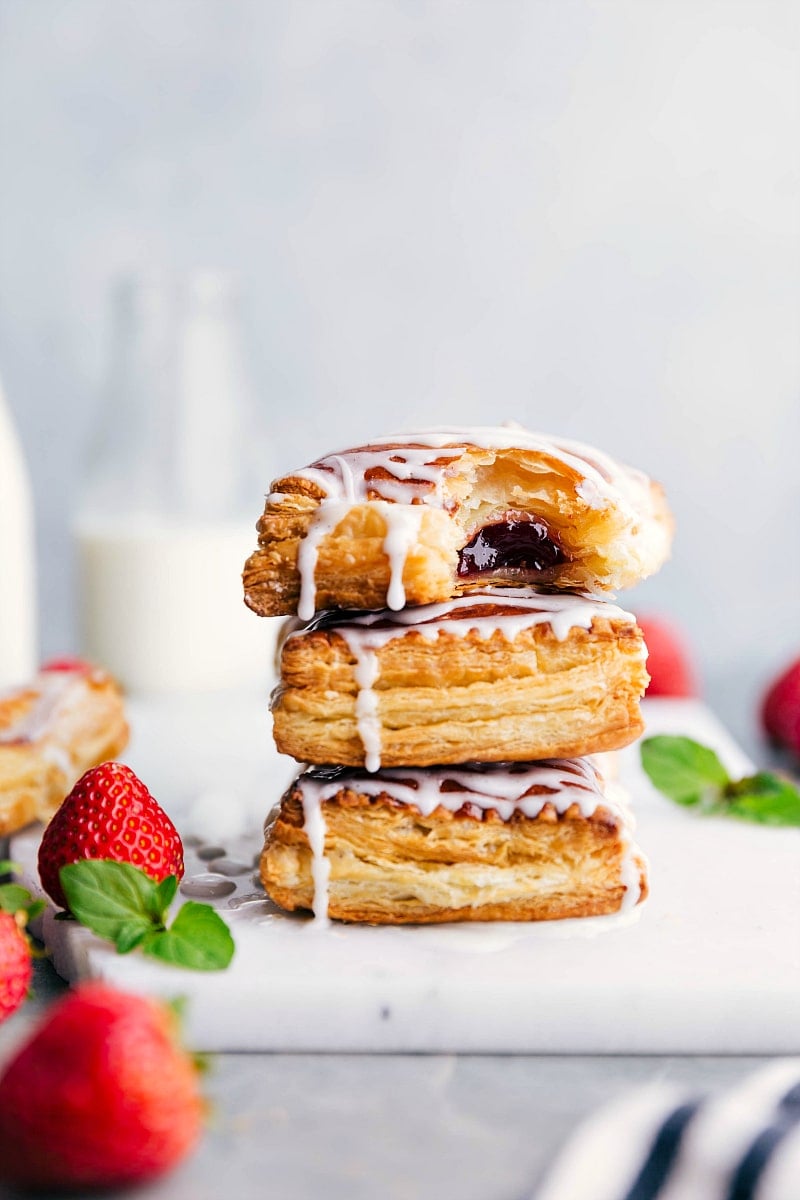 More desserts: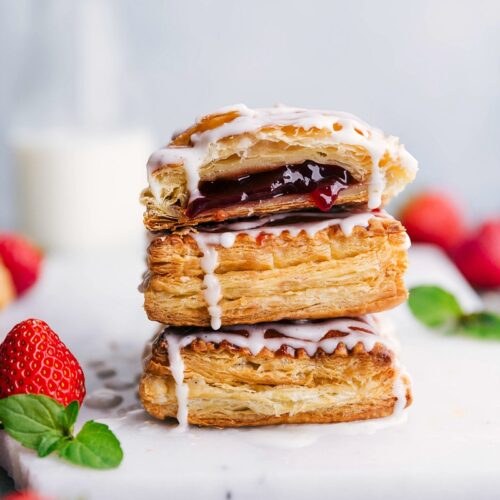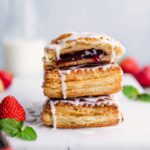 Toaster Strudels
Homemade jam-filled pastries with an easy vanilla glaze. These copycat toaster strudels are so quick and easy to make!
Keyword:
Toaster Strudels
Servings
:
6
toaster strudels
Ingredients
Toaster Strudels
1

package (17.3 ounces)

Puff Pastry Sheets

(I get Pepperidge Farm, found in freezer section of grocery store)

1/3

cup

SEEDLESS strawberry jam

1/3

cup

SEEDLESS raspberry jam

(or just use another 1/3 cup strawberry)

1

tablespoon

cornstarch

1

large

egg

1

tablespoon

whole milk
Icing
1

cup

powdered sugar

2

tablespoons

whole milk (or half and half, do not use a lower fat milk)

1/4

teaspoon

pure vanilla bean paste (or 1/4 teaspoon vanilla extract)

1-2

drops

almond extract,

optional

Tiny

pinch

fine sea salt,

optional (to balance)
Instructions
PREP: Preheat oven to 400 degrees Fahrenheit. Line a baking sheet with parchment paper or a silpat liner and set aside. Thaw the puff pastry according to package directions. In a small bowl, whisk together the strawberry jam, raspberry jam, and cornstarch until smooth. Set aside. In another bowl whisk together the egg and milk with a fork until smooth. Set aside.

ASSEMBLE: Place 1 sheet of puff pastry on a lightly floured surface and cut into 6 equal rectangles. Spoon 1 and 1/2 tablespoon of the jam mixture over top of 3 of the rectangles, leaving about a half an inch rim all along the edges uncoated (see photos). With your fingertip, lightly brush the (uncovered with jam) edges with the egg mixture. Place remaining puff pastry rectangles over jam coated puff pastry and using the tines of a fork, press all the edges to seal. Transfer those 3 pastries to the prepared pan and in the fridge while preparing the rest. Repeat the process with the other sheet of puff pastry. Add the last 3 assembled pastries to the tray in the fridge and chill for 10 minutes.

BAKE: Brush tops of each strudel lightly with egg and milk mixture. Bake until golden brown, about 18-22 minutes or until golden brown on top and cooked through. (Don't be alarmed, they puff up very high!) Remove and, using a metal spatula, transfer to a cooling rack. Wait 2-3 minutes and then gently press down the pastries (holding all four corners) to deflate a bit. Let cool until warm and then drizzle icing on top (see next step).

ICING: For the icing, whisk together all ingredients in a small bowl until smooth. Add more milk to thin icing IF needed (be patient stirring though, it takes a minute to come together).. Transfer to a small plastic bag and cut the tip off. Drizzle over warm pastries. Enjoy while warm.