Heart-shaped homemade toaster strudels made with puff pastry dough, strawberry jam, and spreadable cream cheese. These toaster strudels are coated in a vanilla-flavored sugared glaze.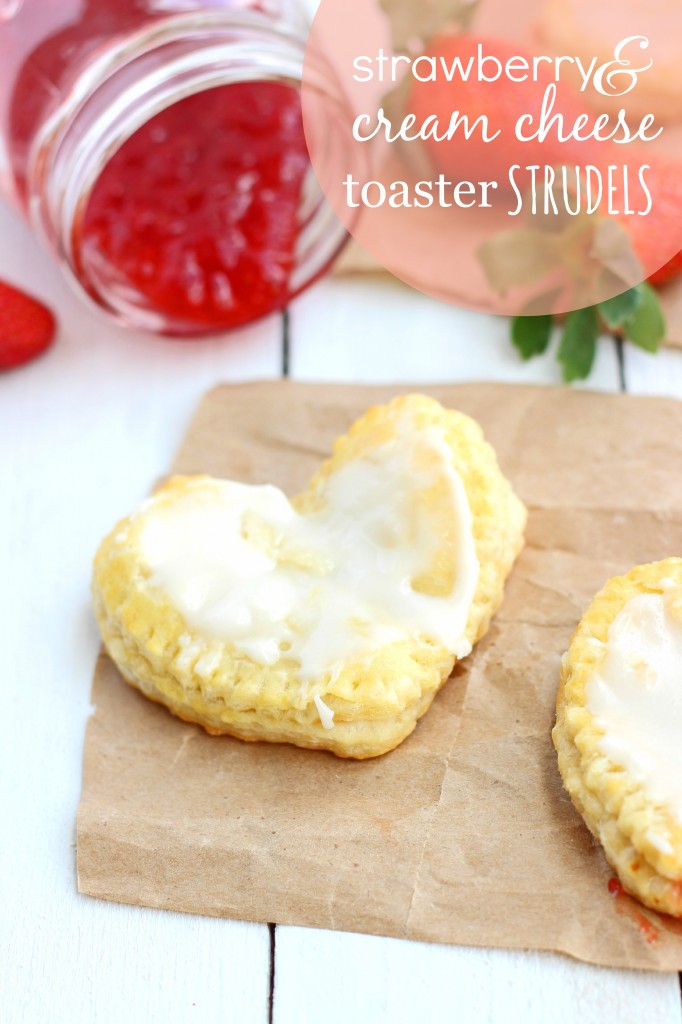 Growing up toaster strudels were a very rare treat at our house which, of course, made them all the more desirable. My mom had to limit how much each of us would get. Because if she didn't, I think every single one of us could have polished off a box. In one sitting.
Toaster strudels were special occasion treats that we always looked forward to. And seeing as Friday is a special occasion of sorts (Valentine's Day!) I thought that homemade toaster strudels were definitely in line to be made.
Making (and sharing) homemade toaster strudels has been on the "blog list" for quite some time now. I'm super excited to finally share them with you all. Especially because I'm pretty obsessed with them. Homemade toaster strudels = sooooo much better than store bought. And I didn't even know that was possible!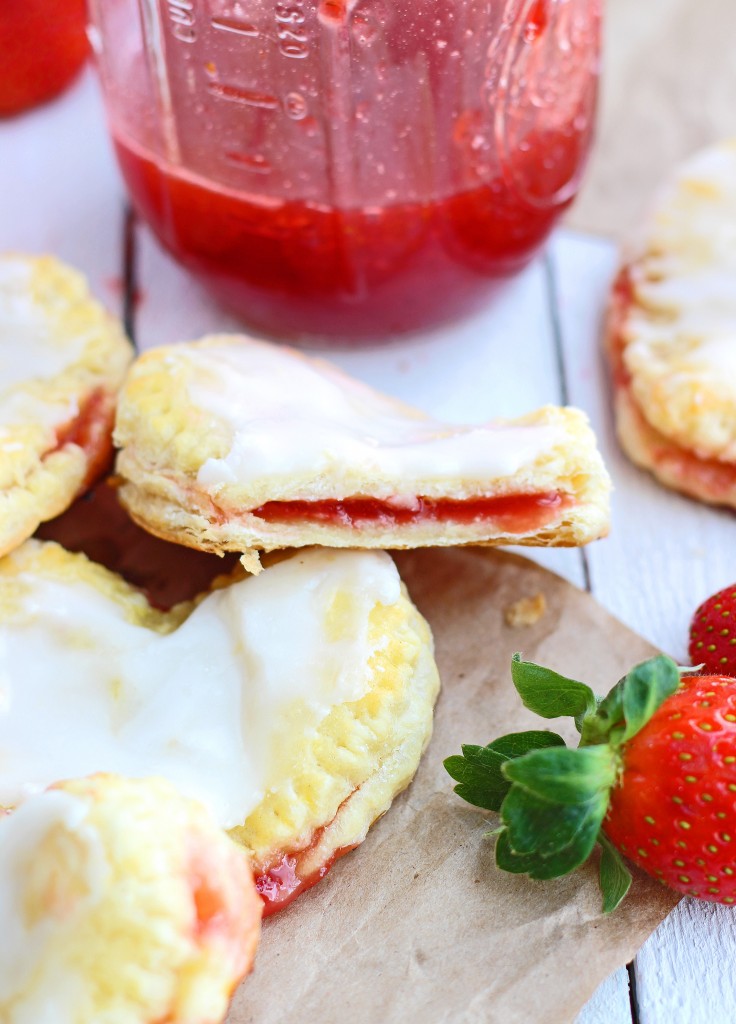 I found the puff pastries in the frozen section of my grocery store. (By the ice cream and cool whip kind of area.) So, since these are frozen, make sure to thaw them out in the fridge overnight or leave them at room temperature for about 45 minutes before you are ready to start.
Once the puff pastries are thawed, you can unroll them from the package (on a lightly floured surface) and cut out your shapes. You can cut out squares like a traditional toaster strudel, or for a special Valentine's breakfast, use heart-shaped cookie cutters!
Next comes the filling part. I made a homemade jam filling, but I also tried a store-bought strawberry jam filling. Both were great so you can decide which you want to do/have the time for.
If you are doing the homemade jam, chop up some strawberries. Just over a cup's worth so that when they are all chopped they fill up one full cup. Add a cup of sugar and a tablespoon of lemon juice. Stir over low heat until the sugar is dissolved. Then increase the heat to high, and bring the mixture to a boil. Boil, stirring often, for about 2-3 minutes. Return the heat to low. In a small bowl, combine cornstarch + water and mix, and then add to the jam mixture. Remove the jam from the heat and let stand for about 10-15 minutes.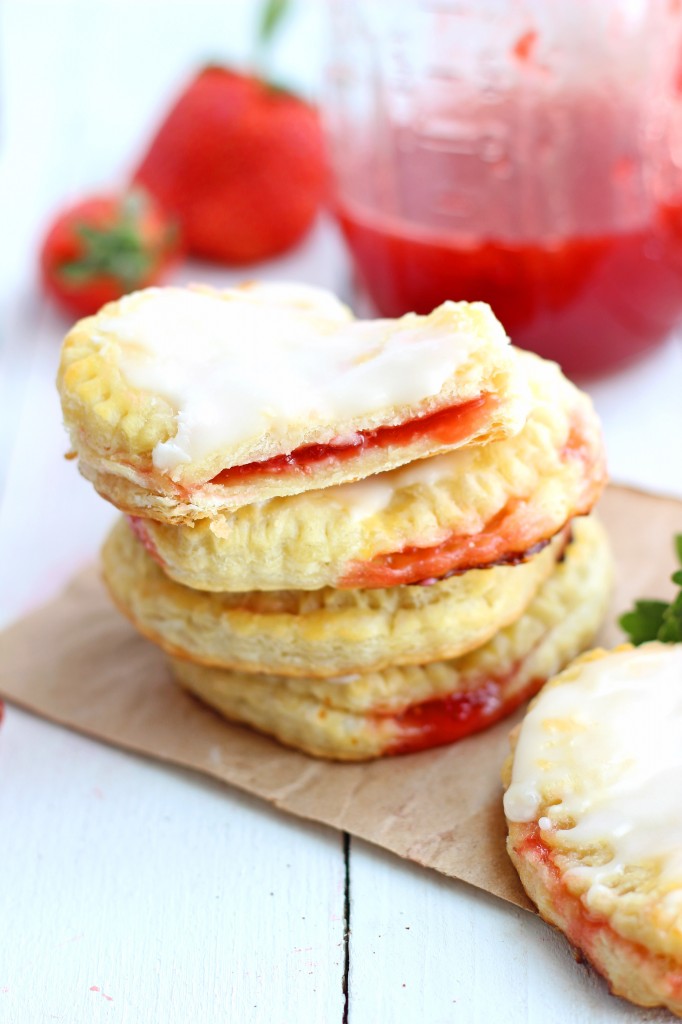 Once that jam is ready to go, spread some cream cheese on the hearts (about half a teaspoon worth) and then cover the cream cheese with a scant half a tablespoon of the jam.
Cover the heart with another heart and crimp the edges with a fork. Put the heart-shaped strudels on a pan and paint some egg whites over the top. They get baked for about 8-10 minutes or until lightly browned all over.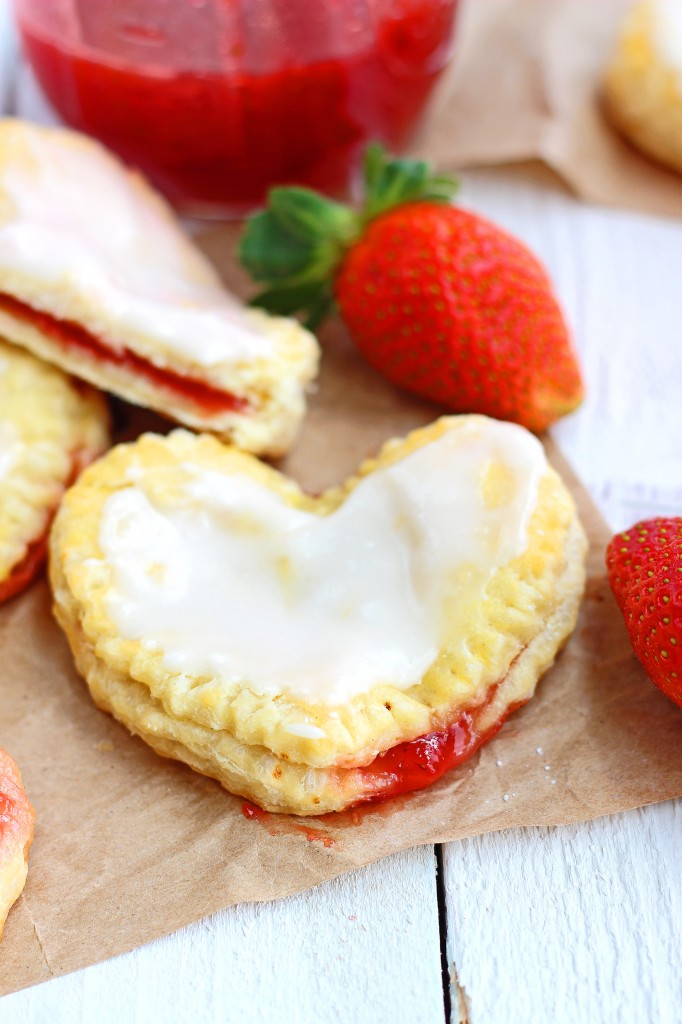 While the strudels are busy baking, the glaze can be made. Just a simple 4 ingredients (powdered sugar, vanilla extract, cream cheese, and milk). The glaze gets spread over the hot strudels and they are ready to be devoured!
How crazy simple are homemade toaster strudels?! And surely a treat to please for Valentine's Day. Or even a special breakfast for the ones you love!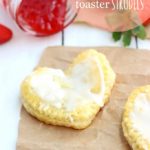 Homemade Strawberry & Cream Cheese Toaster Strudels
Ingredients
1

package (17.3 ounces)

frozen puff pastry dough,

(found in the freezer aisle with frozen desserts
Jam/Filling
5

tablespoons

seedless strawberry jam

spreadable cream cheese

plain or strawberry flavored

1

egg + 1 tablespoon water
Glaze
1

cup

powdered sugar

1/2

teaspoon

vanilla extract

1

tablespoon

spreadable cream cheese

softened

1/4

cup

heavy cream
Instructions
Let the puff pastry dough thaw out (if desired you can make your own puff pastry dough)

Preheat the oven to 400 degrees F.

Roll out the pastry dough and cut in rectangles or into heart-shapes.

On the cut out pastries, spread about 1/2 teaspoon cream cheese and then 2 teaspoons strawberry jam on top. Don't spread around the jam; keep it mostly in the center.

Lightly top the pastry with jam and cream cheese with another pastry with another pastry being careful to not push the second pastry on top. Don't press the two together at all, but rather use a fork to just crimp together the edges. If you press them together you will get jam seeping out.

With a fork, lightly beat the egg with 1 tablespoon of water in a small bowl. Lightly brush the tops of the pastries with the egg wash.

Bake for 10-15 minutes or until lightly browned. (Don't worry they puff up big and deflate as they cool)

Meanwhile, combine the powdered sugar, vanilla, and cream cheese. Beat and slowly add the heavy cream until you've reached desired consistency.

Spread the frosting/glaze over slightly cooled toaster strudels.