Only 6 ingredients to make these delicious milk chocolate cookie butter cups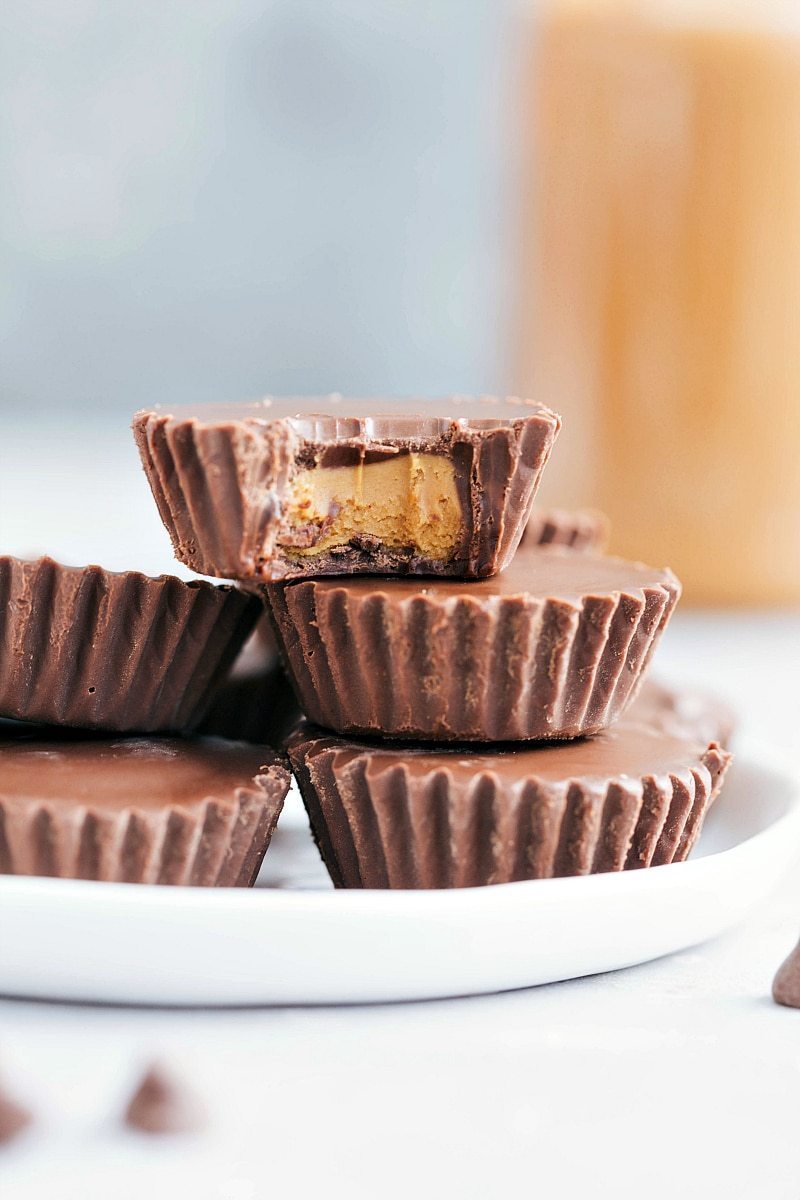 Cookie butter cups
Let's just pretend for a moment that Halloween wasn't like less than a week ago and everyone is sick of candy…
Because these are basically a homemade mash-up of two types of candy bars-Reese's cups and Crunch bars.
But here's the good news. There is Cookie Butter inside of these chocolate cups. And I'm pretty sure there isn't any Halloween candy that has cookie butter inside. Oh, and as far as I've seen, a Reese's-Crunch combination hasn't hit candy shelves in stores. (Not yet, anyways.)
But I'm keeping my eye out for it, because this is seriously a winning combination. Crunchy milk chocolate with creamy cookie butter interior…Mmmmmm.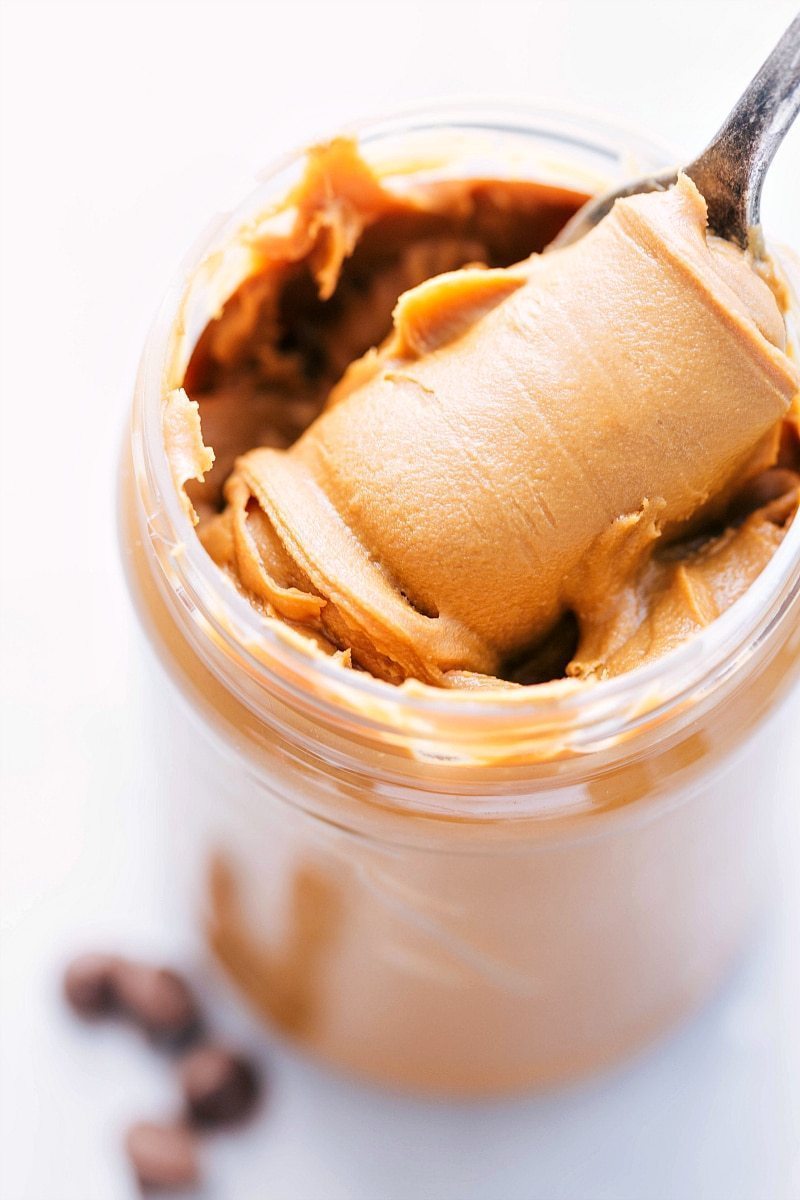 How to make cookie butter cups
You'll start by melting chocolate with coconut oil (or shortening or vegetable oil) in the microwave. To get the "Crunch" bar texture, you'll add just 2 tablespoons of rice krispies. You'll want to spoon out an equal amount of chocolate-rice-krispie mixture into the bottom of each mini muffin. Gently tap the muffin tin to get rid of any air bubbles and get the chocolate totally smooth.
While that's setting up, combine the cookie butter, powdered sugar, and vanilla. It will look too powdery and be hard to stir at first, but keep at it. Continue stirring and smashing the cookie butter and eventually you will get a thick cookie butter dough.
(Fair Warning: Here's where self-control is going to have to kick in.) You'll pinch off little bits of the dough and roll it into 12 small and equal balls to then slightly flatten and put on top of that bottom chocolate layer before you eat it all. Two tips here: first, make the balls more of an even disc shape, and second don't make the cookie butter discs too wide. For the chocolate to completely encapsulate the cookie butter mixture, if needs to be smaller than the edges of the muffin tin.
Melt the rest of the chocolate with coconut oil and pour an even amount on top. Chill until they are set up and then you can enjoy them!
More no bake desserts: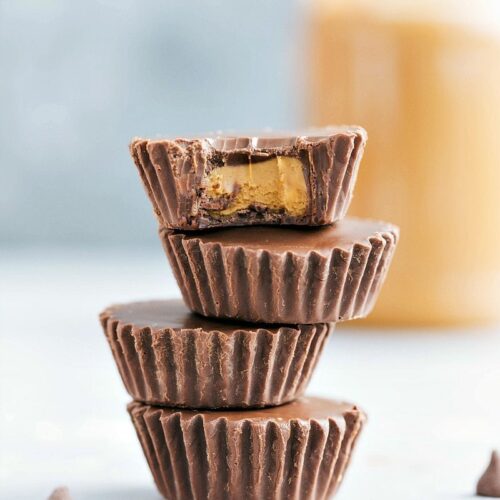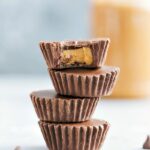 Cookie Butter Cups
Only 6 ingredients to make these delicious milk chocolate cookie butter crunch cups
Keyword:
cookie butter cups
Ingredients
1/4

cup

cookie butter or biscoff spread

1/4

teaspoon

vanilla extract

2

tablespoons

powdered sugar

1

cup

milk chocolate chips,

separated

2

tablespoons

rice krispies cereal

1/2

teaspoon

coconut oil,

separated
Instructions
Line a mini muffin tin with mini muffin cups and set aside.

Combine the cookie butter or biscoff spread with the vanilla extract and powdered sugar. Stir until a thick dough is formed.

Pinch of small bits of the dough and make 12 little balls. Smash the balls with two fingers to get a flatter disc shape.

In a small microwave-safe bowl melt 1/2 cup + 2 tablespoons chocolate chips with 1/4 tsp. coconut oil. (I microwave for 30 seconds, stir for 30 seconds, microwave for 15 seconds, stir, and then its ready!)

Combine the melted chocolate with 2 tablespoons of rice krispies. Stir well and then spoon an even amount of chocolate mixture into the bottom of each of the muffin cups.

Place the flattened balls of cookie butter dough on top of the melted chocolate mixture.

In the same bowl melt the remaining chocolate chips and remaining 1/4 tsp. coconut oil.

Pour an even amount of chocolate over all of the cookie butter cups. Tap the muffin tin on the counter gently a few times to get the chocolate smooth.

Chill in the fridge for at least 30 minutes.

Store in an airtight container in the fridge for up to one week.
Recipe Notes
I keep these in the fridge because I think they taste better cold, but that's just personal preference.