Asian chicken tacos with a simple mango slaw and an easy 4-ingredient Sriracha lime sauce. 30 minute meal!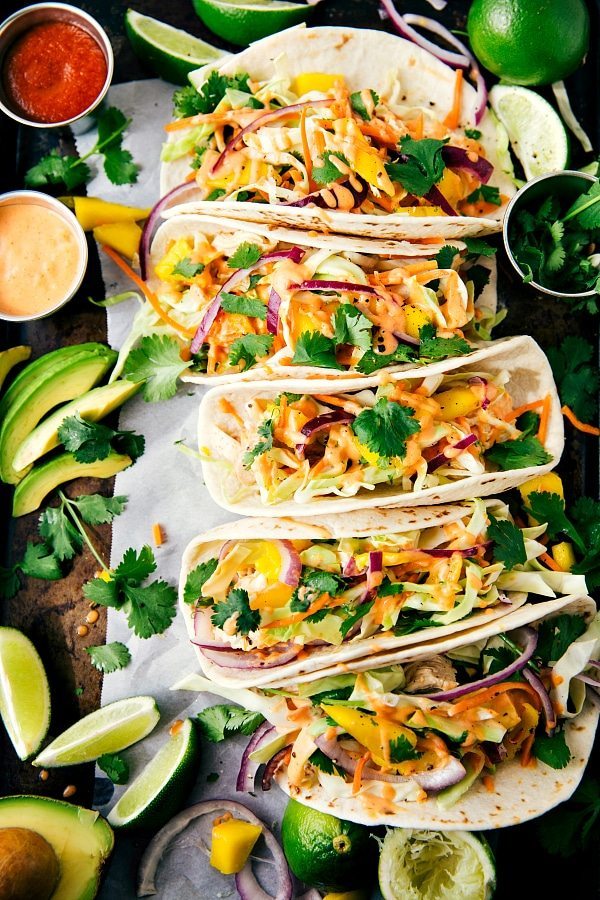 TACO TIME! But first, since I know you all basically sit on the edge of your chairs in anticipation for my running updates, let's do one of those.
I know, I know, they are just too exciting.
Back when I set the goal to run 5 times a week at the beginning of the year, the husband found a great deal on a treadmill. He bought it, set it up, and then set a TV up in front of it (??). And we've been putting it to good use! Since I pretty much always have the kiddos it's tricky to find time to run outside and so treadmill it is. Also, with all the bad weather the husband does quite a few runs on it.
He's run on it countless miles and I've, well, put on less miles. Okay fine, significantly less miles…

I ran on it yesterday. Put in my three miles while watching some girly TV show and finished strong. ?? When I left, the treadmill was great. I texted the husband that I ran my fastest time yet this year and got some encouraging emojis in response. Clearly he reads the blog and understands my complete obsession with all the emojis.
Anyways the husband went on it to run on it yesterday while I was out and apparently it wasn't working. I got a text, "I think we burned out the motor. You ran too fast for it this morning!"
So while the husband is blaming me for breaking the treadmill, I'm just rubbing it in that I'm too fast for the motor to keep up…something he never was able to accomplish in all his running on it ?
It's my story and I'm sticking to it! Additionally, now that we have no treadmill, my healthy eating motivation is gone with it. So, I thought it would be fitting to eat 800375 cookies and half a cake today. Along with about 15 of these tacos. Because ballllllance.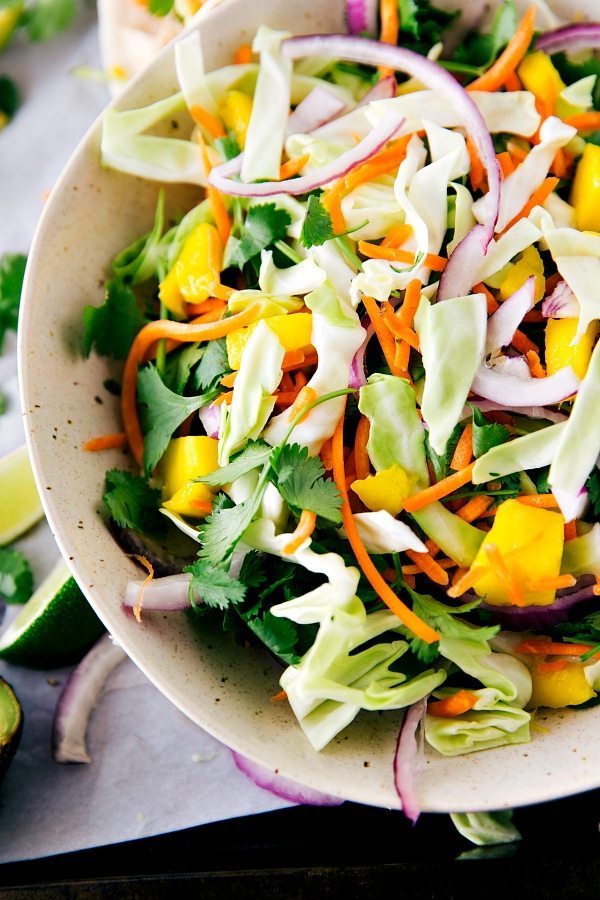 Although these tacos aren't too bad nutrition wise. They've got the most delicious veggie/fruit-packed slaw thats got tons of delicious and good-for-you ingredients. Cabbage, red onion, cilantro, carrots, mango, and a lil bit of lime juice.
These tacos were inspired by some delicious Asian tacos we had while eating out a few months ago. While they ended up pretty different, the sauce is extremely similar to the ones we had at the restaurant. And the sauce is totally what makes these! ?
It's only 4-ingredients — the zest + juice of some limes, Sriracha, mayo, and a tiny bit of sugar to balance it all out.
So, slaw + sauce and then all you've got left is the chicken. We've tried the chicken 2 ways. One, by cutting the chicken into small pieces and then cooking it in a skillet with some olive oil, chicken seasoning, salt and pepper. We've also used a pre-shredded rotisserie shredded chicken (HI FAST PREP, I heart you!). I prefer the rotisserie for sure, but prepare the chicken how you like best. On the skillet, grill it, cook it in the crockpot and then shred it, etc.
You could also use some fish or shrimp in place of the chicken as both would go great with the slaw and sauce.
Enjoy these delicious Asian Chicken Tacos!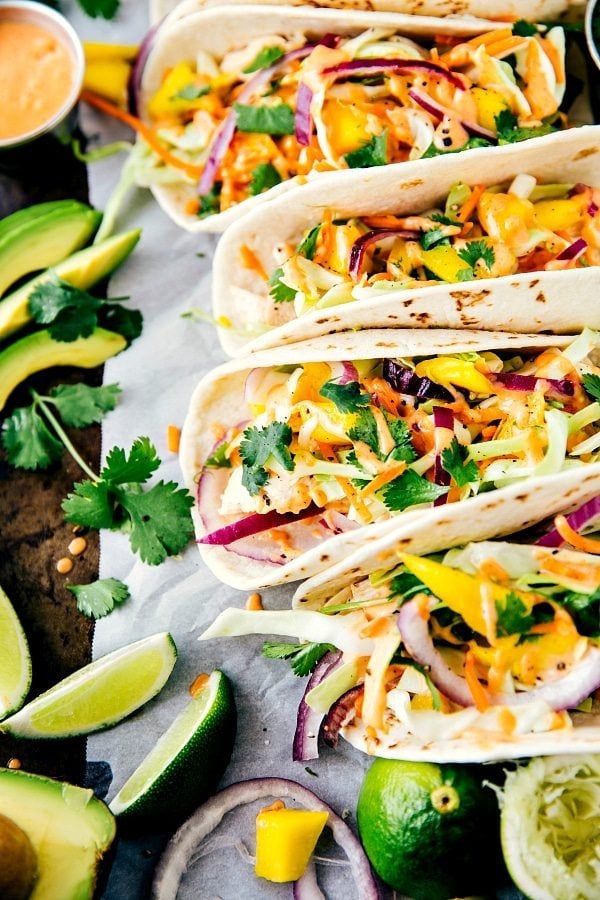 Helpful Visual Guide: check out how to cut a mango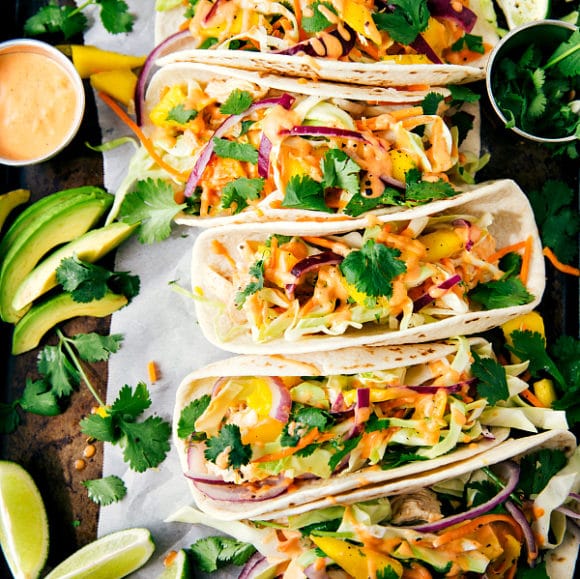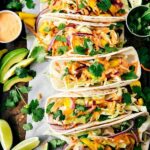 Asian Chicken Tacos with A Mango Slaw
Ingredients
Sriracha Sauce
1/2

cup (108g)

mayo

2

large limes

(1/2 teaspoon zest; 4 tablespoons juice)

3

teaspoons

Sriracha

1

teaspoon

white sugar
Mango Avocado Slaw
1

cup (160g)

thinly sliced honey mango

(~2 mangoes)

2

cups (120g)

chopped green cabbage

1

cup (25g)

chopped cilantro

1/2

cup (40g)

thinly sliced red onion

1

cup (70g)

matchstick (thinly sliced) carrots

(~2 large carrots)
Tacos
3/4ths

a pound (12 oz; 345g)

shredded rotisserie chicken

10-12

mini flour or corn tortillas

Additional limes and cilantro for serving

Avocado

optional
Instructions
Prepare the Sriracha sauce.
Zest part of 1 lime to get about 1/2 teaspoon lime zest and then juice 2 limes to get about 4 tablespoons lime juice.

Combine the mayo, lime juice, lime zest, Sriracha, and white sugar in a bowl. Add some salt + pepper to taste. Stir well and then taste (add additional lime or Sriracha to personal preference).
Prepare the slaw.
Chop a mango and add to a bowl. Chop some green cabbage and then pack 2 cups full of the cabbage. Add to bowl.

Coarsely chop the cilantro and loosely measure to get 1 cup. Add to bowl.

Very thinly slice 1/2 a red onion and add.

Add in the shredded carrots. Mix to combine.

Toss the cooked protein of choice (see notes) with 2-3 tablespoons of the prepared sauce or until coated.

To prepare the tacos: top each tortilla with protein of choice, a generous heap of the slaw, and a generous amount of the sauce. Add additional cilantro and a squeeze of lime juice to each taco. Add avocado if desired.
Recipe Notes
For the protein use about 3/4ths a pound of what you like best: grilled shrimp or fish would work great. We used a prepared and shredded rotisserie chicken (super quick prep!) and also have tried cutting up the chicken breast into small pieces and cooking it in a skillet with vegetable oil. Alternatively grilled chicken would be delicious. Whatever you like best!
More delicious taco dinners: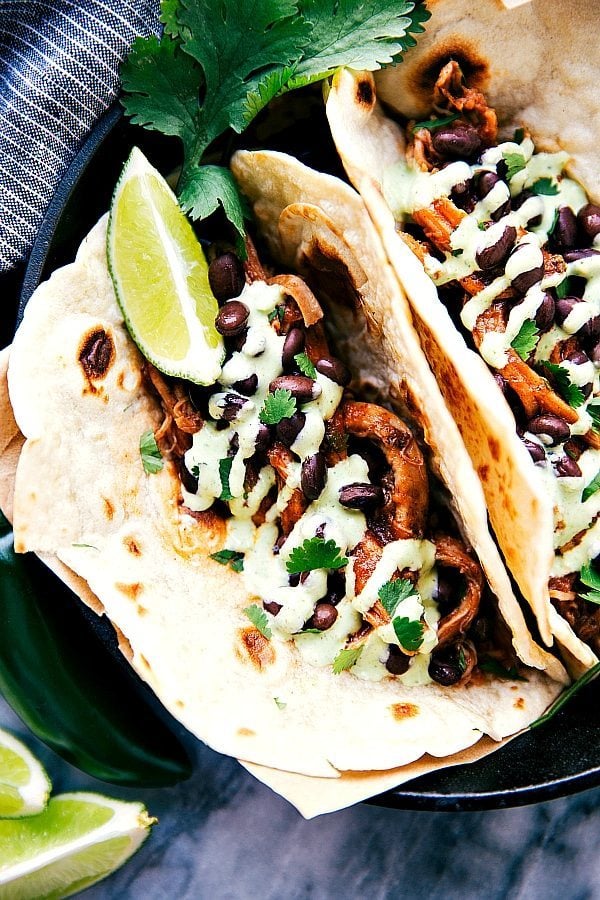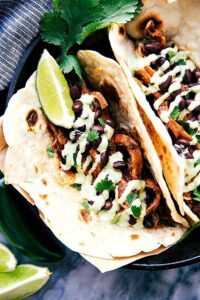 Sweet Pulled Pork Tacos (Cafe Rio CopyCat)
Quinoa Tacos made in the CROCKPOT