A sheet pan dinner with chicken, tons of veggies, an easy seasoning mix, and cheese! Healthy, hearty, easy to make, and so delicious!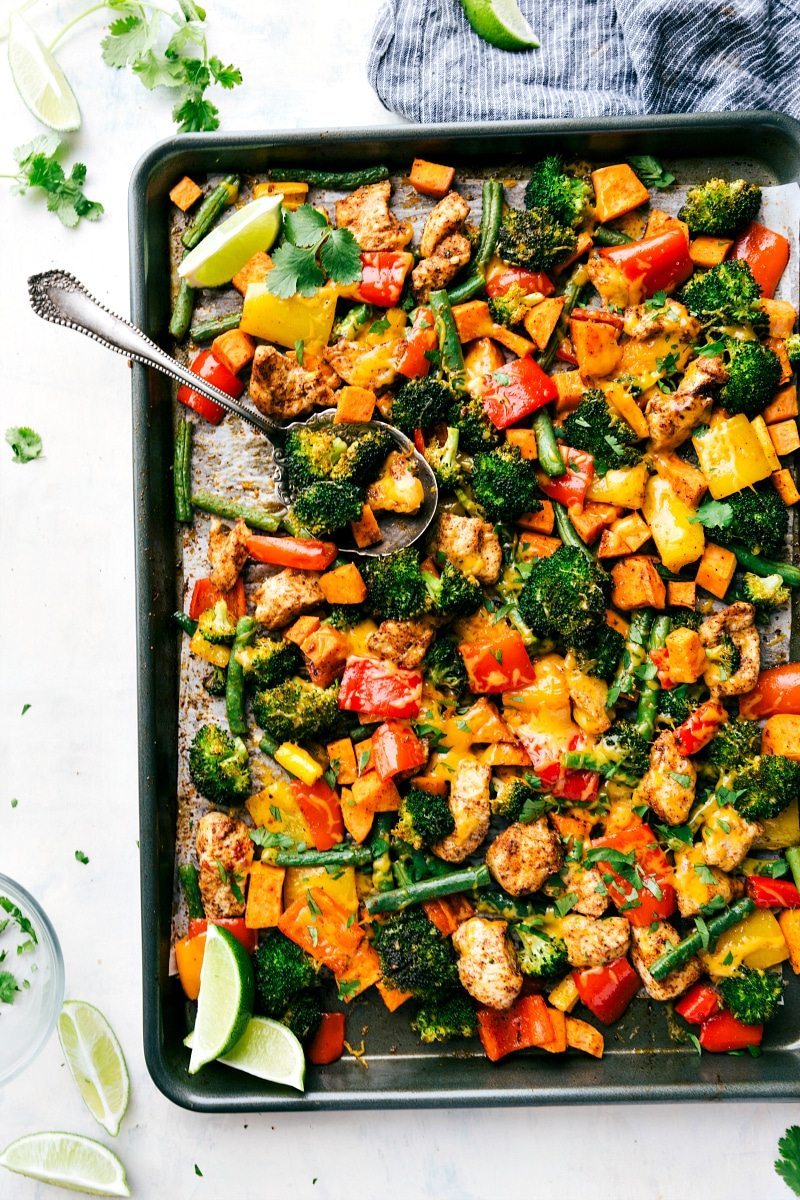 When the toddler told me I was a boy a few weeks ago, I knew it was about time to start talking about genders. He'll now consistently tell me I'm a girl, he's a boy, the baby is a boy, and dad is a boy.
When I quiz him about others, however, he's not too consistent. He'll get both sets of grandparents right generally, but he definitely struggles with his aunts & uncles.
The other day I asked him, "Is Livi (my sister) a boy or a girl?"
"A BOY!" He exclaimed.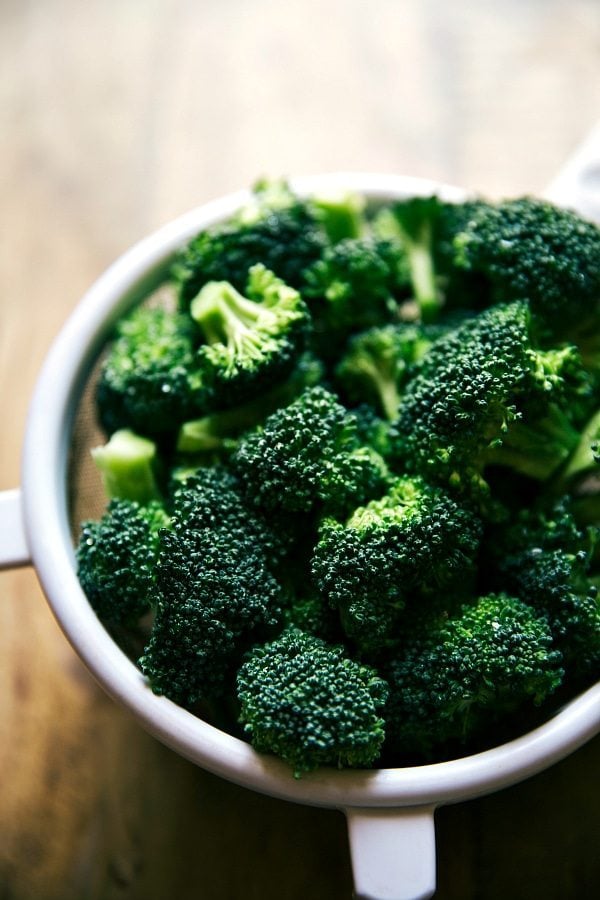 "No, Grey, she's a girl," I responded.
He looked down in a frown, clearly disappointed. And then, about a minute later, he whipped his head up excitedly and said, "It's okay mom. Next time Livi be a boy!"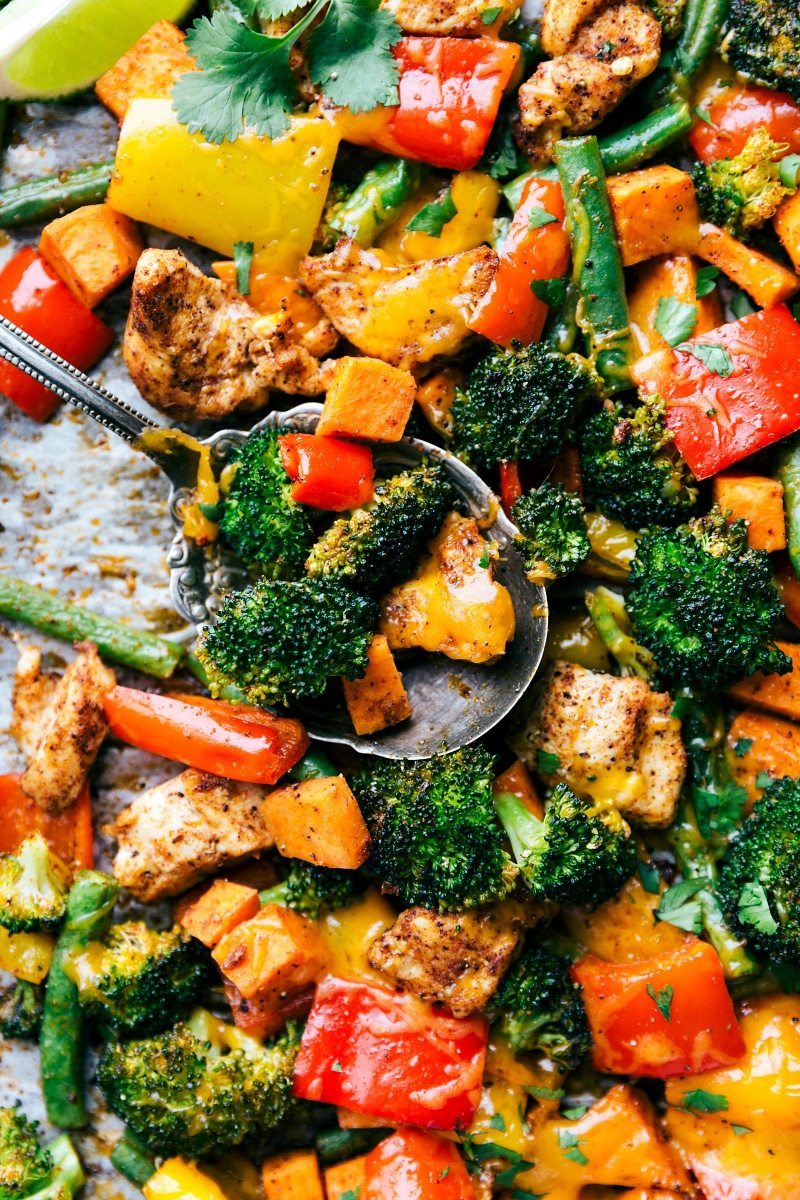 So, while he may be struggling to grasp the concept of gender, I have to give it to him — he's rocking the concept of making food videos! 🙂
If you watch the video tutorial for this recipe (at the top of this post), it is 90% done by him!
And he ate about 45% of this one pan veggie + chicken dinner…so much for meal prepping with it. ?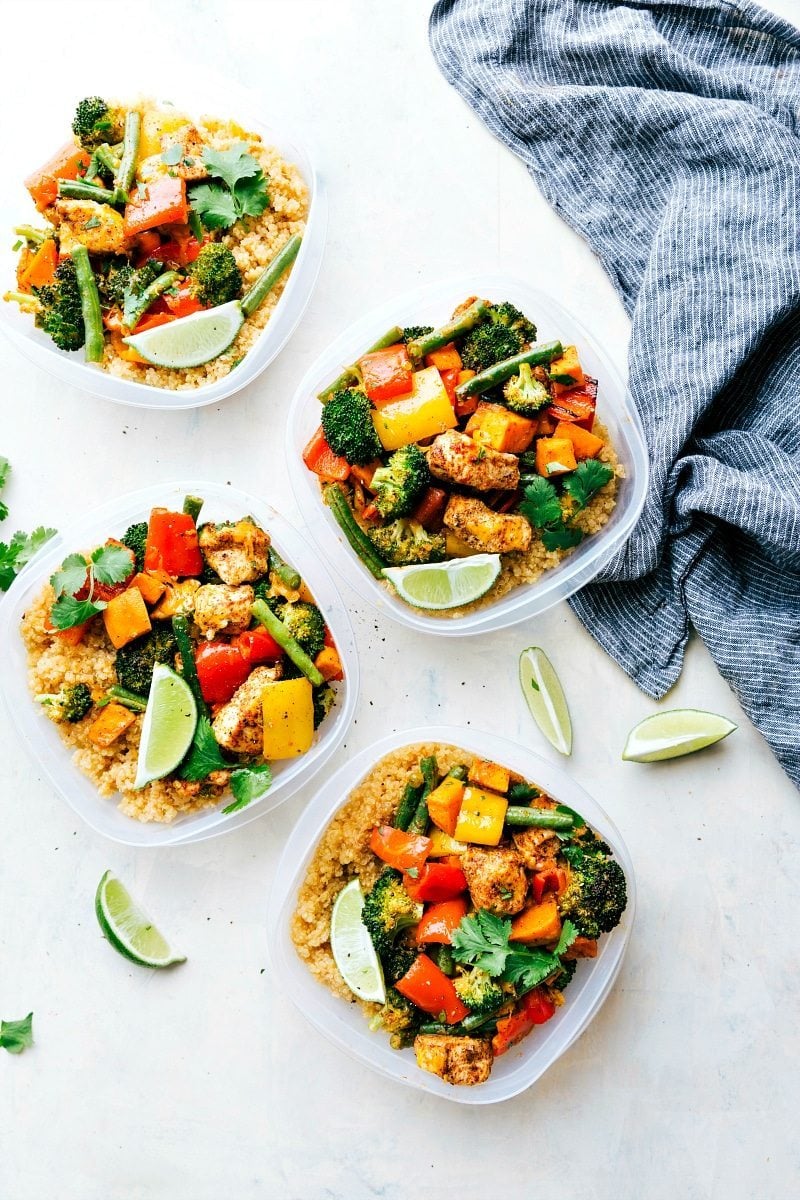 This sheet pan dinner is easy to make and good for you! It's the perfect thing to make if you are looking for meal prep options.
In all the things I've learned (my experience + my undergrad degree), the number 1 tip I'd give for eating healthier? Being prepared. And by being prepared, I mean making healthier snacks ahead of time, meal prepping for the week, getting rid of the junk food in your house, and preparing high protein meals that are packed with veggies.
This meal is a great way to start with meal prepping. It's healthy, but absolutely NOT lacking in flavor. It's got a hint of spice (I'd still say it's pretty mild) and that spice is evened out with the cheese. The cheese in this dish is optional, but if you aren't trying to save calories, I'd definitely recommend adding it! Enjoy!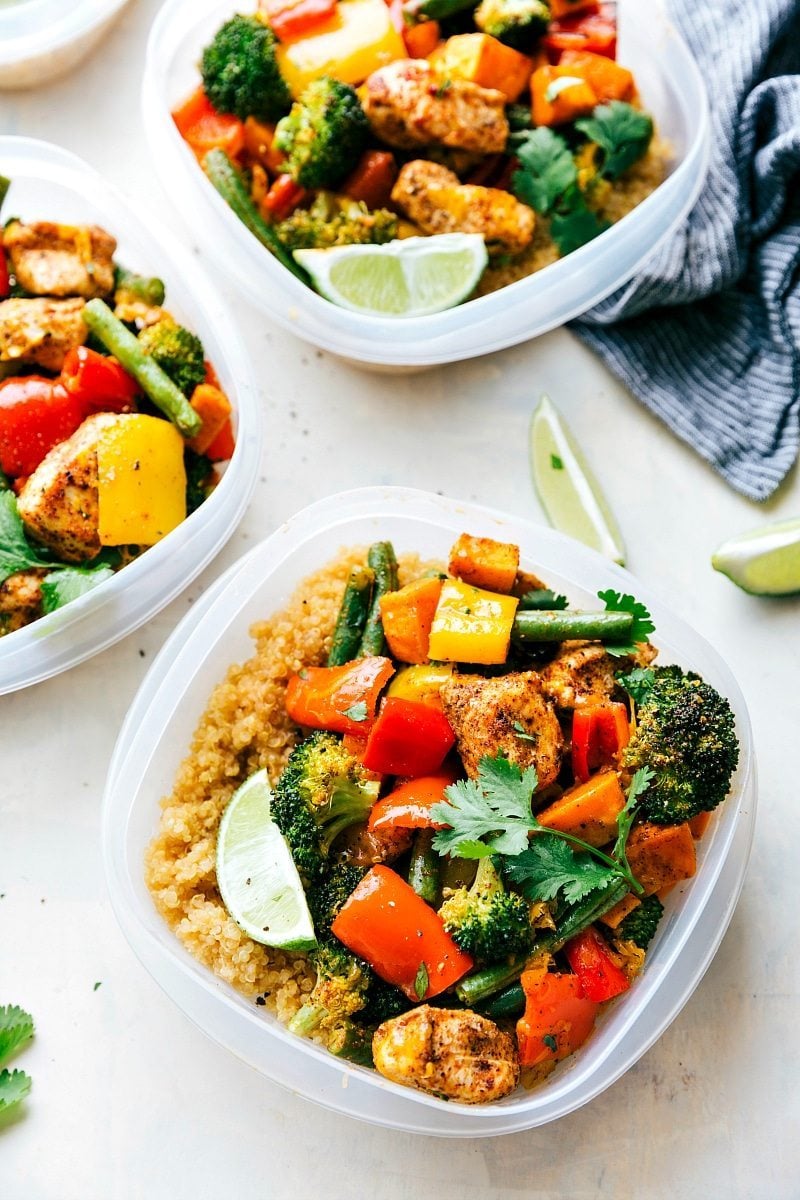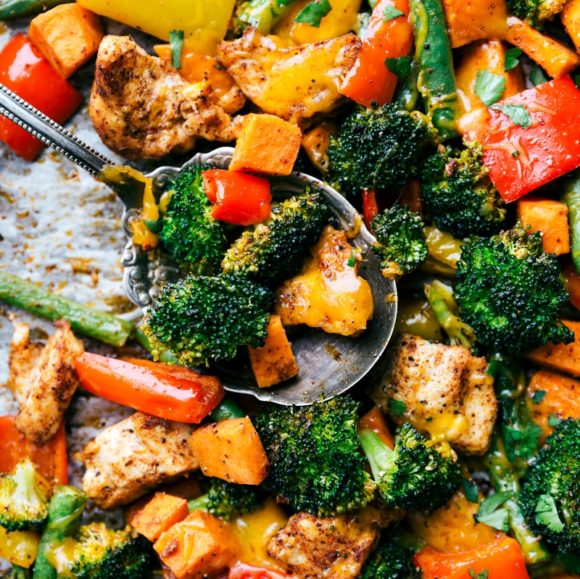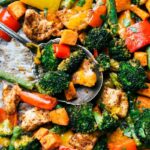 One Pan Healthy Chicken and Veggies
A sheet pan dinner with chicken, tons of veggies, an easy seasoning mix, and cheese! Healthy, hearty, easy to make, and so delicious!
Ingredients
Chicken & Veggies
1 small

(~1 cup)

sweet potato

1

pound

boneless skinless chicken breast

1 and 3/4

cup

assorted sweet bell peppers

(I use about 8-10 miniature bell peppers)

1 and 1/2

cups

green beans

2

heads (~3 and 1/2 cups)

broccoli
Seasoning
5

tablespoons

olive oil

2

teaspoons

chili powder

1

teaspoon

paprika

1

teaspoon

white sugar

1/2

teaspoon EACH

onion powder, garlic powder, ground cumin

1/4

teaspoon

cayenne pepper

1

teaspoon

salt

Optional: 3/4 cup finely shredded cheese (colby jack, Mexican blend, cheddar, pepperjack)

Optional: fresh cilantro, fresh limes

Serve with or meal prep with cooked rice or quinoa
Instructions
Preheat the oven to 425 degrees F and line a very large sheet pan with parchment paper and set aside.

Prep the chicken and veggies: First, pierce the sweet potato with a fork a few times and place in the microwave for 5 minutes, flipping on the other side after 2.5 minutes. Remove and let cool for a minute. Peel off the skins and then chop into very small pieces (important they are small and that you first microwave for these to be cooked in time with everything else!)

Chop the chicken into 1/2 inch pieces. Remove the stems and seeds and coarsely chop the peppers. Cut the beans in half. Coarsely chop the broccoli.

Place all the veggies* and chicken on the sheet pan. In a small bowl, combine the olive oil and all of the seasonings listed and mix.

Pour the seasoning mixture over the veggies and chicken and toss with your hands until everything is well coated. Spread everything into 1 even layer.

Bake for 10 minutes, flip and bake for another 10-20 minutes (all depending on the size you've cut your veggies and chicken and the heat of your oven) (The veggies are crisp tender and chicken is cooked through for me at around 20 total minutes)


Remove from the oven and top with the cheese if desired. Return to the oven for 1-2 minutes or until the cheese is melted.

Remove and enjoy over cooked rice or quinoa and with fresh cilantro and a lime wedge if desired.

MEAL PREPPING: Place an even amount of quinoa (I cook 1 and 1/2 cups dry quinoa) into the bottom of 4 different containers. Divide this baked chicken and veggie dish equally in 4 parts. Top each container with fresh cilantro and a lime wedge. Cover and place in the fridge. Enjoy within 4 days.
Recipe Notes
*If you want really well roasted/more tender veggies, bake them by themselves for 10 minutes before adding in the chicken. We like the veggies to be crisp tender (especially when using this dish as a meal prep) so I toss them with the chicken at the start.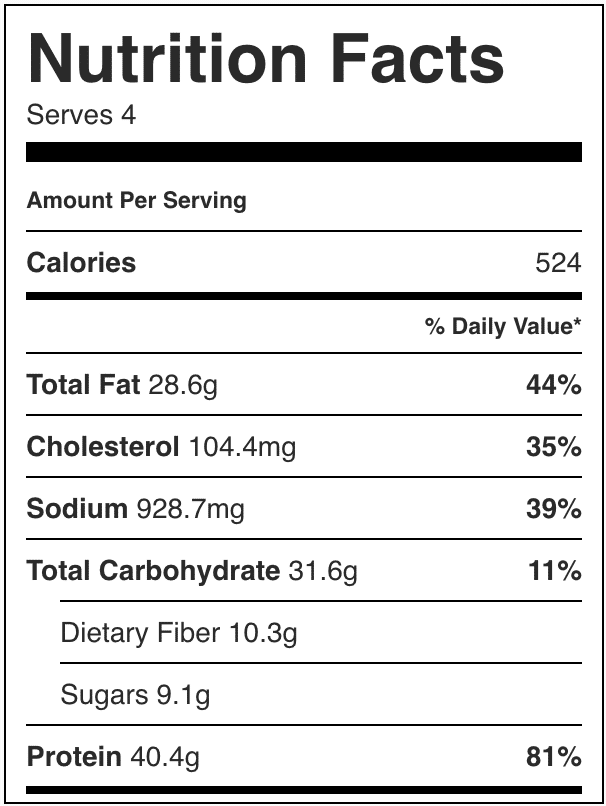 More One Pan Dinners: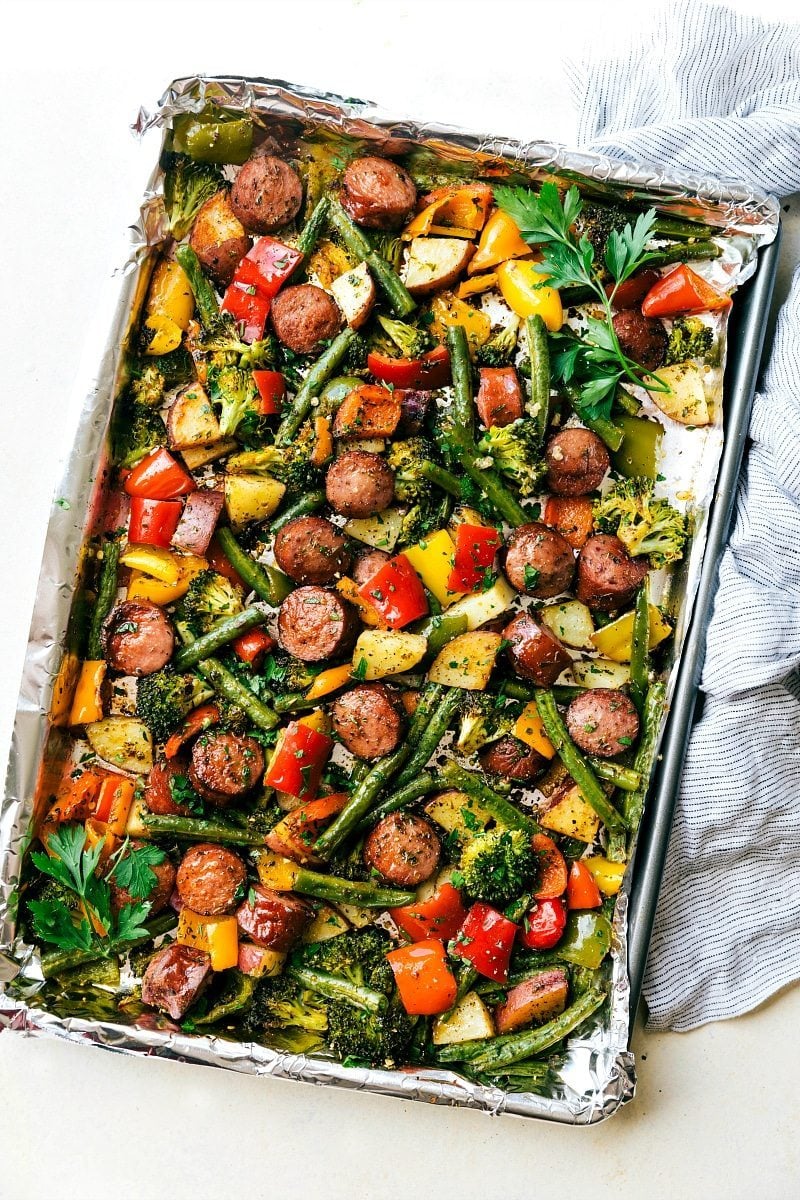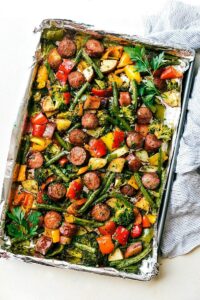 One Pan Healthy Sausage and Veggies (Another great MEAL PREP option)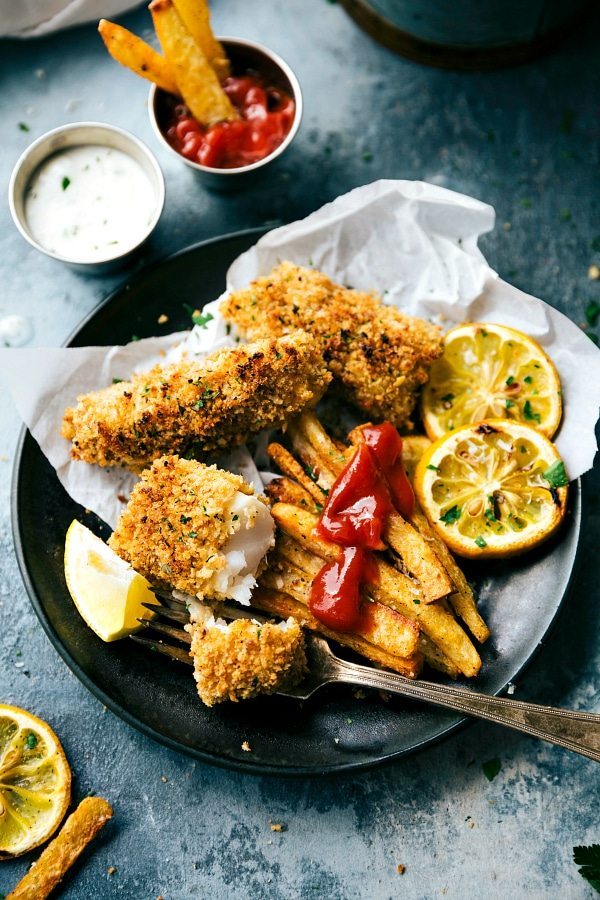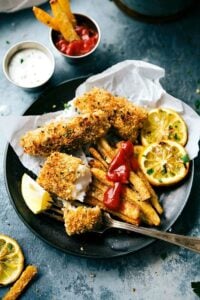 One Pan Healthier (Baked) Fish and Chips