Homemade "cup of noodles" made three ways: Asian-inspired Vegetarian Noodles, Chicken and Veggie ramen, and Cajun Sausage Noodles.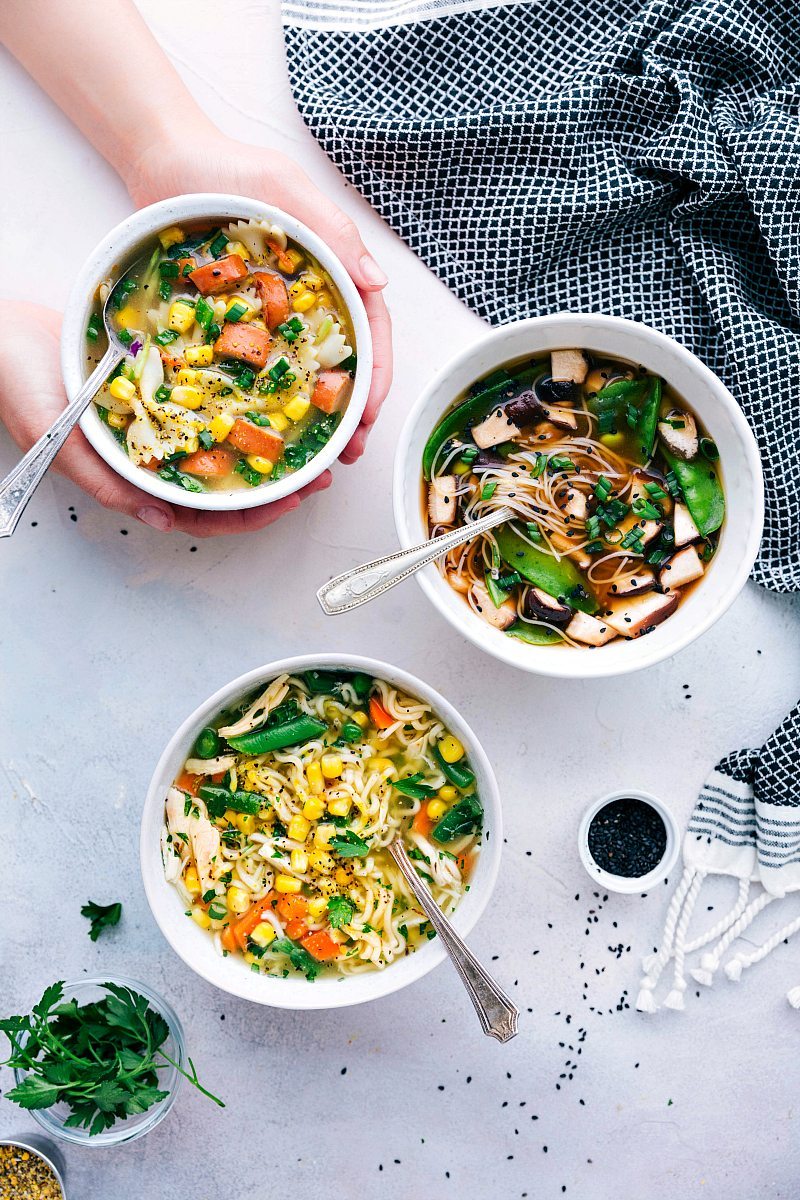 I'm so excited to be partnering up with Kroger this year to bring you delicious recipes and great content! This post is brought to you in partnership with Kroger, as always, all opinions are my own.
I've mentioned a few times before that meal prepping is one of my top solutions for eating healthier. It's also a huge healthy time saver to have meals ready to go for your week. You're less likely to go out to eat (which usually results in spending more money and eating less healthy). Also, if you've meal prepped all the ingredients you bought, you're less likely to waste food!
So today I'm re-working a childhood favorite to make healthier time-saving meals: cup of noodles — three ways! I've been experimenting with these "cup of noodle" meals for the past few weeks and my family loves having them ready-made in the fridge. I typically make just one flavor a week and prep a whole bunch at one time. Once you have the ingredients together, these noodle cups take minutes to assemble. I was able to grab everything for these noodle cups at my local Kroger store (Smith's here in Utah) and make a quick assembly line to fill up the jars. Luckily the boys love helping assemble these just as much as they love eating them! The boys favorite is the chicken veggie noodle, and my favorite is the vegetarian edamame and mushroom.
Below are three individualized recipes for each of the "cup of noodles" versions. Each recipe indicates what is needed for just ONE pint-sized jar since I found it easiest to measure ingredients for one jar at a time. These jars are best eaten within 4-6 days of being prepared. When you're ready to eat the cup of noodles, you'll add 1 and 1/4 cup boiling water. While you can fit the water in the jar and stir everything together, it is a bit tricky to do that without spilling. I recommend dumping out the contents of the jar into a bowl and then adding the boiling water. Stir it all together and enjoy!

First up, Vegetarian Edamame & Mushroom
For these vegetarian cups of noodles you'll need:
Vegetarian Bouillon
Miso Paste (I use red)
Freshly grated ginger and minced garlic
Private Selection Frozen Edamame
Shiitake Mushrooms
Snow Peas
Rice Noodles
Fresh green onions
Optional: black sesame seeds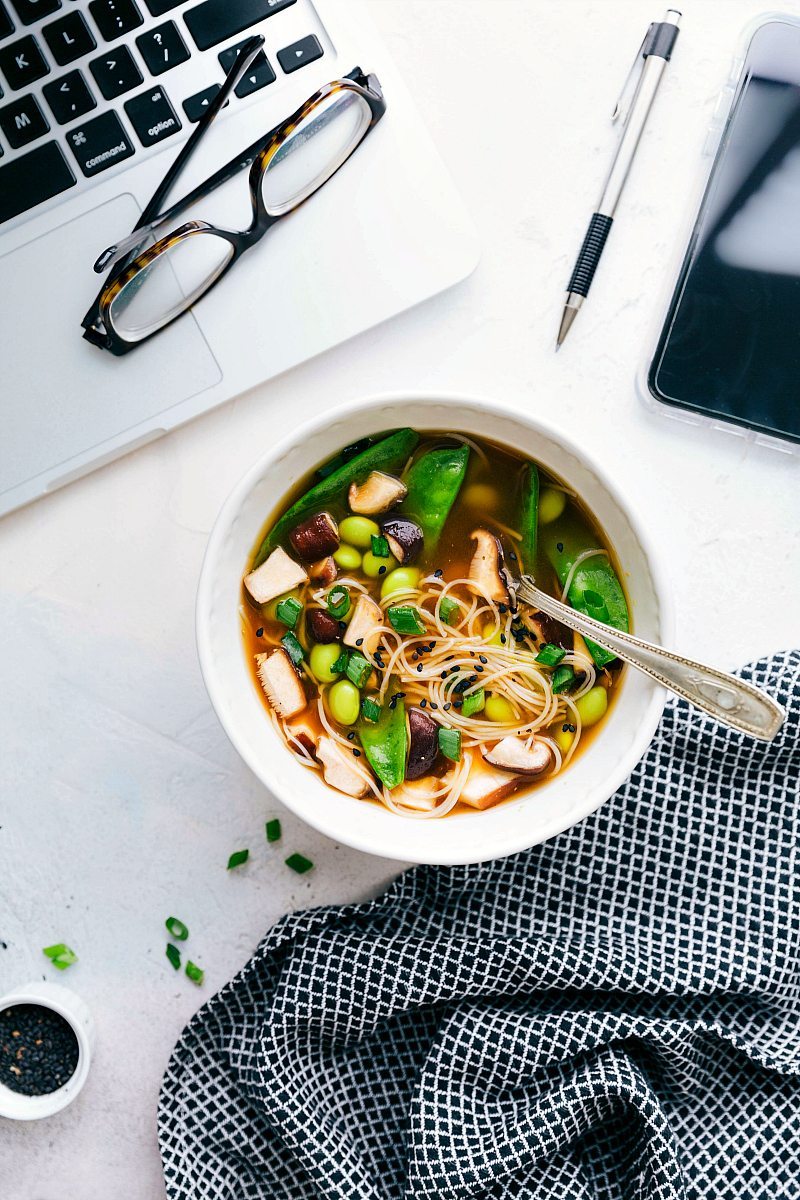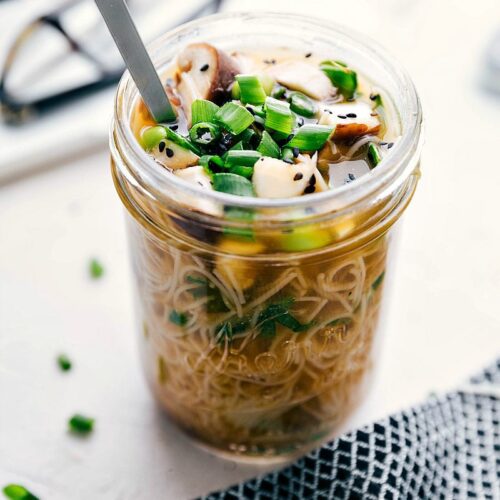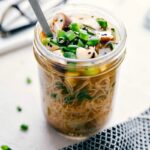 Vegetarian Edamame & Mushroom
Ingredients
1

teaspoon

vegetable base bouillon (better than bouillon)

2

teaspoons

miso paste (I use red miso paste)

1/4-1/2

teaspoon

ginger (depending on personal preference)

1/2

teaspoon

minced garlic

1

teaspoon

soy sauce

1

cup

Frozen Private Selection Edamame

3

tablespoons

shiitake mushrooms,

coarsely chopped

2

tablespoons

Snow peas

1.5

ounces

Thin Rice Noodles (I cook 1 section of an 8.8 ounce box and separate it in 3 parts)

1

teaspoon

rice vinegar

1

pint-sized jar
Instructions
All the ingredients are the exact ingredients for ONE cup of noodles. If you want to make multiple just measure the same amounts of each ingredient into each jar.

Cook 1 section of the rice noodles according to package directions. Toss cooked noodles with rice vinegar and separate into 3 parts. 1 part goes into this jar.

Layer the jar in this order: vegetable base bouillon, miso paste, grated ginger minced garlic, soy sauce, edamame, coarsely chopped shiitake mushrooms, snow peas, and rice noodles.

When ready to enjoy: add 1 and 1/4 cups boiled water. Let sit for 1-2 minutes and then stir well and enjoy. (I find it much easier to pour into a bowl to stir and eat :))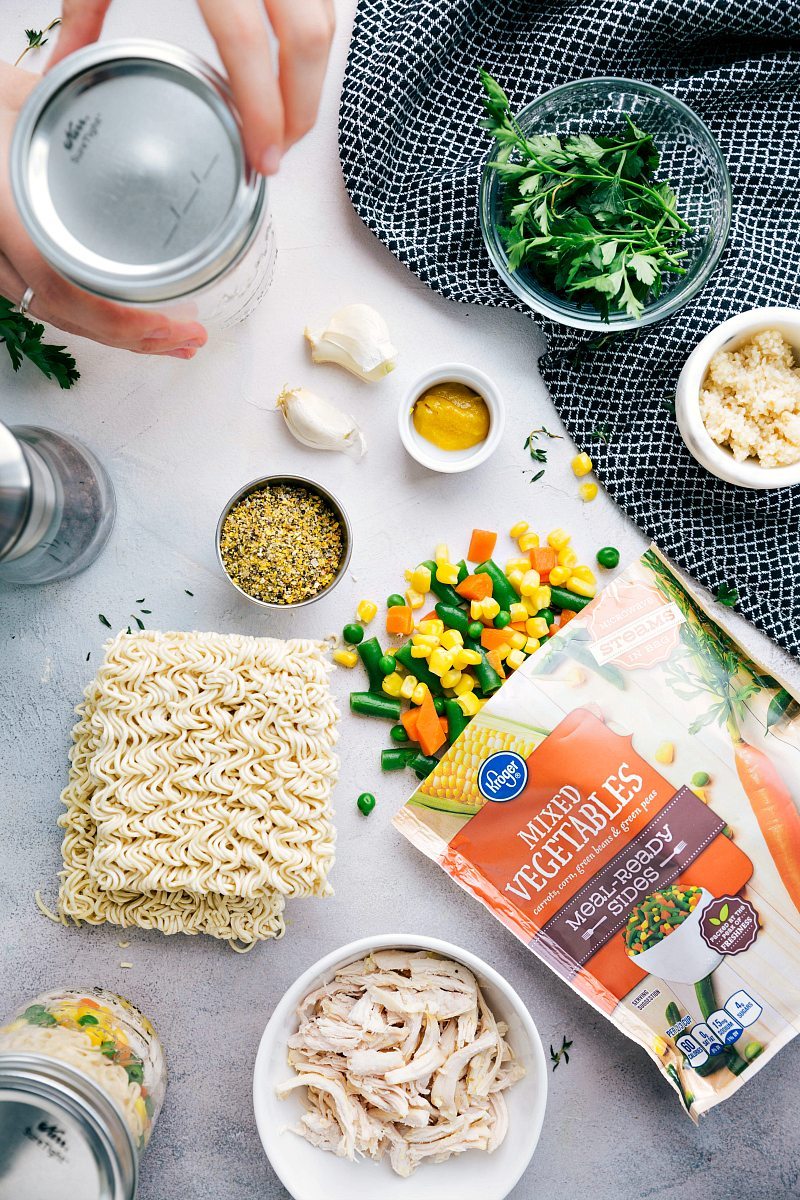 Next up, Chicken & Veggie Noodle Soup
For these chicken and veggie cups of noodles you'll need:
Chicken Bouillon
Kroger Lemon Pepper Seasoning Blend
Minced garlic
Dried thyme
Prepared rotisserie chicken
Kroger Frozen Vegetable Blend
Ramen noodles
Lots of fresh herbs such as parsley and green onions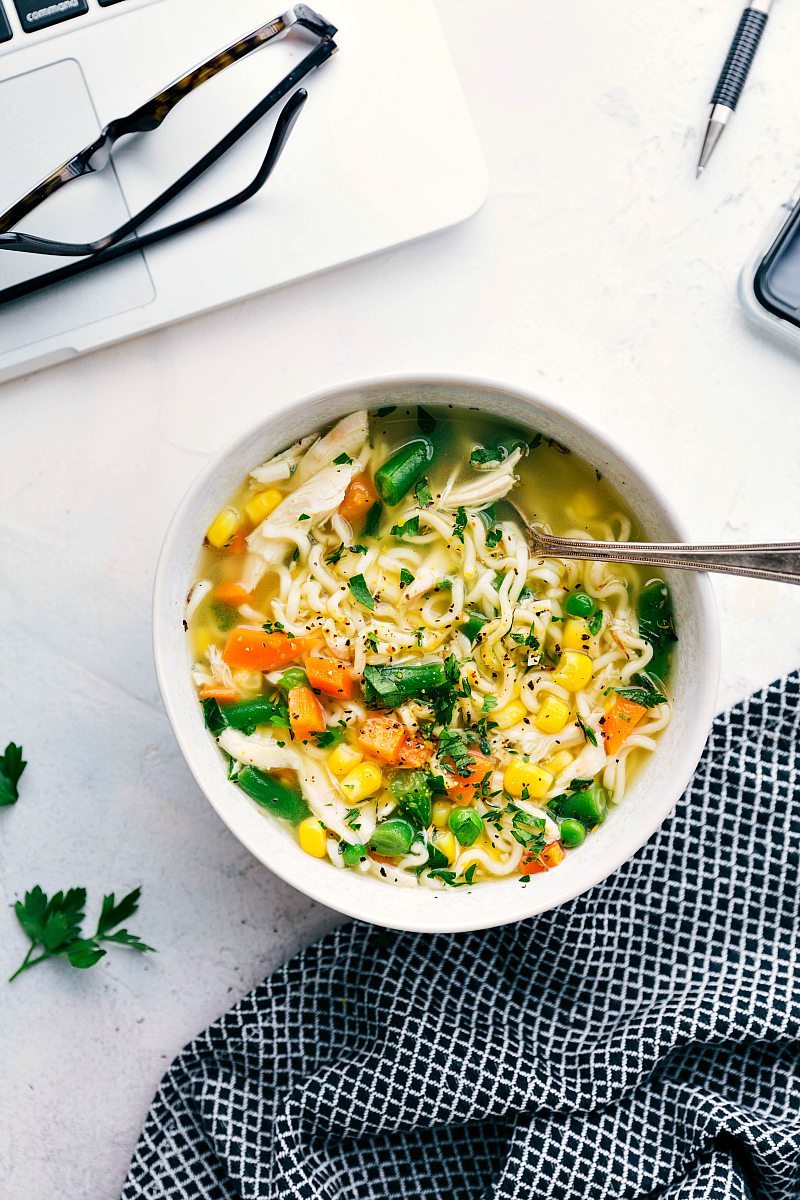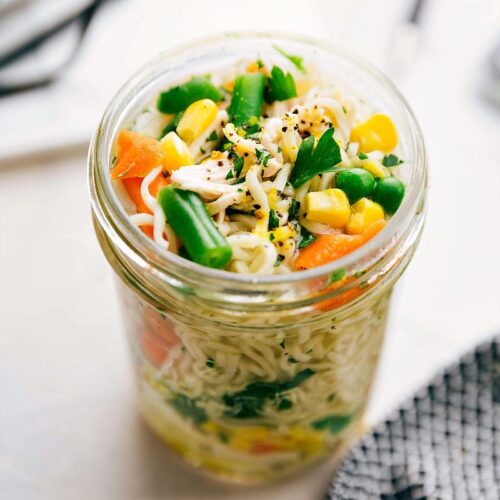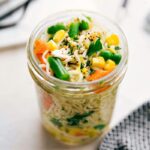 Chicken & Veggie Noodle Soup
Servings
:
1
pint-sized jar
Ingredients
1

teaspoon

chicken base bouillon (better than bouillon)

1/2

teaspoon

minced garlic

1/4

teaspoon

dried thyme

1/2

teaspoon

lemon pepper seasoning blend

1/3

cup

prepared rotisserie chicken,

shredded

1/2

cup

Kroger Frozen Mixed Vegetables

2

ounces

cooked ramen (remove seasoning packets)

1/4

cup

chopped parsley/green onions
Instructions
All the ingredients are the exact ingredients for ONE cup of noodles. If you want to make multiple just measure the same amounts of each ingredient into each jar.

Cook the ramen noodles according to package directions (without seasoning packet). Drain, rinse in cold water, and separate into 3 parts. You'll use 1 part for 1 jar.

Layer the jar in this order: chicken base bouillon, minced garlic, dried thyme, lemon pepper seasoning blend, shredded rotisserie chicken, frozen mixed vegetables, and cooked ramen. Add the fresh herbs to the top (OR to a separate small bag on top that you can remove and add after the boiling water has been added).

When ready to enjoy: add 1 and 1/4 cups boiled water. Let sit for 1-2 minutes and then stir well and enjoy. (I find it much easier to pour into a bowl to stir and eat :))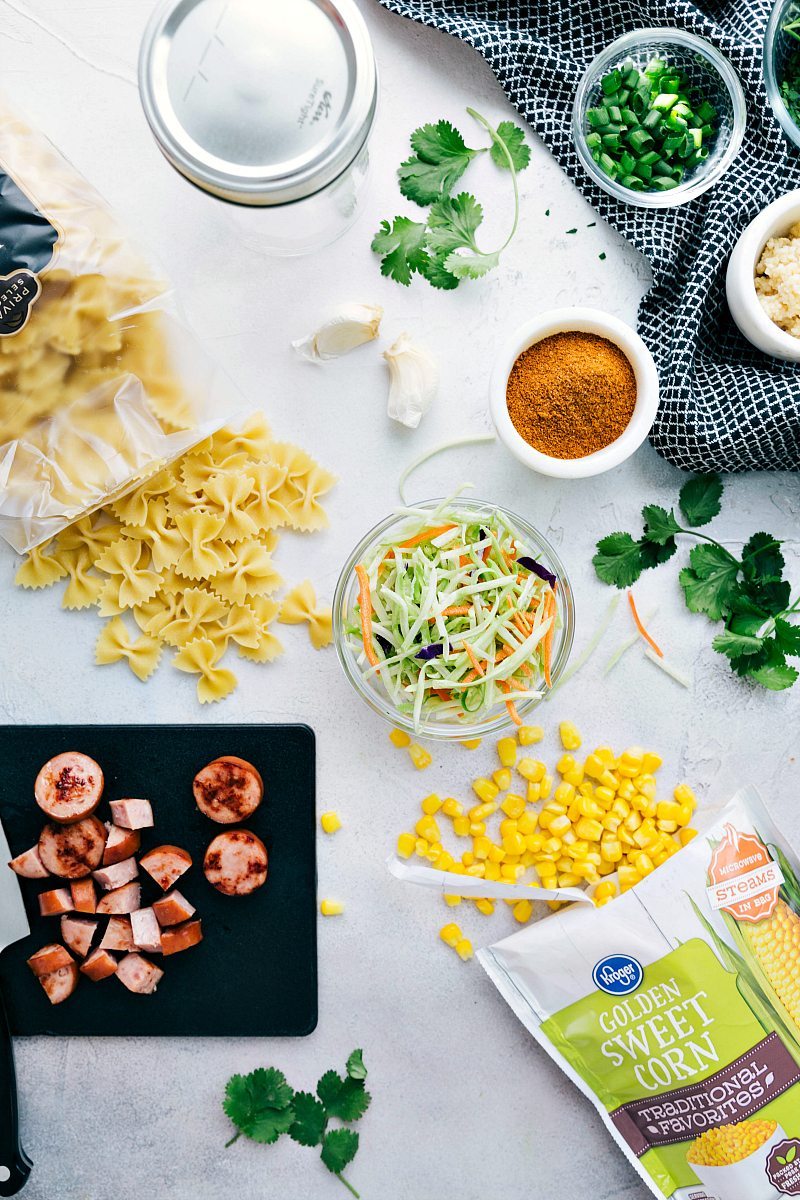 Finally, Cajun Sausage & Noodle Soup
For these chicken and veggie cups of noodles you'll need:
Chicken Bouillon
Cajun seasoning
Minced Garlic
Smoked Sausage (we use hardwood smoked turkey sausage to keep these on the healthier side)
Kroger Frozen Golden Sweet Corn
Broccoli Slaw
Private Selection Noodles (I use Farfalle)
Fresh green onions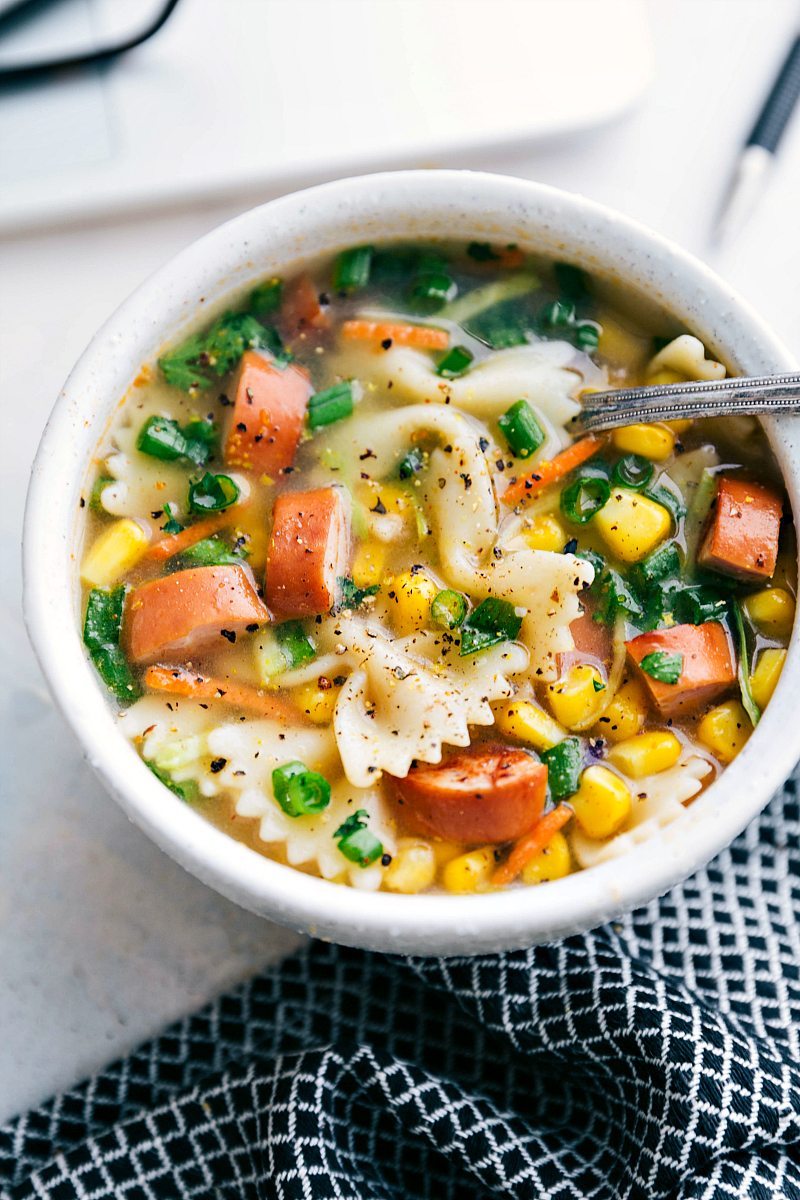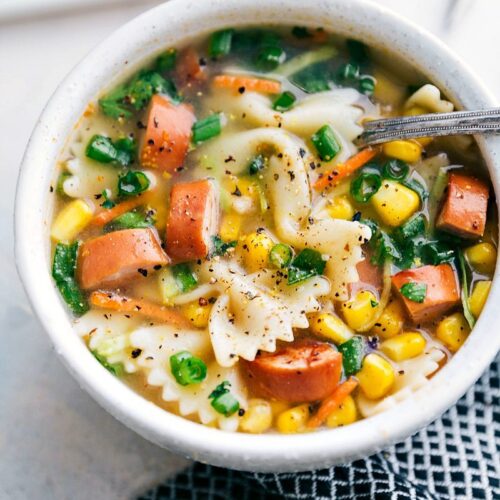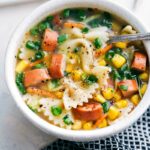 Cajun Sausage & Noodle Soup
Servings
:
1
pint-sized jar
Ingredients
1

teaspoon

chicken base bouillon (better than bouillon)

1/4

teaspoon

cajun seasoning

1/8

teaspoon

freshly cracked pepper

1/2

teaspoon

minced garlic

1/2

cup

smoked sausage,

chopped

1/4

cup + 2 tablespoons

Kroger Frozen Golden Sweet Corn

2

tablespoons

broccoli slaw

1/2

cup

Private Selection Noodles (I used Farfalle)

2

tablespoons

fresh green onions
Instructions
All the ingredients are the exact ingredients for ONE cup of noodles. If you want to make multiple just measure the same amounts of each ingredient into each jar.

Cook the noodles according to package directions. You'll only need 1/2 cup cooked noodles per jar so cook according to how many you need/want. Drain, rinse in cold water, and set aside. Brown the smoked sausage in a skillet over medium high heat until lightly browned. Allow to cool and then coarsely chop.

Layer the jar in this order: chicken base bouillon, cajun seasoning, pepper, minced garlic, chopped sausage, frozen corn, broccoli slaw, and 1/2 cup cooked noodles. Add the green onions on top or in a separate plastic bag on top to add after the boiling water.

When ready to enjoy: add 1 and 1/4 cups boiled water. Let sit for 1-2 minutes and then stir well and enjoy. (I find it much easier to pour into a bowl to stir and eat :))