Creamy salsa verde chicken with rice and veggies all cooked at once in a foil packet! No need to pre-cook the rice or chicken. This dish takes no more than 10 minutes to assemble and is bursting with delicious Mexican flavor.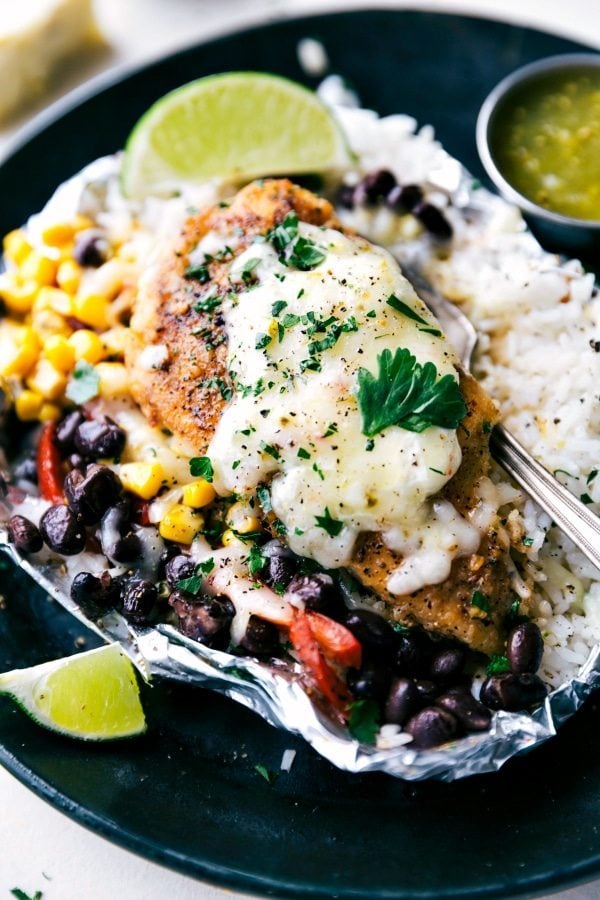 How crazy fun is this dinner?! Chicken, rice, veggies all done in one delicious foil packet. BAM. Dinner's ready and you spent like a minute preparing it?
Majorly crushing on tin foil dinners these days. And I hope you love them too because I already have two other tin foil dinners all ready to post! We may or may not have had tin foil dinners for lunch and dinner every single day this week and last. Although, in all honesty, not every meal has been served in foil…I've gotten a little creative in re-purposing the dishes into something else. Like making the fillings of these packets into TACOS. Talk about so delicious and SO easy. (More details on that in the next section of text).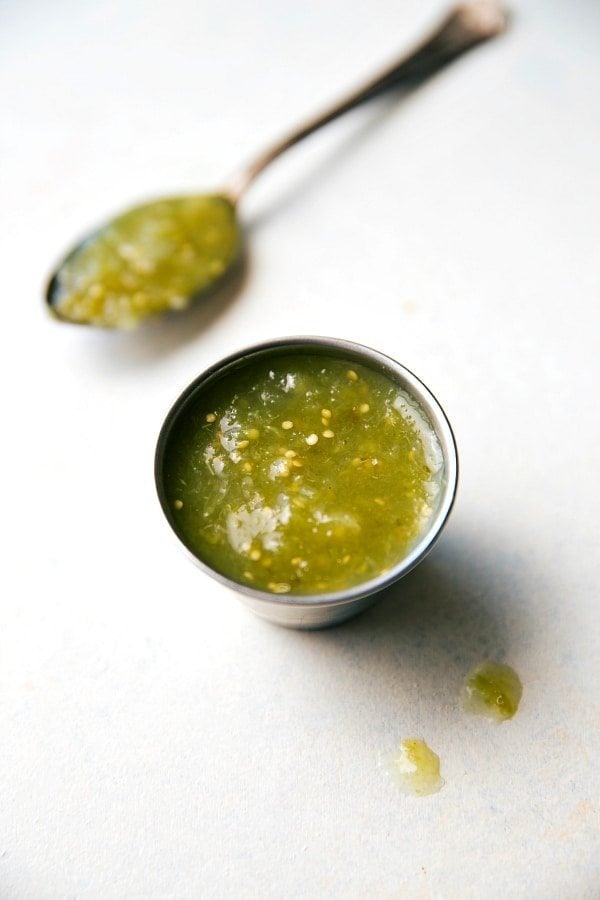 I've wanted to test all different sizes of chicken and to make sure these cook well in the oven. I've tried 4, 5, 6, and 7 ounce pieces of chicken (I highly recommend getting a food scale if you don't already have one! It's a lifesaver for baking AND cooking.) The best size for these packets is a 7-ounce piece. 6 ounces work too but is done in 5-10 minutes less time. For the 4 and 5 ounce pieces I found the chicken to be a little dry by the time the rice is all done. All the testing aside, it's impossible for me to give an exact cooking time as the size of your chicken (if you don't have a scale) and the heat of your oven will vary so much from person to person and even from my oven. My best recommendation is to make sure that your chicken is pounded to 1/2 inch thick and exactly 7 ounces. But be prepared to be flexible on timing as it could be anywhere from 30-50 minutes depending on the heat of your oven and size of your chicken. In my oven with a 7 ounce chicken it was completely cooked through at about 37 minutes. To be safe, check your chicken with a thermometer at about 35 minutes (it is done when it registers 165 degrees F) And if you have a smaller piece, start checking at 25 minutes.
I know it's hard to tell from pictures, but to give you a general idea I weighed the chicken breast in the below GIF and it was exactly 7 ounces and pounded to 1/2 inch thickness.
Also since we've made these so many times, I've gotten a little creative and made tacos out of them. I've just taken out all the fillings (rice, black beans, corn), tossed it all together and put that filling on a taco shell. Then slice or shred the chicken, put on top, add plenty of shredded pepper-jack cheese and enjoy with some sour cream. It seriously makes for delicious and super quick tacos!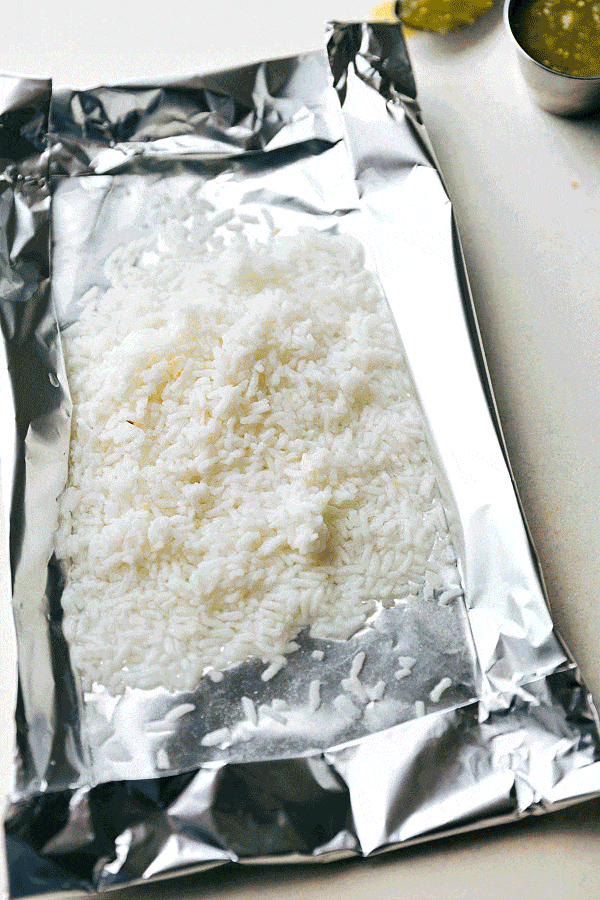 Since we've been making foil dinners like crazy here are a few tips I've learned along the experimental journey:
✔ NUMBER 1 TIP: Make sure the chicken pieces are trimmed and pounded to even thickness. 1/2 inch and 7 ounces is the best for these.
✔ Make sure the foil is completely 100% sealed off. This will not only keep juices from seeping out (juices that you need for things to cook evenly) and making a mess all over your pan, but it also keeps the chicken ultra moist. Without a tight seal your chicken will likely taste dry. Seal these tightly!
✔ When baking, place an extra piece of foil over a pan and put these on top of that pan. The pan just ensures that you won't get any mess in your oven *just in case* something does seep out. The foil on top of that pan? It is just to ensure there is no extra mess on your pan. We don't want to do dishes with foil dinners am I right?!
✔ Before putting ANYTHING in the foil, grease the foil super, super well with nonstick spray. You do not want the rice to stick to the bottom!
✔ After pulling these out of the oven make sure to give all the ingredients a good mix to get those delicious juices that have seeped below. You'll also notice the cream cheese hasn't quite melted so just spread that around with your fork and it will meld nicely with the chicken.
✔ Use heavy duty foil.
✔ Adjust your oven rack to the middle of your oven.
✔ TOPPINGS: these are key! This meal is pretty good as is, but it is spectacular with the "toppings." The most important topping that is totally not optional is the cheese! Tons of melty pepper-jack cheese over this dish is insanely delicious. The other toppings are optional and since this is supposed to be an easy foil dinner, don't worry too much about them. That said, they do give the dish some extra "wow factor" and don't take too long. Our favorite additions: cilantro, fresh lime, sliced avocado, and sour cream. YUM. Also some extra salsa verde if you are really feeling that!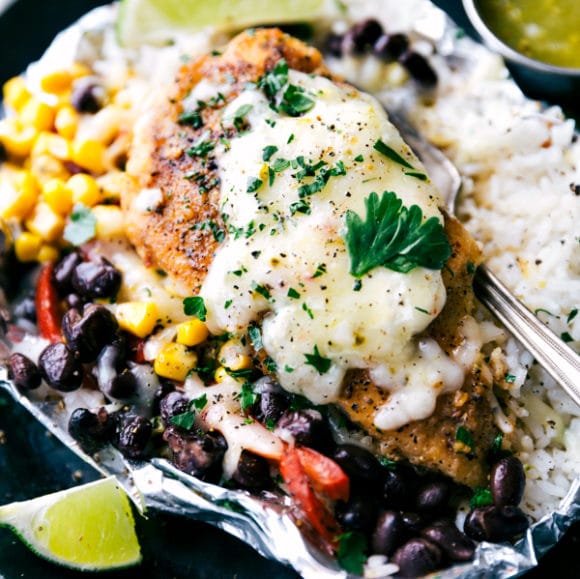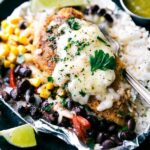 Foil Pack: Salsa Verde Chicken & Rice
Servings
:
2
large foil packs; this recipe easily doubles or triples
Ingredients
1

cup

Instant white rice

1 and 1/2

cups

water

2

(7 ounces each)

large boneless skinless chicken breasts

1/2

teaspoon

each: cumin, garlic powder, salt and pepper

1

teaspoon

chili powder

1/8

teaspoon

paprika

optional

1

ounce

full fat cream cheese

6

tablespoons

salsa verde

1/2

cup

roasted corn

1/2

cup

black beans

1/2

cup

pepperjack cheese

Optional: roasted green chiles

lime, cilantro, sour cream, red bell pepper
Instructions
Preheat the oven to 400 degrees F.

Generously grease with cooking spray 2 large sheets of heavy duty tin foil.

Weigh your chicken to get (2) 7-ounce pieces. Pound or slice the pieces to 1/2 inch thickness.

Toss together the instant rice and water and let stand for 5 minutes.

In a bowl, toss together all of the seasonings: cumin, garlic powder, salt, pepper, chili powder, and paprika. Dredge each chicken breast evenly in the seasonings (both sides).

Divide the rice and water mixture evenly among the 2 foil packets.

Place the seasoned chicken on top.

Slice the cream cheese into 4 equal pieces and place 2 pieces on top of each chicken breast.

Pour 3 tablespoons of salsa verde on top of each chicken breast.

Put 1/4 cup corn and 1/4 cup black beans next to each chicken breast. If desired add a few pieces of thinly sliced red pepper to each packet.

Seal the packet allowing for expansion and make sure it is 100% sealed.

Bake for 30-50 minutes** or until the chicken is completely cooked through (registers 165 degrees F)

Mix everything around in your foil pack and top each with pepperjack cheese.

Add other optional toppings as desired.

TO GRILL: Preheat the grill to medium-high heat and allow to heat for 10-15 minutes. Place completely sealed foil packets on grill for 25-35 minutes (or until chicken registers 165 degrees F) flipping once in between at about 10-15 minutes
Recipe Notes
**The size of your chicken and the heat of your oven makes it impossible for me to give you an exact time it should be done in. Be prepared to be flexible on timing as it could be anywhere from 30-50 minutes depending on the heat of your oven and size of your chicken. My best recommendation is to make sure that your chicken is pounded to 1/2 inch thick and exactly 7 ounces. In my oven with a 7 ounce chicken breast it was completely cooked through at 37 minutes
More foil pack recipes:
Foil Pack Garlic Parmesan Lemon Salmon