Delicious and tender slow-cooked sweet pulled pork with a quick and easy blender tomatillo cream sauce. This copycat Cafe Rio Sweet Pork Recipe is a total crowd pleaser!

This is a dinner that I have been making and slightly tweaking for over four years now! It is finally what I'd call the best sweet pulled pork made in the easiest way possible!
It's actually inspired by a local restaurant (Cafe Rio) that is crazy popular around here. When the husband and I were dating, Cafe Rio was our first pick for a lunch or dinner date and we were totally obsessed. However, it does cost around $20 for two meals and as super young married students it wasn't something we could afford all too often.
So that's when I began searching on the internets for a recipe similar to the sweet pork we both were crazy about. I stumbled across this recipe from Favorite Family Recipes which we made several times and loved!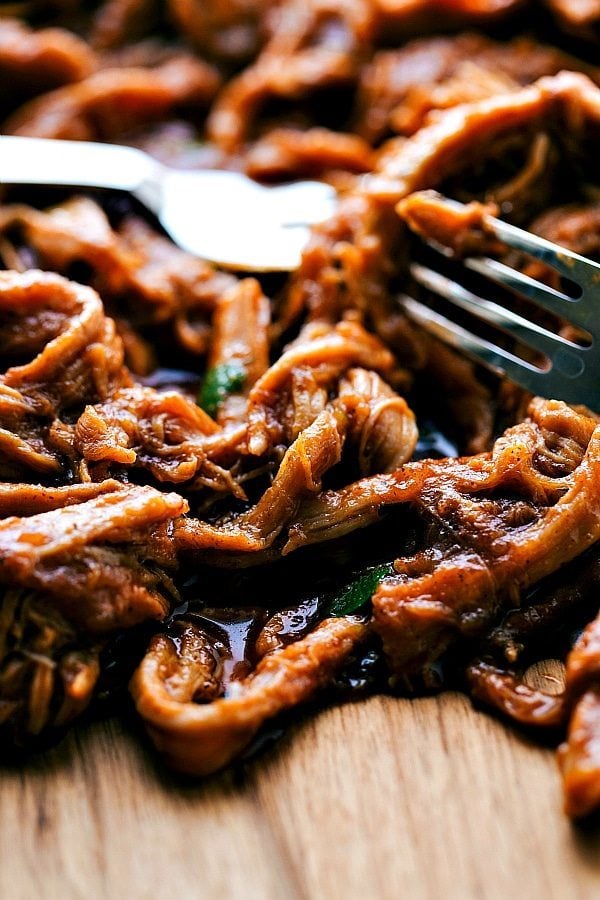 After that, the tweaking slowly began. I started adding a few more spices which absolutely enhance the overall flavor. A little bit of chili powder, cumin, paprika, and sometimes a even a little cayenne can go a long way. You don't want too much of these spices because the main flavor is the SWEETNESS. Which is where the brown sugar comes in and makes the meat super sweet. I generally start with a minimum of spices and then always add a bit more to taste at the end. It's all to personal preference and also depending on just how many pounds your pork is to begin with.
So keep that in mind — you'll want to taste the pork at the end and then perhaps add a little bit more of the spices or even some more brown sugar.
The other big change I made was switching from Coke to Dr. Pepper. The original recipe I started with uses Coke which is also delicious. I, however, do prefer Dr. Pepper and one day decided to try that in its place and the difference was really incredible. The Dr. Pepper is more flavorful and adds a delicious and slightly different sweetness than the pork. You'll use a lot to marinate the meat, cook the meat in, and then in the final sauce. So you can see, Dr. Pepper is really a big part of this pork!
Finally, the "end" sauce. I generally use a mild enchilada sauce to allow the main flavor to be ultra sweet instead of spicy. An authentic Mexican brand (or homemade so you control the amount of spice) is recommended. Same with the green enchilada sauce — try to get an authentic Mexican brand that is very mild. The green balances the red and the two combined create a sensational flavor.
And if you decide to make the tomatillo sauce (which I HIGHLY recommend you make with this pork!), it's also something that requires a little bit of tweaking. Every time I make it, which has been dozens of times, it always needs a little bit of tweaking at the end just to taste. This is because the amount of cilantro, the size of the jalapeno, the size of the lime, or the ripeness of the tomatillo differ from time to time and are pretty impossible to get exact measurements. Make it according to the recipe and then taste. Add a bit more of the spices, some extra salt and pepper, a pinch of sugar if needed, and then taste again.
SO, the biggest thing I've learned from making this over and over again is the need to tweak a bit at the end so make sure to taste it a few times! ??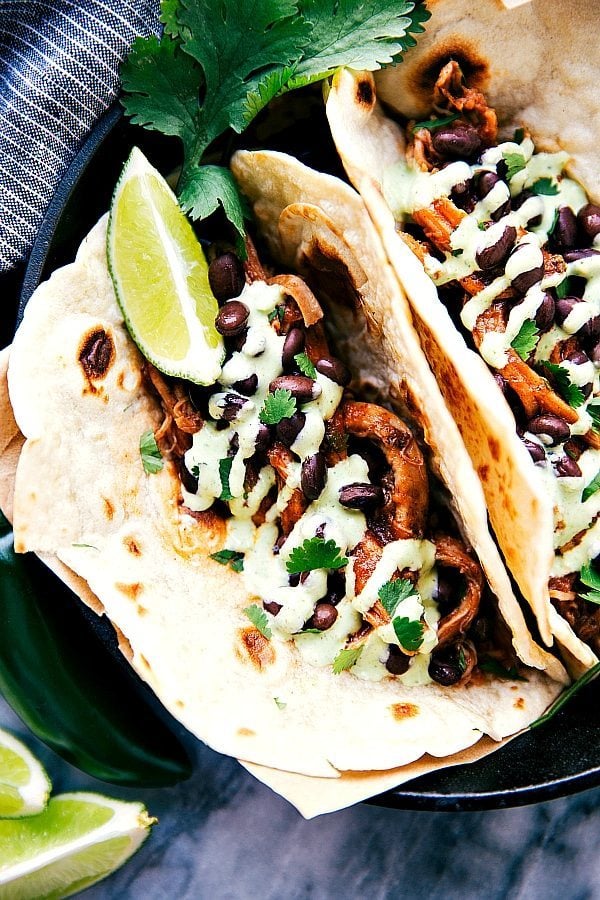 NEXT…what should you serve this delicious pork with? Personally we LOVE it on fresh-made tortillas. (And no, I'm not THAT legit (okay, I'm just too lazy) to make homemade tortillas every time we eat this meal, but we do buy raw tortillas (we are OBSESSED with Tortilla Land) in the refrigerated part of the grocery store) Those store-bought, kind of freshly-made tortillas are the best thing to happen to tacos ever. All you do is heat them over a skillet to cook them and they are ready to go. The flavor, taste, and texture is unreal!
Layer the sweet pork on the tortilla and then top it with a tomatillo cream sauce (RECIPE below the pork) and it is absolutely the best. The cream sauce is so easy to make and the perfect complement of the sweet pork. DO IT! ✔
We also love layering on cilantro-lime quinoa (or rice), and some black beans. A fresh squeeze of lime, some sour cream, and some fresh cilantro and you are going to go nuts over these tacos!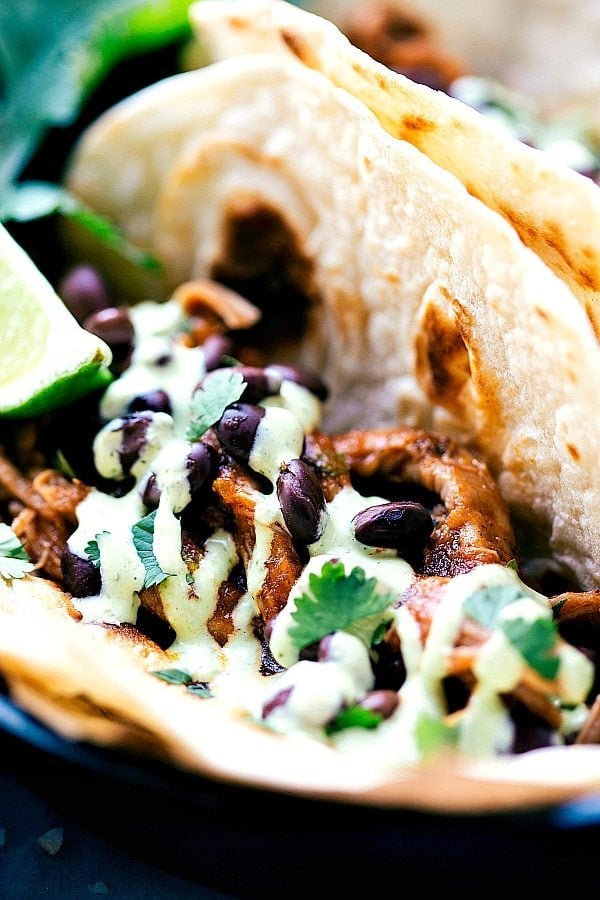 If you prep the meat the night before, it's as easy as dumping it and forgetting about it until night when you quickly whip up the final sauces — such an easy meal!
More delicious crockpot meals: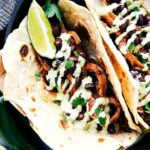 Cafe Rio Sweet Pork Recipe
Delicious and tender slow-cooked sweet pulled pork with a quick and easy blender tomatillo cream sauce. This copycat Cafe Rio Sweet Pork Recipe is a total crowd pleaser!
Keyword:
Cafe Rio Sweet Pork Recipe
Ingredients
2.5-3

pounds

pork tenderloin

1 and 1/3

cup

brown sugar

separated

1/2

tablespoon

seasoned salt and pepper

6 and 2/3

cups

Dr. Pepper

separated (grab a 2 liter)

1

large yellow onion

1

tablespoon + 1 teaspoon

minced garlic

separated

1 can

(10 ounces)

red enchilada sauce

1 can

(10 ounces)

green enchilada sauce

1/2

teaspoon

chili powder*

1

teaspoon

cumin

1/4

teaspoon

paprika

1 can

(4 ounces)

fire-roasted diced green chiles

I use mild

Optional: 1/4 teaspoon cayenne powder, fresh cilantro, fresh lime
Instructions
Marinade
Rub 1/3 cup brown sugar (74g) into the tenderloin. Rub seasoned salt (or regular salt, seasoned is BEST!) and pepper onto the tenderloin as well.

Place the tenderloin in a large plastic bag. Pour 1 and 1/2 cups Dr. Pepper (326g) over the meat. Seal with no air and place in the fridge overnight or at least 1-2 hours.

Remove the meat and place into the crockpot. Discard the marinade.
Crockpot
Peel and then cube an onion. Place in crockpot along with 1 tablespoon minced garlic.

Pour 4-5 (6 cups--948g) cups Dr. Pepper on top of the meat and onion/garlic. The meat should be completely covered with Dr. Pepper.

Set to low for 5-8 hours or until meat shreds easily (should be ultra tender and just fall apart.) I like to occasionally check the meat and make sure it is constantly covered in liquid. Add an extra 1/2-1 cup extra Dr. Pepper or water if needed.

When pork easily shreds, remove to a cutting board and allow to rest for 10 minutes. Drain the crockpot. Shred the pork and return to the crockpot.
Sauce
In a large blender or food processor, combine remaining 2/3rds cup Dr. Pepper (135g), remaining 1 cup brown sugar (packed) (230g), remaining 1 teaspoon minced garlic, red enchilada sauce, green enchilada sauce, chili powder, cumin, paprika, and fire-roasted canned green chiles. Add about 1/4 teaspoon seasoned salt and a little pepper.

Pour over the shredded pork and stir to combine. Add more Dr. Pepper if needed.

Cover and cook on low for another 30 minutes to 1 hour.

Remove the lid and give it a sample! Here's where I'll sometimes increase the seasonings if needed (little more chili powder or cumin, a few more tablespoons of brown sugar, and a little cayenne powder if a little kick is desired.)

Top with some fresh cilantro and fresh lime juice if desired. Serve with the BEST tomatillo sauce (recipe right below this one)
Recipe Notes
* We LOVE chipotle chili powder in this. Plain works great too!
To serve the pulled pork in tacos with a delicious tomatillo-cilantro cream sauce: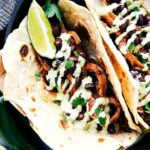 Tomatillo Sauce
Ingredients
1

lime

juiced and zested

2

tablespoons

prepared ranch seasoning mix

dry

1/2 - 1 full

teaspoon

minced garlic

1

tomatillo

husk removed

1/3

of a large bunch of cilantro

1/2

a jalapeno

(seeds removed for mild and left for spicy dressing)

1/2

cup

mayo

1/2

cup

sour cream

I use fat-free
Instructions
Zest and juice 1 lime. Add the juice and zest to the blender along with the prepared ranch seasoning mix, minced garlic, chopped tomatillo, and cilantro (Just cut off the large stems, but the rest is fine).

Add 1/2 a jalapeno (a full one for more kick) and the mayo.

Add some seasoned salt and pepper to taste (I use probably 1/4 to 1/2 teaspoon of salt and 1/8 teaspoon pepper).

Blend until completely smooth. Taste and adjust to personal preference (more lime, more garlic, salt/pepper)

Whisk or blend in the sour cream. Top your meat with this sauce.

If making tacos, we like to do tortillas topped with

cilantro-lime quinoa or rice

, the pulled pork, black beans, and this tomatillo sauce! Some cilantro, sour cream, and a fresh squeeze of lime finishes up a taco perfectly!