So fast and easy to make! Lemon garlic parmesan salmon and green beans in foil packets cooked over the grill or in the oven.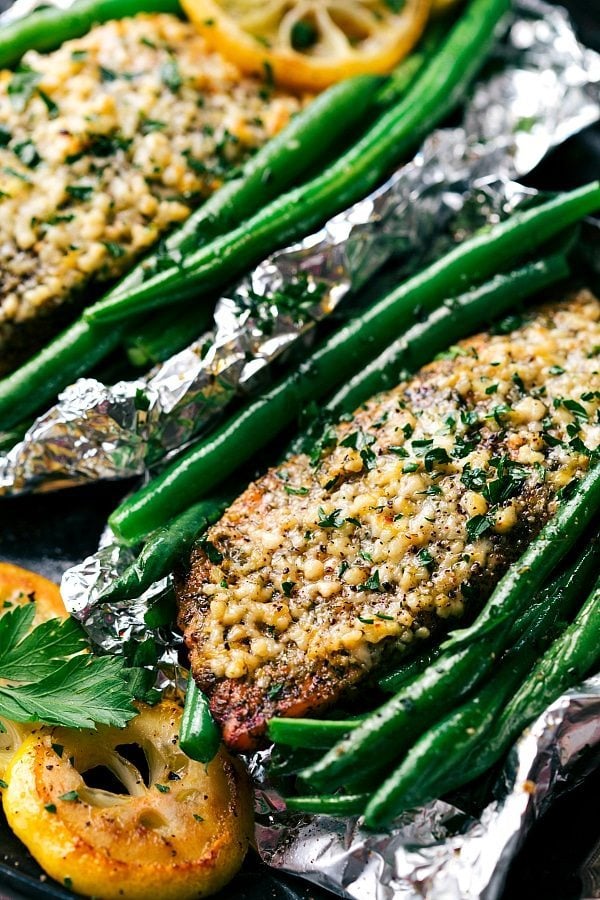 The entire homepage of my website looks like tin foil dinners, so I thought I'd add to the look and share just one more tin foil dinner…
So I now present: garlic parmesan lemon salmon! Made in a tin foil with no more than 10 minutes prep time.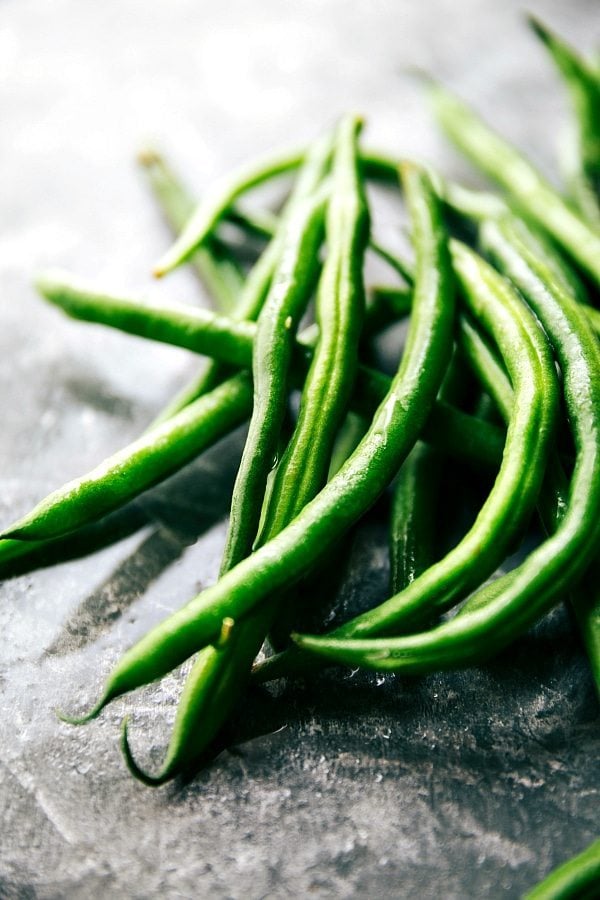 Soooo…. with an intro like that, I'm probably not very convincing in the fact that you NEED to make this dish. So let me fix that really quick. You NEED to make this dish!
This tin foil salmon dinner is ridiculously easy and quick to make and super flavorful. It's perfect for the summer time and especially great because: no clean up!
I've included directions for how to bake this tin foil salmon, but we've also tried it (and love it) on the grill. To grill these packets: preheat the grill to medium-low heat and place the packets on medium-low heat. Cover the grill and cook for 13-16 minutes (or until the salmon is cooked through) making sure to rotate the packets 1/2 turn at about 7 minutes into the cooking time.
Also one last note about the veggies: if you aren't a fan of green beans, you could use a thickly coined zucchini and summer squash medley or asparagus in its place. Enjoy! 🙂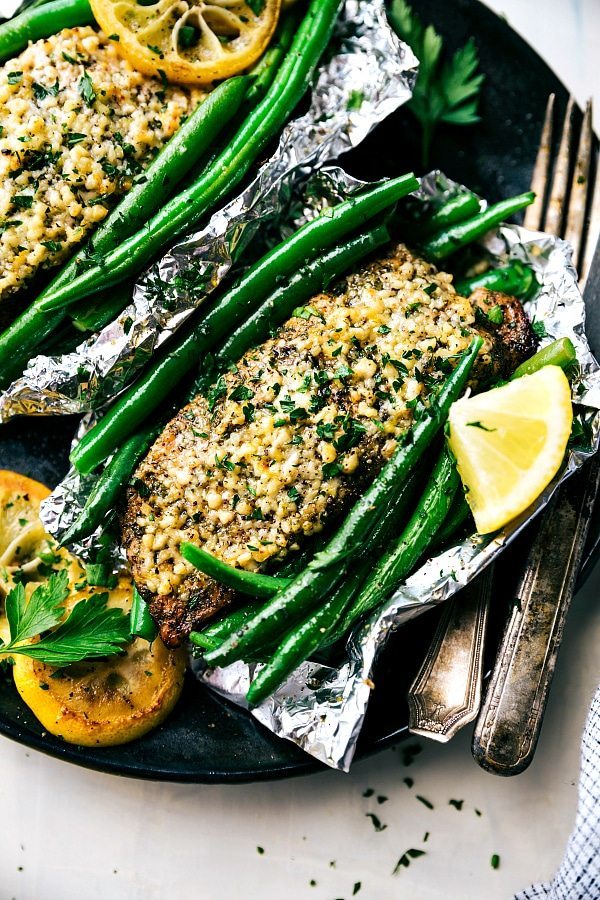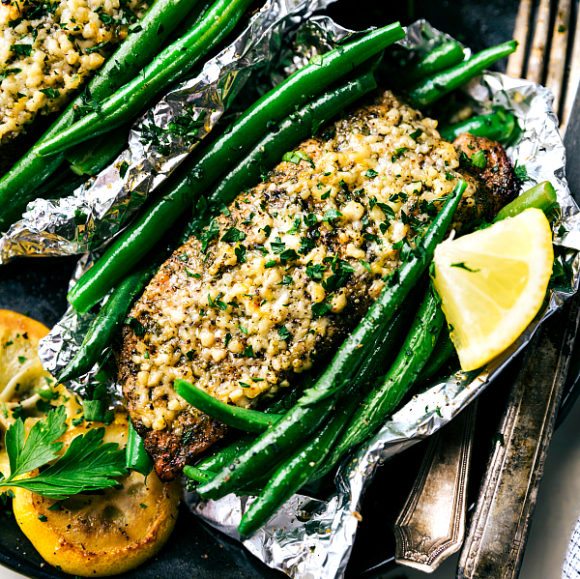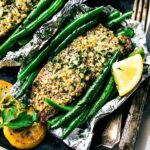 Tin Foil Parmesan Garlic Salmon and Veggies
Ingredients
Thin green beans

trimmed -- about 10-12 per packet

4

teaspoons

olive oil

2

teaspoons

minced garlic

separated

Lemon pepper seasoning and salt

4

ounces

skinless salmon filets**

6 each

1/4

cup (4 tablespoons)

unsalted butter

at room temperature

4

tablespoons

freshly grated Parmesan cheese

2

large lemons

Optional: extra lemon

fresh parsley
Instructions
Preheat the oven to 400 degrees F.

Tear 4 pieces of heavy duty foil about 14-15 inches long. Lightly spritz each piece of foil with nonstick spray.

Place the green beans evenly in the center of each piece of foil.

Drizzle each set of green peans with 1 teaspoon of oil and sprinkle with salt and lemon pepper seasoning. Divide 1 teaspoon minced garlic evenly among the beans.

Lightly salt and pepper (with lemon pepper seasoning) each salmon filet and then place each filet in the center of each piece of foil on top of the beans.

In a bowl, stir together the butter (do NOT melt), Parmesan cheese, about 2 and 1/2 tablespoons freshly lemon juice, 1 teaspoon lemon zest, and remaining 1 teaspoon garlic. This should be a thick paste and not at all watery.

Divide the paste evenly on top of each filet and rub evenly across the top.

Seal the foil packet by bringing the right and left sides together and then folding down and sealing and then folding up each end to seal. Make sure the seal is 100% complete.

Make sure you allow space in the packet for the heat to circulate and for expansion.

Bake for about 22-27 minutes or until the salmon is cooked through. Remove from the oven and (optional) turn on the broiler to 550 degrees F.

Open the salmon packets so the top of the salmon is exposed and place under the broiler for 30 seconds to 3 minutes (watch closely) or until the parmesan crust is slightly crispy.

Remove and enjoy immediately with fresh chopped parsley and a squeeze of lemon if desired. Add some additional lemon pepper seasoning as desired.
Recipe Notes
**Only use fresh salmon filets; do not use frozen
More delicious tin foil dinner recipes: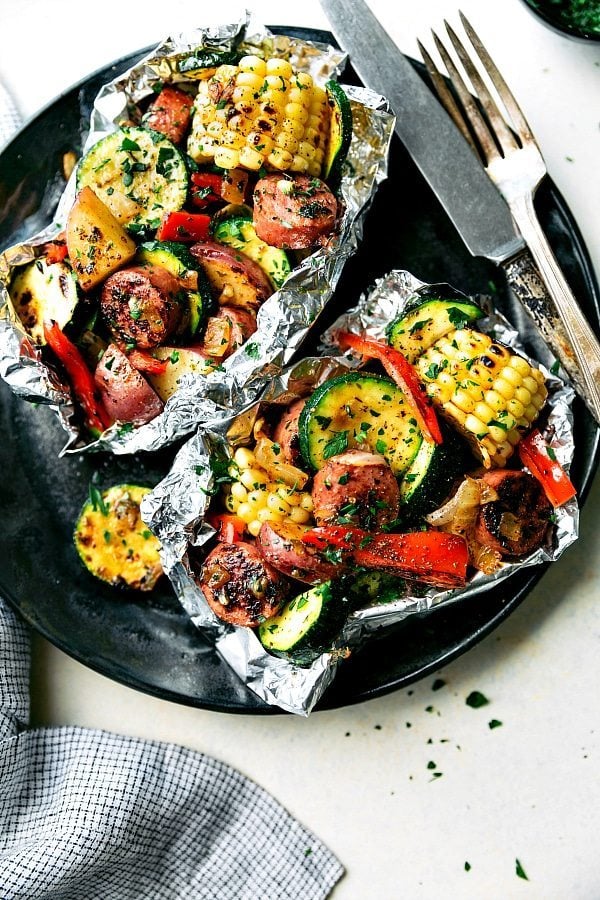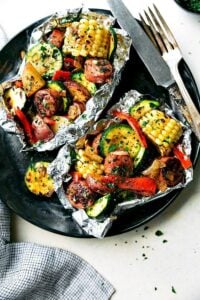 Tin Foil Sausage and Veggie Dinner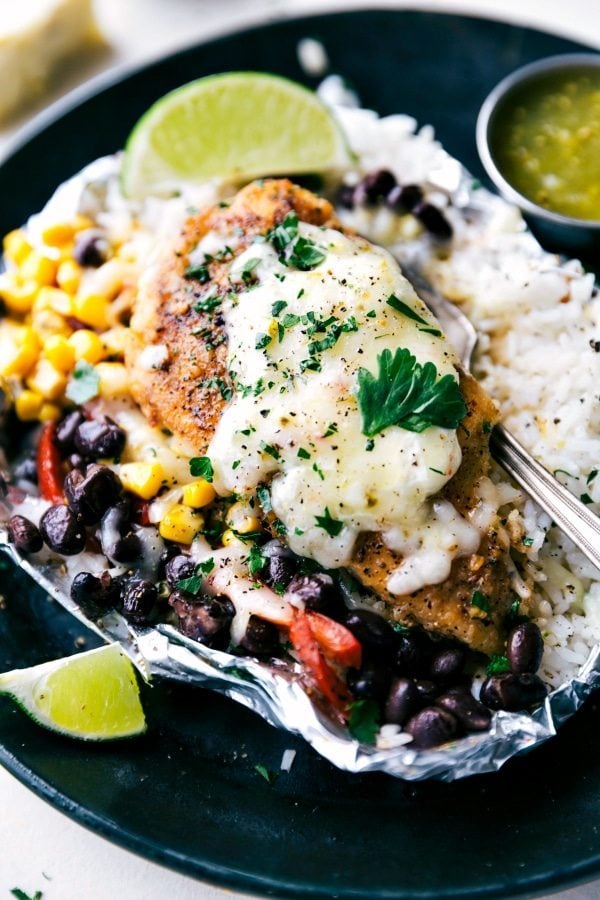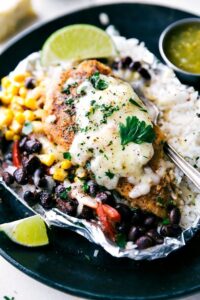 Tin Foil Creamy Salsa Verde Chicken and Rice Dinner