A zucchini and summer squash gratin with fresh roma tomatoes and red onion coated in a Zesty Italian dressing and covered in mozzarella cheese and basil. The perfect summer side dish!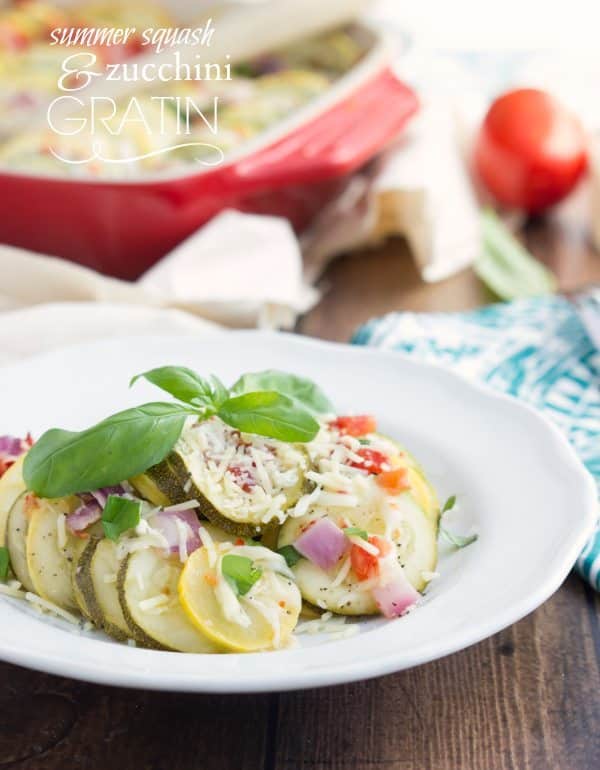 A direct quote from the husband, "I didn't think I would like this, but wow, it was really good."
Silly men. Turns out a dish with all veggies CAN be good. Not only just good. It can be great.
This gratin is zesty, fresh, tangy, light, and summer-y. All in one dish.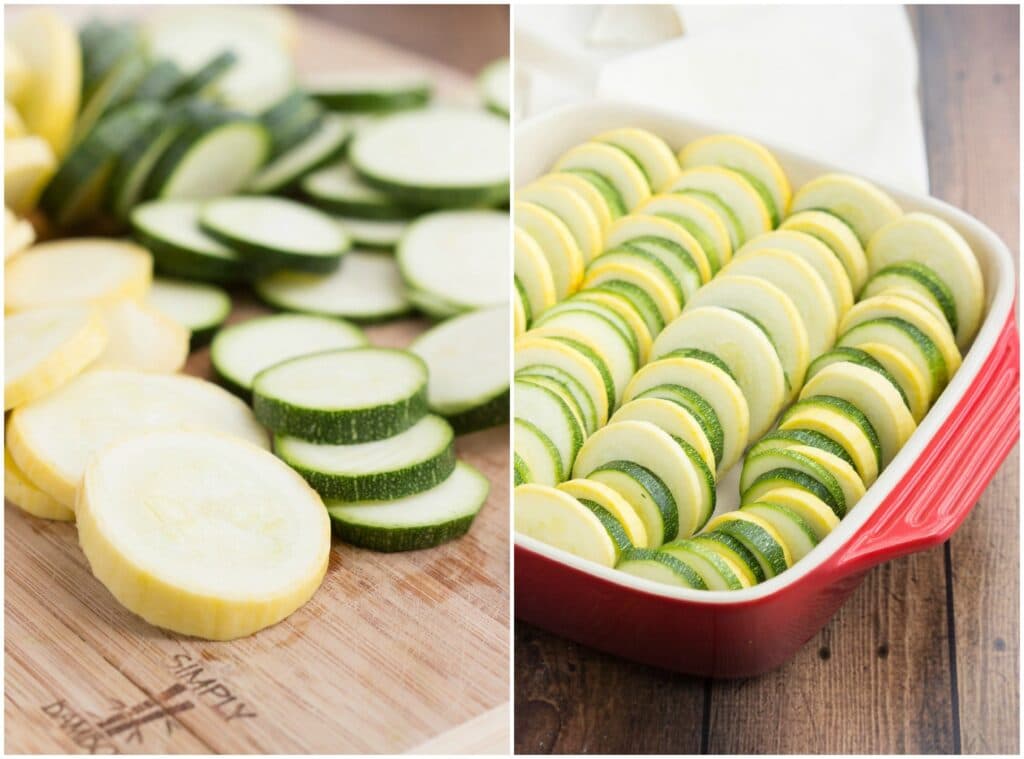 Not to mention it's so much better for you than a heavy potato gratin with lots of cream sauce and butter. Not that there's anything wrong with those. Cause they can be pretty good too.
But people. Swimsuit season.
Although, clearly I haven't been all gung-ho about swimsuit season because: exhibit 1, exhibit 2, exhibit 3. All in one week.
Sorry guys.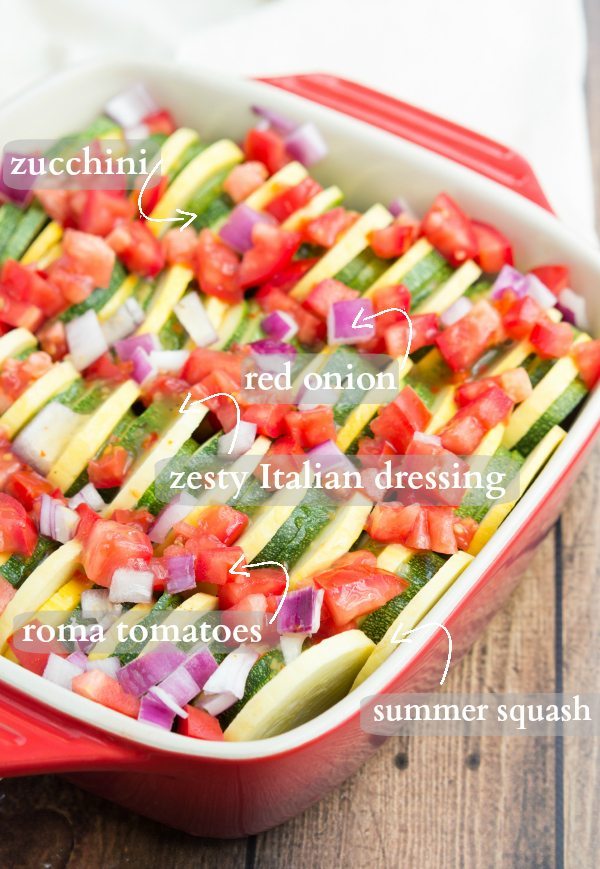 But I'm making up for it with this post. Do you see all those veggies?
So much good stuff. Any you can switch out whatever you like or don't like.
For instance, my husband HATES onions. So although they still got put in, they were easily picked off and could have been left off entirely. Also this could be purely a zucchini gratin (no summer squash) or purely a summer squash gratin (no zucchini).
But both do go pretty dang good together.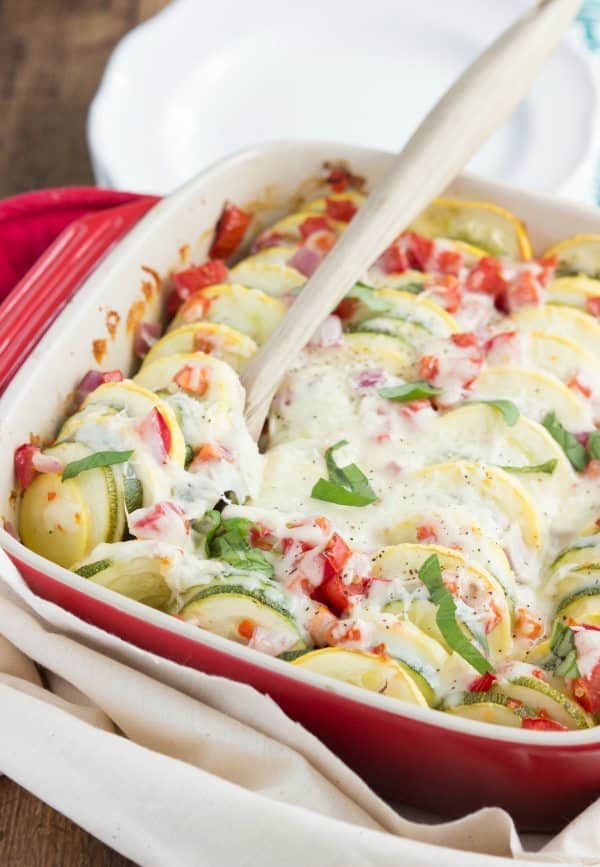 Especially with the Kraft Zesty Italian dressing. I used a light version and thought there was plenty of flavor. But either the light or regular dressing could be used. That really is the star of this gratin! All the zesty and tangy flavor comes from the dressing.
Oh, and then there is lots and lots of cheese. My favorite is mozzarella with a little bit of Parmesan.
Both are freshly grated and perfect complements to the veggies.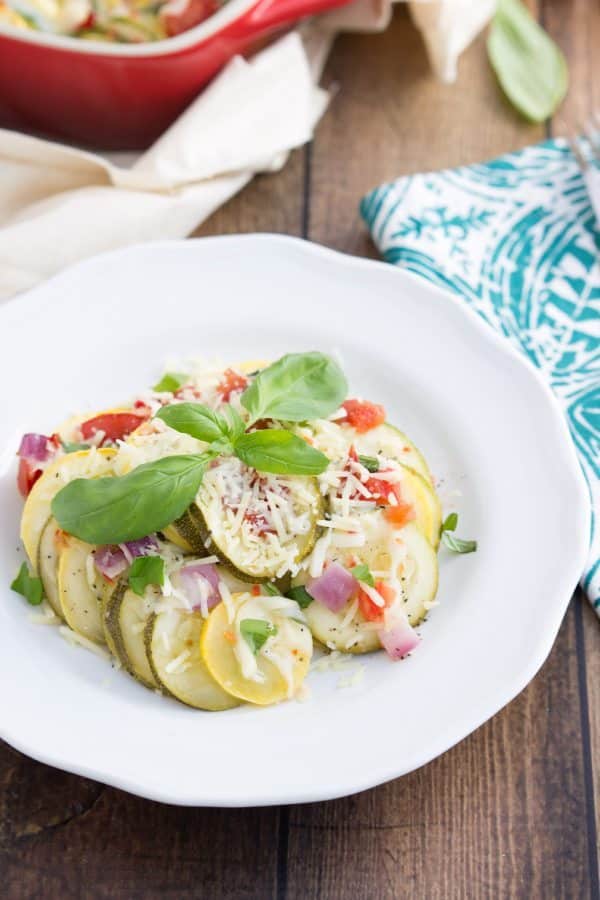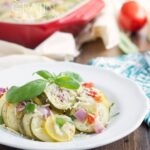 Summer Squash & Zucchini Gratin
Ingredients
2

medium sized yellow summer squash

3

medium sized zucchini

2

roma tomatoes

1/3

cup

red onion

1/2

cup

Kraft Zesty Italian dressing

1

cup

freshly grated mozzarella cheese

1/4

cup

freshly grated Parmesan cheese

Salt and Pepper

to taste

Fresh basil

optional
Instructions
Preheat the oven to 425 degrees F.

Grease an 8 or 9 inch baking dish. Set aside.

Slice the summer squash and zucchini into thin coins.

Dice the roma tomatoes and thinly chop the red onion.

Layer the summer squash and zucchini in the prepared dish. I did one yellow squash coin to every 2 zucchini coins and made four rows.

Sprinkle the diced tomatoes and chopped red onion over the squash and zucchini.

Drizzle the dressing over the dish.

Cover with foil and bake for 18-20 minutes. Remove the foil and bake for another 8-12 minutes or until the squash and zucchini are tender.

Remove from the oven, sprinkle the cheese over everything and bake for another 3-4 minutes or until the cheese is melted.

Remove, top with salt and pepper, and, if desired, fresh shredded basil.
Here are some more recipes that use zucchini:
Healthy Zucchini Bread Muffins