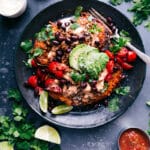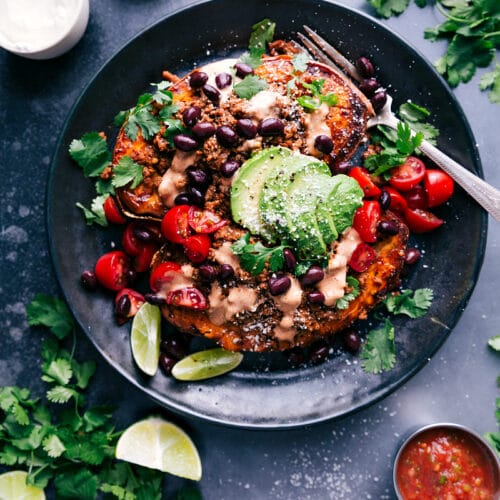 Print
Taco Stuffed Sweet Potatoes
These Taco-Stuffed Sweet Potatoes start with caramelized, tender sweet potatoes, seasoned ground turkey, and are then loaded up with your favorite taco toppings.
Sweet Potatoes
4

(10-13 ounces EACH)

medium sweet potatoes

(not yams), scrubbed clean and halved lengthwise

3

tablespoons

olive oil

Fine sea salt and freshly cracked pepper
Taco Meat Filling
1

tablespoon

olive oil

1/2

cup

diced yellow onion

(~1/2 of 1 onion)

2

teaspoons

minced garlic

(~2 cloves)

1

tablespoon

ground chili powder

1

teaspoon EACH:

ground cumin, paprika

1/2

teaspoon EACH:

onion powder, garlic powder, dried oregano, salt and pepper

1/2

tablespoon

beef bouillon powder

1

pound (16 oz.)

ground turkey

extra-lean (90/10 or 93/7)

1/3

cup

tomato sauce

TOPPINGS: black beans, sharp or extra-sharp Cheddar cheese, sour cream (fat-free or lite is great), fresh guacamole or ripe avocados, chopped cherry tomatoes, salsa or pico de gallo, fresh cilantro, fresh lime
Chili Lime Sauce (OPTIONAL)
1/2

cup

full-fat regular mayo

(we love Best Foods/Hellmans)

3

tablespoons

freshly squeezed lime juice (and 1/4 teaspoon lime zest)

1/4

teaspoon EACH:

ground cumin, paprika

1/2

teaspoon

chili powder

1

teaspoon

Sriracha or hot sauce
Sweet Potatoes
OVEN: Preheat the oven to 400 degrees F. Line a very large, dark, sheet pan with parchment paper or a liner. Don't skip this; it helps the potatoes cook evenly without the cut side burning.

CLEAN POTATOES: Thoroughly scrub and clean the sweet potatoes in cold water. Completely dry the potatoes and cut in half lengthwise.

PREP POTATOES: Drizzle oil over the potatoes and rub it over all the sides. Sprinkle 3/4 teaspoon of salt and 1/8 teaspoon pepper over all the potatoes and rub into both sides.

BAKE: Bake potatoes, flesh-side down, for 30-37 minutes or until the skin looks slightly shriveled and potatoes are tender (easily pierced with a fork). See Note 1.
Meat Filling
TACO MEAT: Dice the onion and mince the garlic. Heat a large skillet over medium-high heat. Add 1 tablespoon olive oil and once the oil is hot, add in the diced onion. Cook for 3-5 minutes or until soft and translucent. Add in the garlic and cook for 20-30 seconds; add in all of the taco meat filling seasonings and season to taste with salt and pepper. (I add 1/2 teaspoon of each.) Stir the spices until fragrant, about 30 seconds. Nothing should be burning; reduce the heat if needed. Press seasoned onions to the side of the pan.

TACO MEAT CONT.: Add the ground turkey to the center of the pan. Crumble the meat into small pieces and cook until no longer pink (about 5-8 minutes), incorporating the seasoned onions as you crumble. Add in the tomato sauce and scrape the bottom of the pan to release any browned bits. (This is where the flavor is!) Let simmer for 3-5 minutes, or until meat is fully cooked through, and then remove from heat.
Toppings/Assembly
SAUCE: In a small bowl, combine the sauce ingredients and whisk together until smooth. Season to taste. (I add 1/4 teaspoon salt and 1/8 teaspoon pepper.)

ASSEMBLY: To assemble, place baked sweet potatoes on plates, flesh side up. Mash the insides a bit with a fork. Top with spoonfuls of the meat filling; drizzle sauce on top and add any additional desired toppings. (Our favorites are black beans, avocado, cherry tomatoes, and lime juice.)
Note 1:

A 5-6-ounce potato will cook in around 25-27 minutes, 6-8 ounce potatoes around 30 minutes, and 9-11 ounce potatoes around 33-37 minutes. Check for doneness by inserting a fork into the largest potato. If it goes in easily, the potatoes are ready. If not, bake an additional 5 minutes. Cook until fork-tender, checking every 5 minutes.
Nutritional information does not include any of the optional toppings.
Calories:
279
kcal
|
Carbohydrates:
6
g
|
Protein:
28
g
|
Fat:
17
g
|
Saturated Fat:
3
g
|
Cholesterol:
62
mg
|
Sodium:
367
mg
|
Potassium:
498
mg
|
Fiber:
2
g
|
Sugar:
2
g
|
Vitamin A:
1684
IU
|
Vitamin C:
3
mg
|
Calcium:
23
mg
|
Iron:
2
mg