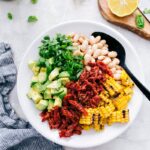 Print
White Bean Salsa
This White Bean Salsa with creamy avocado, crisp corn, savory sun-dried tomatoes, fresh lemon, and sweet basil is our latest obsession! It's perfect over grilled pesto chicken, quinoa or couscous (hello crave-able vegetarian meal!), or with some good tortilla chips.
PREPARE THE CORN: Preheat the grill to 450 degrees F. Shuck corn and discard silk. Drizzle corn with olive oil and lightly sprinkle with salt and pepper. Rub the oil and salt/pepper into all sides of the corn. Add the corn to the heated and oiled grill over direct heat. Grill corn about 10-12 minutes total, rotating every 3-4 minutes until bright in color and lightly charred. Let grilled corn cool before cutting it off the cob. Let fully cool before adding to salsa.

COMBINE THE SALSA: In a medium-sized bowl, combine the drained and rinsed white beans, prepared/cooled corn, diced avocado, julienned sun-dried tomatoes, 2 teaspoons of the oil from the tomatoes, chopped basil, lemon juice, and salt + pepper to taste. (I add 1/2 teaspoon salt and 1/4 teaspoon pepper, but add to preference.) Gently stir to combine and serve immediately with one of the serving options listed below or straight out of the bowl!

SERVING OPTIONS: Serve this salsa with good tortilla chips OROver pesto couscous: Cook 1 cup small couscous and add 1/2 teaspoon salt (or to taste), 1/2 teaspoon pepper, 1 tablespoon fresh lemon juice, and 1/4 cup basil pesto). Generously spoon salsa on top and enjoy this tasty vegetarian meal! OR Alongside grilled chicken (perfect chicken marinade here) OR Inside an avocado: Scoop out avocados leaving a thick border (dice scooped avocado for this salsa) and then serve White Bean Salsa inside that avocado! Add a few extra drizzles of fresh lemon and oil from the sun-dried tomatoes.
Note 1: There are a few different options for preparing the corn for this White Bean Salsa. In this recipe, we prefer using sweet corn that has been grilled. See Step 1 in the recipe for how to grill corn on an outdoor grill or indoor grill pan. You will need some additional oil, salt and pepper. If you aren't using whole corn on the cob, I recommend one of the following preparation methods: buy pre-roasted canned corn (near regular canned corn in the grocery store) and use one can, well-drained OR buy regular canned corn and roast it for a few minutes on the stovetop. More details on how to do that here. The last option is to use frozen corn. Char it in a skillet until thawed and lightly roasted.
Note 2: This salsa calls for sun-dried julienne-cut tomatoes with herbs. The herbs in the tomatoes add lots of flavor (so we don't need additional ingredients) and the julienne-cut tomatoes save chopping time. 
Serving:
1
serving
|
Calories:
284
kcal
|
Carbohydrates:
44
g
|
Protein:
14
g
|
Fat:
8
g
|
Saturated Fat:
1
g
|
Sodium:
56
mg
|
Potassium:
1510
mg
|
Fiber:
13
g
|
Sugar:
8
g
|
Vitamin A:
294
IU
|
Vitamin C:
27
mg
|
Calcium:
131
mg
|
Iron:
6
mg