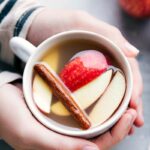 Print
Crockpot Apple Cider
Delicious crockpot apple cider -- a must-have Fall drink!
1

piece

of cheesecloth

2

whole cinnamon sticks

1

teaspoon

whole cloves

1

teaspoon

whole allspice

8

cups

2 quarts apple cider

⅓

cup

light brown sugar

packed

1

large orange

peeled and sliced
Add the cinnamon sticks (break them if you need), whole cloves, and whole allspice on a cheesecloth you've folded in half. Bring up corners of cheesecloth and tie them together with a string to form a small spice bag.

Pour the cider and dump the brown sugar in the crockpot and stir until sugar dissolves. Add the spice bag and the peeled + slice orange on top (the peel sometimes makes it bitter).

Cover and cook on low for 2-3 hours or until heated through. Discard spice bag and serve!