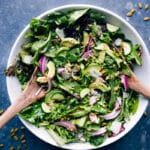 Print
Salad Recipe
This is our favorite (and quickest!) go-to Everyday Salad recipe complete with mixed greens, a few veggies, and a tasty but simple vinaigrette.
Dressing
1/4

cup

extra-virgin olive oil

1

teaspoon each:

Dijon mustard, honey

1

tablespoon

red wine vinegar

1

teaspoon

minced garlic,

optional

Fine sea salt & pepper
DRESSING: Combine all the dressing ingredients into a jar with a lid. Season to taste with salt and pepper (I add 1/4 tsp of each). Shake well to combine and place in fridge for now, shaking again before dressing salad.

SALAD: In a large bowl add all the mixed greens and toss gently with about half the dressing until well coated (Read Instruction #3 first). Add red onion, cucumber, avocado, and pepitas. Drizzle on the remaining dressing (or as much as you'd like) and gently toss. If using, top with shaved Parmesan (I just grab a block of Parmesan and grate with my vegetable peeler over the salad). Serve promptly.

STORAGE: This salad doesn't sit very well with the dressing -- it wilts the veggies and greens quickly. If you aren't planning to eat the entire salad in one sitting, toss and add dressing, avocado, and onion to the amount you'll be eating at this time and storing leftovers separately. Undressed, the salad stays fresh for 1-2 days in the fridge.
Note 1: Cucumbers: This is about 2 mini cucumbers. We love and highly recommend English or Persian cucumbers (sometimes labeled as mini cucumbers) which have a wonderful texture and superior flavor.
Note 2: Pepitas: Roasted and crunchy pepitas (pumpkin seeds) add a sweet and nutty flavor, similar to sunflower seeds, but a bit sweeter. When purchasing these seeds, make sure they're roasted and salted (not raw) for loads more flavor. You can generally find them in the bulk section of a grocery store, or with other salad toppings like candied nuts and dried cranberries.
Serving:
1
serving
|
Calories:
235
kcal
|
Carbohydrates:
8
g
|
Protein:
6.2
g
|
Fat:
21.5
g
|
Cholesterol:
2.4
mg
|
Sodium:
96.6
mg
|
Fiber:
4.2
g
|
Sugar:
1.5
g