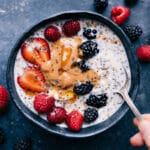 Print
Overnight Oats With Chia Seeds
The easiest ever Overnight Oats With Chia Seeds -- only three ingredients and a couple minutes of prep time for a filling and nutritious breakfast!
COMBINE: Combine all the ingredients in a container with a lid. Do not follow package directions for preparing the oatmeal; simply open the packet and dump it in! Stir, cover, and place in the fridge overnight or for at least 8 hours. Heads up-- the liquid won't get fully absorbed -- it remains fairly liquidy and creamy which we love (think muesli with milk added in)!

ENJOY: In the morning, give the mixture a good stir (sometimes it clumps a bit) and transfer to a bowl or enjoy straight from the jar (cold -- this is intended to be eaten chilled!) with your favorite toppings. We love adding fresh berries and flavored nut butter (Note 3). Enjoy!
Note 1: Milk: Any milk works, but to keep it vegan, use plant-based milk. We prefer plant-based milk anyway! Our two personal favorites are macadamia nut milk and unsweetened vanilla almond milk. We like the milk with vanilla flavoring -- more flavor!
Note 2: Better Oats® oatmeal packets: This is fairly specific, but it helps us cut down on other ingredients since it's flavored and sweetened-- so we don't need to add in anything extra. We're obsessed with these instant oatmeal packets -- Maple and Brown Sugar is our favorite flavor! If you are watching calories, the 100-calorie packets are also delicious in this recipe! We love both.
Note 3: Toppings: My favorite way to top this breakfast is with a handful of fresh berries and a packet of this maple RX Nut Butter® -- so good! Here are some more ideas:
Fresh fruit: Pick what you love most: chopped strawberries, blueberries, blackberries, raspberries, chopped banana, kiwi, or mandarin orange slices.
Nuts and/or seeds: Dry-roasted and lightly salted sliced almonds, pecans, or cashews would be delicious. Pepitas would also make a nice topping!
Granola (We love this almond granola.)
Puréed fruit: Purée some berries with milk and swirl it through the mixture for fruity Overnight Oats and Chia Seeds.
Nut butter: Add a drizzle of almond butter, peanut butter, cashew butter, or any of the other options for a hit of protein plus flavor. 
Note 4: Nutrition information: Overnight Oats with Chia Seeds stats will vary, depending on what oatmeal packet is used and what (and how much) you add as a topping. Calories have been calculated based on 100-calorie oatmeal packets and using 30-calorie (per cup) unsweetened vanilla almond milk.
Serving:
1
serving
|
Calories:
308
kcal
|
Carbohydrates:
47.6
g
|
Protein:
15.4
g
|
Fat:
4.2
g
|
Cholesterol:
4.9
mg
|
Sodium:
105.8
mg
|
Fiber:
8.5
g
|
Sugar:
15.4
g