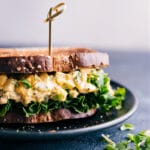 Print
Egg Salad
This classic Egg Salad recipe has a bright, tangy, and ultra-fresh flavor, thanks to the myriad of fresh herbs and the dynamite dressing. Serve in a sandwich with toasted bread, with crackers and veggies, in a warmed pita, or over salad greens. 
Servings
4
loaded sandwiches
6

large

eggs

(Note 1)

1/4

cup

mayonnaise

(Note 2)

1/3

cup

finely diced celery

1/4

cup

finely diced green onions (or 2 tbsp chives)

1-1/2

tablespoons

finely diced parsley

2

teaspoons

Dijon mustard

1

teaspoon

olive oil

2

teaspoons

fresh lemon juice

(+ optional: 1/4 tsp zest if you love lemon)

1/4

teaspoon each:

paprika, garlic powder

Salt & pepper

Optional: 2 tablespoons chopped fresh dill, 1/8 tsp celery seed
Bread and lettuce, for serving
STEAM AND PEEL EGGS: Add 1 inch of hot water to a large pot. Add a steamer insert inside (Note 3) and cover the pot. Bring to a boil over high heat. Once boiling, add the 6 eggs to the steamer basket and cover. Cook for 13 minutes. Meanwhile, fill up a large bowl with cold water and (~12-15) ice cubes. After eggs have steamed, add them directly to the ice water and let them cool for a full 15 minutes before peeling. Once they've fully cooled, gently tap the hard-boiled eggs all over to crack the shell. Then remove the shell under running cool water. Start at the wider end -- there is usually an air pocket there that will make the shell easier to remove.

DICE EGGS: Once eggs are peeled, dry the eggs then dice into 1/4 inch pieces.

DRESSING: Meanwhile, prepare the rest of the egg salad by combining the remaining ingredients in a bowl. (We measure all the herbs AFTER dicing). Season to taste with salt and pepper (I add 1/4 tsp salt and 1/8 tsp pepper). Add dill and celery seed if desired. Mix well then add in diced eggs and stir to coat. Taste and adjust seasoning as needed. Serve immediately or refrigerate until ready to use. If refrigerating, give it a stir and taste again before serving as you may need to slightly adjust the seasoning again!

SERVE: Toast some bread and add lettuce, layer on the egg salad, and enjoy!
Note 1: Eggs: While making hard-boiled eggs is easy, it can be time-consuming. A lot of stores sell eggs that have been hard boiled for your convenience. Since this salad revolves around eggs, you can probably guess that the better the eggs the better the flavor. If you have access to farm-fresh eggs -- nothing beats that!
Note 2: Mayonnaise: The mayo is very important for flavor -- use the best quality here. We love Hellman's/Best Foods®.
Note 3: Steamer Basket: I love and recommend using this steamer basket -- we use it all the time! That said, if you don't have a steamer basket, here's a great article on how to "hack" one using a plate and crumpled foil.
Serving:
1
serving
|
Calories:
217
kcal
|
Carbohydrates:
1.4
g
|
Protein:
9.7
g
|
Fat:
18.6
g
|
Cholesterol:
284.8
mg
|
Sodium:
266.8
mg
|
Fiber:
0.3
g
|
Sugar:
0.7
g