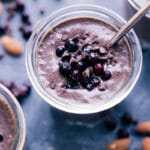 Print
Chocolate Blueberry Smoothie
This Chocolate Blueberry Smoothie is a Daily Harvest copycat -- a nutritional powerhouse beverage that makes a great filling breakfast or snack!
NIGHT BEFORE: Peel the banana and slice into coins. Place the coins in a sealed bag in the freezer the night before making this smoothie. Measure out spinach and kale blend and freeze that as well. If you'd like, soak your dates the night before as well (see next step).

SOAK DATES: (Note 4) Set dates in a small heat-safe (glass) bowl. Pour 1 cup of very hot (or boiling) water over the dates. Let stand for about 4-5 minutes. This ensures the dates blend up nicely. Once they've soaked, thoroughly drain and make sure the pits have been removed.

FIRST BLEND: Combine dates and milk. Blend until very smooth, about 90-120 seconds.

SECOND BLEND: Add remaining ingredients and blend until smooth, about 60 seconds. Stir to ensure smoothie is smooth and enjoy immediately!
Note 1: Frozen Banana: The banana sweetens and thickens the smoothie beautifully. It also ensures the smoothie is filling! Make sure to freeze a fully ripe banana or grab already frozen ripe bananas!
Note 2: Frozen wild blueberries: It's important to use wild, not regular blueberries! Wild blueberries are smaller and more compact than regular blueberries. This means they have less water content and much more flavor.
Note 3: Greens: I pick a bag with baby kale and spinach mixed together and then freeze it so it lasts for a long time and makes a lot of smoothies. When frozen, the flavors are definitely less present in the smoothie, which is what we're going for. Freeze night before making the smoothie.
Note 4: Soaking dates: To ensure the dates blend up nice and smooth, we soak them in boiling water first. Start the smoothie prep by getting the dates soaking and they'll be soft and ready by the time everything else is in the blender. They only need a few minutes in the boiling water to soften. Be sure to remove any pits from the dates before blending! If the dates aren't softened, you'll end up with chunks of dates in the smoothie.
Serving:
1
serving
|
Calories:
175
kcal
|
Carbohydrates:
27.1
g
|
Protein:
5.7
g
|
Fat:
6.5
g
|
Cholesterol:
17.7
mg
|
Sodium:
57.5
mg
|
Fiber:
3.1
g
|
Sugar:
16.6
g