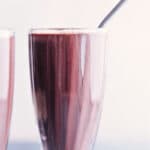 Print
Red Velvet Smoothie
This Red Velvet Smoothie is luxuriously thick and creamy with a deep, rich flavor and the perfect amount of sweetness! We combine dark sweet cherries with cocoa powder to get the classic red color with a hint of chocolate flavor. This smoothie is dairy free and naturally vegetarian.
High powered blender

(Blendtec or Vitamix -- Note 1)
PREP: Cut a ripe banana into coins, place in a zipper-top bag, and freeze the night before making this smoothie. OR purchase already frozen bananas. The key to a super-thick and creamy smoothie is a frozen banana!

FIRST BLEND: Combine cashews and milk in a high-powered blender. Blend until completely smooth, about 60-90 seconds.

SECOND BLEND: Add remaining ingredients and blend again until smooth, about 60 seconds. If needed, stop the blender and stir around with a spoon and begin blending again OR add a touch more milk (sometimes it need another 1/4 cup or so!). Taste and add additional honey if desired. Enjoy immediately; this smoothie doesn't sit/store well.
Note 1: Blender: You'll need a good, powerful blender (like Blendtec or Vitamix) to break down the cashews. If you don't have a high-powered blender, I recommend soaking the cashews first (check out this Cashew Ice Cream recipe for 3 ways to soak cashews).
Note 2: Cashews: We like to use dry-roasted and lightly salted cashews (way more flavor with no extra effort on your end!).
Note 3: Honey: The honey pulls everything together and perfectly sweetens the smoothie. The smoothie is definitely lacking and is bitter without it! Also depending on how ripe/sweet the fruit is you may want a touch more honey-- up to an additional tablespoon.
Serving:
1
serving
|
Calories:
304
kcal
|
Carbohydrates:
53.3
g
|
Protein:
6.4
g
|
Fat:
10
g
|
Sodium:
97.4
mg
|
Fiber:
5.8
g
|
Sugar:
32.6
g