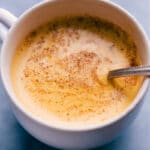 Print
Golden Milk
This Golden Milk recipe is a favorite beverage at my home; we enjoy it steaming hot or chilled -- both are delicious! Also called "turmeric milk," this is an Indian drink that has been gaining popularity in Western cultures. This flavorful beverage is packed with nutritious, good-for-you ingredients and warming spices.
Servings
2
golden milk teas
High-powered blender (such as Blendtec or Vitamix)

(Note 1)
1/4

cup

roasted cashews

(Note 2)

1-1/2

cups

unsweetened vanilla almond milk

(or whatever milk you prefer)

1/4

teaspoon

ground turmeric

(Note 3)

1/2

teaspoon

ground cinnamon

1/8

teaspoon

ground ginger

1

tablespoon

honey

1/16

teaspoon each:

fine sea salt, ground nutmeg

1/2

teaspoon

vanilla extract,

optional
BLEND: Combine cashews and almond milk in a high-powered blender. Process until smooth, about 90 seconds.

BLEND AGAIN: Add remaining ingredients and blend again until completely smooth, about 60-90 seconds. Make sure the honey hasn't pooled at the bottom.

WARM IT OR CHILL IT: If you'd like it warm, transfer to a small pot and heat to desired heat. Divide between two mugs and sprinkle the top of the mugs with cinnamon if desired. Alternatively, pour the mixture into a glass milk jug or large covered jar and chill. Enjoy the next morning (or a few hours later) thoroughly chilled (my favorite way!).

STORAGE: This recipe stores well for 5-7 days in an airtight container in the fridge. We usually make up a big batch of it and store it in a large mason jar or glass milk jug in the fridge. It only gets more flavorful as it sits! Give the milk a really good shake (it tends to settle a bit) and pour into a cup to enjoy straight out of the fridge or into a small pot to warm through.
Note 1: Blender: You'll need a good, powerful blender (think Blendtec® or Vitamix®) to break down the cashews without soaking them first. If you don't have a strong blender, I recommend soaking the cashews first (check out this Cashew Ice Cream recipe for 3 ways to soak cashews).
Note 2: Cashews: We love dry roasted cashews best — more flavor without any extra effort on your part. 
Note 3: Turmeric: Increase up to 1/2 teaspoon for a stronger flavor.
Serving:
1
serving
|
Calories:
65
kcal
|
Carbohydrates:
10.7
g
|
Protein:
1.3
g
|
Fat:
2.2
g
|
Sodium:
140.1
mg
|
Fiber:
0.5
g
|
Sugar:
8.7
g