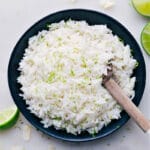 Print
Coconut Rice
Coconut Rice is such a fun switch-up from typical rice -- it makes a great side dish or a fantastic base to so many dishes! The rice is rich with a nice creaminess and slight sweetness. It has a lovely, yet subtle, coconut flavor with a hint of freshness from the lime.
Servings
3
cups cooked rice
COMBINE: Combine 1 cup basmati rice, salt to taste (I add 3/4 teaspoon fine sea salt), 1/2 cup water, and 1-1/2 cups coconut milk in a medium-sized pot. Mix together.

COOK: Place the pot over high heat and bring to a boil. As soon as the mixture boils, reduce the heat to low and cover the rice with a fitted lid. (To ensure evenly cooked rice, be sure the liquids come to a boil before reducing the heat to a simmer.) Allow to simmer for 13-18 minutes, or until liquid is absorbed and grains of rice are tender. (Troubleshooting: liquid has absorbed but rice isn't quite tender? Add a few more tablespoons of water. Too much liquid still? Slightly increase the heat.)

LET REST: Remove pot from heat, keeping it covered, and let stand for 10-15 minutes; don't rush or it will be sticky (Note 3)! Fluff the rice with a fork and then add in lime juice and zest (Note 4). Gently stir to incorporate, taste for additional salt or lime juice, and enjoy!
Note 1: Basmati rice:

Other varieties of rice don't cook up as well and become overly mushy. I highly recommend basmati here!
Note 2: Coconut milk: Look for shelf-stable, unrefrigerated cans of coconut milk. I recommend measuring in cups -- you want exactly 1 and 1/2 cups. You'll find canned coconut milk on the international aisle, with Latin or Asian products. I personally use Thai Kitchen® or Imperial Dragon®. I highly recommend using full-fat coconut milk for the best flavor and texture in this rice. Lite coconut milk doesn't thicken as nicely and won't result in the rich full flavor that regular coconut milk provides. 
Note 3: Resting the rice: Letting the rice stand after it's cooked is crucial to achieving optimum texture. The resting period ensures the rice won't be clumpy and the grains will remain more distinct. No mushy, gluey rice here!
Note 4: Zesting limes: When zesting the limes, avoid the white pith of the limes — this is very bitter. Zest only the very outside green part of the lime for this recipe.
Nutrition information is based on a 1/2-cup serving. There are 6 total servings in the 3 cups.
Serving:
1
serving
|
Calories:
295
kcal
|
Carbohydrates:
65
g
|
Protein:
6
g
|
Fat:
1
g
|
Saturated Fat:
1
g
|
Polyunsaturated Fat:
1
g
|
Monounsaturated Fat:
1
g
|
Sodium:
588
mg
|
Potassium:
114
mg
|
Fiber:
2
g
|
Sugar:
1
g
|
Vitamin A:
11
IU
|
Vitamin C:
7
mg
|
Calcium:
31
mg
|
Iron:
1
mg